These original American Vanilla Cupcakes are perfectly moist and fluffy, not too sweet, with a delicate vanilla aroma that is just right. So many readers have baked these and it continues to be one of the most popular recipes on Living on Cookies.
Everyone needs that "go-to" recipe for Vanilla Cupcakes. It has to be straightforward and the cupcakes need to come out perfectly every time.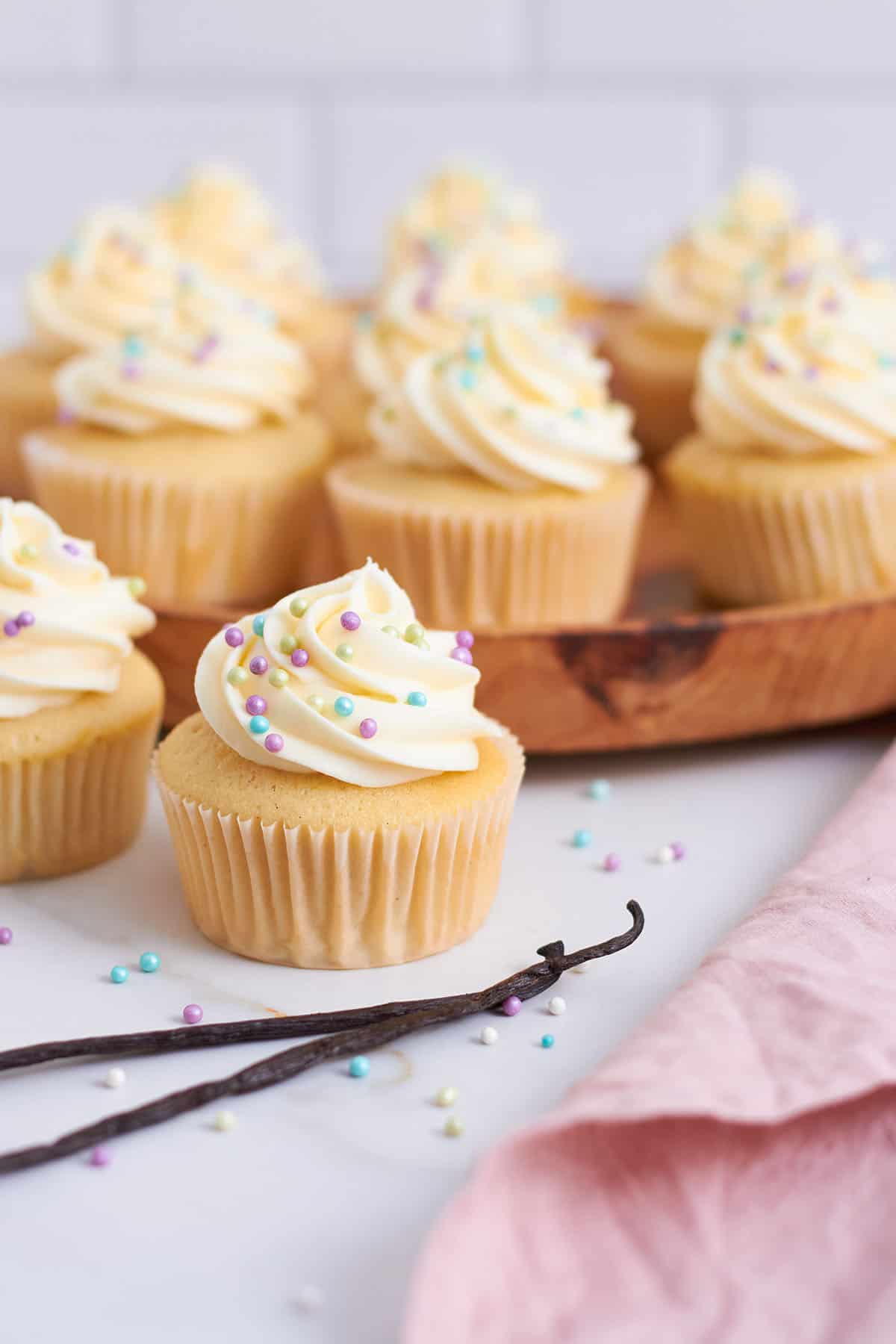 These cupcakes are made from scratch with wholesome ingredients like butter, milk and eggs. With this simple recipe, there's no need for boxed mixes that contain chemical additives.
This post contains Amazon affiliate links. I earn a small commission for each purchase you make through these links at no extra cost to you. For further information, please read my full disclosure here.
Ingredients
Vanilla. For the perfect vanilla aroma, you have several options:

Vanilla bean. The cupcakes in the photos were made using the seeds of a real vanilla bean: slice the vanilla bean in half lengthwise with a sharp knife and scrape the seeds out. Using real vanilla bean has the added benefit that you see the tiny, black seeds in the cupcakes.
Vanilla extract: did you know that it's easy to make vanilla extract and vanilla bean paste yourself? Here is a post on how you do it. Or you can buy a high-quality vanilla extract, I love using this one: https://amzn.to/3mtZL4c.
Vanilla sugar. If you live in Austria or Germany, bourbon vanilla sugar also gives the cupcakes a nice vanilla note.

Flour. All-purpose flour or cake flour if you have it. In Austria: Weizenmehl glatt Type W480 or W700 or Universalmehl, in Germany Type 405.
Baking powder. Check to make sure your baking powder isn't expired.
Salt. You can't taste the salt in the cupcakes but it's important as a flavor enhancer and to balance the sweetness.
Butter. Use real butter (not the spreadable butter in a tub). Margarine is an acceptable substitute. Butter should be at room temperature as it will be whipped with the sugar.
Granulated sugar. In Austria or Germany, use a finer sugar, such as baking sugar or "Feinkristallzucker" because the sugar crystals dissolve into the butter faster, resulting in a finer cupcake crumb.
Eggs. The eggs (size L) should also be at room temperature. Refrigerator-cold eggs will cause the butter to curdle and split. To quickly warm cold eggs, lay the whole eggs in a bowl filled with hot (not boiling!) water for 5 minutes.
Milk. I always use whole milk for this recipe but you can use any type of milk, including lactose-free, soy or almond milk. The milk should also be at room temperature to prevent curdling the butter when you add the milk.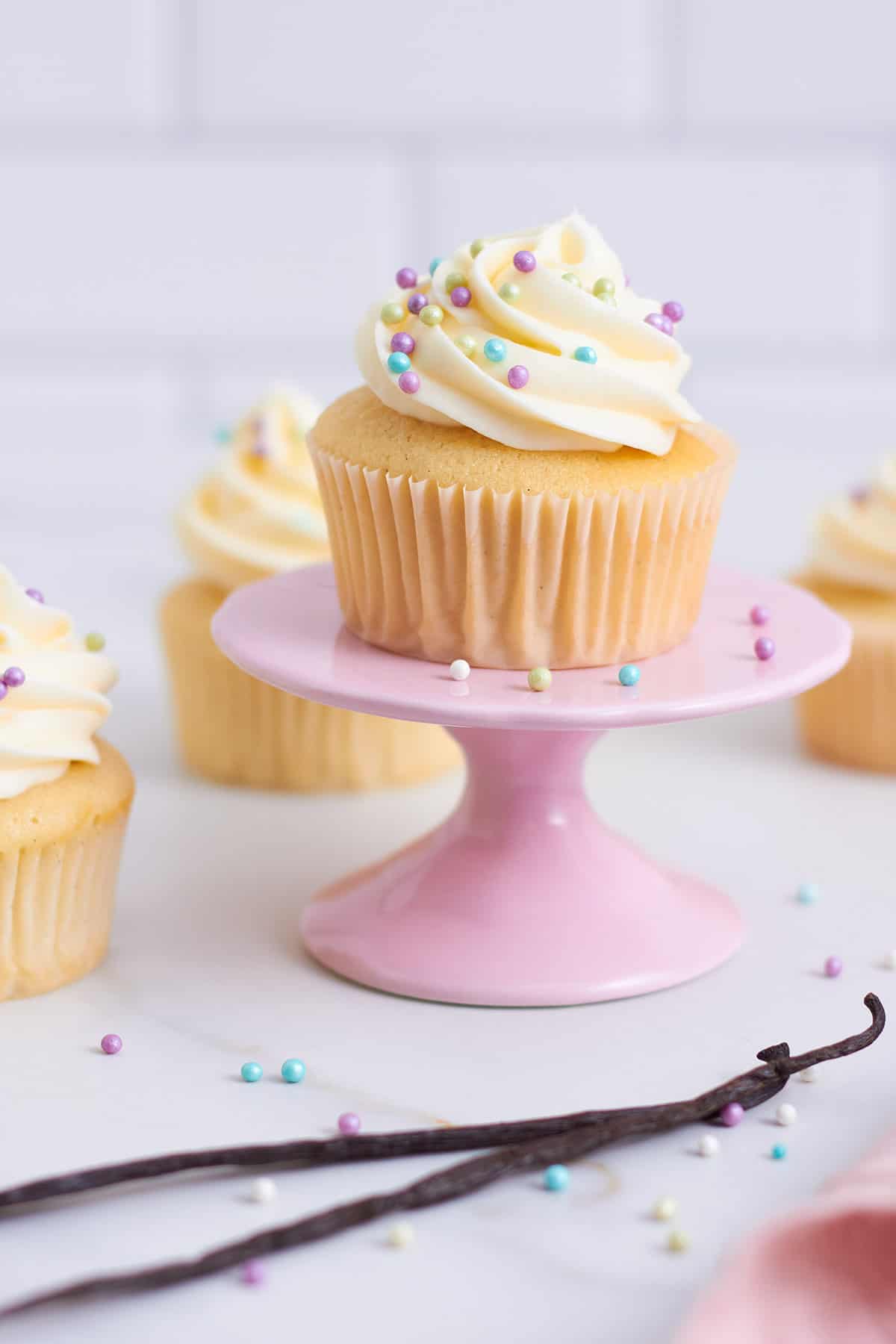 Recommended tools to make this recipe
A stand mixer or electric mixer.
A muffin pan.
Paper cupcake liners.
Ice cream scoops are the mess-free way to transfer the cupcake batter into the muffin pan. They also come in handy for baking cookies. https://amzn.to/41NDBKo
An oven thermometer to ensure you are baking at the exact right temperature. https://amzn.to/3LdZKf5
How to make the perfect Vanilla Cupcakes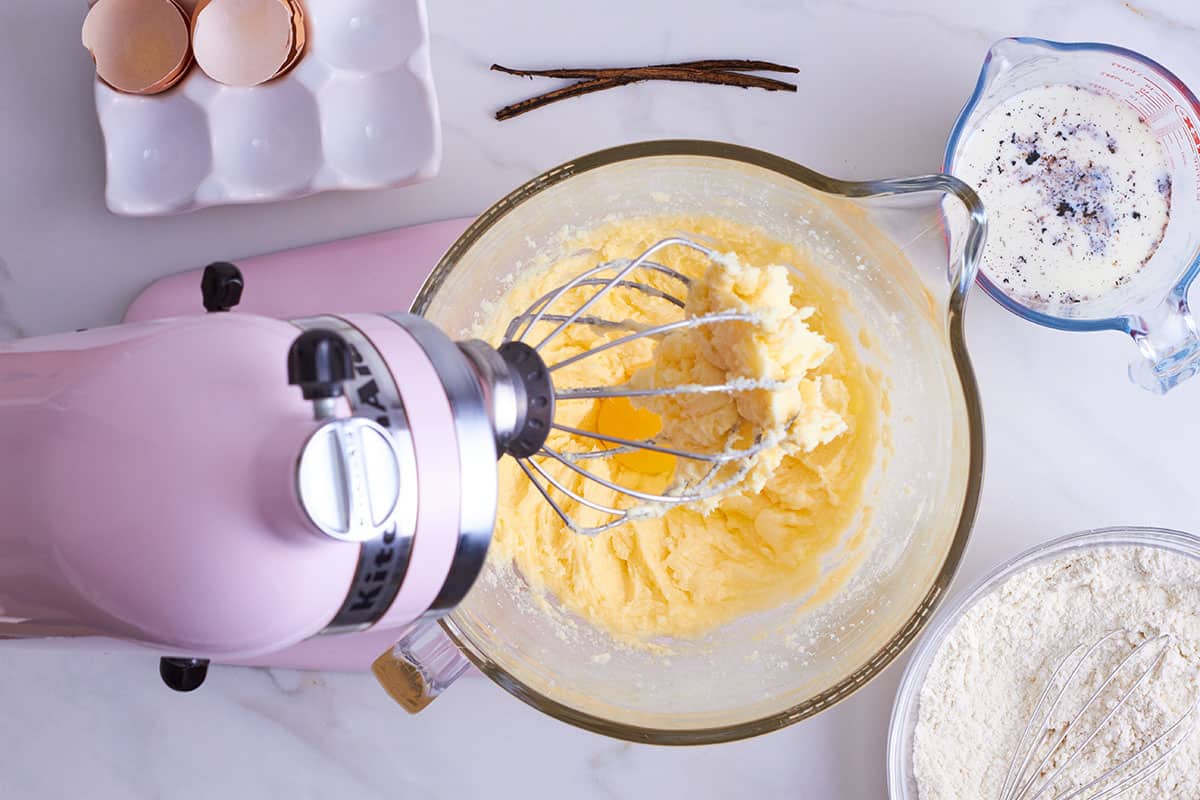 Cream the softened butter and the sugar.
2. Add the eggs one at a time and mix well.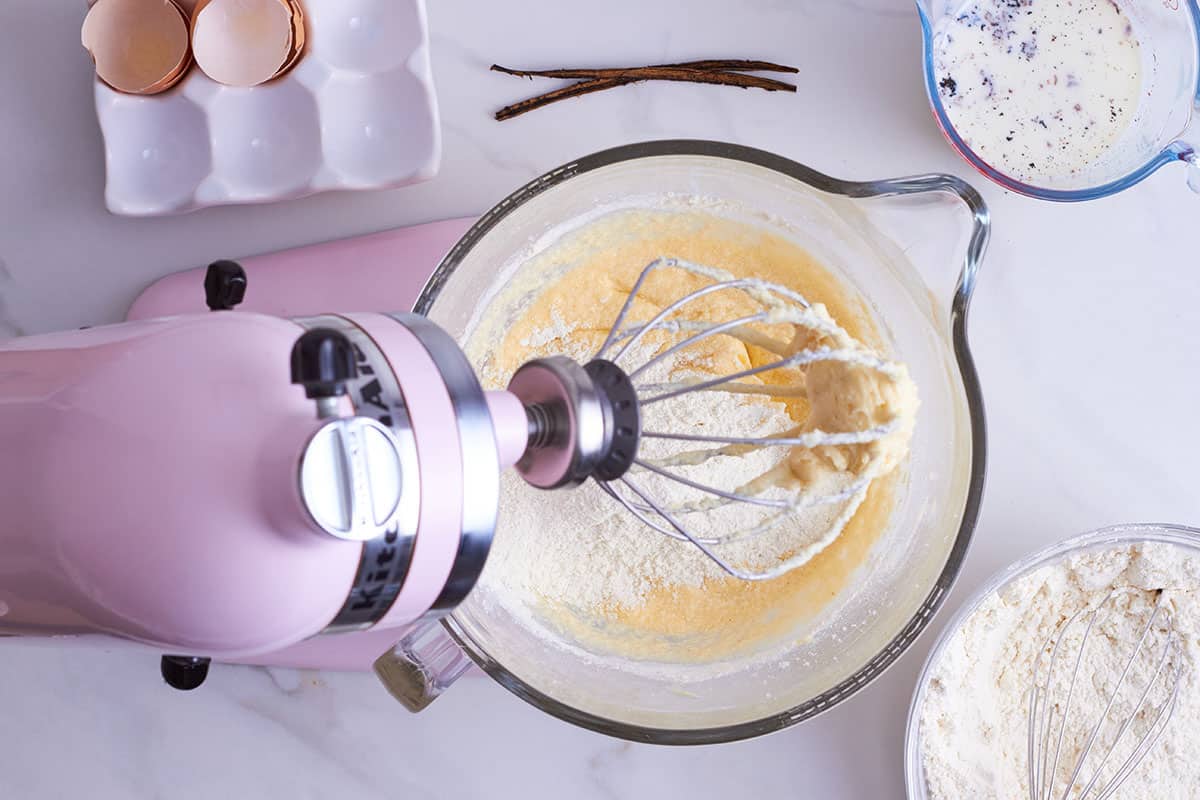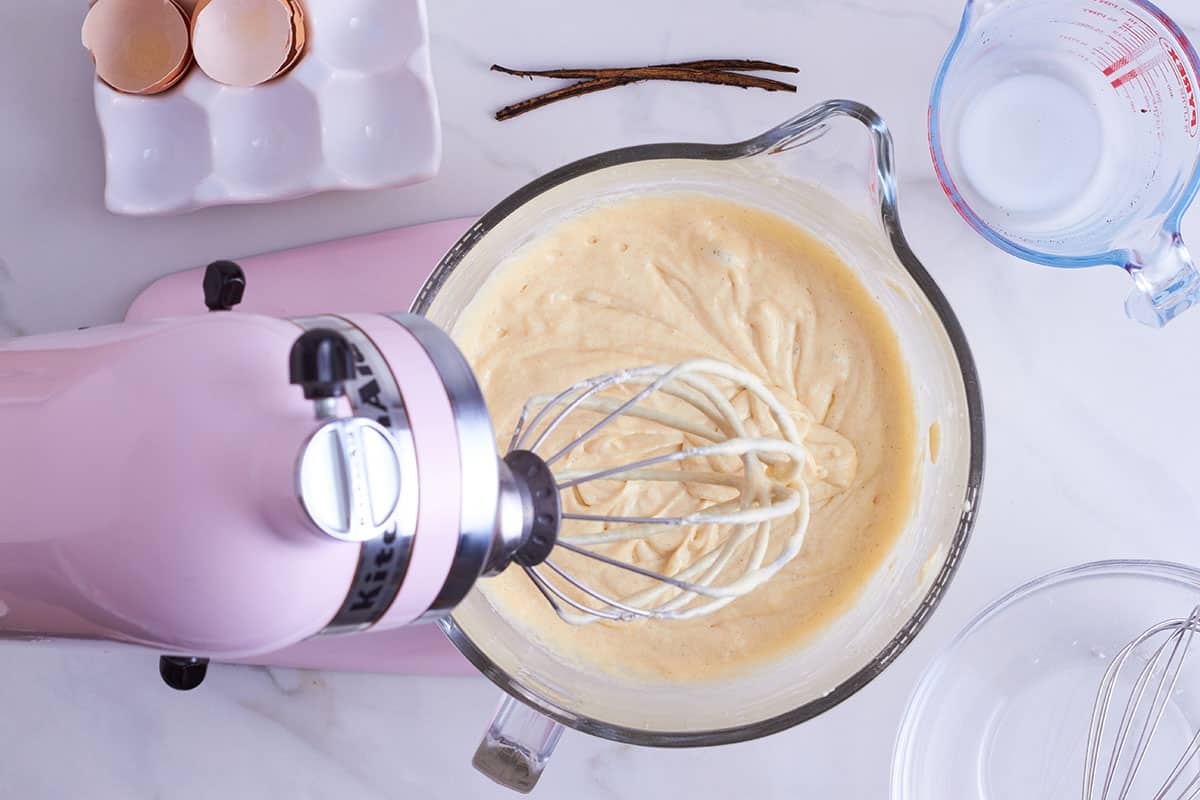 3. Alternate adding the flour mixture and the milk mixture and mix well.
4. Repeat until all of the ingredients have been incorporated.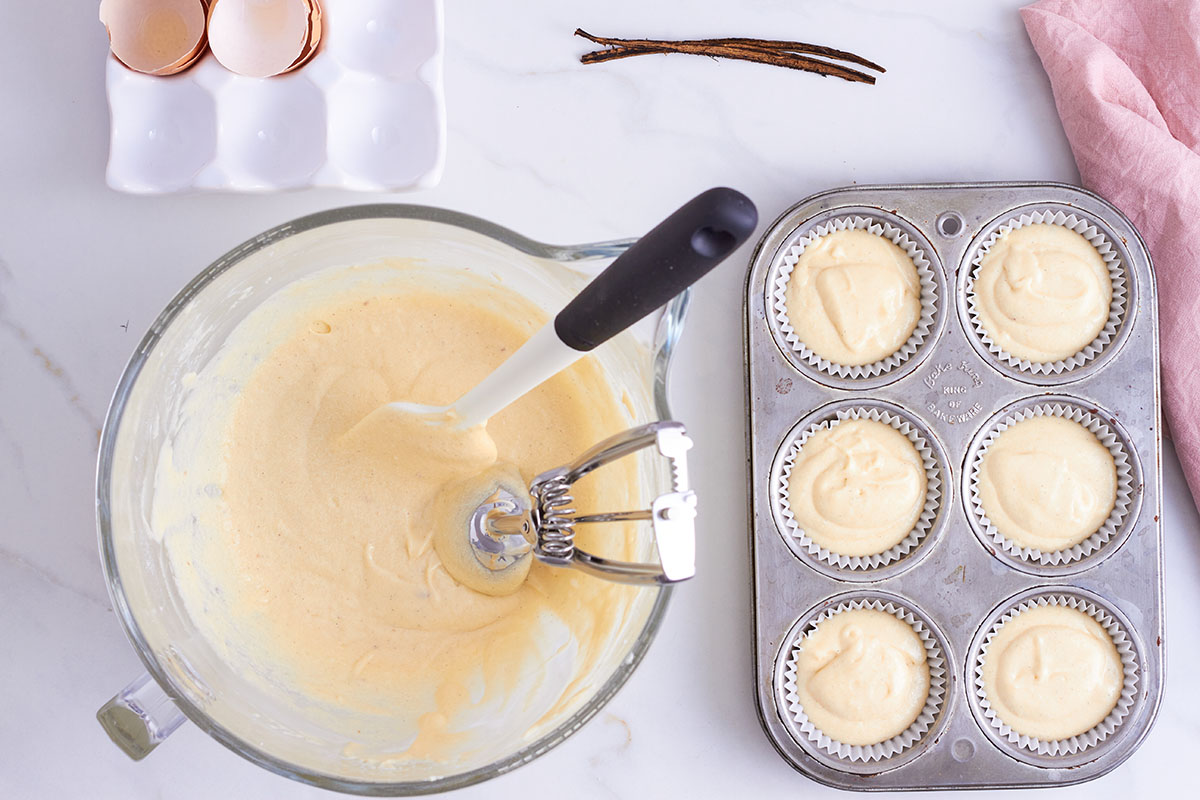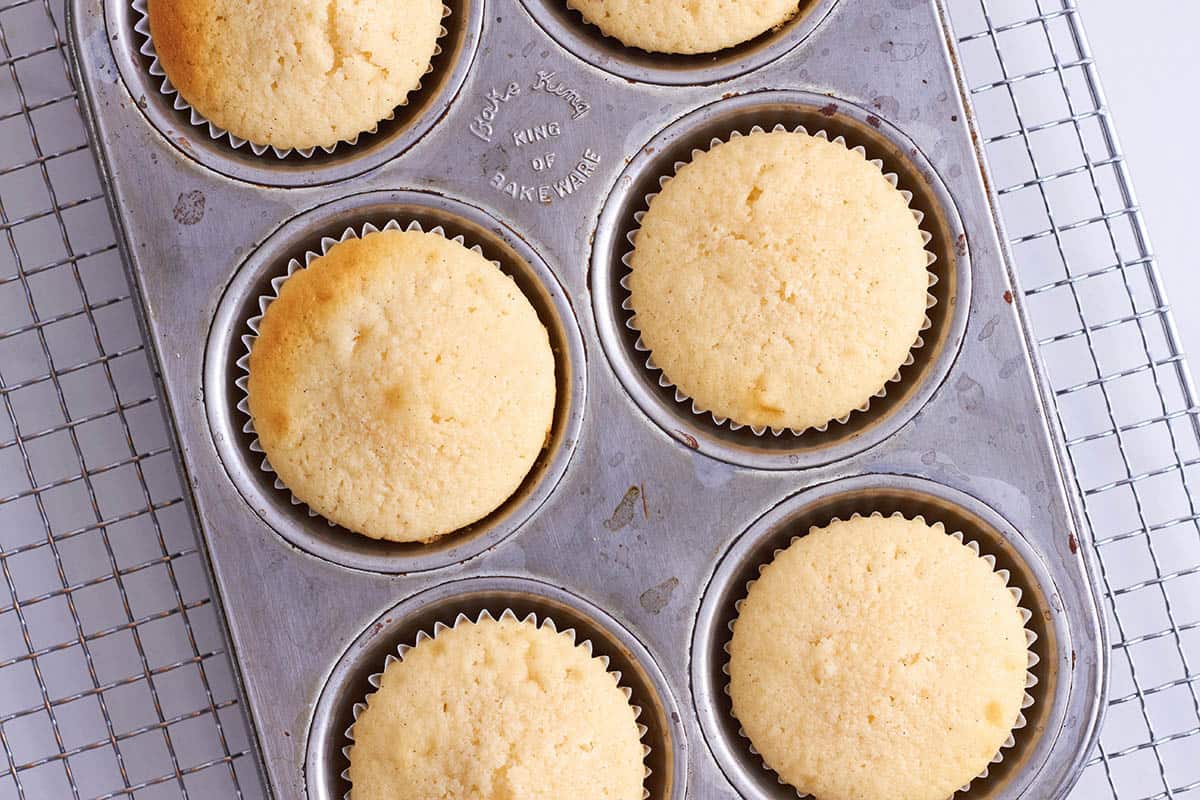 5. Fill the muffin cups two-thirds full with batter.
6. Bake for 16-18 minutes.
Which frosting goes best with the Vanilla Cupcakes?
I topped the cupcakes in the photos with swirls of Cream Cheese Frosting, which is truly my favorite frosting. Chocolate glaze or buttercream would also be amazing, along with coconut, caramel, peanut butter, vanilla buttercream or strawberry cream.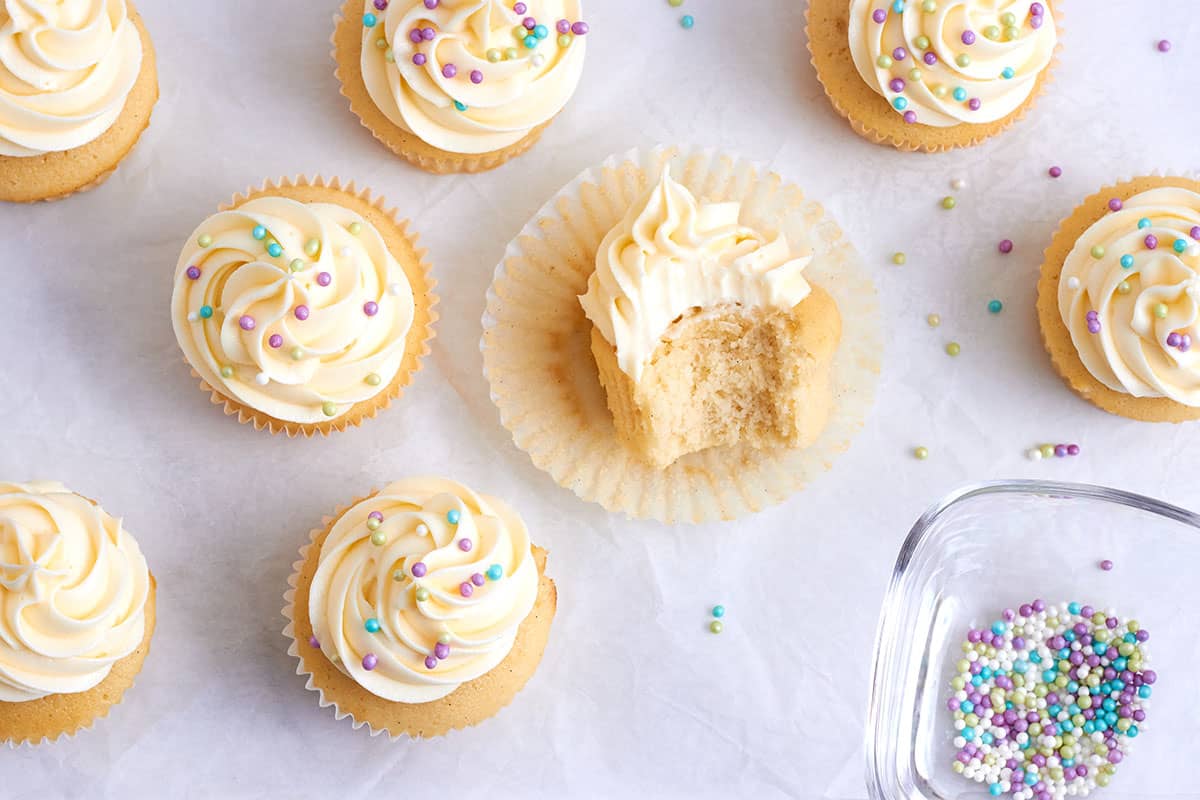 Can this recipe be halved or doubled?
Yes, absolutely. It can easily be halved or doubled.
Can the cupcakes be made ahead?
Yes! Simply bake the cupcakes according to the recipe, allow them to cool, and then they can be stored in airtight containers. Stored at room temperature, they will stay fresh for up to three days.
Can these cupcakes be frozen?
Yes, the unfrosted cupcakes can be stored in the freezer in an airtight container for up to two months. To thaw: allow the frozen cupcakes to stand at room temperature for one hour.
Help! My batter curdled/got runny/split!
It's not a big problem if your batter is curdled. Just keep adding the ingredients according to the recipe and most of the time, the batter will be thick and creamy at the end.
If after you've added all the ingredients your batter is still runny or curdled, you can try bringing it back by beating it on high for one minute.
Some last tips on making Perfect Vanilla Cupcakes:
always use fresh, good-quality ingredients
make sure your baking powder hasn't expired
these cupcakes are baked at a low temperature (325°F) to keep them soft and moist
Happy baking!
Perfect American Vanilla Cupcakes
Ingredients
Instructions
Preheat oven to 325°F (165°C). Line muffin tins with cupcake liners.

Whisk together flour, baking powder and salt in a medium-sized bowl and set aside. Add the vanilla to the milk.

Beat the butter and sugar on high speed until light and fluffy (3-5 minutes). Add the eggs, one at a time, and beat until incorporated.

Add one third of the flour mixture to the butter-egg mixture and beat on low until well combined. Add one third of the vanilla milk and beat on low until well combined. Repeat procedure with the remaining flour and milk mixtures, scraping the bowl between additions.

Fill cupcake liners two thirds full with batter. Bake for 16-18 minutes until a toothpick inserted into the center of a cupcake comes out clean. Cool cupcakes completely in tins on a wire rack.
Nutrition
More Cakes & Cupcakes