A fudgy chocolate cake layered with homemade salted caramel sauce and salted caramel buttercream, covered with a dark chocolate ganache and finished with a salted caramel drip.
This beautiful and indulgent layer cake isn't difficult to put together but, because of its many elements, it is a somewhat time-consuming labor of love best saved for special occasions.
This is seriously the most amazing cake ever and it has long been the most-requested birthday cake in our family but it wasn't until I made it for my own birthday that I finally had the time to shoot photos of it.
There are four elements to this Salted Caramel Chocolate Cake. The cake layers themselves are made using my favorite chocolate cake recipe from this Chocolate Rainbow Cake and these Ultimate Chocolate Cupcakes. The batter is easy to mix together and the chocolate cake comes out moist, fudgy and chocolatey. You can't go wrong with this chocolate cake recipe.
The next thing you're going to make is the homemade salted caramel sauce. If you have a favorite store-bought salted caramel sauce you want to use, that's perfectly acceptable but making your own is quick and easy and the flavor is out of this world.
I have a tutorial with photos on How to Make Salted Caramel Sauce to take you through the process step-by-step. Be aware though, that the ingredient amounts in the salted caramel sauce recipe below differ slightly from those in the tutorial.
The salted caramel sauce recipe below will yield enough sauce to make the buttercream, drizzle in between the cake layers, drizzle over the top of the cake AND you will still have enough to serve with the cake slices for even more salted caramel flavor. It sounds decadent, I know, and it is.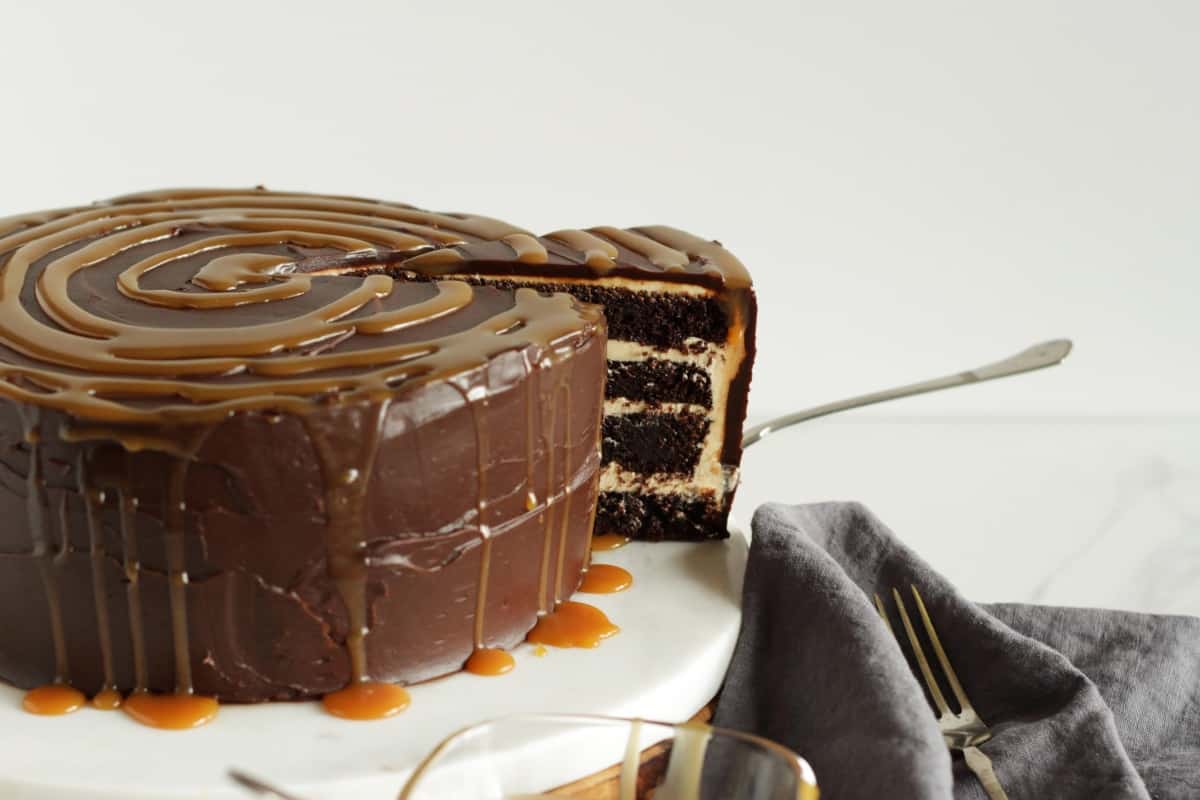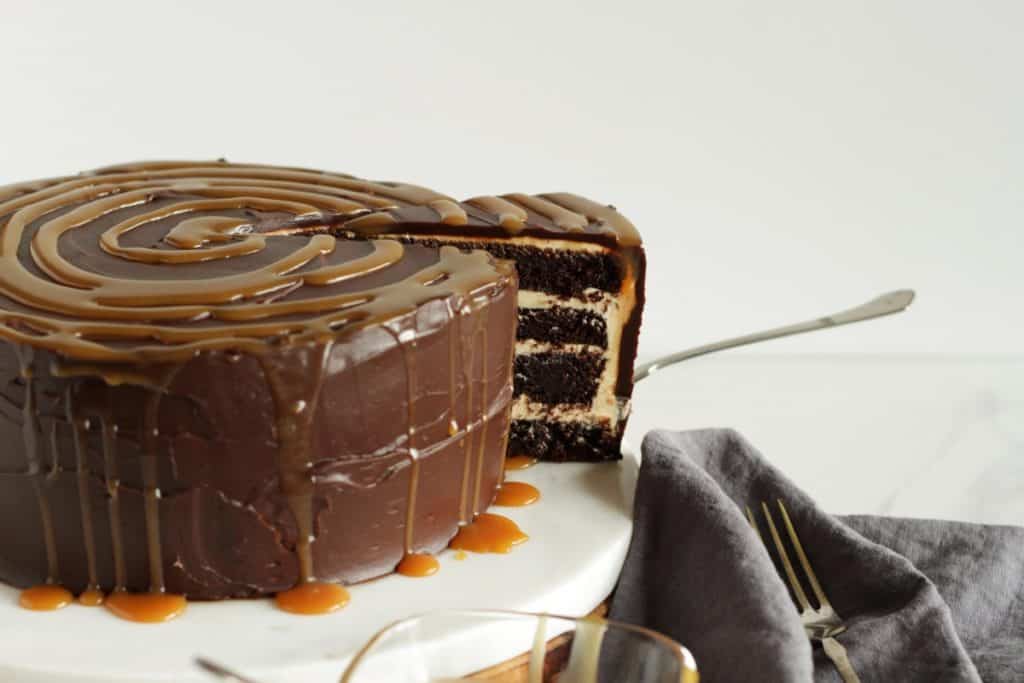 The salted caramel buttercream filling for this cake is a Swiss meringue buttercream and it is DIVINE. Swiss meringue buttercream is an amazingly silky and light, stable buttercream that's not too sweet. You can adapt it to all kinds of flavors. But honestly, vanilla Swiss meringue buttercream is one of my favorite frostings because it is just so dreamy.
To make this salted caramel Swiss meringue buttercream, you just mix some of your homemade salted caramel sauce into the finished buttercream. It is crazy how well the buttercream takes on the flavor of the salted caramel. I've got to warn you this stuff is extremely addicting!
Making Swiss meringue buttercream is more involved than making regular American frosting and it can be a little intimidating. Although this is the most challenging element of the cake, you can do it! I haven't made it that often myself so I'm no expert but I can assure you that the recipe below works. Follow the steps carefully. Expect it to go weird on you, this is normal and no cause for panic. It will emulsify soon and become beautifully light and creamy.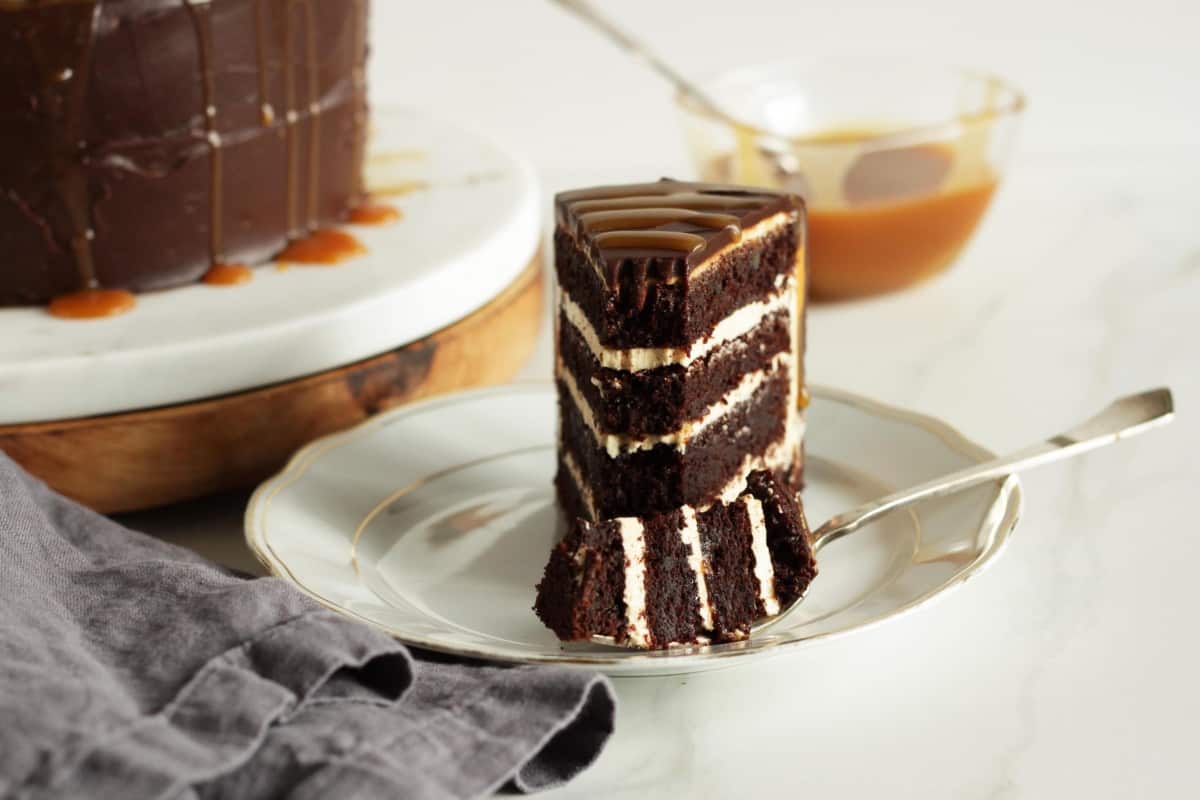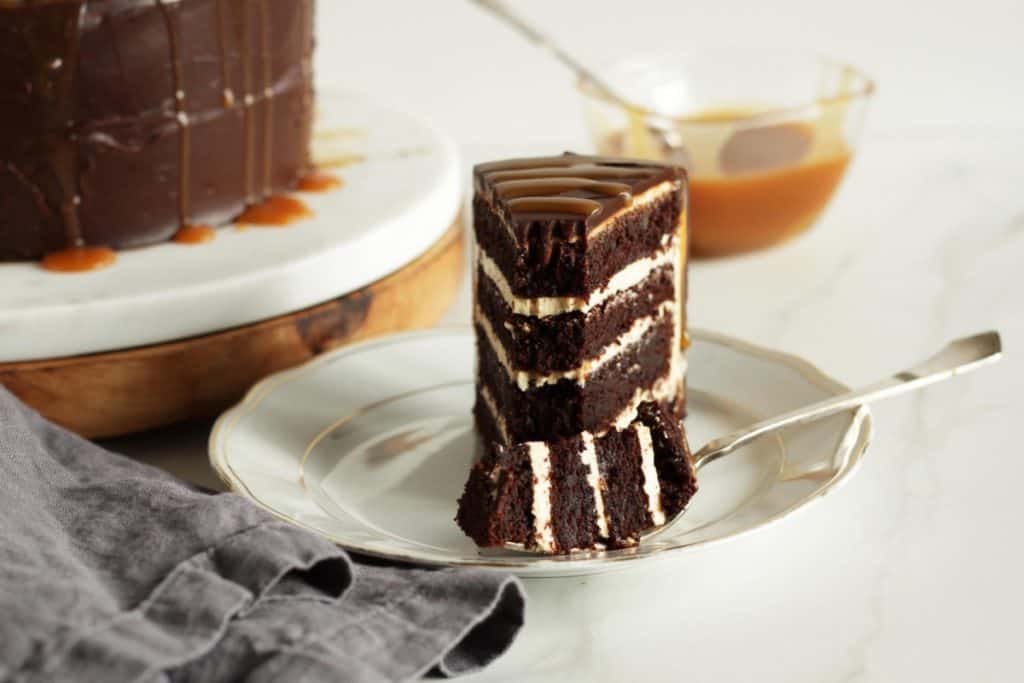 How to fix Swiss Meringue Buttercream
If, after all the butter has been added, your buttercream appears to have gone horribly wrong, do not throw it out! Here's what you can do:
First, try whipping the buttercream for an additional 5-10 minutes to see if it comes together.
If your buttercream looks curdled, separated or chunky, it needs to be warmed slightly. The butter was probably too cold when you added it or the buttercream is too cold from being refrigerated (if you had it in the refrigerator). FIX: Place your mixing bowl of buttercream over the pot of simmering water again for a minute or two. Remove from the heat and try rewhipping. OR: Heat a small portion of the buttercream in the microwave for 10 seconds, return it to the mixing bowl and rewhip.
If your buttercream doesn't look curdled but is just too loose (runny and soupy), it needs to be cooled. It is likely that your butter was too soft or the meringue wasn't completely cool before you added the butter. FIX: put the mixing bowl with the buttercream into the fridge for 10-20 minutes and try whipping it again for a couple of minutes. If it's still soupy, repeat the process of chilling and whipping until the mixture thickens.
If you absolutely don't want to deal with the hassle of making a Swiss meringue buttercream, try this Salted Caramel Buttercream recipe.
The dark chocolate ganache frosting on this cake is as easy to make as chopping chocolate and it's ridiculously rich in chocolate flavor. The intense chocolate flavor of the ganache really brings the whole cake together.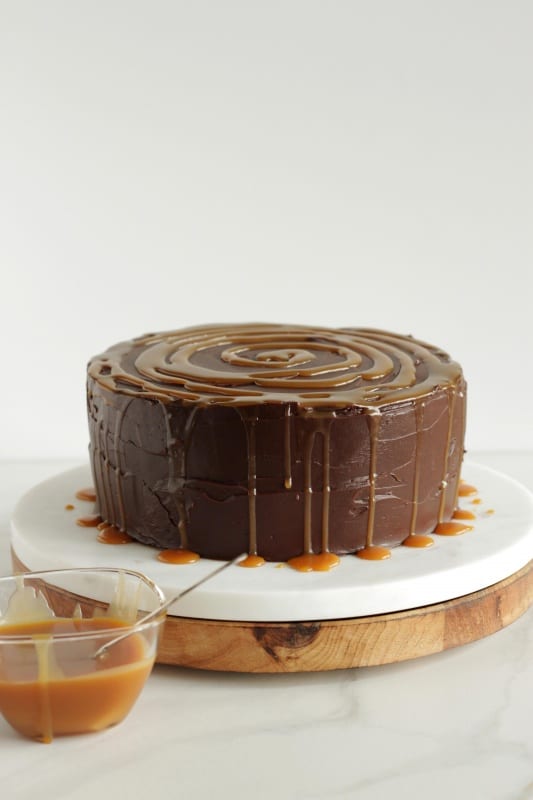 If you don't have a lot of time on the day you want to assemble the cake, you can make some or all the elements ahead of time, allowing you to concentrate on making the cake beautiful.
how to make this cake ahead of time
The chocolate cake layers can be made the day before, tightly wrapped and chilled. You can even make them weeks before if you wish to freeze them. I would chill the baked cakes before freezing, halve each cake horizontally and freeze the four cake layers until you're ready to assemble the cake.
The salted caramel sauce can be made up to a week ahead of time. Store it tightly covered in the refrigerator and allow it to stand at room temperature for several hours before adding it to the buttercream. Or you can warm it VERY gently and carefully just until it loosens into a spoonable sauce again.
The salted caramel Swiss meringue buttercream can also be made a day or two before, chilled and brought to room temperature over several hours before filling and frosting the cake. The buttercream is going to be quite hard when it's still cold. Once you're ready to assemble the cake, you will need to give the buttercream a quick whip to get it to the right consistency again.
Even the dark chocolate ganache can be made the day before and left at room temperature overnight. I would warm it VERY carefully, stirring gently, until it is spreadable (about the consistency of a thick pudding).
The entire cake can be filled and frosted the day before and stored in the refrigerator overnight. In fact, the flavor and texture of this cake improve with each day that goes by! For the best consistency and flavor, I recommend allowing the chilled cake to stand at room temperature for at least an hour before cutting it into slices.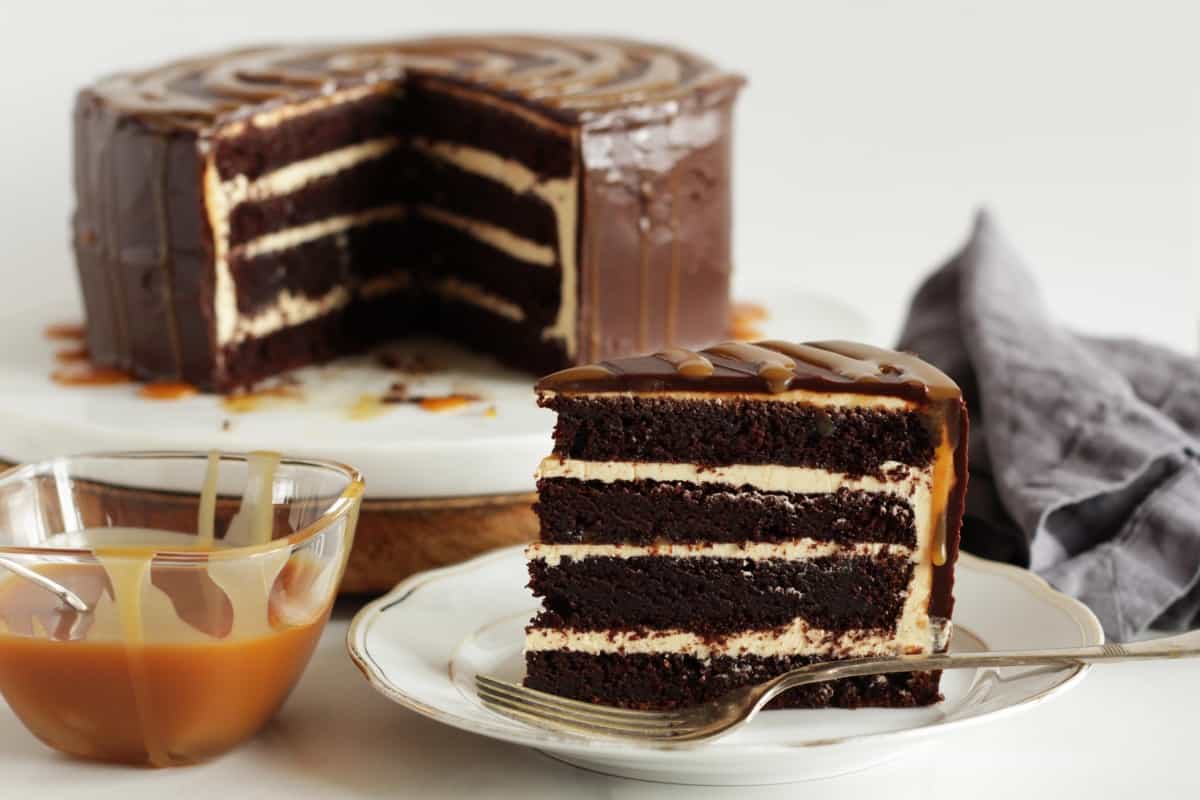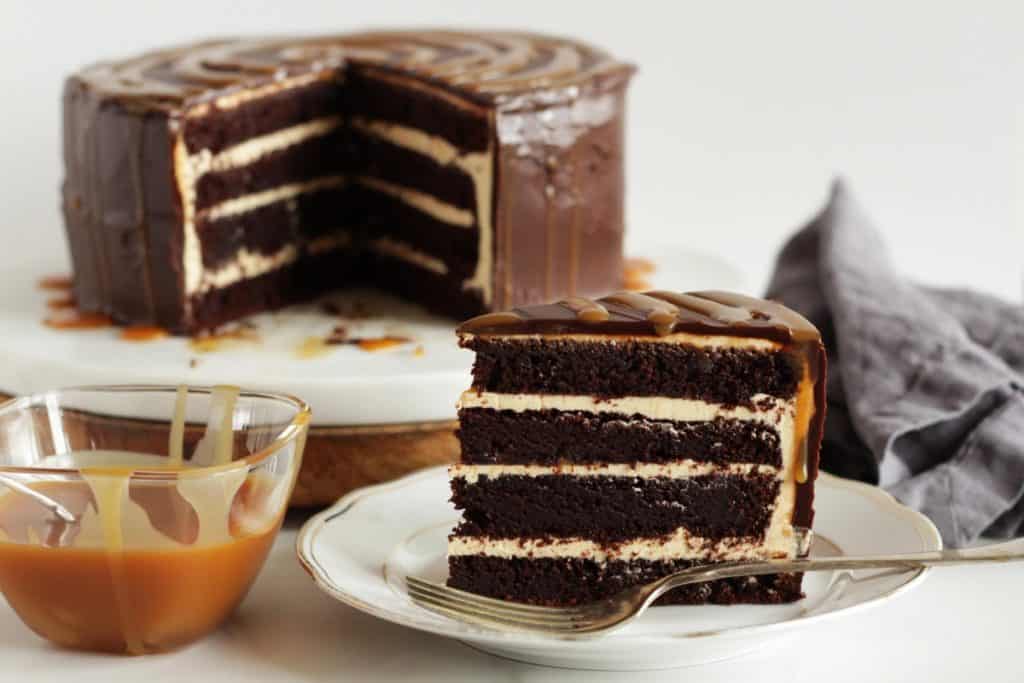 Salted Caramel Chocolate Cake
This beautiful and indulgent layer cake isn't difficult to put together but, because of its many elements, it is a labor of love.
Ingredients
Instructions
Chocolate Cake
Preheat oven to 350°F (175°C). Grease and flour two 8-inch (20 cm) round cake pans and line bottoms with parchment paper.

Whisk together cocoa powder and hot coffee in a medium sized bowl and set aside.

In a large mixing bowl, combine flour, sugar, baking soda, baking powder and salt. Add eggs, buttermilk, melted butter and vanilla extract and beat on medium speed for 3 minutes. Scrape sides of bowl as needed. Stir in coffee and cocoa mixture. The cake batter will be very runny.

Divide batter between the two cake pans and bake for 32-35 minutes, until cake is springy when touched and no dent is left behind. A wooden toothpick tester must come out clean.

Cool cakes completely in pans on wire racks. When cakes are no longer warm, cover the pans tightly with plastic wrap or aluminum foil and chill for at least 2 hours.
Salted Caramel Sauce
Measure all ingredients and place them near the stove. Heat sugar over medium high heat in a medium-sized, heavy-bottomed saucepan with high sides. Once sugar begins to melt, gently stir with a heatproof spatula or whisk to help it heat evenly.

When (nearly) all of the sugar has melted and liquid is amber (caramel) colored, add the butter and stir until it has completely melted.

Remove from heat and stir in the cream. CAUTION, the mixture will foam up considerably and possibly splatter. Keep stirring until caramel sauce is smooth. You made need to return it to the heat to help any crystals dissolve.

To eliminate any undissolved crystal lumps, pour sauce through a wire sieve into a heatproof bowl. Stir in vanilla and salt.

Allow the caramel sauce to cool to room temperature. It will thicken as it cools. Gently warm caramel sauce as needed before serving.
Chocolate Ganache Frosting
Make Ganache Frosting ahead of time as it needs about 2 hours to cool.

In a medium-sized saucepan, heat and stir the cream, butter, sugar and salt over low heat until sugar dissolves and mixture nearly comes to a boil. Do not allow it to boil. Remove from heat and stir in chocolate until completely smooth. Stir in vanilla.

Allow mixture to cool to room temperature, until it has thickened into a pudding-like spreadable consistency, stirring occasionally. You can help this process along by chilling the ganache for 10-20 minutes if necessary. If the ganache hardens too much, you can warm it slightly.
Swiss Meringue Buttercream
Cut your cold butter into 1-inch (2 cm) cubes and allow it to stand at room temperature for about one hour. Butter should be softened but not greasy-looking. If your kitchen is very warm and the butter looks like it's on the verge of melting, chill it while you prepare the meringue.

It is essential that no grease or fat comes into contact with the egg whites. Even a trace of fat will prevent the egg whites from whipping into stiff peaks. Use a very clean metal or glass mixing bowl. Separate the eggs one at a time into a small bowl, add the egg white to the mixing bowl and separate the next egg. That way, if a yolk does break, only one egg goes to waste (or becomes an omelet later), and not all of them.

Add the sugar to the egg whites and place your mixing bowl over a pot of simmering water, making sure the bowl does not touch the water. Whisk the egg whites lightly while the meringue is heating. After a few minutes, you can test whether the mixture is ready by rubbing it between your fingers. If there is no graininess and the sugar is dissolved completely, remove from the heat and add a pinch of salt.

Using the whisk attachment of your stand mixer or an electric hand-held mixer, beat the egg whites on medium to medium-high speed for about 10 minutes until the bowl feels completely cool and a very thick, glossy, bright white meringue with stiff peaks forms. This can take up to 20 minutes. If the meringue is still too soft after 20 minutes of beating, put the bowl into the fridge for about 10 minutes and then try whipping again. If the chilling doesn't help, some fat has probably got into the egg whites and you will need to discard the mixture and completely start over.

Once the meringue is cold, switch to medium-low speed and beat in the butter, one piece at a time, allowing it to fully incorporate before adding the next piece. If the texture of the meringue gets runny or curdled during this process, don't worry! Just keep whipping and slowly adding the butter. If, after all the butter is incorporated, the buttercream still looks runny or curdled, continue whipping for an additional five minutes. If it still doesn't look right, CLICK HERE to view the section in the post above on how to fix Swiss meringue buttercream.

Once the buttercream is fluffy and creamy, beat in vanilla and six tablespoons of cooled salted caramel sauce.
Cake Assembly
Turn chilled cakes out of the pans and remove parchment paper. If you wish, you can level the cakes, horizontally cutting off the domed or uneven tops. Slice each cake in half horizontally so that you have four layers. Ideally, you would use a cake leveler to accomplish this but a long, serrated bread knife works as well.

Place the bottom layer (the bottom half of one of the cakes) on a cake platter and lay strips of parchment paper under the edges to help keep the platter clean.

Spread cake with about a quarter of the salted caramel buttercream, then drizzle with 1-2 tablespoons of salted caramel sauce. Place the next layer on top and repeat until you have your final layer of cake on top (the bottom half of the second cake, upside-down).

Using the remaining buttercream, you're going to crumb-coat the cake. Start by frosting the sides of the cake. Holding your palette knife parallel to the cake, apply plenty of buttercream to the sides, filling in any holes and uneven spots with the buttercream. It's ok if it doesn't look perfect or you get crumbs in the buttercream, just try to spread it evenly. Place the entire cake in the fridge for 30 minutes.

Take the cake out of the fridge and cover it with the ganache frosting. As before, start with the sides, spreading and smoothing the ganache frosting with a palette knife. Then frost the top of the cake. Remove the parchment strips from under the edges of the cake and wipe the platter clean, if necessary.

Finally, finish by drizzling salted caramel sauce over the top of the cake, in a spiral pattern if you like, allowing the sauce to drip down the sides.

Serve cake slices with additional salted caramel sauce if desired.

Store cake in the refrigerator, tightly covered, in a cake carrier or a cake keeper if possible, for up to four days. Allow cake to stand at room temperature for one hour before serving for best flavor and consistency.