An absolute must for chocolate lovers! This is a basic American cupcake recipe, but these decadent Chocolate Cupcakes with Chocolate Buttercream have plenty of chocolate flavor and a moist, fluffy crumb.
The Chocolate Buttercream is ready in minutes and is rich, creamy, chocolatey and not too sweet. Watch out: these are addictive!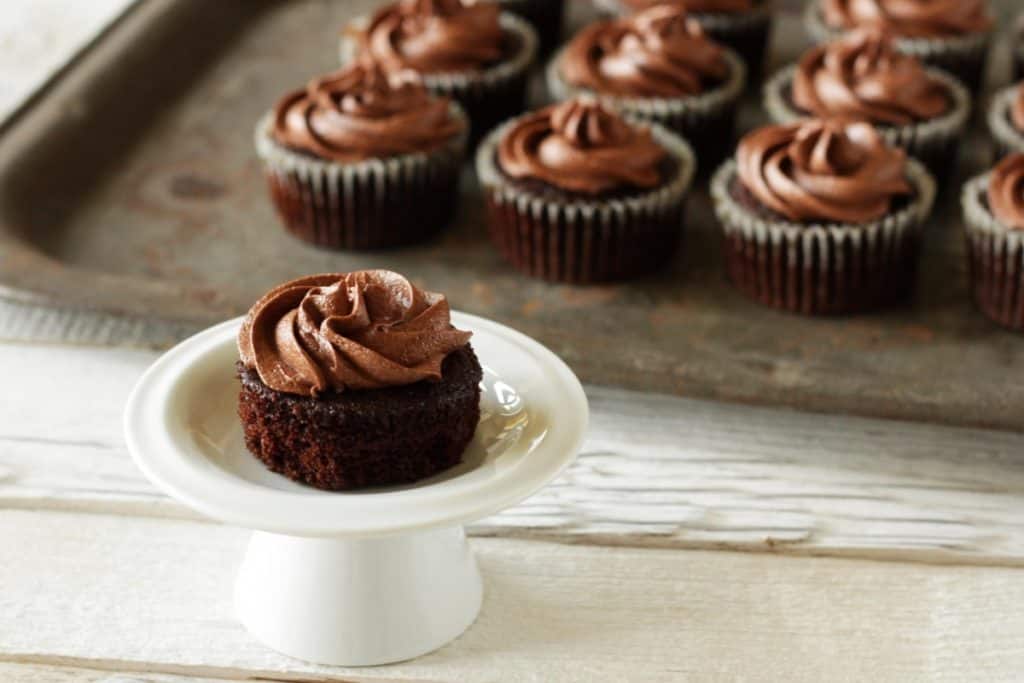 These Chocolate Cupcakes have been a long time in coming! My recipe for the Perfect American Vanilla Cupcakes has been on the blog since 2016 and it continues to be one of my most popular posts. There needed to be a recipe for the perfect chocolate cupcakes too!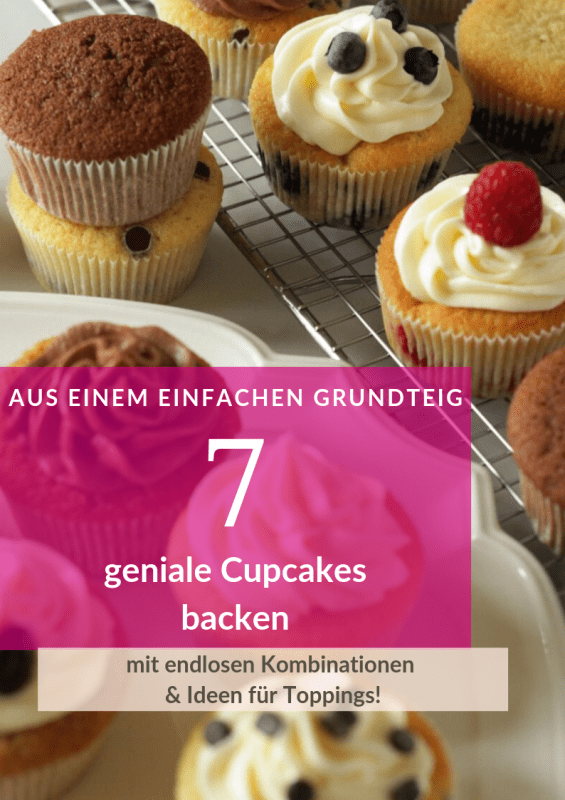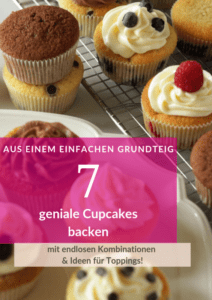 If you sign up for my newsletter, you will get a recipe booklet with my basic recipe for cupcakes that you can use to make 7 different flavors, plus more ideas and recipes for frostings! These recipes are available exclusively to newsletter subscribers (in German only). SIGN UP HERE to get your free recipe booklet.
It's just that chocolate cake and I weren't the best of friends for a very long time. My recipes from the U.S. just didn't turn out here in Austria.
I can't even tell you how many times I was freaking out on one of my kid's birthdays because I, yes I, couldn't bake a decent chocolate cake. My husband would go to the store and buy a cake mix for Sacher Torte and bake the cake himself. It's a funny story but I didn't think it was that funny at the time.
I always chose recipes that promised a super moist homemade chocolate cake. Everything would seem fine while the cake was in the oven and it was done according to the wooden toothpick test, but, as the cake cooled, it always sank in the middle. It was gummy and just garbage.
I normally love fudgy and gooey but cake should have a certain crumb, a moist crumb is what I was going for.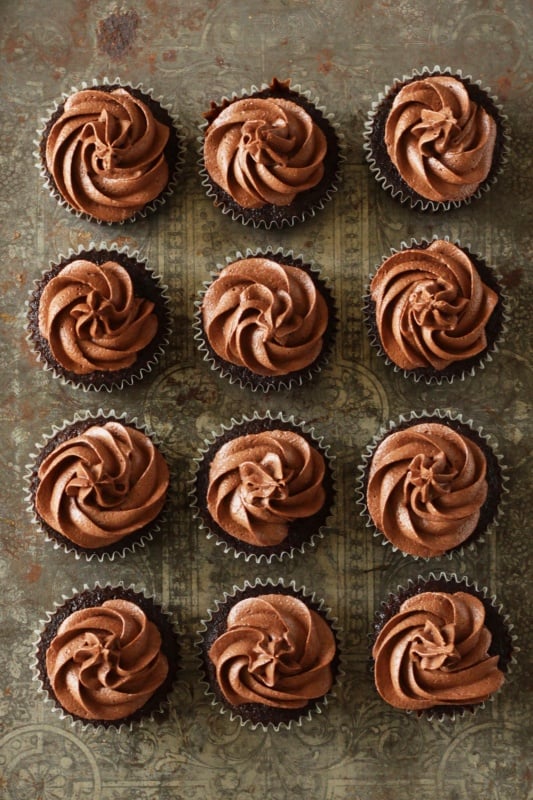 By the way, just a little side note here, if a cake doesn't turn out, you don't have to throw it in the garbage! (Unless the batter is still raw, then it's a health risk eating it.) You can use the cake to make cake pops or stir chunks of the cake into ice cream!
I'm ashamed to admit that it wasn't even that long ago that chocolate cakes were still sinking on me. It was like some kind of curse! I knew from my experience with cream cheese frosting that there had to be a way.
I tried other recipes for chocolate cake but they were just ok and didn't knock my socks off. They were too dry and/or didn't have enough chocolate flavor.
So back to the drawing board I went and now I can present to you the perfect, the Ultimate Chocolate Cupcakes! This is a simple, from scratch recipe. You can even bake cake layers using this recipe and they turn out so decadent and fabulous! The cake layers of this Chocolate Rainbow Cake were made using this recipe (but doubled).
The Chocolate Buttercream Frosting on the cupcakes is at least as good as the cupcakes themselves but we'll get to that in a minute.
These Chocolate Cupcakes are the best chocolate cupcakes! They are:
moist
soft
fluffy
chocolatey
quick and easy to make
Those are my criteria and I'm really pleased with this recipe. These homemade Chocolate Cupcakes really are quick and super easy to make but, as is the case with any recipe, there are a couple of things you have to watch out for.
There are a few key ingredients in the cake batter. I like to use cocoa powder for chocolate cakes because it's easy and it lends the cake a lot of chocolate flavor. Isn't actual chocolate also made out of cocoa?
The chocolate flavor is then enhanced with coffee. I whisk the cocoa powder into the hot coffee to allow the flavors to develop or "bloom." If you don't have any coffee at home, you don't need to buy any just for this recipe – you can use hot water instead.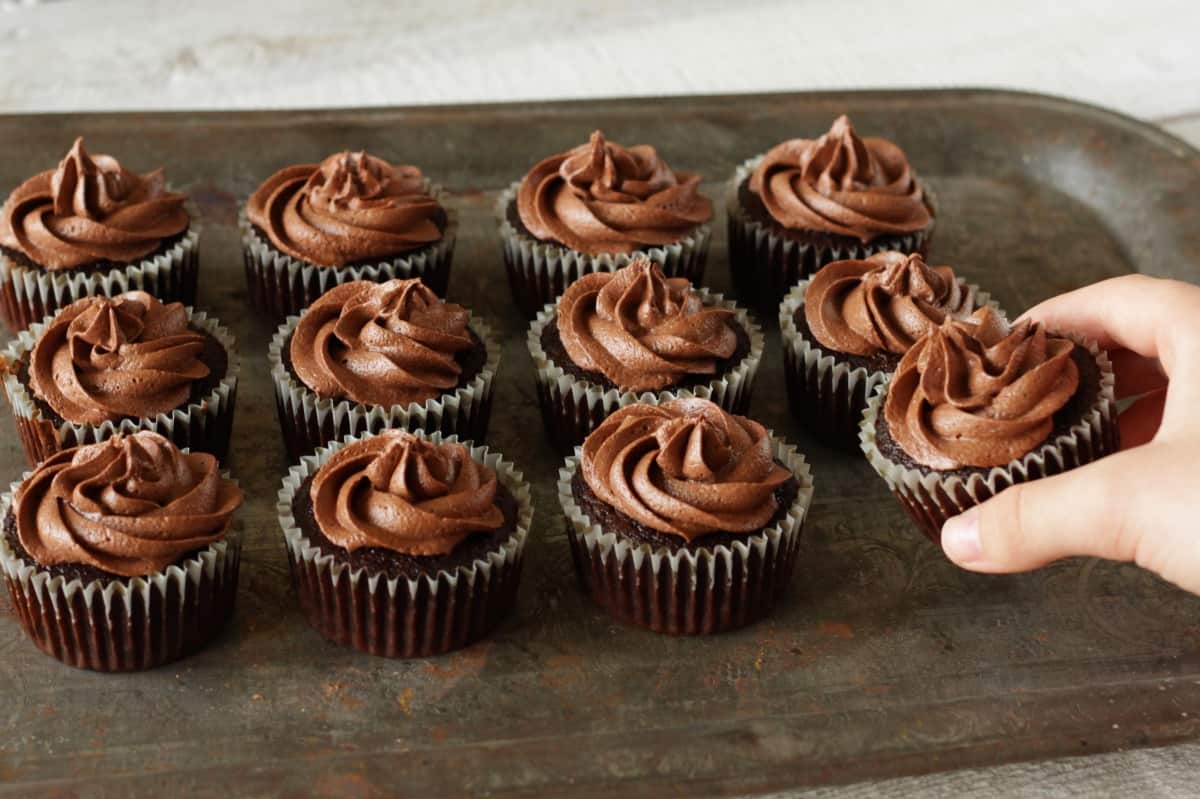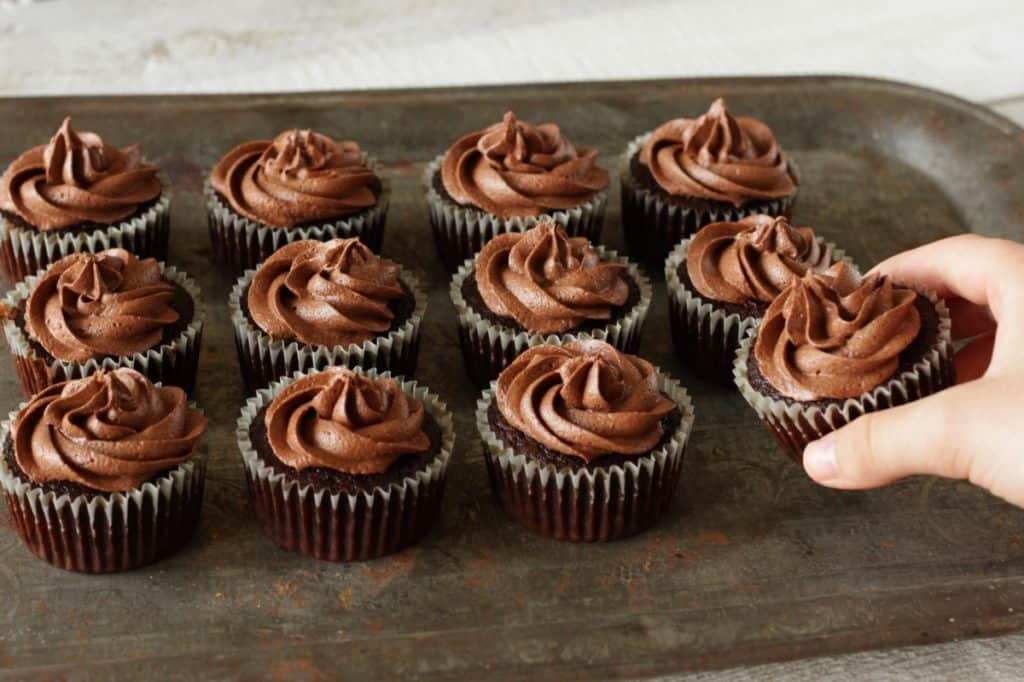 Baking powder, buttermilk and baking soda make the cupcakes nice and fluffy. I've tried this recipe many times and one of the keys to success is using all three of these ingredients. Otherwise you run the risk of the cupcakes sinking as they cool. The baking soda needs the acid in the buttermilk to react and create air bubbles.
The batter is very runny. It's important that you don't overfill the paper cupcake liners. They shouldn't be more than two-thirds full. The cupcakes do rise but if the liners are too full, the batter spills over rather than creating tall cupcakes. This isn't really a bad thing; these are just fun little cupcakes.
Finally, the cupcakes are baked at a slightly lower temperature than usual so that they stay nice and moist.
If you'd like slightly bigger chocolate cupcakes that are stable enough for heaps of frosting, try this recipe for moist chocolate cupcakes. It is also really simple and the cupcakes rise more while baking than the ones in this particular recipe. I actually almost chose those cupcakes as the best chocolate cupcakes but these here are even softer and fudgier.
Now onto the Chocolate Buttercream Frosting. It is:
chocolatey
creamy
fluffy
not too sweet
quick and easy to make
Heavenly! The frosting is an American buttercream but don't worry – it's not too sweet! Thanks to plenty of cocoa powder and a pinch of salt, this Chocolate Frosting is perfectly sweet and has a fudgy, decadent chocolate flavor. And because it's an American buttercream, you just beat everything together and you're done. So easy! Bonus: the buttercream recipe makes just the right amount of frosting for the number of cupcakes in the recipe. I'll admit this was sheer luck!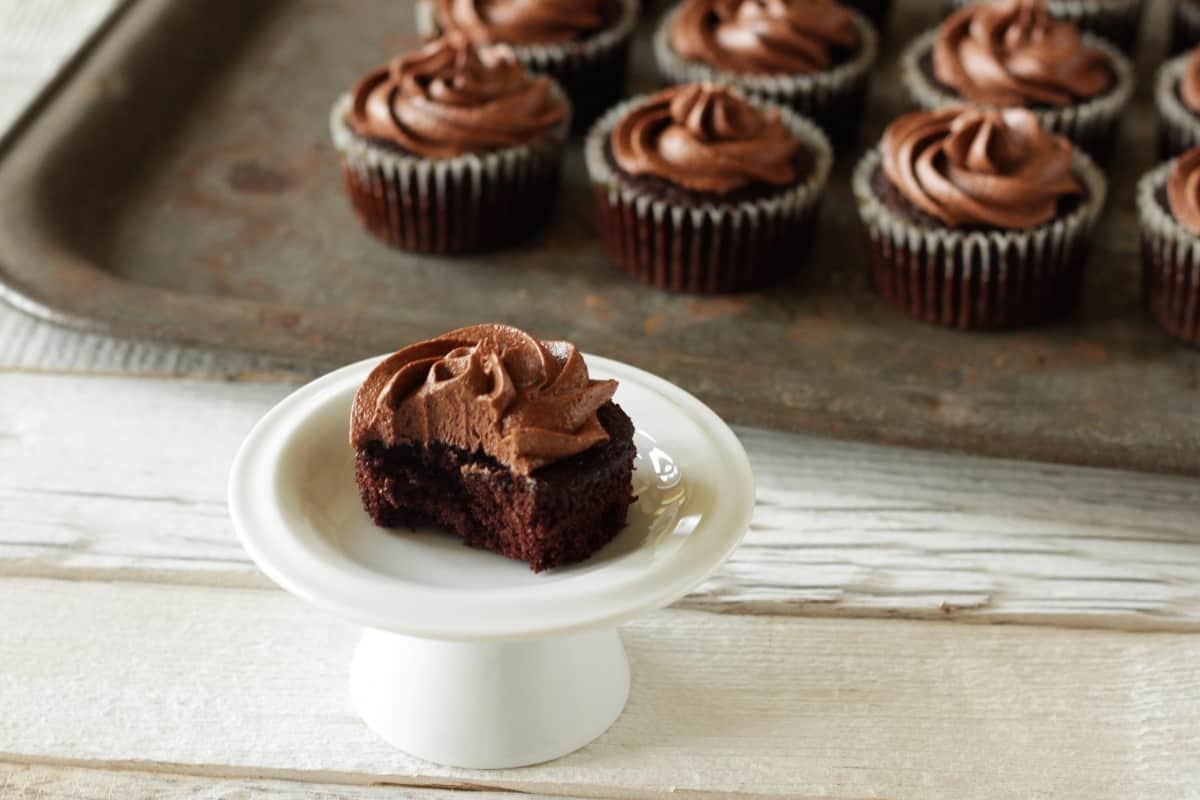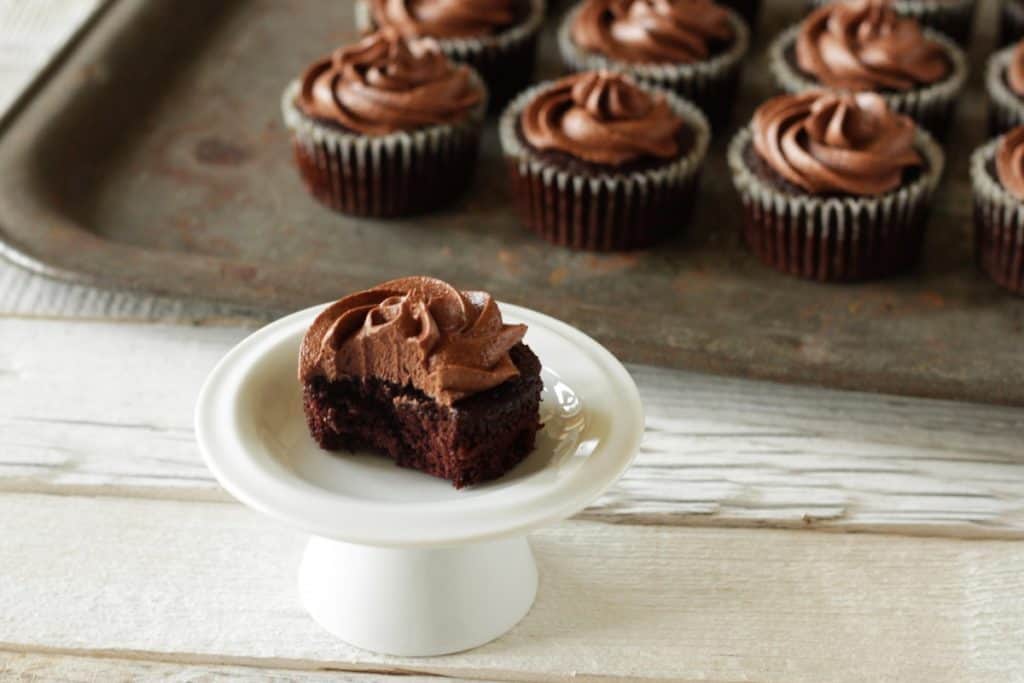 Other frostings you could top these cupcakes with would be: Cream Cheese Frosting, Vanilla-Chocolate Marble Cream Cheese Frosting, Peanut Butter Buttercream, Mascarpone Frosting or this Salted Caramel Buttercream.
Cupcakes that the Chocolate Buttercream would be great with are: these Chocolate Cupcakes, Marble Cupcakes or Perfect American Vanilla Cupcakes.
Happy Baking!
The Ultimate Chocolate Cupcakes with Chocolate Buttercream Frosting
Ingredients
Chocolate Cupcakes
½

cup

(42 g) unsweetened cocoa powder

½

cup

(120 ml) freshly brewed hot coffee

or hot water

¾

cup

plus 2 tablespoons (125 g) all-purpose flour

¾

cup

(150 g) granulated sugar

¾

teaspoon

baking soda

¾

teaspoon

baking powder

¼

teaspoon

salt

1

egg

room temperature

½

cup

(120 ml) buttermilk

¼

cup

(60 g) butter

melted

1

teaspoon

vanilla extract
Chocolate Buttercream
¼

cup

(60 g) butter

room temperature

A pinch of salt

1 ½

cups

(150 g) powdered sugar

¼

cup

plus 2 tablespoons (32 g) unsweetened cocoa powder

1 ½

tablespoons

(25 g) sour cream

1

tablespoon

whipping cream

½

teaspoon

vanilla extract
Instructions
Chocolate Cupcakes
Preheat oven to 320°F (160°C). Line muffin tins paper cupcake liners.

Whisk together cocoa powder and hot coffee in a medium-sized bowl and set aside.

In a large mixing bowl, combine flour, sugar, baking soda, baking powder and salt. Add egg, buttermilk, melted butter and vanilla extract and beat on medium speed for 3 minutes. Scrape sides of bowl as needed. Stir in the coffee and cocoa mixture. The cupcake batter will be very runny.

Divide the batter into 16 cupcake liners, about ¼ cup of batter per cupcake. Make sure cupcake liners are not more than two thirds full. Bake cupcakes for 15-17 minutes. Check for doneness with a wooden toothpick. Toothpick should come out clean.

Remove cupcakes from the oven and allow them to cool for 10 minutes in the pan on a wire rack, then transfer cupcakes to a wire rack to cool completely.
Chocolate Buttercream
Beat the butter and salt until creamy. Sift powdered sugar and cocoa powder together in a bowl. Add to the butter, along with the sour cream, whipping cream and vanilla. Beat for 1-2 minutes on high speed until the buttercream is creamy and fluffy. Scrape bottom and sides of mixing bowl with a rubber spatula as needed. If the frosting is still too stiff, beat in more cream, one teaspoon at a time, until the buttercream has reached the desired consistency.

To frost the cupcakes: Fill a piping bag fitted with a large star tip with the frosting. Pipe swirls of frosting onto the cooled cupcakes, beginning at an outside edge and ending in the center. Top with colored sprinkles, chocolate sprinkles or mini M&M's if desired.

Stored tightly covered in the refrigerator, cupcakes will stay fresh for up to five days. Allow the cupcakes to stand at room temperature for 20 minutes before serving.
Nutrition