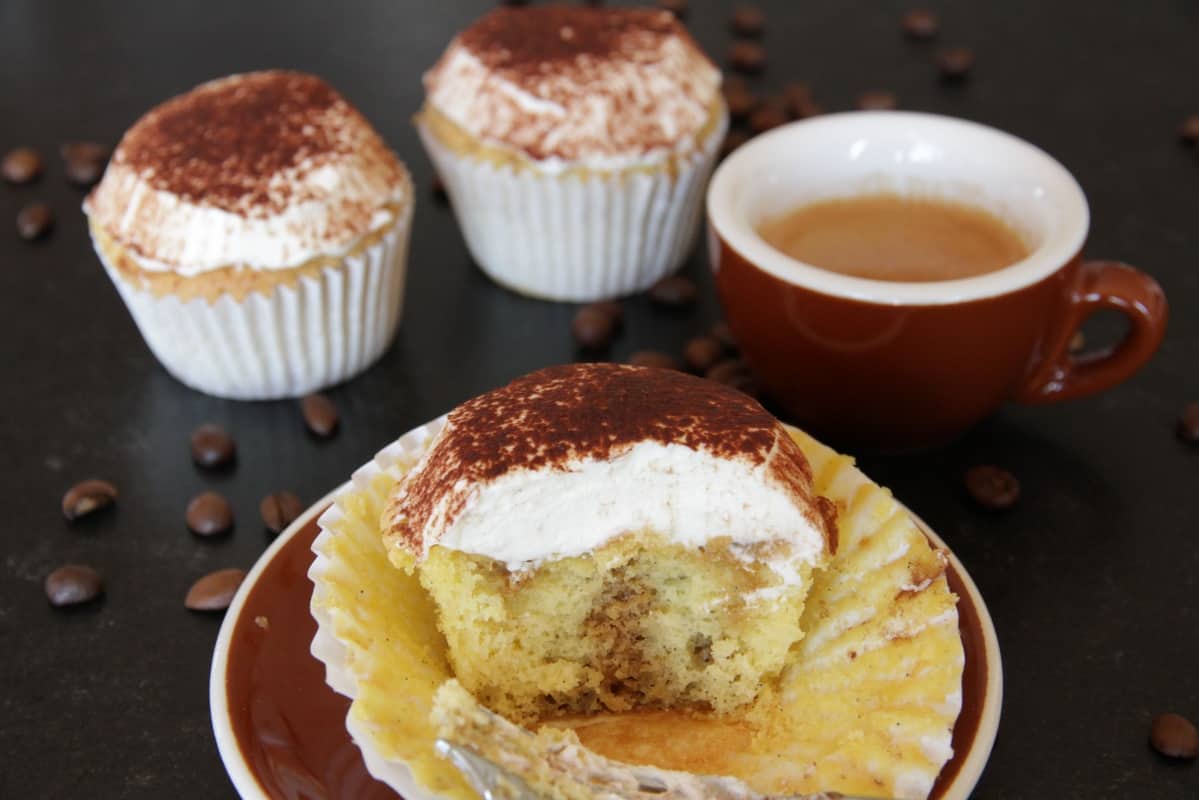 Last weekend while grocery shopping, I discovered that Wiener Zucker has a new product in a little pink box called Puderzucker (powdered sugar). According to the box, it's very fine and was made especially for fondant, cupcake toppings and buttercream frostings. Here's to hoping it lives up to that promise and therefore no more pre-pulverizing the Staubzucker (powdered sugar) for frostings!
There was also a recipe for a mascarpone cupcake topping on the box – which I wanted to try right away because Austrian bakeries often use mascarpone for their cupcake toppings instead of buttercream frosting. So I was intrigued and happy to have found a recipe for Mascarpone Frosting!
The Mascarpone Frosting recipe calls for mascarpone, powdered sugar, cream cheese (what!) and heavy cream. It is amazing! You just whip everything together for a minute or two and you have the BEST cupcake topping. Ever. With a light and creamy consistency, it's a little bit tangy and a little bit sweet, fluffy yet stable enough for piping and keeps for days in the fridge.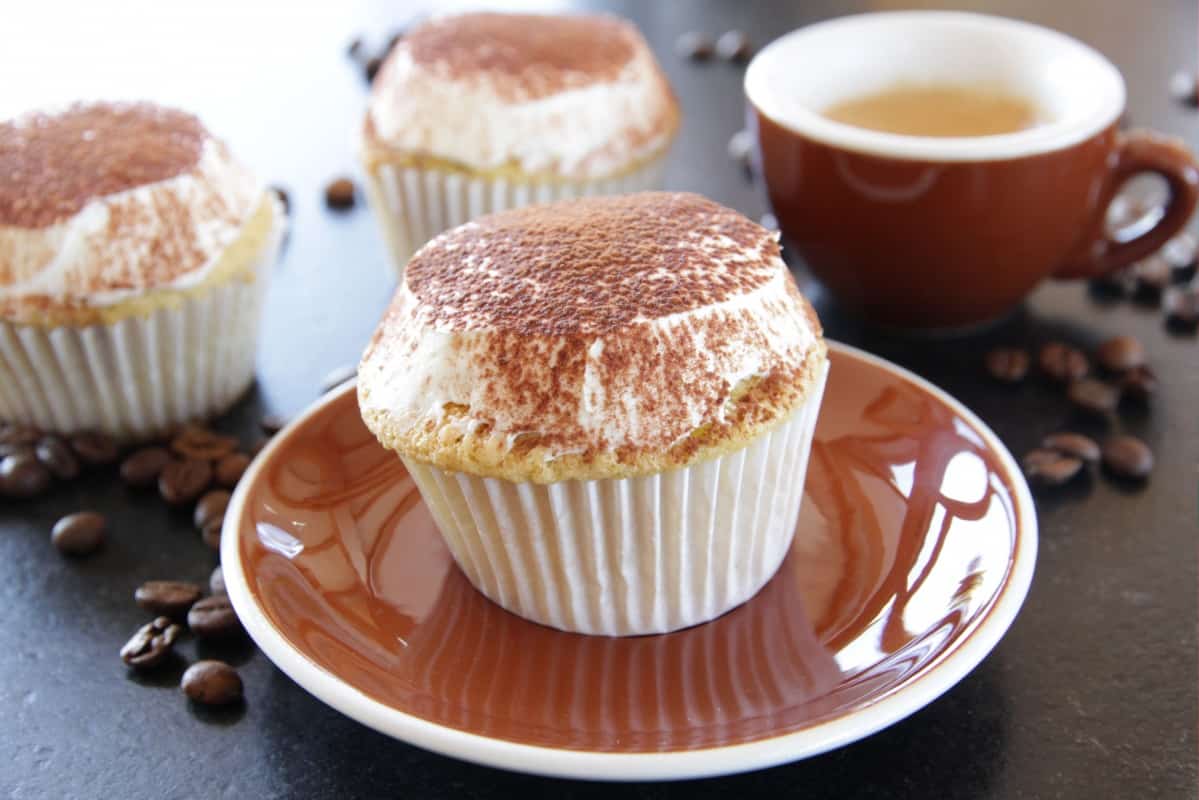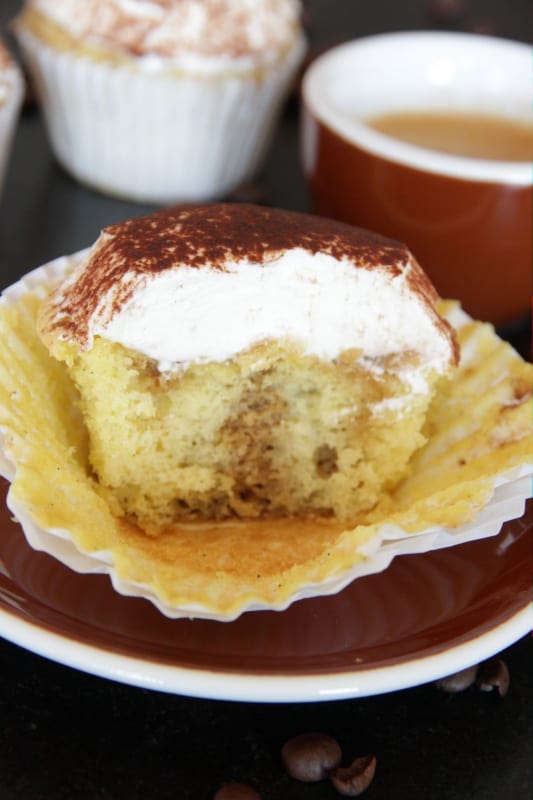 On to the Tiramisu Cupcakes! I went with the classic flavors here to match the Mascarpone Frosting and found a recipe from Martha Stewart. She created an eggier cake which would mimic the ladyfingers in a tiramisu and not get soggy when drizzled with the espresso syrup. I would say she hit the nail on the head! I mostly followed her recipe except I used this new recipe for Mascarpone Frosting.
These cupcakes taste EXACTLY like tiramisu! Some would even say better than tiramisu. They also kept really well and still tasted perfect after two days in the refrigerator.
Tiramisu Cupcakes with Mascarpone Frosting
Cupcake recipe: slightly adapted from
Martha Stewart
, Mascarpone Frosting recipe from Wiener Zucker
Ingredients
Cupcakes
¼

cup

60 ml milk

1

vanilla bean

¼

cup

60 g unsalted butter, room temperature, cut into pieces

1 ¼

cups

175 g flour

¾

teaspoon

baking powder

scant ½ teaspoon salt

3

large whole eggs plus 3 egg yolks

room temperature

1

cup

(200 g) granulated sugar
Coffee-Marsala Syrup
⅓

cup

plus 1 tablespoon (95 ml) freshly brewed very strong coffee

or espresso

1-2

tablespoons

marsala

rum or Kahlua

¼

cup

(50 g) sugar
Mascarpone Frosting
7

ounces

(200 g) mascarpone

6

ounces

(175 g) cream cheese*

⅓

cup

plus 4 teaspoons (100 ml) heavy cream

scant 1 cup (100 g) powdered sugar
To finish
unsweetened cocoa powder

for dusting
Instructions
Preheat oven to 325°F (160°C). Line 18 standard muffin tins with paper liners. Cut the vanilla bean in half lengthwise, scrape out the seeds and place the seeds and pod in a small saucepan together with the milk. Heat over medium heat just until the milk starts to bubble. Remove from heat. Stir in the butter until melted. Allow the mixture to cool for 15-30 minutes.

Sift together flour, baking powder and salt and set aside. In a mixing bowl, whisk together eggs, egg yolks and sugar. Place the bowl over a pot of simmering water and continue to whisk the eggs and sugar together until sugar is dissolved and the mixture is warm (about 5-6 minutes). Remove bowl from heat and beat with an electric mixer on high speed until the mixture is fluffy, pale yellow and thick enough to hold a ribbon on the surface for several seconds when the whisk is lifted.

Discard the vanilla bean pod from the milk mixture and, while mixing, pour the milk mixture into the egg mixture and continue to mix just until blended. Gently fold the flour mixture into the egg mixture by hand until no more specks of flour are visible.

Divide the batter among the lined cups (filling each about ¾ full). Bake until centers are completely set and edges are lightly golden brown, about 18-20 minutes. Transfer tins to wire racks and leave the cupcakes to cool completely in the tins.

Stir together hot coffee, marsala and sugar until sugar is dissolved. With a wooden toothpick, poke several holes into the tops of the baked cupcakes. Repeatedly spoon teaspoons of the coffee-marsala syrup over the cupcakes until all of the syrup has been absorbed. I left my cupcakes in the muffin tins for this. Allow the cupcakes to absorb the liquid for 30 minutes.

Mix the Mascarpone Frosting ingredients together with an electric mixer until thick and fluffy, about 1-2 minutes. Frost the cupcakes with a knife like I did or pipe on the frosting and dust with unsweetened cocoa powder using a small sieve. Store cupcakes in a tightly sealed container in the refrigerator for up to two days.
Notes
* In the U.S., I recommend using full-fat cream cheese spread, because that is closest to our cream cheese in Austria and I know it works with this recipe.