This is a really long post but please don't let this scare you off! Chocolate Chip Cookies are the easiest thing in the world to bake and anyone can bake them! This post is about explaining which ingredients to use and giving you clear and concise instructions so that your cookies can be the best American bakery-style chocolate chip cookies too.
When I started Living on Cookies in 2014, my recipe for Chocolate Chip Cookies was one of the first posts to go on it.
We Americans have really strong emotional ties to Chocolate Chip Cookies. Every American family has their own favorite Chocolate Chip Cookie recipe. It's often the one on the chocolate chip bag. My college friends and I made exactly those Chocolate Chip Cookies when we were feeling homesick.
When I was a kid, kids were given a free cookie at the grocery store. It wasn't a little cookie. It was a huge cookie! I can still taste those cookies today.
Therefore, it's no coincidence that my blog is called Living on Cookies! And you better believe that I don't take posting another recipe for Chocolate Chip Cookies lightly.
I'm constantly trying new recipes and I'm especially picky about Chocolate Chip Cookies. For this reason, I can guarantee that this is the perfect recipe for Chocolate Chip Cookies and I'll explain to you why these are the best and how you can make them too.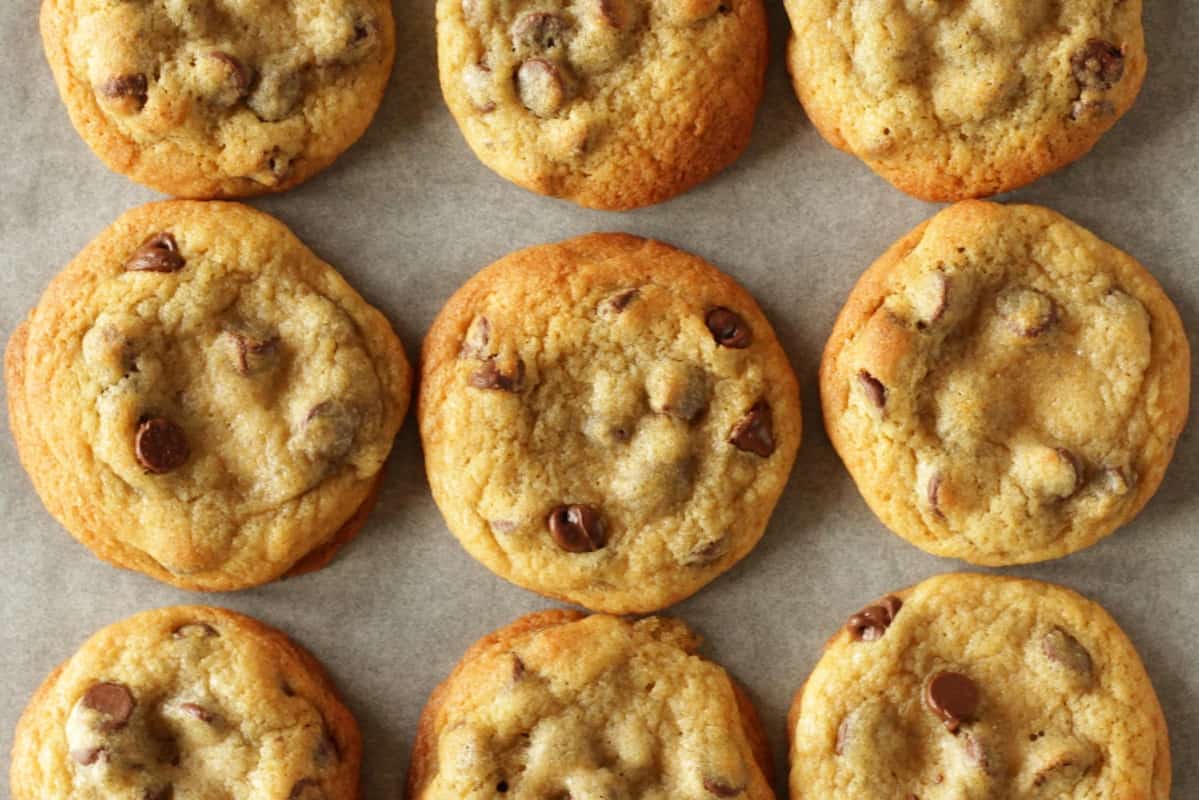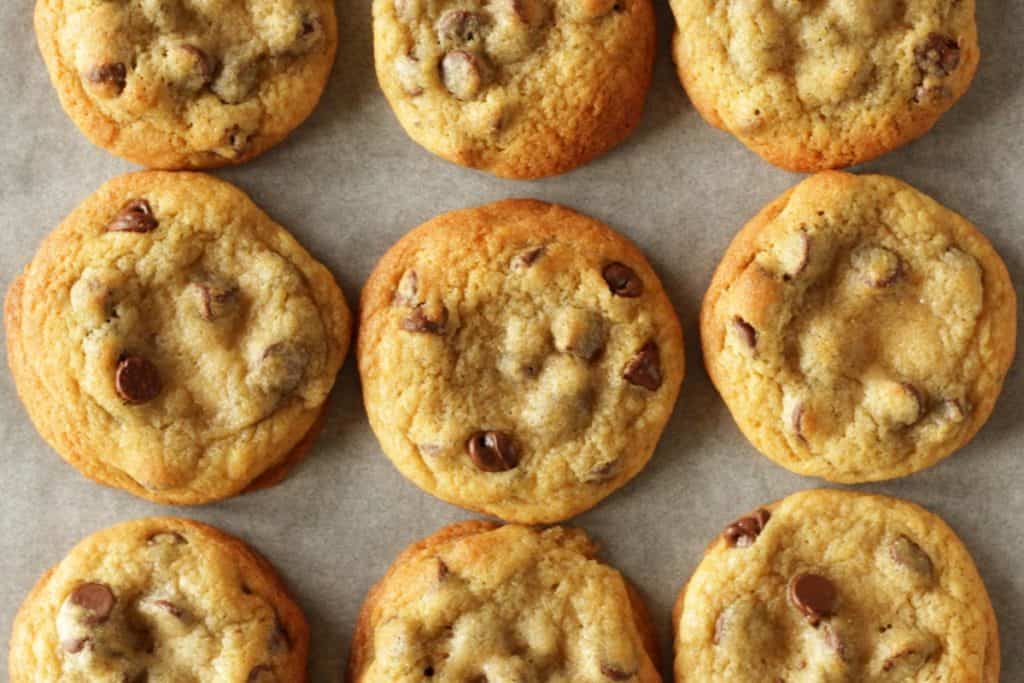 What makes a good bakery-style cookie?
A good cookie is soft
Is big and thick
Is chewy
Has an intense caramel taste
Isn't too sweet
Is chocolatey
Let's go through the characteristics of a bakery-style cookie.
How do I bake cookies that are soft?
In my old post, I wrote that you should use half margarine and half butter to achieve soft cookies. And yes, that is true, HOWEVER, I have experimented with a new method through which you can use all butter and the cookies will still be soft. As long as you don't bake them too long, of course.
The dough has to be chilled for at least 3 hours or overnight. Don't ask me for the scientific explanation but when you chill the dough, it matures, the flavors develop and the cookies are incredibly soft and moist when baked.
Which brings us to our next point. By chilling the dough, the cookies don't spread and get too thin but rather stay nice and thick. These cookies are also twice as big as in my old recipe. Because big cookies > small cookies (We're getting scientific again...) If you're morally against chilling cookie dough, I have some tips for you at the bottom of this post.
How do I bake cookies that are chewy?
There are two key ingredients that make the cookies chewy and also give them their distinctive caramel taste: brown sugar and pure butter.
In the US, brown sugar contains molasses, which makes it moist and gives it a stronger caramel flavor than the brown sugar in Europe. American brown sugar is simply the best for making Chocolate Chip Cookies. You can also make brown sugar yourself by combining granulated sugar and molasses. The instructions on how to do this are here.
If you can't get American brown sugar, I've baked with Demerara Rohrohrzucker many times and it is a good alternative.
Using pure butter makes these cookies chewy while giving them a complex caramel flavor that you can't get any other way. Butter browns faster than margarine or oil and we can use that to our advantage here. The cookies caramelize while baking, getting crispy on the edges and staying soft and gooey in the middle. Conclusion: brown sugar + butter = dream team!
The next secret ingredient is salt.
Salt is a flavor enhancer – it balances out the sweetness and brings out the caramel notes. Without salt, cookies taste dull and too sweet. A few flakes of sea salt sprinkled on the dough balls before baking would also be appropriate. 😉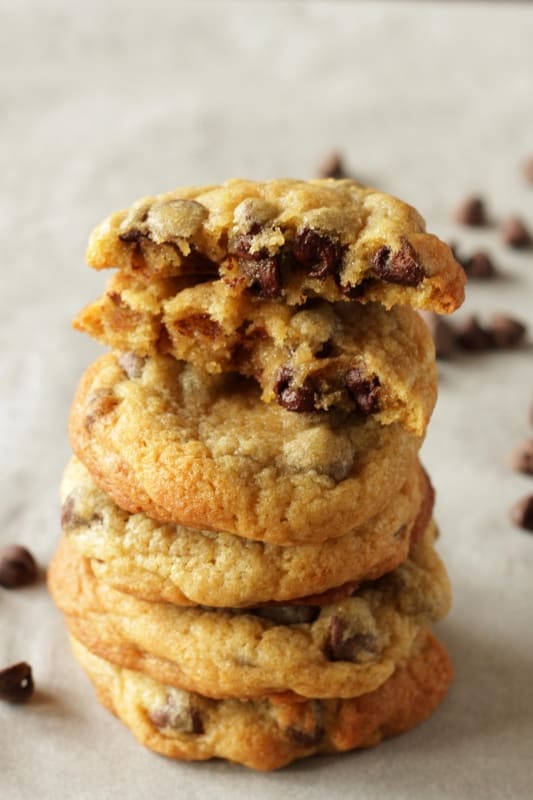 We want our cookies to be chocolatey!
You can go wild here: use chocolate chunks, chopped chocolate or American chocolate chips. You can go with milk or bittersweet or dark chocolate.
In my old recipe, I only recommended using American chocolate chips because they contain additives that prevent the chocolate from melting too much, thereby preventing the cookies from spreading and getting too thin in the oven.
Because this dough is chilled before baking, we no longer run the risk of the cookies spreading too much so you can use whatever chocolate you wish, even regular, chopped chocolate. Just be sure the pieces aren't too small. They should be between 7 and 10 mm otherwise the chocolate gets lost in the cookie. (Science – you can't live with it and you can't live without it.) I still prefer the good ol' American chocolate chips.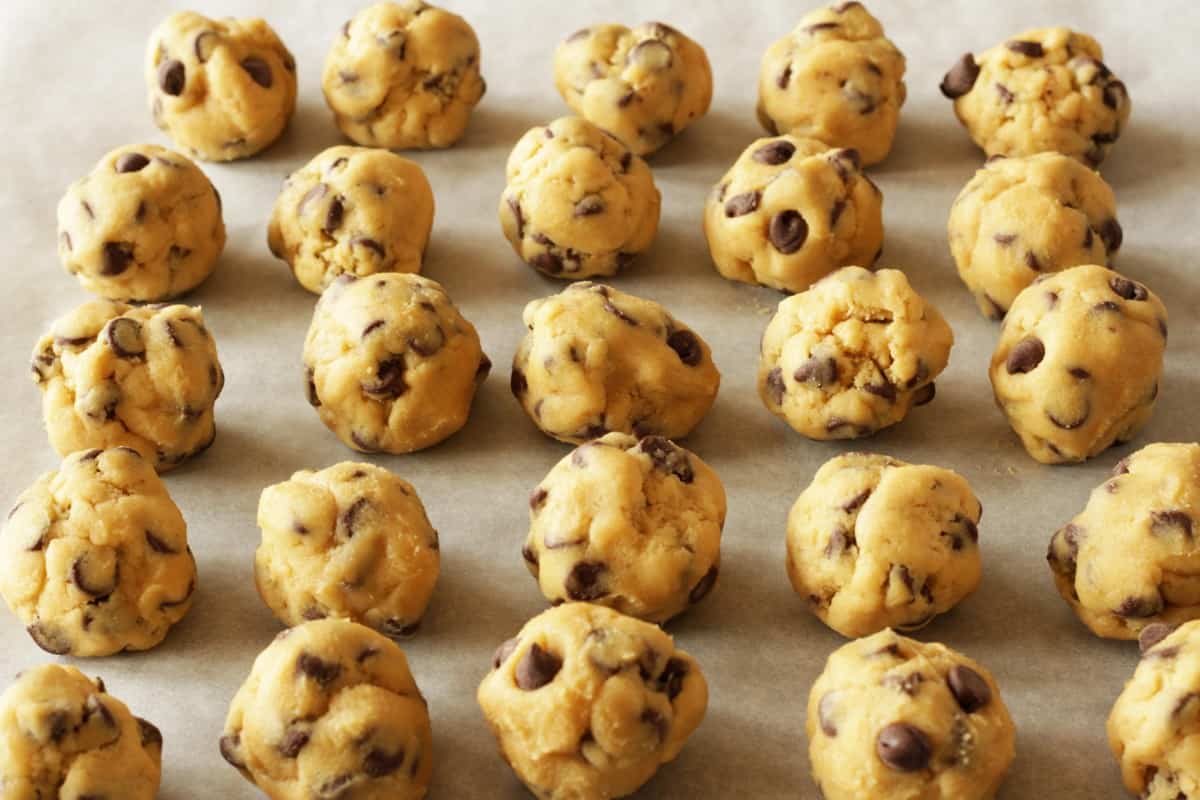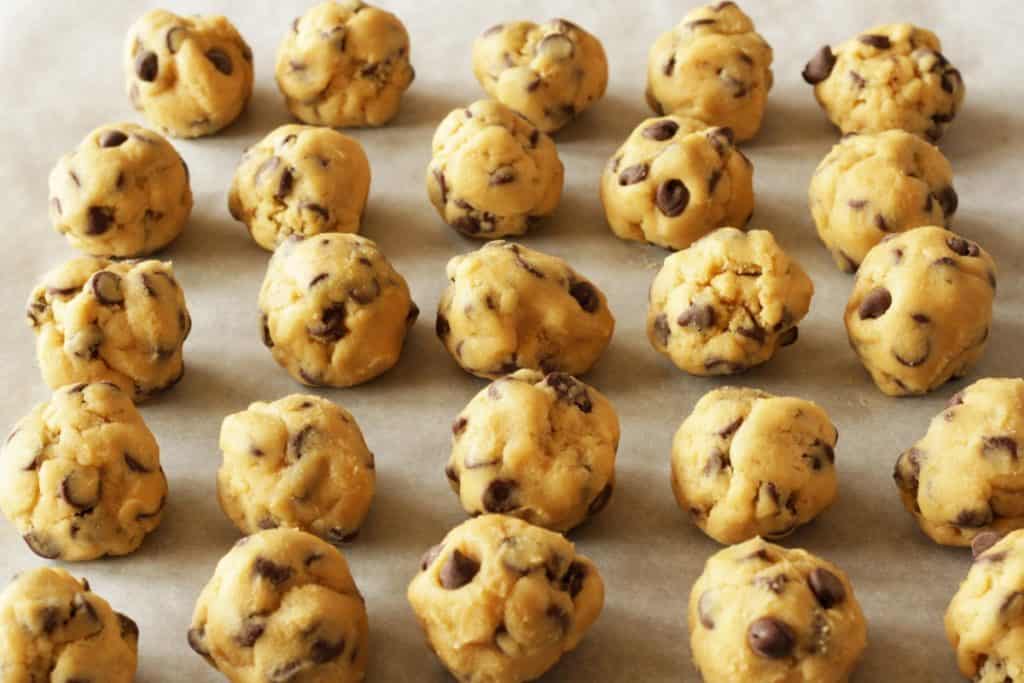 If you want to bake the cookies right away and don't have time to chill the dough:
You have two options to still get nice, thick cookies: you can add a ¼ cup (35 grams) more flour to the dough or you can freeze the cookie dough balls for 20 minutes before baking them.
About storing the cookies:
Always store cookies tightly covered so they don't dry out and lose their wonderful consistency. You can easily freeze them too. They get soft again after 5 minutes at room temperature. By the way, half-frozen cookies are pretty insanely delicious.
Summary:
This recipe is pretty similar to my old Chocolate Chip Cookie recipe, with three main differences. 1. For the best cookies, we use pure butter. 2. The dough is chilled before baking. 3. These cookies are twice as big as the ones in my old recipe.
If you bake these cookies, I'd love it if you left a comment or took a picture of them and posted it on Instagram, with @living_on_cookies or #living_on_cookies. 🙂
Happy Baking!
Stuffed Chocolate Chip Cookies
Ingredients
Cookie Dough
1

cup

(225 g) butter

at room temperature

1

cup

(210 g) brown sugar

½

cup

(100 g) granulated sugar

2

eggs

at room temperature

1

teaspoon

vanilla extract

3

cups

(420 g) all-purpose flour*

1 ¼

teaspoons

baking soda

1

teaspoon

salt

1

cup

(6 oz. or 170 g) chocolate chips or chunks

plus more for topping
Optional Fillings
Oreos, M&M's, any kind of chocolate or candy bar, white chocolate, peanut butter cups, peanut butter, nuts, peanuts, soft caramels, caramel sauce, dulce de leche, milk chocolate, marshmallows, Nutella...
Optional Toppings
Additional chocolate chips, colored sprinkles (roll the dough ball in sprinkles), M&M's, chopped chocolate, chopped nuts, sea salt flakes, peanuts, chopped Oreos, chopped pretzels, melted chocolate
Instructions
In a large mixing bowl, cream butter and both types of sugar using the paddle attachment of your stand mixer if you have one. Add eggs and vanilla and mix to combine. Combine flour, baking soda and salt in a bowl. Add it to the butter-sugar mixture and beat on low speed until flour is incorporated. Scrape mixing bowl to ensure flour is evenly distributed in the dough. Stir in chocolate chips.

Tightly cover the bowl and chill the dough for 1-2 hours, until it's no longer soft and sticky. Prepare your fillings.

Shape the cookies: flatten about 2 tablespoons of dough between your palms. Place the filling (or fillings) in the middle of the dough and wrap the dough around them. Shape the dough into a round ball and place it on parchment paper. Press toppings or additional chocolate chips into the top of the cookie.

Chill the dough balls thoroughly, ideally overnight, until the dough is hard. Place dough balls on a parchment paper lined baking tray, leaving plenty of room for the cookies to spread.

Bake cookies in a preheated oven at 350°F (175°C) for 12-15 minutes. They're done when they've risen in the middle and are starting to lose their shine. Do not overbake! Take cookies out of the oven and allow them to cool completely on the baking tray.

Drizzle cooled cookies with melted chocolate and sprinkle with chopped nuts, Oreo crumbs or colored sprinkles, if desired.

Store stuffed cookies in an airtight container at room temperature or in the refrigerator for up to 5 days.
Notes
The dough must be chilled twice: first, before shaping the dough around the fillings, and then the cookie dough balls must also be thoroughly chilled to prevent the cookies from spreading and breaking open during baking.
Nutrition