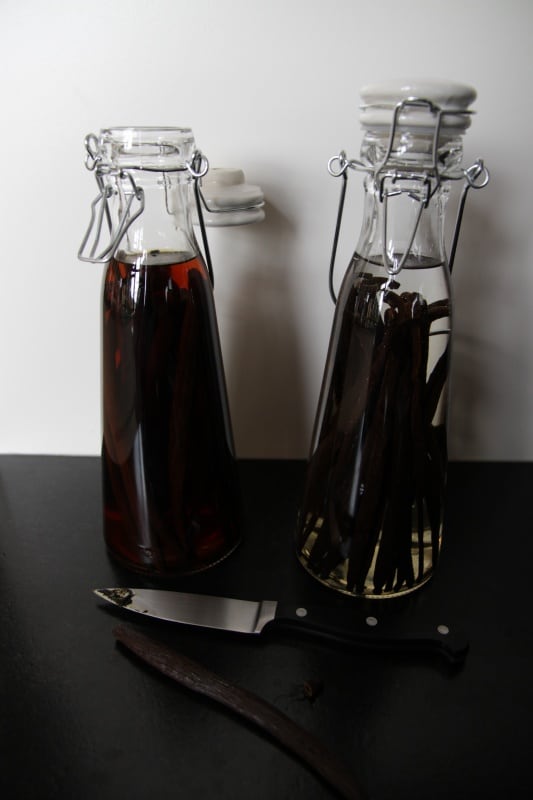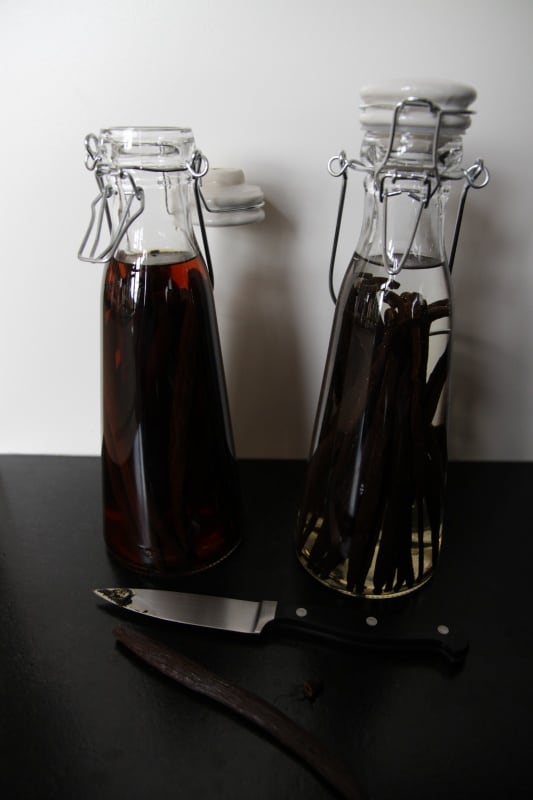 Vanilla extract is made using only two ingredients: vanilla beans and vodka. That's it! I have been using my own, homemade, pure vanilla extract for at least 10 years. Here's a picture of the actual bottle I've been using.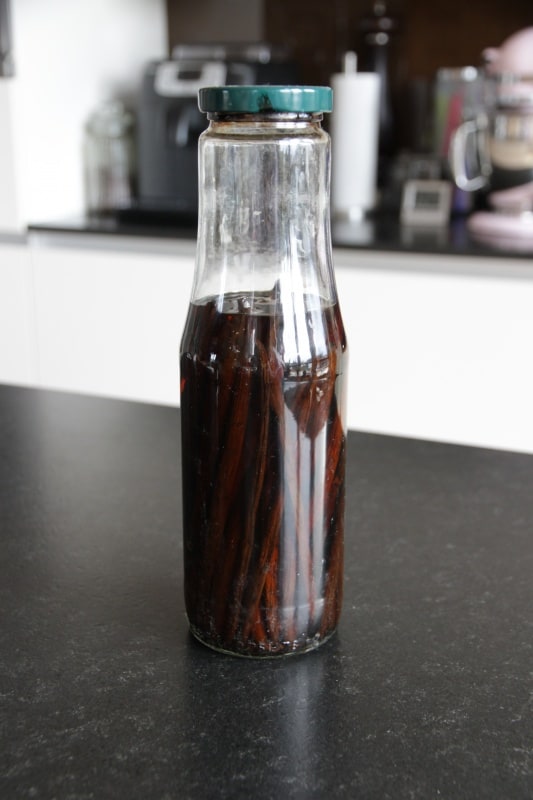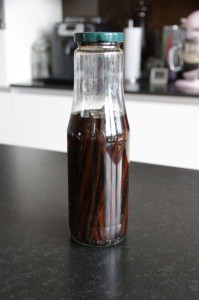 You see, it's perpetually renewable. You just top up the vodka as the level gets lower. You can also add new vanilla beans. Periodically, you can remove a vanilla bean or two to squeeze out the seeds to use as vanilla bean paste in your recipes and replace with fresh vanilla beans, as in my recipe for Cheesecake Cupcakes with Berries & Cream.
Vanilla extract is ridiculously easy to make yourself and, in the long run, much cheaper than store-bought vanilla. It's all-natural. Nothing goes to waste. But how does it taste? Just look at deep amber color! It's pure vanilla flavor.
If I'm being perfectly honest though, as with so many things, I figured out how to make my own homemade version not for the above reasons but out of necessity because vanilla extract isn't available to buy in Austria. It's hard to believe, I know! I still look for it just to see if they've started carrying it in the stores. Maybe next to the rum and lemon flavoring they sell in these tiny little perfume sample-type of vials? But nope, to this day, you will not find vanilla extract in even the biggest supermarkets in Austria. You can find it at specialty stores if you look hard enough.
What do Austrians use to add vanilla flavoring to their baked goods? They use vanilla sugar. The best kind is sugar that's been infused with the flavor of real vanilla beans. Vanilla sugar = granulated sugar + vanilla beans, sealed together in a container for several weeks. Vanilla sugar is sold in supermarkets in little packets. Bakers use one packet at a time – or half a packet, or two packets, etc., depending on the recipe. There are 8 grams of vanilla sugar in a packet, which equals about a tablespoon. In my experience, one packet of vanilla sugar adds about the same amount of vanilla flavor as one teaspoon of vanilla extract.
1 teaspoon vanilla extract = 1 packet vanilla sugar = 1 tablespoon vanilla sugar
Why use vanilla extract? Because the flavor is better and I like that you're not adding a tablespoon of sugar to the recipe. Vanilla extract is also better in icings, frostings and buttercreams because you don't have the granulated sugar crystals that might not dissolve, leaving a grainy texture. If you like baking using American recipes, it's definitely worth making your own vanilla extract!
Vanilla Extract
Ingredients
1 9

inch

(23 cm) tall bottle

20

vanilla beans

vodka
Instructions
To make your own, homemade, pure vanilla extract, you first need to find a bottle that's tall enough to accommodate the vanilla beans. It should be at least 8 inches (20 cm) tall. The ones pictured here are a little over 9 inches (23 cm) tall. It also should also have a wide opening so that you can fish out the vanilla beans that have been in there for a while.

Depending how wide the bottle is, put in about 20 vanilla beans and then fill the bottle with vodka. Allow the vanilla beans steep in the vodka for several weeks, until the liquid has a deep, amber color (like the bottle on the left) and vanilla aroma.

Top off the vanilla extract with vodka as you use it. Refresh periodically with new vanilla beans. Soaked vanilla beans can be dried and used to make vanilla sugar (just bury the dried vanilla bean in a small sealed container of sugar). You can also cut off one end of the soaked bean and squeeze out the vanilla paste to use instead of vanilla extract in recipes such as Vanilla Bean Cheesecake Cupcakes with Berries & Cream.
Notes
Because vanilla beans are expensive, you may want to start by making a small batch: put two vanilla beans into a small bottle, fill with vodka and allow to steep as above.