These Lava Cakes baked in muffin pans are rich and chocolatey and so quick and easy to make! After just 20 minutes of prep and baking, the Lava Cakes are ready to serve!
Molten Lava Cakes look so enticing they can be served on their own, with just a dusting of cocoa powder or powdered sugar.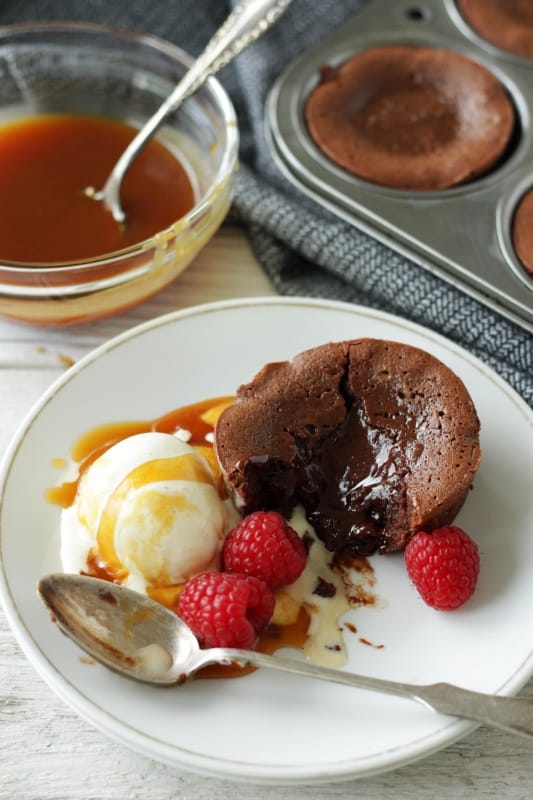 You can also make a mouth-watering plated dessert with them, like in the photos, with a scoop of ice cream, some fresh berries and drizzled with warm Salted Caramel Sauce. Flavor explosions in your mouth!
I've included my recipe for homemade Salted Caramel Sauce below. It pairs with the dark chocolate Lava Cakes perfectly. You can find my step-by-step tutorial for the Salted Caramel Sauce here.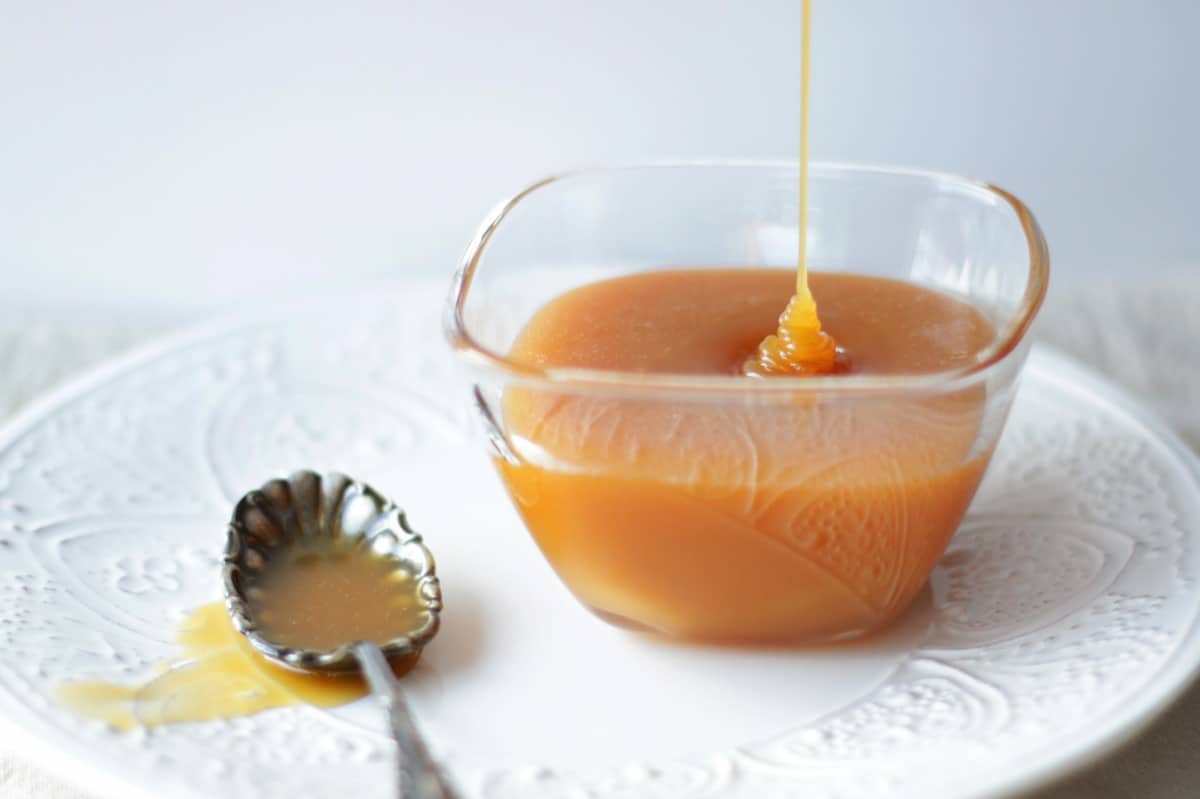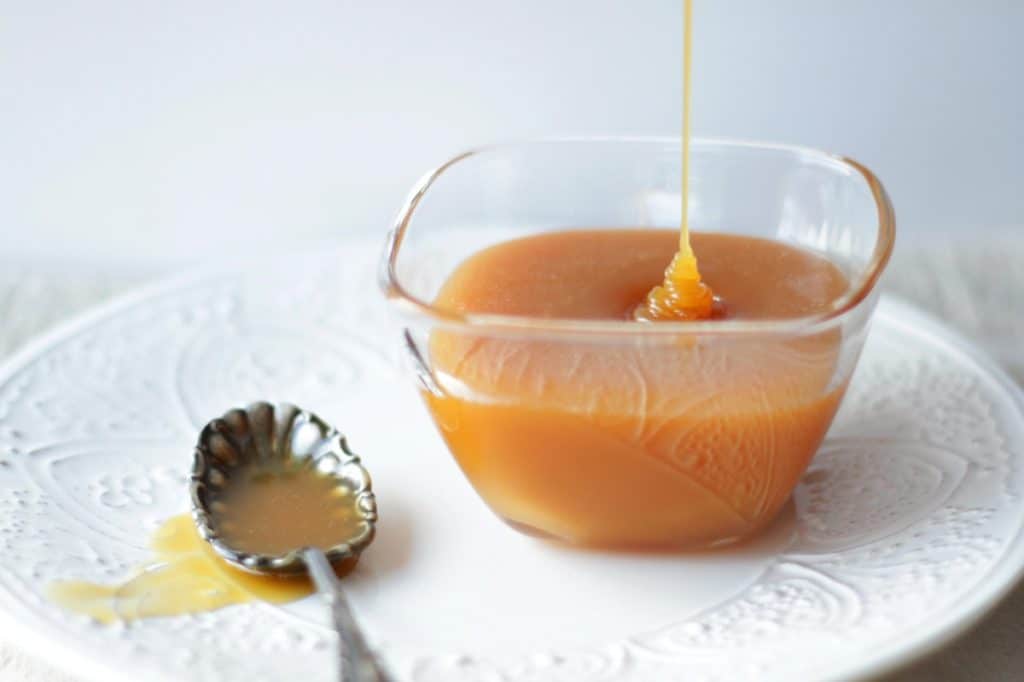 What kind of baking pan or dish do I need for the Lava Cakes?
You can make these Lava Cakes in a regular muffin pan. The recipe below yields exactly 5 Lava Cakes.
Because molten chocolate Lava Cakes are such calorie bombs, I prefer making mini Lava Cakes in muffin tins, which are smaller than individual ramekins. I don't do this specifically to save on calories but rather because Lava Cakes are quite decadent and can be too rich for a lot of people.
If you'd like to bake your Lava Cakes in individual ceramic ramekins, the recipe will yield 3 Lava Cakes and the baking time will be about 4 minutes longer. One advantage of baking Lava Cakes in ramekins is that you don't have to remove them from the baking dishes and run the risk of the cakes breaking – but they can be served right in the pretty ramekins.
Do I need to chill the Lava Cakes before baking?
No, this recipe for molten Lava Cakes requires no chilling. You just spoon the batter into the buttered muffin tin molds and bake.
Timing is everything with Lava Cakes. It's all about taking the Lava Cakes the moment they're ready and serving them warm. The Lava Cakes are done when the edges look dry and are firm while the middles are still very soft and look shiny and gooey.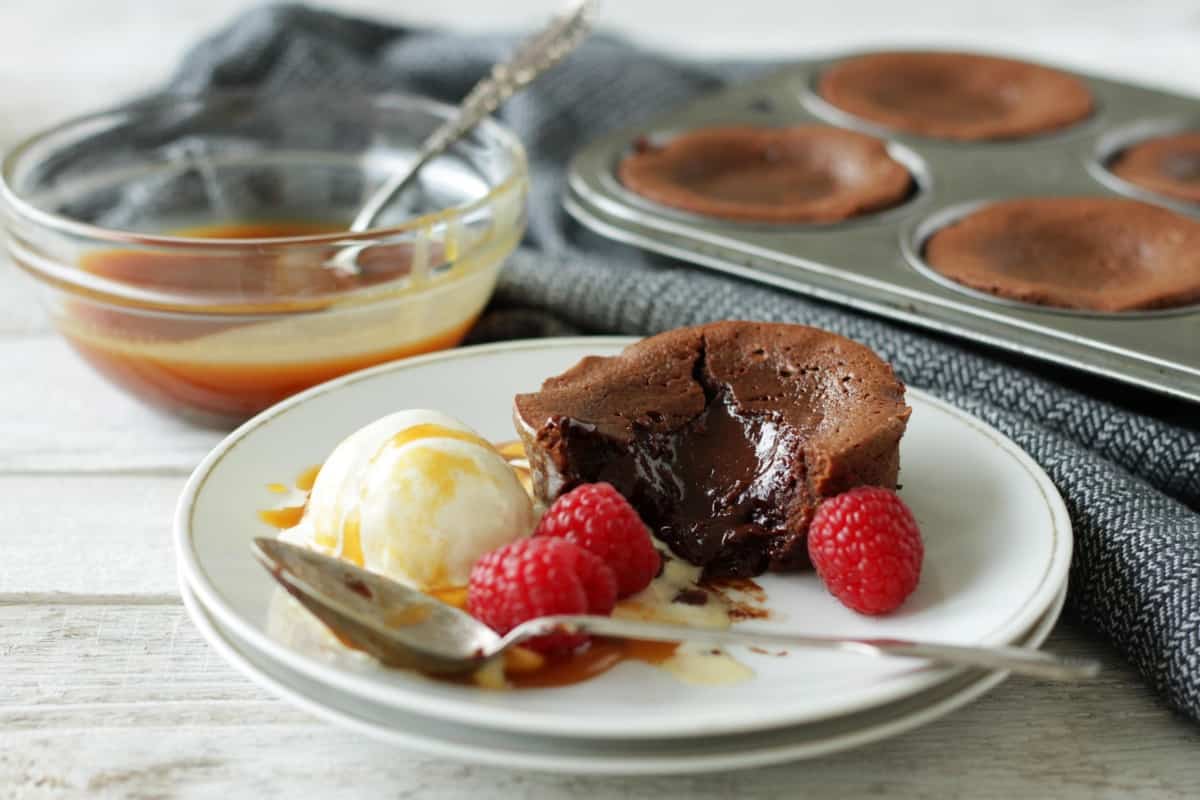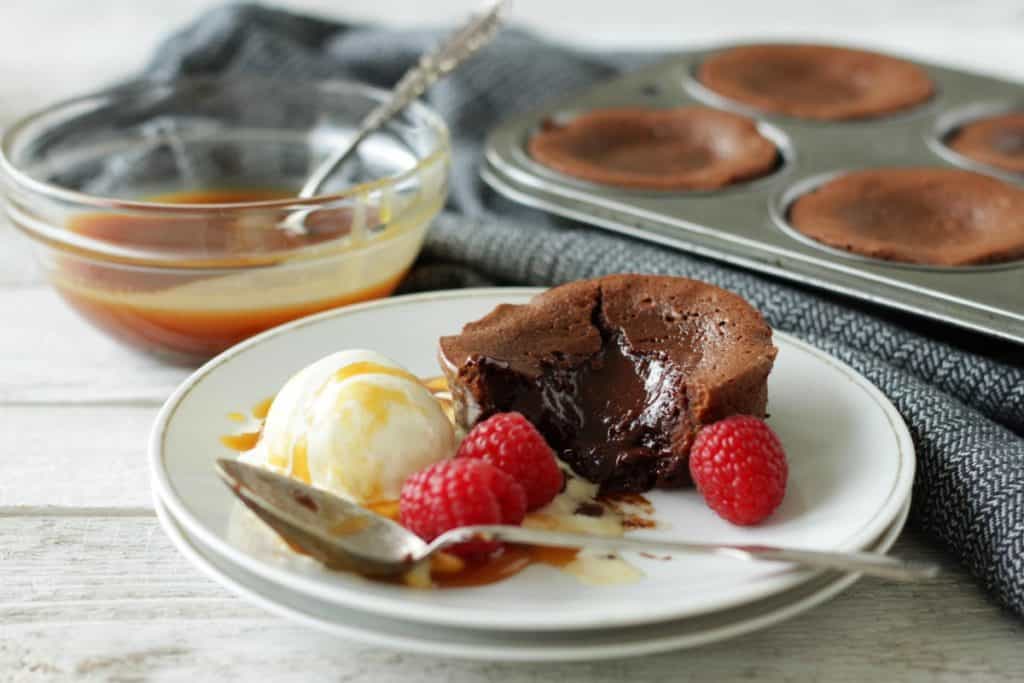 Here are two methods on how to make Lava Cakes ahead of time:
Prepare the batter, spoon it into the muffin tin molds, cover with plastic wrap and chill for up to 24 hours. To bake, take the muffin pan straight from the refrigerator, remove plastic wrap and bake in a preheated oven. The chilled batter will take 1-2 minutes longer to bake than is stated in the recipe.
Bake the Lava Cakes according to the recipe and chill in the muffin pan. As soon as the Lava Cakes are cold, remove from the muffin pan and place in an airtight container. Store chilled for up to two days.

To serve, place a Lava Cake on a dessert plate and warm it in the microwave for 10-20 seconds. Alternatively, Lava Cakes can be warmed in a hot oven for a few minutes, until they are jiggly when touched. They really only need a few minutes for the centers to get nice and gooey again. You don't want to bake them all the way through.
I like this method better than the first because you can chill the baked Lava Cakes in the muffin pan. Once they are chilled, the Lava Cakes are hard and can be handled quite easily. This way you can avoid the stress of removing the hot Lava Cakes from the pan and eliminate the danger of them breaking.
Have fun baking these Quick Lava Cakes with Salted Caramel Sauce!
Salted Caramel Sauce
Prepare the Salted Caramel Sauce first so it is ready when the Lava Cakes come out of the oven.
Ingredients
1

cup

(200g) granulated sugar

6

tablespoons

(80g) butter

½

cup

(120ml) heavy (whipping) cream
Instructions
Measure all ingredients and place them near the stove. Heat sugar over medium-high heat in a medium sized, heavy bottomed saucepan with high sides. Once sugar begins to melt, gently stir with a heatproof spatula or whisk to help it heat evenly.

When (nearly) all of the sugar has melted and liquid is amber (caramel) colored, add the butter and stir until it has completely melted. CAUTION: hot mixture will bubble up when you add the butter.

Remove from heat and stir in the cream. Again CAUTION, the mixture will foam up considerably and possibly splatter. Keep stirring until caramel sauce is smooth.

To remove any undissolved crystals, pour sauce through a wire sieve into a clean, heatproof container. Stir in vanilla and salt if desired.

Caramel sauce will thicken as it cools. Store tightly covered in the refrigerator for up to two weeks. Gently heat caramel sauce on the stove or in a microwave before serving.
Notes
Tips:
This recipe will only work if you start with a thin layer of sugar: it's essential you use a medium-sized saucepan for the amount of sugar in the recipe above. If you want to make more caramel, do it in two batches.
Be careful not to burn yourself! Molten caramel is hotter than you can imagine. It will bubble up and possibly splatter when you add the butter and again when you add the cream so use a pot with higher sides. Handle the caramel with caution and use heatproof utensils. If you must taste, use a cold spoon and test the temperature of the caramel with your finger before you put it in your mouth. 
For more tips and step-by-step photos, go to my post on How to Make Caramel Sauce.
Quick Lava Cakes: Recipe for 5 Lava Cakes in a Muffin Pan
Ingredients
3 ½

ounces

(100 g) dark chocolate (70% cocoa)

4 ¼

tablespoons

(60 g) butter

2

eggs

½

cup

(50 g) powdered sugar

One small pinch of salt

Scant ¼ cup (35 g) all-purpose flour
To serve
Salted Caramel Sauce, vanilla ice cream, fresh berries, powdered sugar or cocoa powder (for dusting)
Instructions
Preheat oven to 350°F (180°C). Grease 5 molds of muffin pan with butter.

Melt the chocolate and butter. In the microwave: break up the chocolate and, together with the butter, heat in a microwave-safe bowl at 600W for 40 seconds and stir. Repeat until nearly all of the chocolate is melted, then stir until the mixture is completely smooth. On the stove: place broken-up chocolate and butter in a large glass or metal bowl and heat over a water bath until melted. Remove from heat and cool.

In a mixing bowl, beat eggs, powdered sugar and salt for 1-2 minutes with an electric hand mixer until thick and fluffy. Beat in cooled chocolate mixture. Then beat in the flour.

Divide batter among the buttered muffin pan molds. The muffin molds will be completely full.

Bake Lava Cakes for 7-9 minutes. The Lava Cakes are done when the edges look dry and are firm while the middles are still very soft and look shiny and gooey.

Immediately either tip the Lava Cakes onto a serving platter or carefully lift them out using a butter knife or spoon. Serve warm.
Notes
Easy make-ahead tip: bake the Lava Cakes in the muffin pan as directed above and allow them to cool completely. Chill. Remove cold Lava Cakes from the muffin pan and store them in an air-tight container in the refrigerator. Before serving, gently warm the lava cakes for a few minutes in a hot oven until they are jiggly to the touch. You can also warm them in a microwave for 10-20 seconds. Serve immediately with vanilla ice cream, warm Salted Caramel Sauce and fresh raspberries. For classic Lava Cakes in individual ramekins, recipe yields 3 Lava Cakes and baking time will be 10-12 minutes.
Nutrition