This recipe is life-changing. Your cakes, apple pies, crumb bars, brownies, cheesecake and ice cream will never be the same after you drizzle them with (or bury them under) your own Homemade Caramel Sauce! Out of this world yumminess!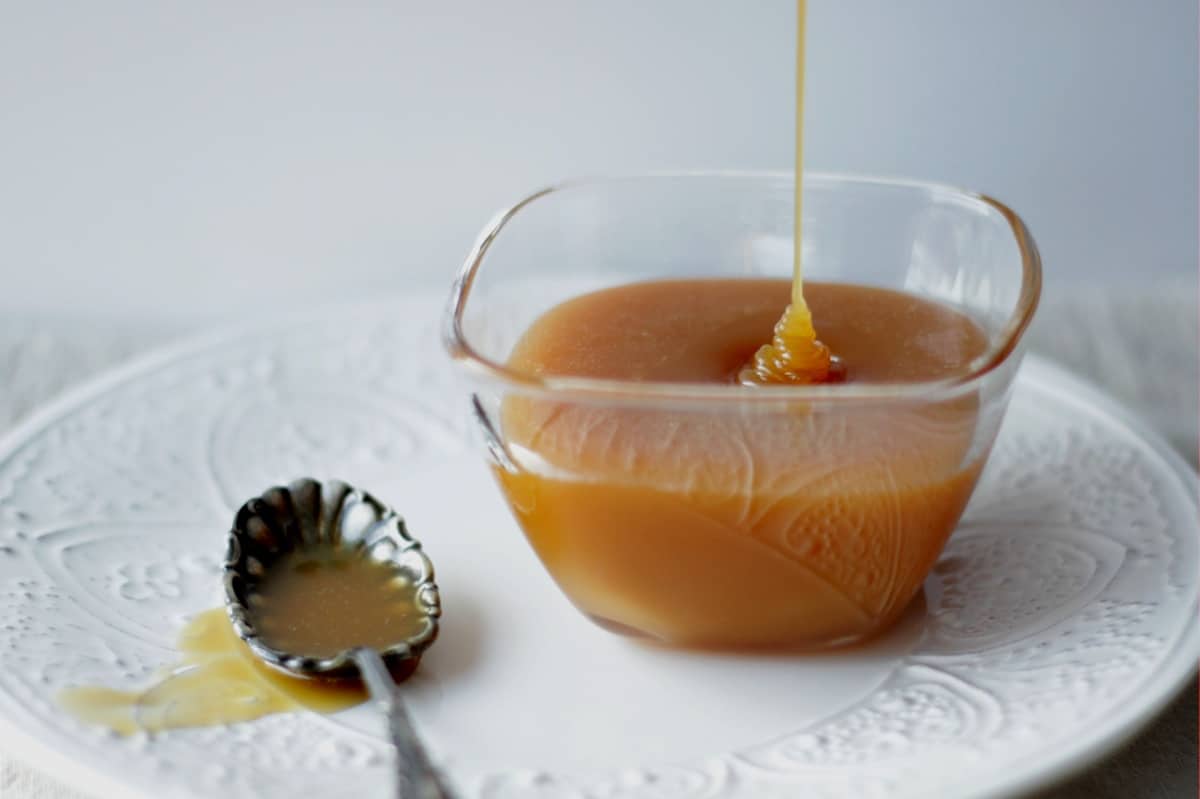 Making your own caramel sauce is pretty straightforward BUT you have to pay attention to what you're doing. Gather all your ingredients, measure them out and THEN start making your caramel sauce. No multi-tasking allowed. Caramel Sauce is quick to make so it's well worth your time and undivided attention.
I thought I had a pretty good handle on making caramel sauce and could take pictures at the same time. Big mistake. The caramel got too dark, almost to the point of being burnt. The step-by-step pictures were no good either because the steam from the butter and cream fogged up the camera lens. Lesson learned. Caramel needs 100% of your attention.
My second piece of advice is to be careful not to burn yourself. Molten caramel is much hotter than any other sauce. It will bubble up and possibly splatter when you add the butter and again when you add the cream so use a pot with higher sides. Handle the caramel with caution and use heatproof utensils. If you must taste, use a cold spoon and test the temperature with your finger before you put it in your mouth. It's hard to love caramel sauce with a blistered mouth.
You can salt your Caramel Sauce or not, whichever you prefer. If you're not sure how salty you want it to be, allow the finished Caramel Sauce to cool before adding the salt and then add the salt a little at a time, tasting as you go. I prefer it salted as listed in the recipe below. Vanilla extract is also optional. I find it improves the flavor but it doesn't make a big difference if you leave it out.
My older son found this recipe years ago and has made it many more times than I have. I also have to credit him for the step-by-step photos here and in other posts on the blog. 🙂 Thank you!
Heat sugar over medium heat. Once the sugar starts to melt, stir gently with heat proof spatula or whisk to help it dissolve evenly.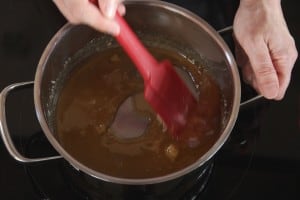 When all of the sugar has dissolved and the liquid is amber (caramel) colored, add the butter and stir until it has completely melted.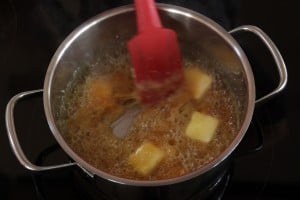 Remove from the heat and stir in the cream.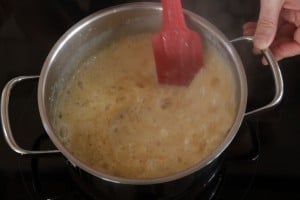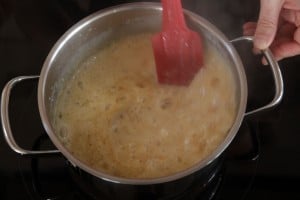 Keep stirring…
…until you have a thick, smooth and creamy caramel sauce.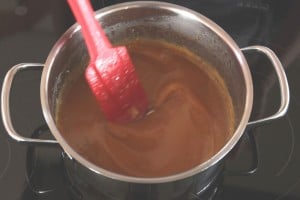 Stir in vanilla and salt if you wish.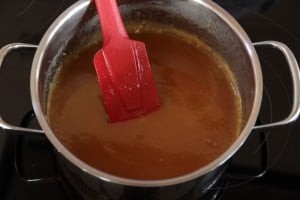 How to Make Caramel Sauce
Ingredients
1

cup

(200g) granulated sugar

6

tablespoons

(80g) butter

½

cup

(120ml) heavy (whipping) cream

OPTIONAL: 1 teaspoon vanilla extract, 1 teaspoon sea salt
Instructions
Measure all ingredients and place them near the stove. Heat sugar over medium high in a medium sized, heavy bottomed saucepan with high sides. Once sugar begins to melt, gently stir with a heatproof spatula or whisk to help it heat evenly.

When (nearly) all of the sugar has melted and liquid is amber (caramel) colored, add the butter and stir until it has completely melted. CAUTION: hot mixture will bubble up when you add the butter.

Remove from heat and stir in the cream. Again CAUTION, the mixture will foam up considerably and possibly splatter. Keep stirring until caramel sauce is smooth. Stir in vanilla and salt if you wish.

To remove any undissolved crystal lumps, pour sauce through a wire sieve into a clean, heatproof container. Caramel sauce will thicken as it cools. Store in refrigerator for up to two weeks. Gently heat caramel sauce in microwave before serving.