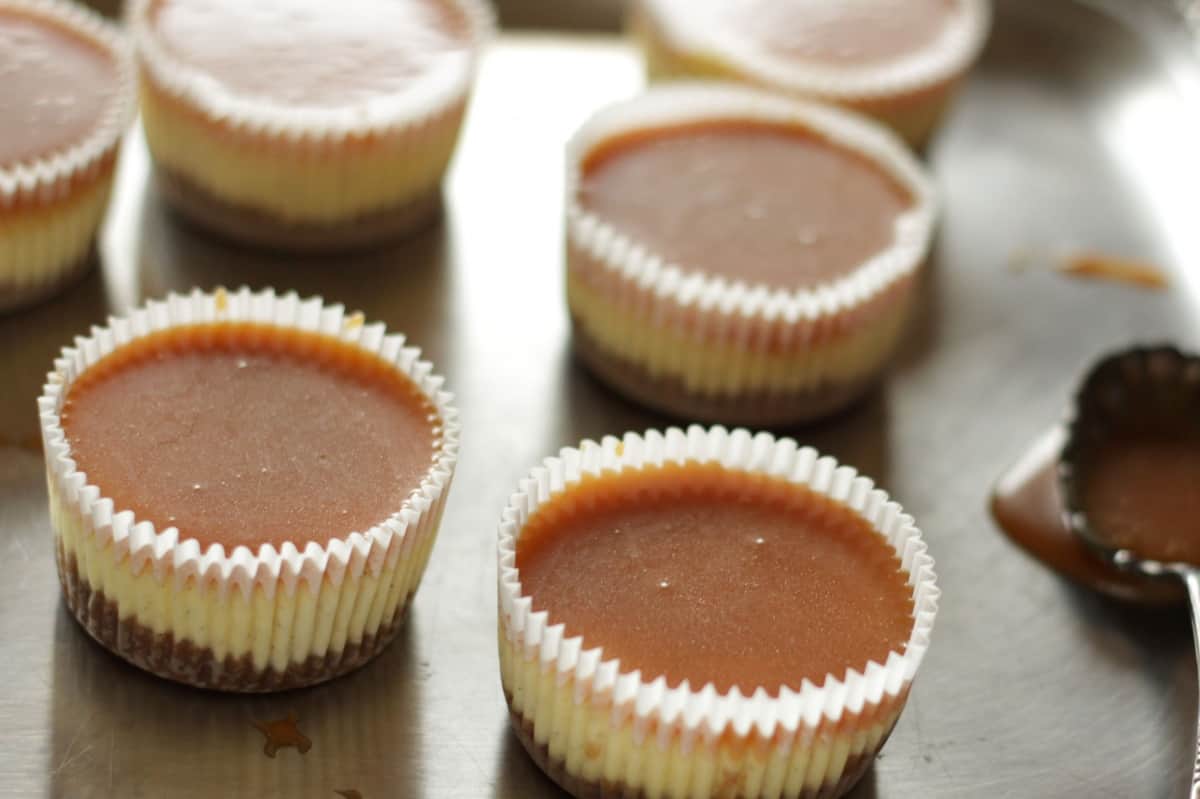 Salted Caramel Cheesecake Cupcakes? Because Salted Caramel… and because Cheesecake. Quite possibly two of the best foods ever invented. In combination, Salted Caramel Cheesecake Cupcakes are absolutely delectable.
Plus – more good news – these are a cinch to make. Not difficult or time-consuming at all, unless you count the chilling time for the Cheesecake Cupcakes. Which, granted, can feel like an eternity when you're waiting for this: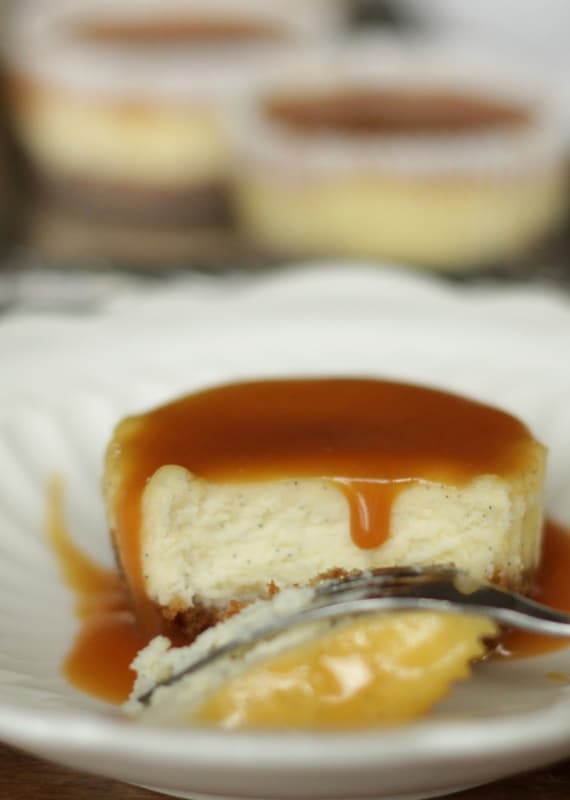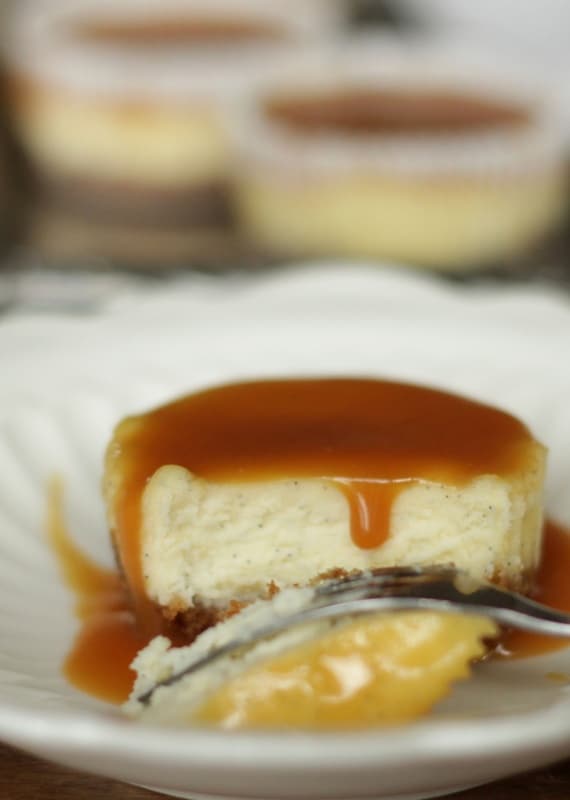 Salted Caramel Cheesecake Cupcakes
Make these Cheesecake Cupcakes a day ahead so they can chill overnight.
Ingredients
Cheesecake Cupcakes
4

ounces

(114 g) graham crackers*

¼

cup

(60 g) butter

14

ounces

(400 g) cream cheese**

½

cup

(100 g) granulated sugar

2

tablespoons

flour

Seeds squeezed out of 3 vanilla beans***

1

egg
Salted Caramel Sauce
1

cup

(200 g) granulated sugar

6

tablespoons

(80 g) butter

½

cup

(120 ml) heavy (whipping) cream

1

teaspoon

sea salt
Instructions
Cheesecake Cupcakes: Preheat oven to 350°F (170°C). Line 12 standard muffin tins with paper liners. For the crust, crush the graham crackers or cookies in a food processor to make crumbs. Melt the butter in a microwave-safe medium-sized bowl. Add the crumbs to the butter and stir to combine. Place about a tablespoon of the mixture into each of the 12 cupcake liners and press it down firmly (a smooth-bottomed shot glass works well for this). Bake crusts for 5 minutes and remove from oven.

In the bowl of an electric mixer fitted with the whisk attachment, beat the cream cheese until smooth. In a medium-sized bowl, whisk together the sugar and flour. With the mixer on low speed, gradually add the sugar-flour mixture to the cream cheese and mix until smooth. Mix in the vanilla. Add the egg and beat just until combined, do not overmix. Spoon the cheesecake mixture over the crusts. Bake for 19 minutes. Cheesecakes will appear just barely set. Cool completely in the tins on a wire rack, then chill in an airtight container in the refrigerator overnight.

Salted Caramel Sauce: Measure all ingredients and place them near the stove. Heat sugar over MEDIUM HEAT in a medium sized, heavy bottomed saucepan with high sides. Once sugar begins to melt, gently stir with a heatproof spatula or whisk to help it heat evenly.

When (nearly) all of the sugar has melted and liquid is amber (caramel) colored, add the butter and stir until it has completely melted. CAUTION: hot mixture will bubble up when you add the butter.

Remove from heat and stir in the cream. Again CAUTION, the mixture will foam up considerably and possibly splatter. Keep stirring until caramel sauce is smooth. Stir in salt.

To remove any undissolved crystal lumps, pour sauce through a wire sieve into a clean, heatproof container. Caramel sauce will thicken as it cools.

To serve, spoon Salted Caramel Sauce over chilled Cheesecake Cupcakes. Serve immediately.

Store Cheesecake Cupcakes tightly covered in the refrigerator for up to four days. Store leftover caramel sauce in refrigerator for up to two weeks. Gently heat caramel sauce in microwave before serving.
Notes
* I use Vollkornbutterkekse.
** We only have cream cheese spread available here so that's what I use.
*** Or 1 teaspoon vanilla extract or 1 packet vanilla sugar.
Cheesecake Cupcake recipe adapted from foodnetwork.com.
Caramel Sauce Recipe adapted from Simply Recipes.
Here are more detailed instructions and photos on How to Make Caramel Sauce: