My mom discovered a recipe for Monster Cookies sometime when I was a kid and from that point I was obsessed with baking and eating them. Monster Cookies remind me of baking with my Grandma on the farm, where I insisted she bake them with me. She had 1950's metal kitchen cabinets and I remember she kept the flour loose in a drawer instead of in a canister and she just scooped it straight out of the drawer. These Monster Cookies sure take me back.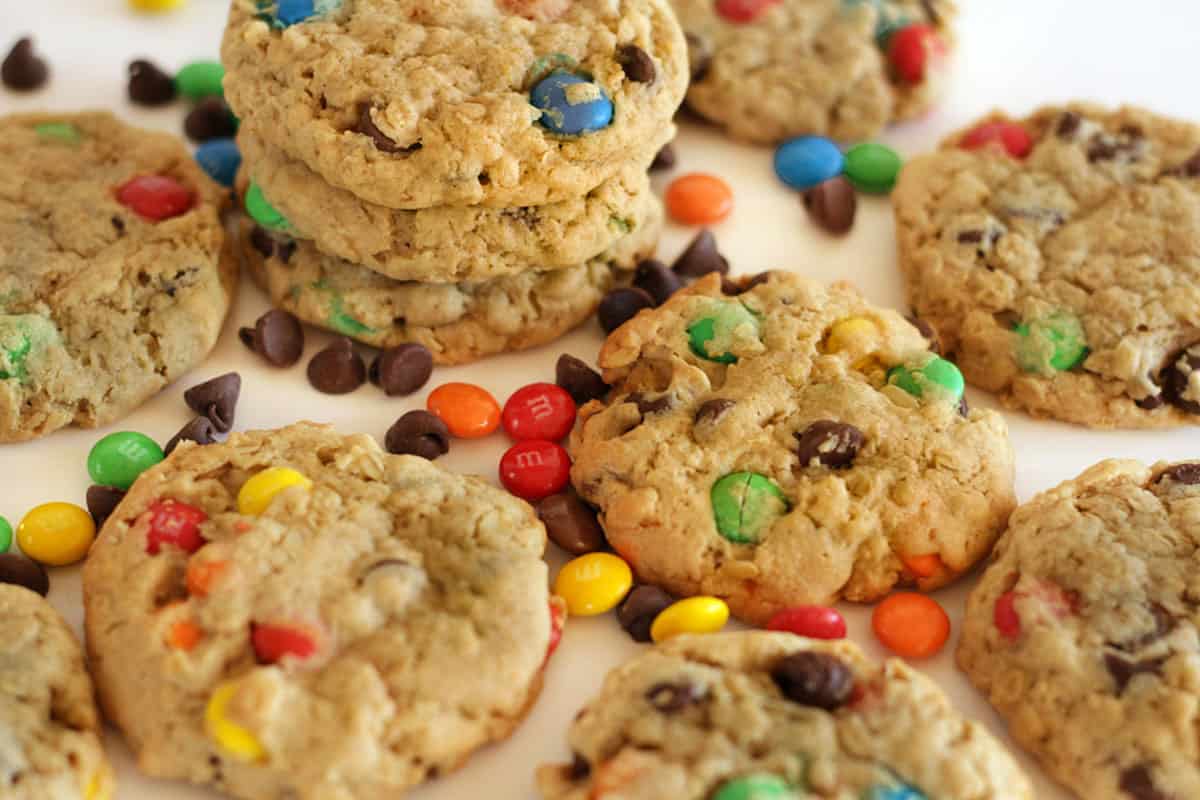 I don't really know why they were called Monster Cookies but my guess is that it had to do with the amount of ingredients the recipe called for. One pound of butter, 12 eggs, 2 pounds of brown sugar, or something like that. And Monster Cookies contained everything but the kitchen sink: peanut butter, oats, chocolate chips and M&M's. Anyway, the recipe made A LOT of awesome cookies.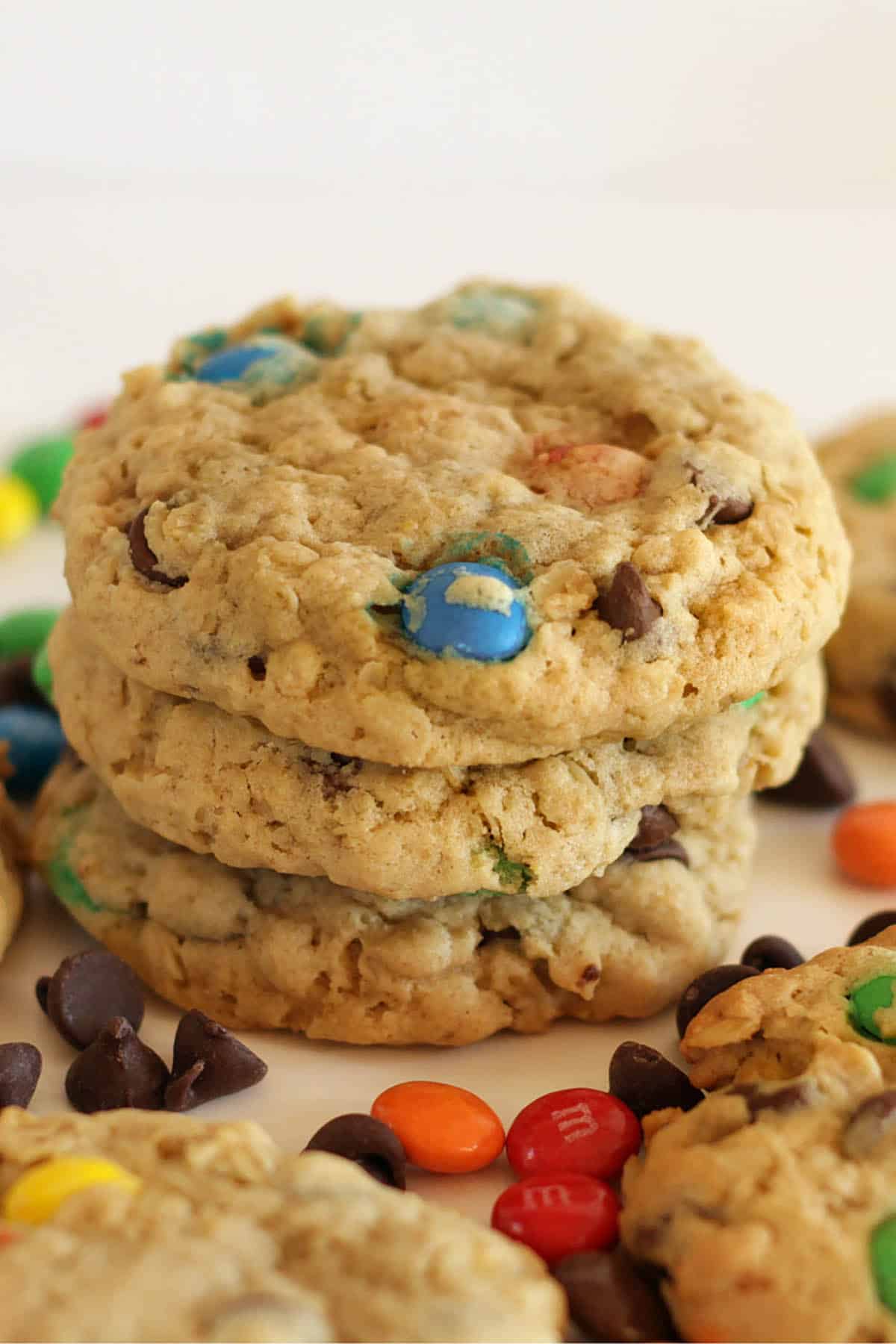 The recipe you see here is definitely trimmed back but all the good stuff is in there. I like making extra-large Monster Cookies – I mean, if they're called Monster Cookies, then they should be monstrous in some way, right? I made huge balls of dough and flattened them a little before baking. These cookies are thick, soft and chewy, buttery and peanut buttery and chocolatey….Mmmmm!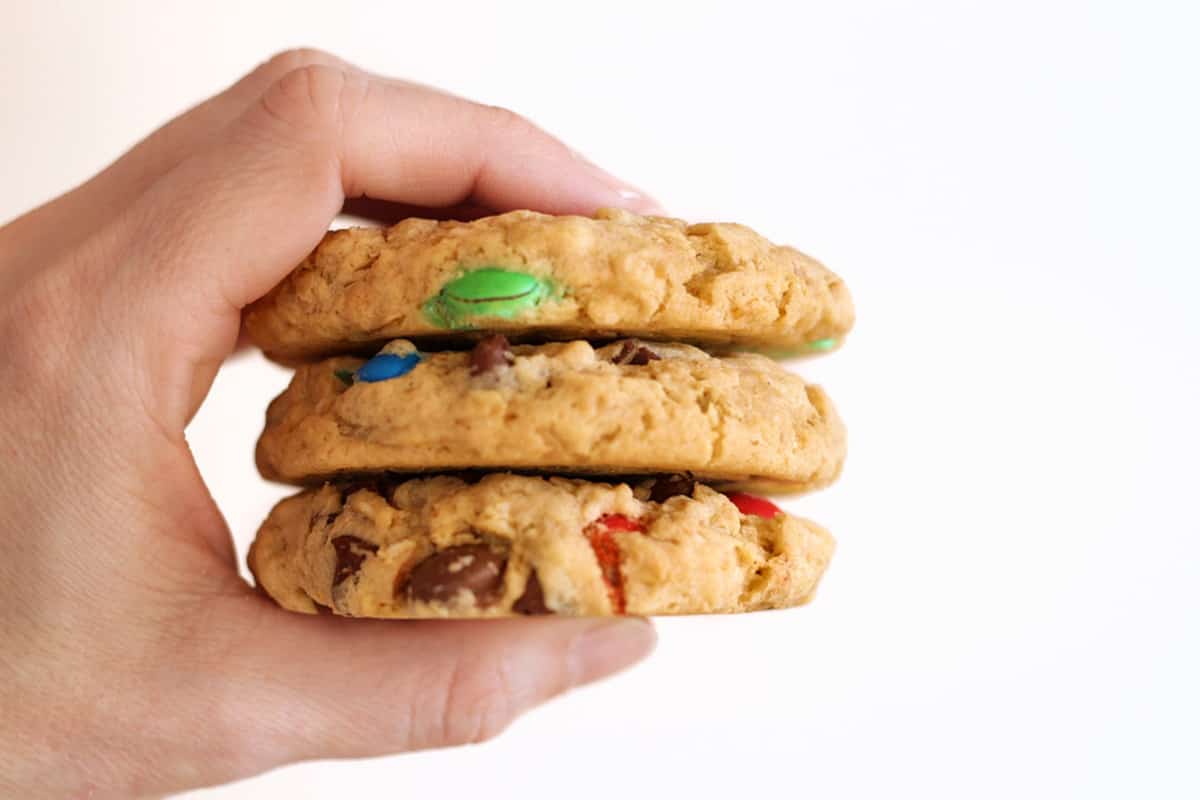 Monster Cookies
Servings
22
large cookies
Ingredients
½

cup

(113 g) butter

at room temperature

1

cup

(210 g) brown sugar

½

cup

(125 g) creamy peanut butter

2

eggs

1

teaspoon

vanilla extract

1 ¾

cup

(245 g) all-purpose flour

1

teaspoon

baking soda

½

teaspoon

salt

1 ½

cups

(160 g) old-fashioned, rolled oats

1

cup

(170 g) chocolate chips

1

cup

(200 g) M&Ms
Instructions
Preheat oven to 350°F (170°C. Line baking sheets with parchment paper.

Beat butter and brown sugar together in a large bowl until creamy. Add peanut butter, eggs and vanilla and mix until incorporated. Stir in flour, baking soda and salt. Stir in oats, chocolate chips and M&Ms.

With a regular-sized ice cream scoop, scoop out dough and shape into balls. Place the balls on the baking sheets and flatten somewhat with your fingers.

Bake cookies for 10-12 minutes, just until the edges start to brown and/or tiny cracks appear on the surface. Remove from the oven and allow cookies to stand for 5 minutes before removing them to wire racks to cool completely.

In airtight containers, cookies stay fresh for one week at room temperature or keep for two months in the freezer.
Save
Save
Save
Save
Save