This is by far the World's Best Cookie, I promise you! It's truly everybody's favorite. I've been using this recipe for 20 years and I cannot stress enough that this is the recipe you need if you want to make the real Chocolate Chip Cookies.
Now, ingredients are a little different in Austria than in the U.S., but you can make these using ingredients you find in the stores here.
Margarine/Butter: This recipe calls for half margarine and half butter. I know you want to use all butter – and you can, if you want, but let me explain. The reason I also use margarine in these cookies is so they'll stay soft. I love soft cookies. If you want a crispier, crunchier cookie, by all means replace the margarine with butter.
Brown Sugar: Let's talk about brown sugar. You can't make Chocolate Chip Cookies without brown sugar. The molasses that brown sugar still contains gives the cookie dough its unmistakable caramel flavor, light brown color and chewy texture. While American light brown sugar is best, for the cookies pictured here, I used Demerara brown sugar, which can be purchased at most supermarkets in Austria.
Vanilla: Another key ingredient is vanilla. I use my own homemade vanilla extract but you can use store bought vanilla extract or just add a packet of vanilla sugar, which is widely available in stores here, instead.
Chocolate Chips: I need to tell you about the chocolate chips. Obviously, if you can get your hands on real, American chocolate chips, you should be using those here. Why? Because American chocolate chips don't just contain chocolate, they also contain additives that help the chocolate chips keep their shape when baked. You need them to not melt down too much in baking because these cookies are soft and tender and if the chocolate in them melts too much, the cookies tend to break apart more easily.
You can still use regular chocolate chopped into chunks, but let the cookies firm up a little longer on the baking trays after baking before you move them to cooling racks. You can also counteract the flimsiness by adding chopped nuts in addition to the chocolate. I'm not saying these cookies are going to fall apart on you, I'm just telling you what to be aware of.
You should definitely make these cookies. Like, today. Because they are so easy to make and they are just the best. I almost always make a double batch because they disappear so quickly. People, especially kids, just can't stop eating them! They also freeze really well.
Let's get started. Just mix everything -except the chocolate chips and nuts- together with HALF the flour.
Once things are mixed together, mix in the rest of the flour.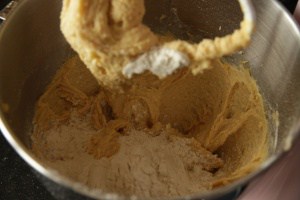 Add the chocolate chips (or chunks) and nuts, if you like, and stir them in to the dough. I usually just mix them in with my mixer on low speed for 10 seconds or so.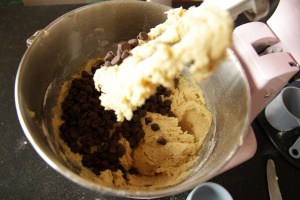 This is the dough. People are crazy about raw Chocolate Chip Cookie dough too. Did you know that? There are even cookie dough ice creams and cookie dough Oreos. In my family we definitely eat some of the dough while licking off the beater and spatula. You're not really supposed to – something about you're going to get a stomach-ache – but most people I know eat it anyway.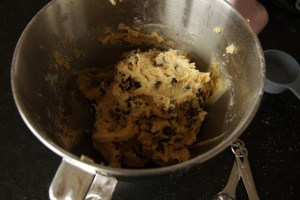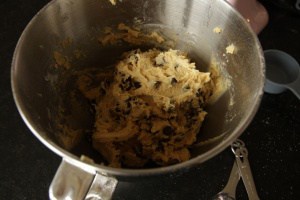 Now you want to put 1 inch (2.5 cm) mounds of dough on the baking sheet. Using a cookie scoop like this makes it a lot easier. Leave enough room in between for them to spread during baking.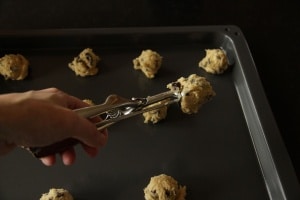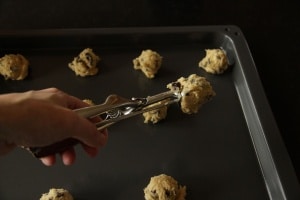 Fresh out of the oven. 🙂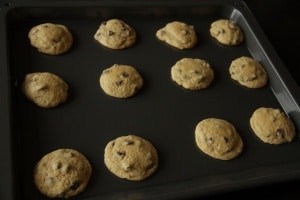 Here is your recipe. I see happiness in your future.
Chocolate Chip Cookies
Ingredients
½

cup

(112 g) margarine

room temperature

½

cup

(112 g) butter

room temperature

2 ½

cups

(350 g) all-purpose flour

1

cup

(210 g) brown sugar

½

cup

(100 g) granulated sugar

2

eggs

room temperature

1

teaspoon

vanilla extract or 1 packet vanilla sugar

½

teaspoon

baking soda

1

teaspoon

salt

2

cups

(340 g) chocolate chips

or chocolate chunks

1

cup

(110 g) chopped nuts

if using
Instructions
Preheat oven to 350°F (170°C).

Using a mixer with the paddle attachment, beat the margarine and butter together for about 30 seconds. Add brown sugar, granulated sugar, eggs, vanilla, baking soda, salt and 1 ¼ cups of the flour and beat until thoroughly combined (for about 1 minute), pausing once to scrape the sides of the bowl. Beat in the remaining 1 ¼ cups flour. Stir in chocolate chips and nuts (if desired).

Drop dough mounds of about 1 inch (2.5 cm) in diameter onto an ungreased baking tray. Bake at 350°F (170°C) for 8-10 minutes, until edges are firm and starting to brown. Cool on baking tray for 2 minutes then carefully loosen cookies from the tray and move them to wire cooling racks.

Store in an airtight container at room temperature for up to one week or in the freezer for up to one month.
Notes
Recipe slightly adapted from Better Homes and Gardens New Cookbook, copyright 1989.