This Chocolate Rainbow Cake is a real chocolate lover's cake. It features chocolate cake layers, rainbow vanilla frosting and chocolate ganache frosting. Our birthday girl loves chocolate so for this Chocolate Rainbow Cake, I flipped the usual rainbow-colored cake layers to chocolate cake and rainbow frosting.
The cake is frosted with a decadent chocolate ganache frosting so that when you cut into the cake, the rainbow effect is a surprise. Only the fun rainbow sprinkles hint at what's inside.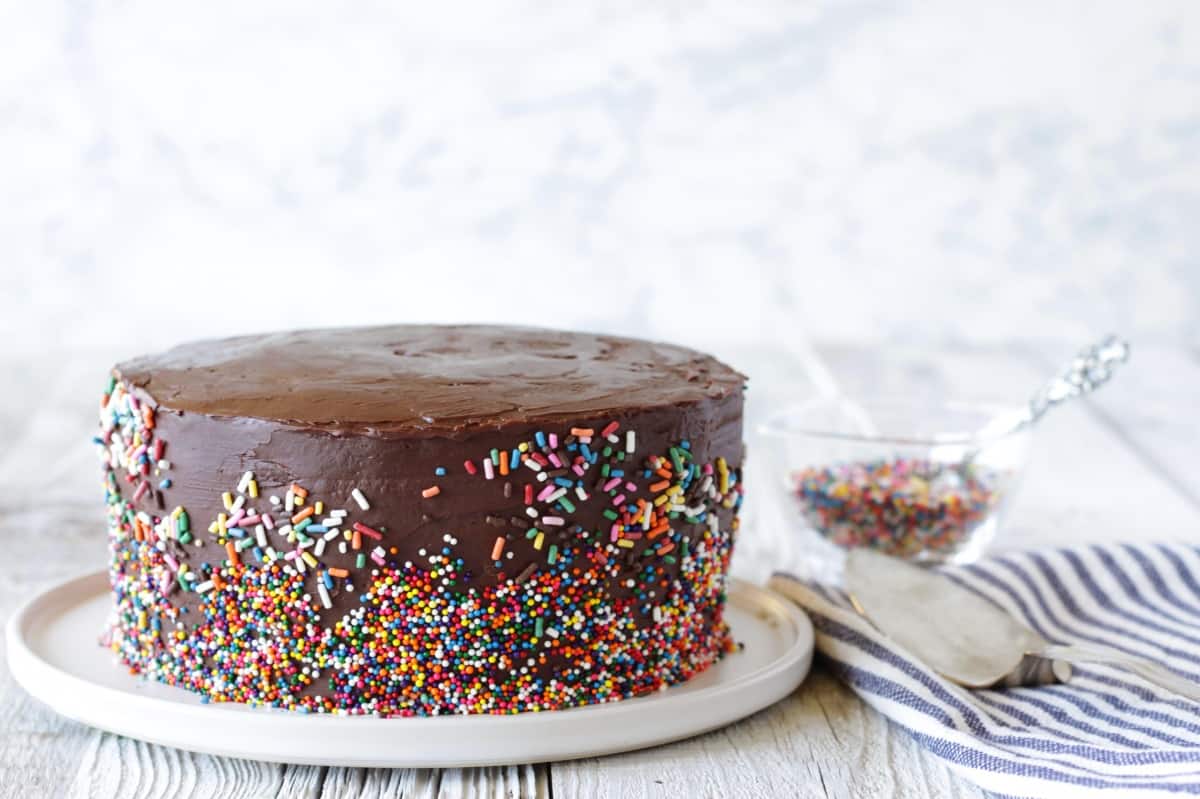 This was a birthday cake for a young teenage girl. I just love it when kids can still be kids and like things like rainbows, unicorns and sprinkles.
You can see by the photos that I made and photographed this cake twice. The first time was a practice run because I wanted to get the real birthday cake right. The recipes are all simple, fool-proof family recipes and the cake assembly doesn't require any special decorating skills. Because I certainly don't have any! 😉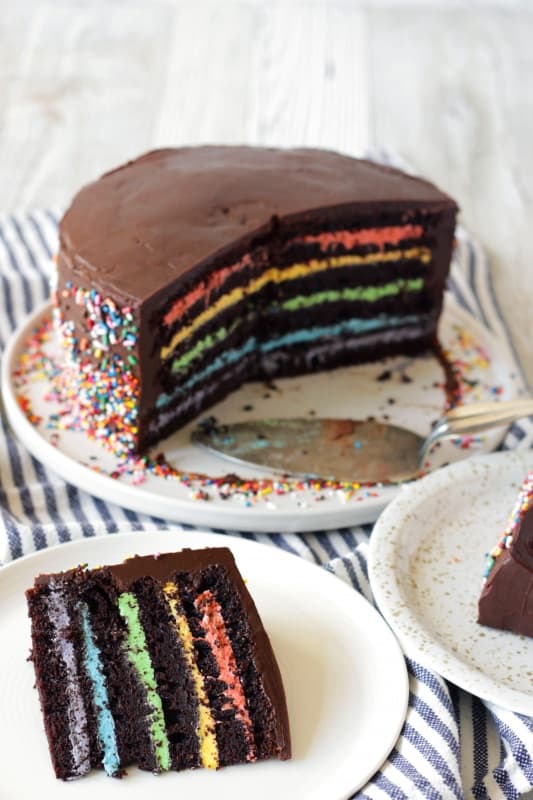 The chocolate cake is a soft, moist and fudgy American-style chocolate cake. It is a perfect, chocolatey cake I like to make for family celebrations. I was a little worried it might be too soft and moist for cutting into thin layers but it was perfect.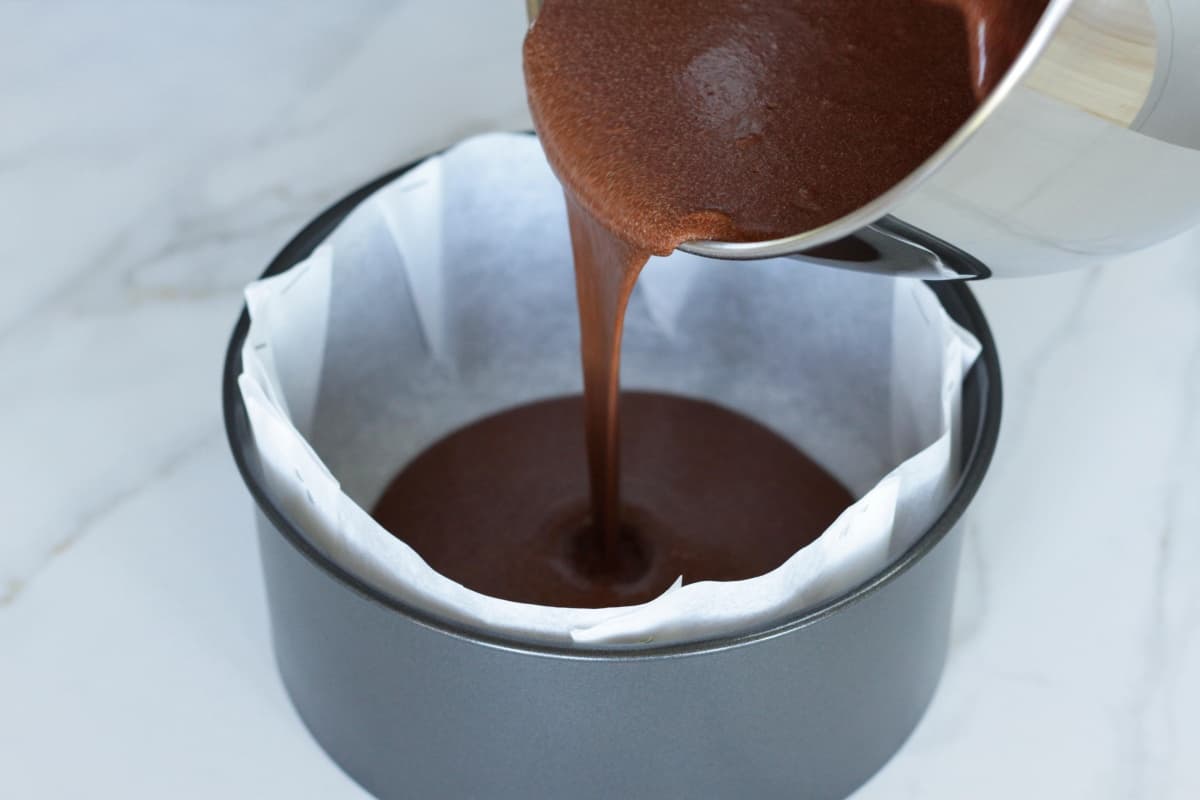 In order to get enough layers to achieve the rainbow effect inside, you will need two round 8-inch (20 cm) diameter pans. They are slightly smaller than the standard cake pans in order to get enough height in the cakes and so that the cake has the right proportions.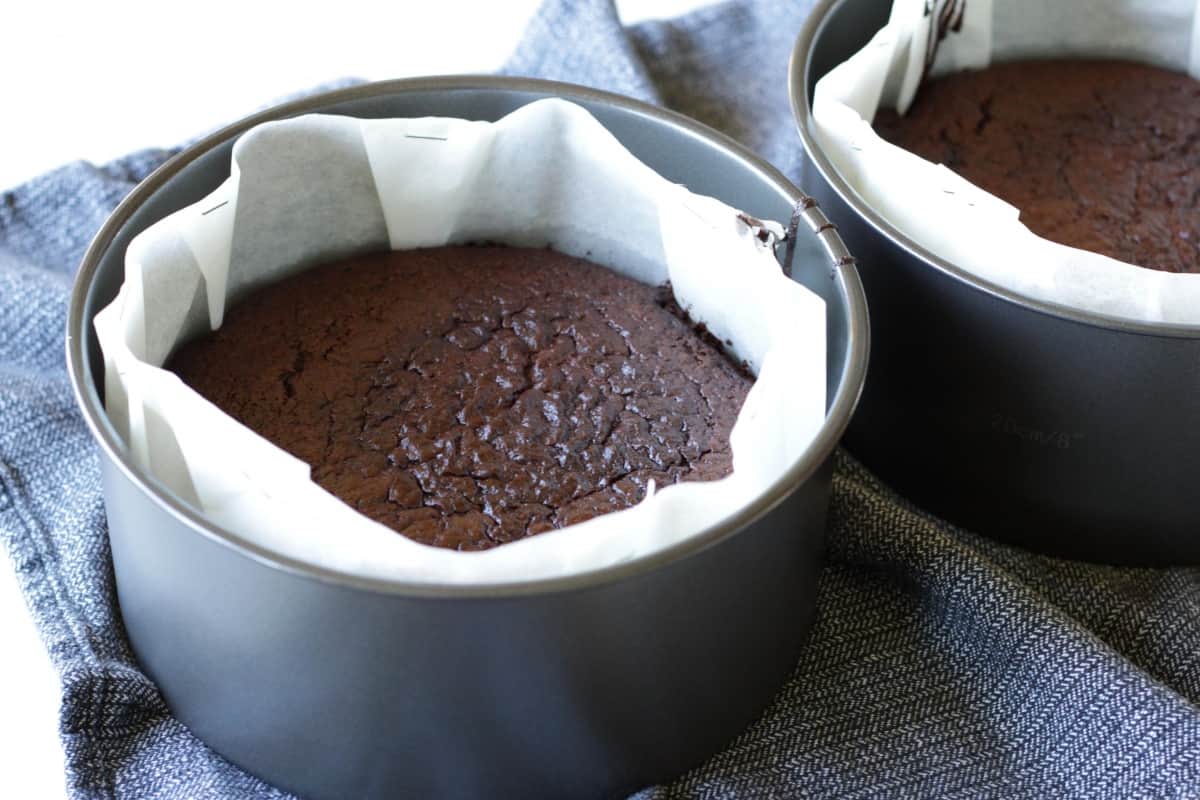 After baking, each cake needs to be cut horizontally into three layers. An inexpensive cake leveler would be really useful for cutting the cake layers. Slicing each cake into thirds with a bread knife is not for the faint of heart. Luckily for me, it all worked out but the cake layers would look a lot cleaner and more even if you used a cake leveler.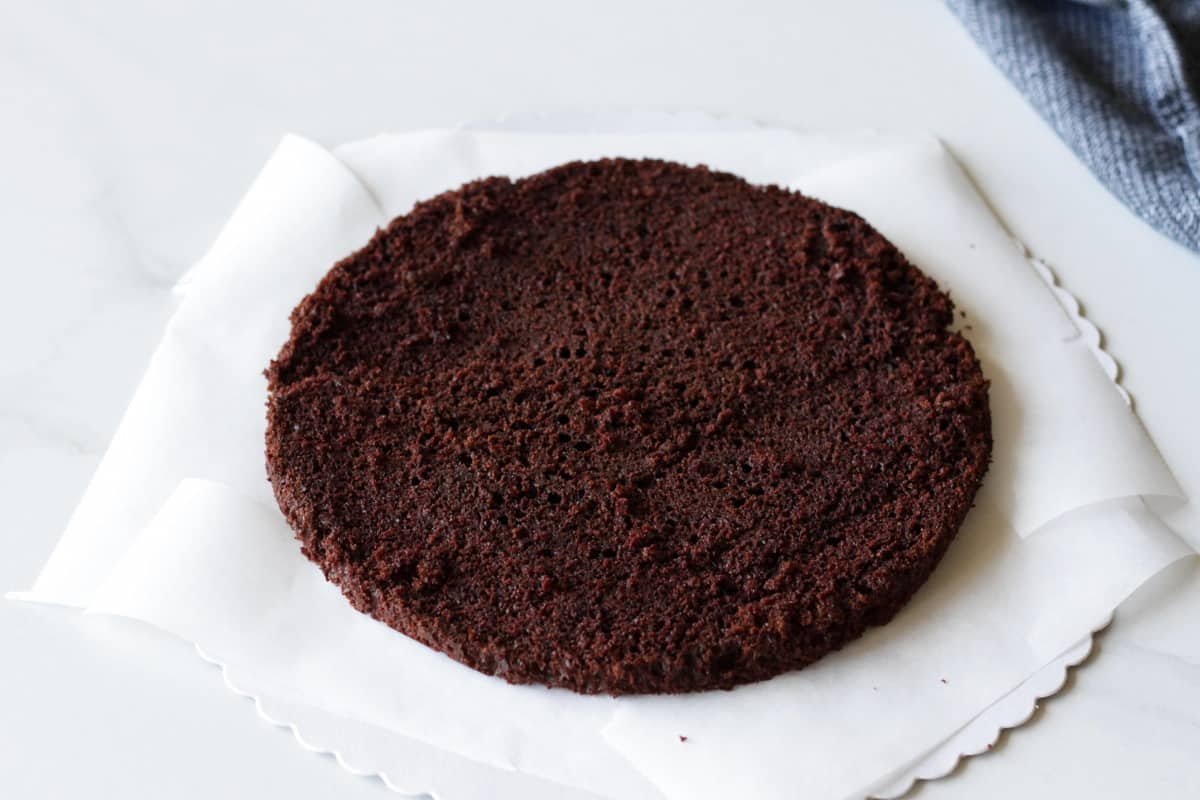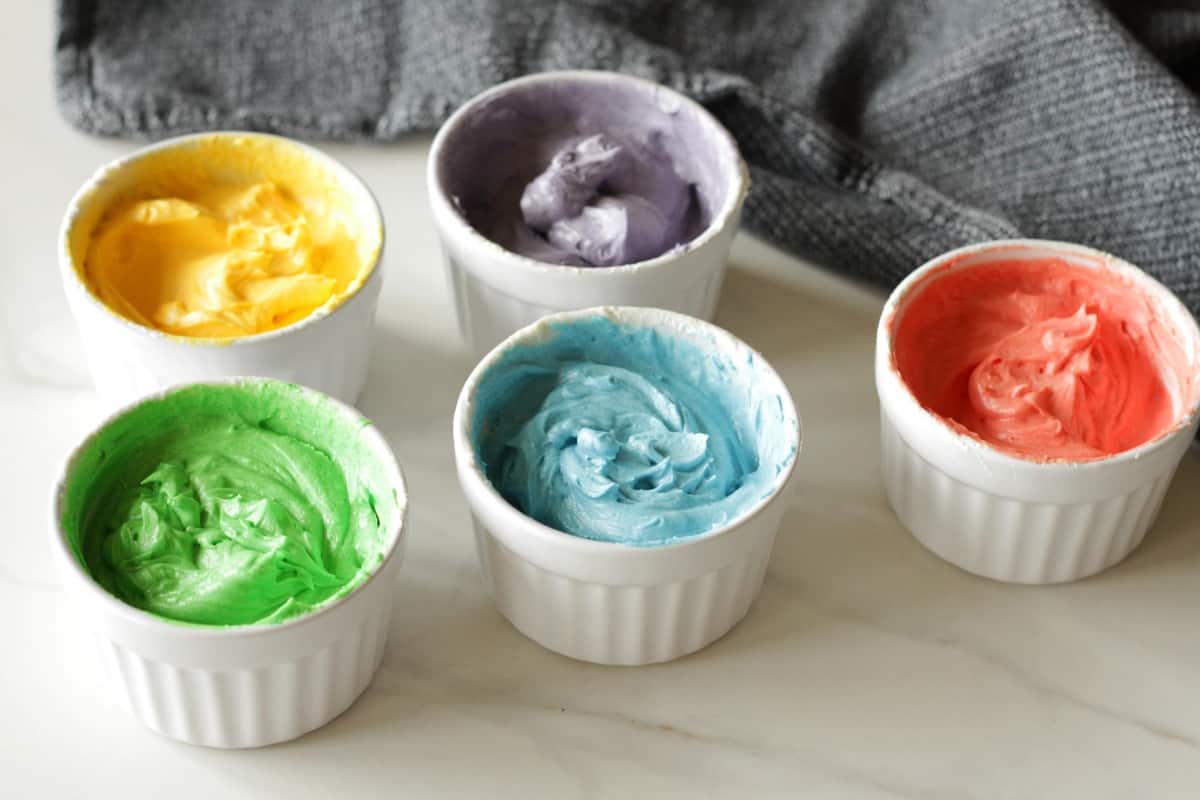 The rainbow-colored vanilla frosting is a super-easy, not too-sweet frosting. The frosting is divided into five bowls and colored with food coloring. I find that the colors contrast beautifully with the dark chocolate cake.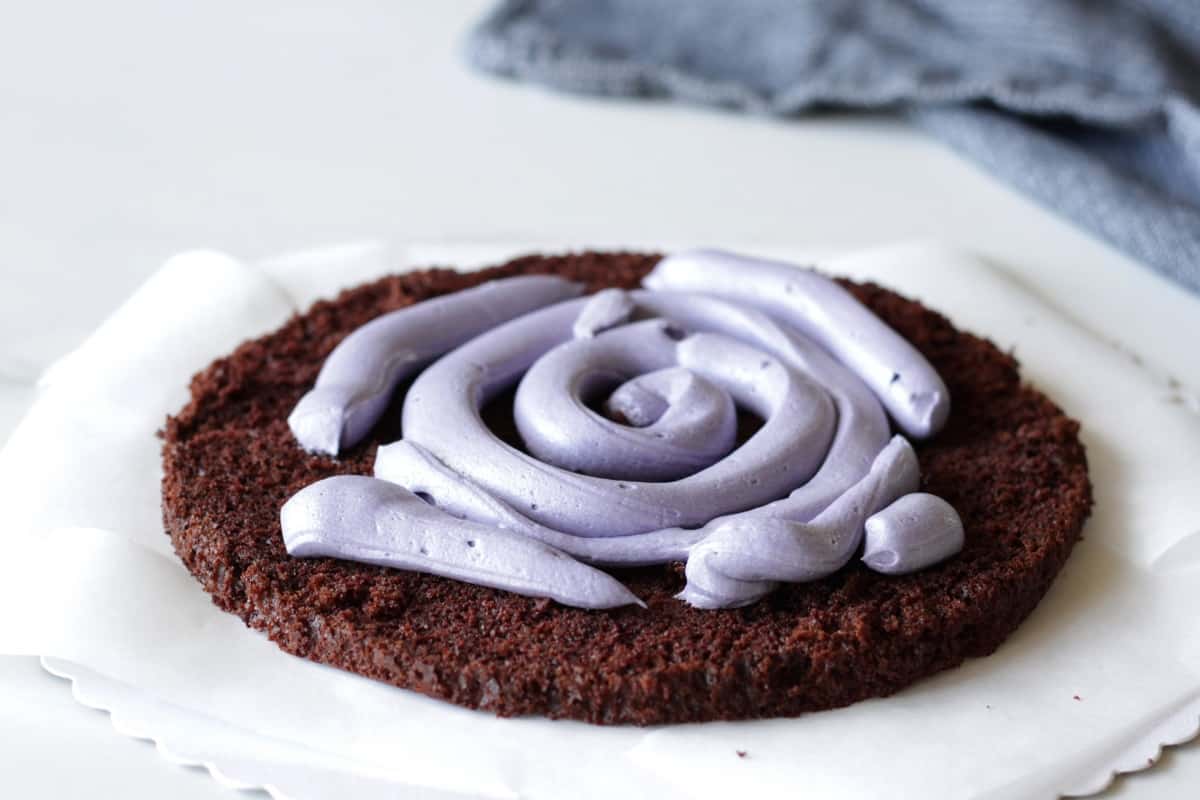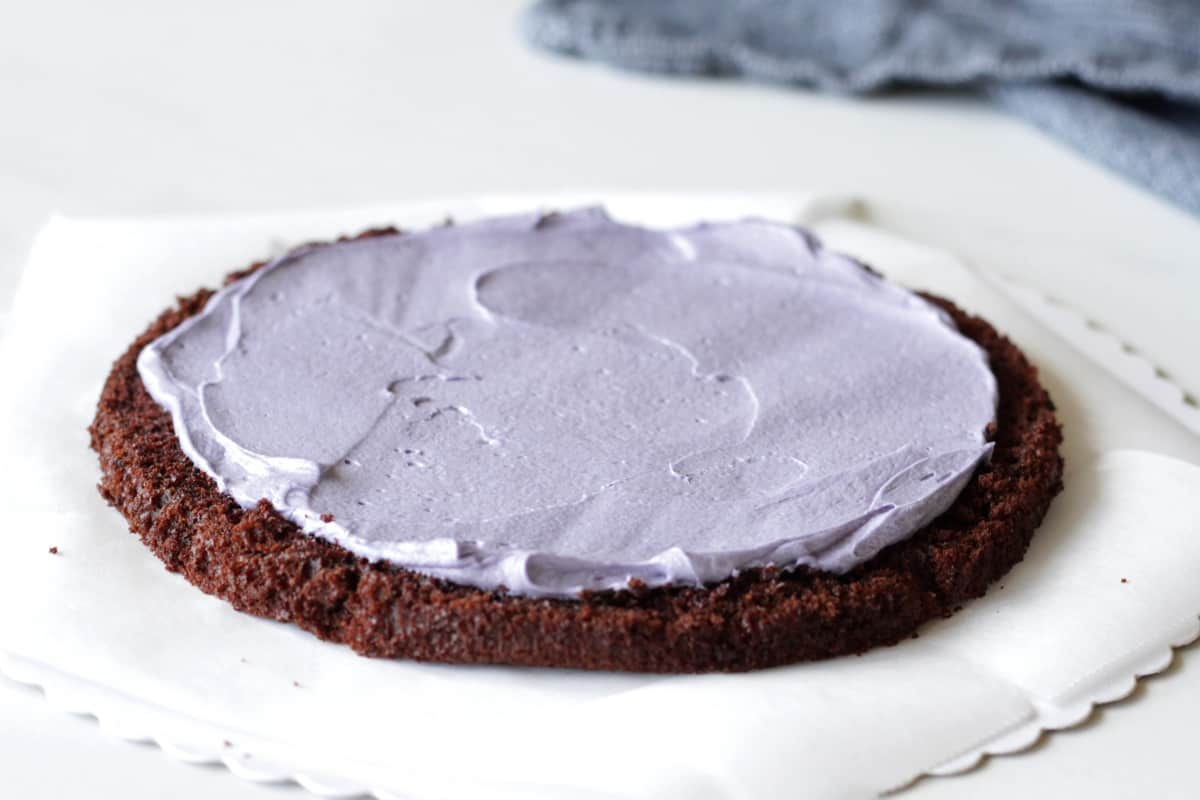 Finally, the entire cake is covered in a rich and decadent chocolate ganache frosting. I love every element of this cake but the ganache frosting is my favorite part. It's smooth and intensely chocolatey.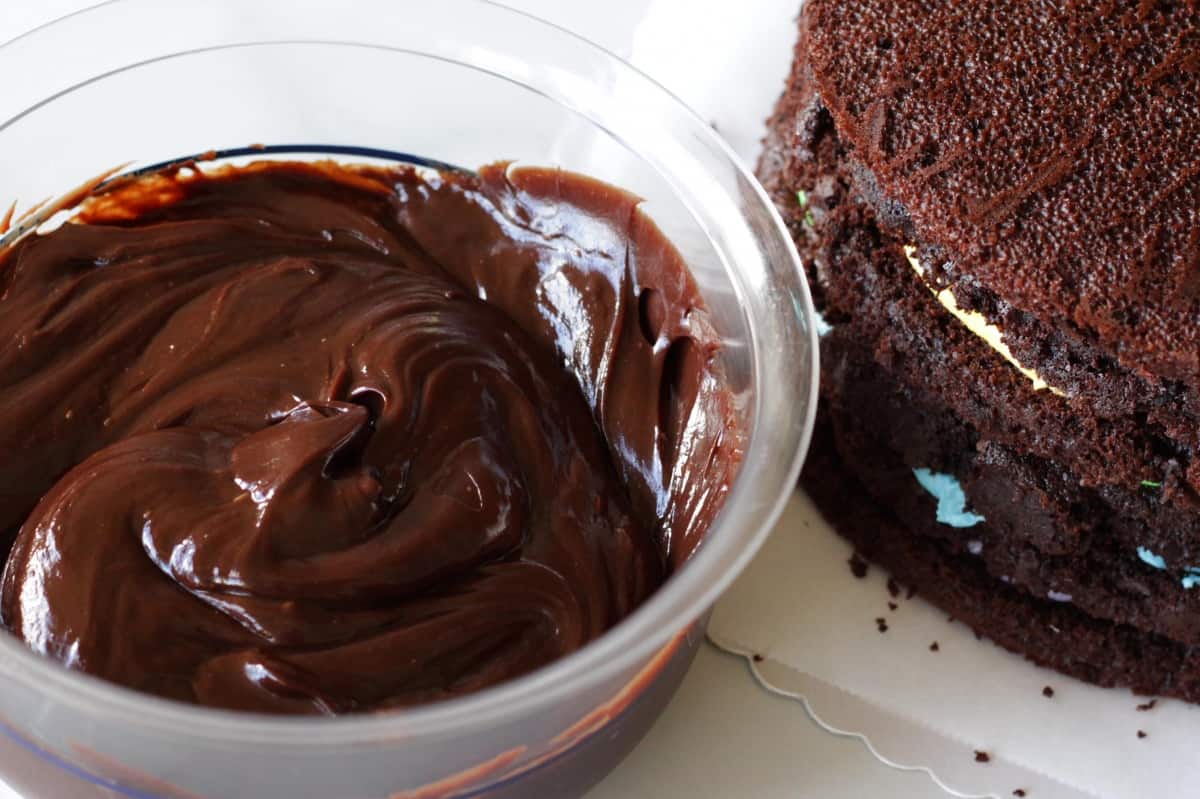 The ganache frosting is amazingly easy to make, aside from chopping the chocolate, which you can avoid if you use chocolate chips or good-quality chocolate wafers. Be sure to make the ganache frosting an hour or two in advance so it can cool to spreading consistency.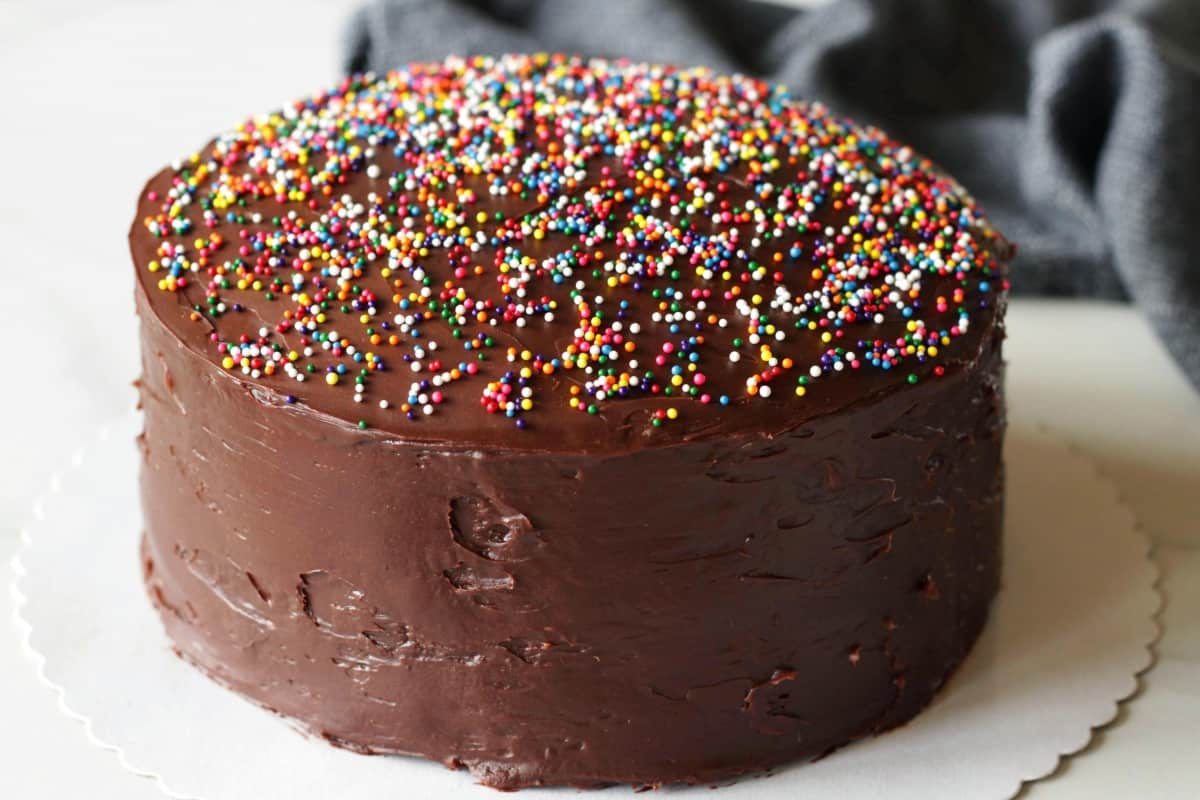 Have fun baking your Chocolate Rainbow Cake!
Chocolate Rainbow Cake
Ingredients
Chocolate Cake
1

cup

(85 g) unsweetened cocoa powder

1

cup

(240 ml) freshly brewed hot coffee

or hot water

1 ¾

cups

(245 g) all-purpose flour

1 ½

cups

(300 g) granulated sugar

1 ½

teaspoons

baking soda

1 ½

teaspoons

baking powder

½

teaspoon

salt

2

eggs

room temperature

1

cup

(240 ml) buttermilk

½

cup

(113 g) butter

melted

2

teaspoons

vanilla extract
Chocolate Ganache Frosting
1

cup

(250 ml) heavy cream

½

cup

(113 g) butter

⅓

cup

(70 g) brown sugar

¼

teaspoon

salt

9

ounces

(250 g) semi-sweet baking chocolate

chopped or chocolate chips

7

ounces

(200 g) 70% dark chocolate

chopped

1

teaspoon

vanilla extract
Vanilla Rainbow Frosting
1

cup

plus 2 tablespoons (250 g) butter

at room temperature

A pinch of salt

3 ½

cups

(400 g) powdered sugar

sifted

1

tablespoon

vanilla extract

¼

cup

(60 ml) heavy cream

Food coloring
Instructions
Chocolate Cake
Preheat oven to 350°F (175°C). Grease and flour two 8-inch (20 cm) round cake pans and line bottoms with parchment paper.

Whisk together cocoa powder and hot coffee in a medium sized bowl and set aside.

In a large mixing bowl, combine flour, sugar, baking soda, baking powder and salt. Add eggs, buttermilk, melted butter and vanilla extract and beat on medium speed for 3 minutes. Scrape sides of bowl as needed. Stir in coffee and cocoa mixture. The cake batter will be very runny.

Divide batter between the two cake pans and bake for 32-35 minutes, until cake is springy when touched and no dent is left behind. A wooden toothpick tester must come out clean.

Cool cakes completely in pans on wire racks. When cakes are no longer warm, cover the pans tightly with plastic wrap or aluminum foil and chill for at least 2 hours.
Chocolate Ganache Frosting
*Make Ganache Frosting ahead of time as it needs about 2 hours to cool.*

In a medium-sized saucepan, heat and stir the cream, butter, sugar and salt over low heat until mixture nearly comes to a boil. Do not allow it to boil. Remove from heat and stir in chocolate until completely smooth. Stir in vanilla.

Allow mixture to cool to room temperature (about 2 hours), until it reaches a spreadable consistency, stirring occasionally.
Vanilla Rainbow Frosting
Beat the butter and salt in a mixing bowl on medium speed for 3-5 minutes until the butter appears nearly white. Add the sifted powdered sugar and vanilla and mix on low speed until blended. Scrape bottom and sides of mixing bowl with a rubber spatula and mix again briefly. Add the heavy cream and mix on medium speed until the frosting is creamy.

Divide the frosting into five bowls (about 130 g each) and color each frosting a different color of your choice. Begin coloring with minimal amounts of food coloring. Transfer frosting to five plastic food storage bags.
Cake Assembly
Turn chilled cakes out of pans and remove parchment paper. Slice each cake horizontally into three layers. Ideally, you would use a cake leveler to cut the layers but a long, serrated bread knife works as well. Don't worry if the layers aren't perfect, the cake will still be beautiful.

Place the bottom layer on a cake platter and lay strips of parchment paper under the edges to make cleaning the platter easier afterwards.

Cut a small corner off your first bag of frosting. Pipe the frosting onto the cake in large swirls and smooth it out with an offset spatula or a butter knife. Repeat process with remaining cake layers and frosting.

When the chocolate ganache frosting has thickened into a pudding-like spreadable consistency, you can use it to frost the cake. If it is still too soft, you can set it in the freezer for a few minutes. If it is too hard, you can heat it in the microwave for 5 seconds.

Start by frosting the sides of the cake. Holding your palette knife parallel to the cake, apply plenty of frosting to the sides, filling in any holes and uneven spots with the frosting. Smooth out the frosting and remove excess by scraping the sides of the cake with palette knife or cake scraper (or a ruler). Repeat until the sides are nicely covered. Then frost the top of the cake and scrape smooth.

Decorate cake with colored sprinkles as desired. Chill cake over night before cutting into slices and serving.
Notes
Special equipment: 2 round cake pans 8 inches (20 cm) in diameter, cake leveler, food coloring (preferably gel or paste), colored sprinkles, palette knife (straight or offset spatula) or cake scraper (or a ruler), Lazy Susan (turntable).
If you're looking for a recipe where the cake itself is rainbow-colored, try these cupcakes: