We always celebrate Halloween in a big way at our house in Austria. It's so fun that Halloween is celebrated in Europe now too. I love seeing that Austrians are into throwing Halloween parties, wearing costumes (adults too!), carving Jack-O-Lanterns and making creepy treats.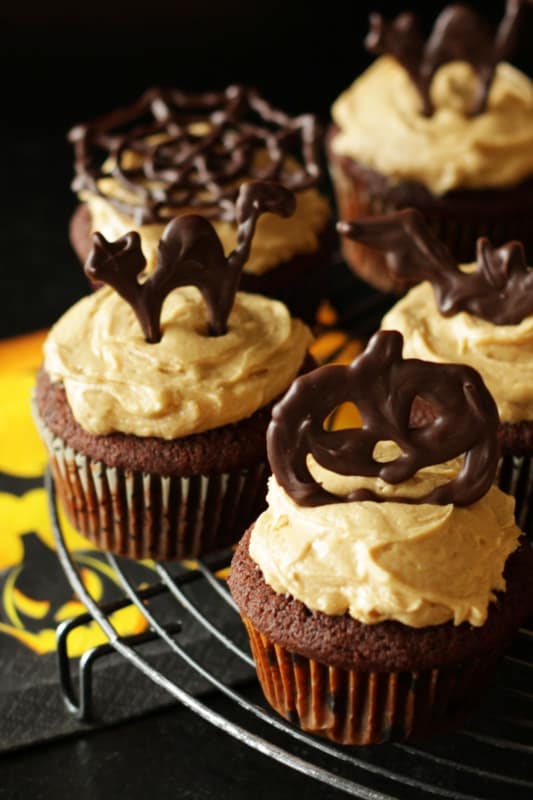 This post is exciting because it is my contribution to the Halloween blog party What Bakes Me Scared! Claudia, the creative talent behind the blog What Bakes Me Smile, is organizing this Halloween recipe themed party and lots of great food bloggers from Austria and Germany are participating. I feel so honored to be a part of this group!
Since I am the first to publish a recipe for the Halloween blog party, I have no idea what the others are posting and I can't wait to see their Halloween recipes! I'll add links to their recipes below so you can click on them and have a great collection of creepy ideas for Halloween.
Like I said before, we love Halloween and yummy food is a huge part of that! For me, peanut butter and chocolate are as much a part of Halloween as pumpkins so after much deliberation, I decided to go with these Chocolate Halloween Cupcakes with Peanut Butter Frosting.
These cupcakes are perfect for any occasion, not just Halloween. The Peanut Butter Frosting is OMG. The recipe is from the Barefoot Contessa, Ina Garden. While she was making the Peanut Butter Frosting in her cooking show, she said that the cupcakes are just a vehicle for transporting the frosting to your mouth. The Barefoot Contessa understands me and I love her. The chocolate cupcakes are moist and soft and super easy to throw together. The recipe is from Baking a Moment and is called Simply Perfect Chocolate Cupcakes, which they really are!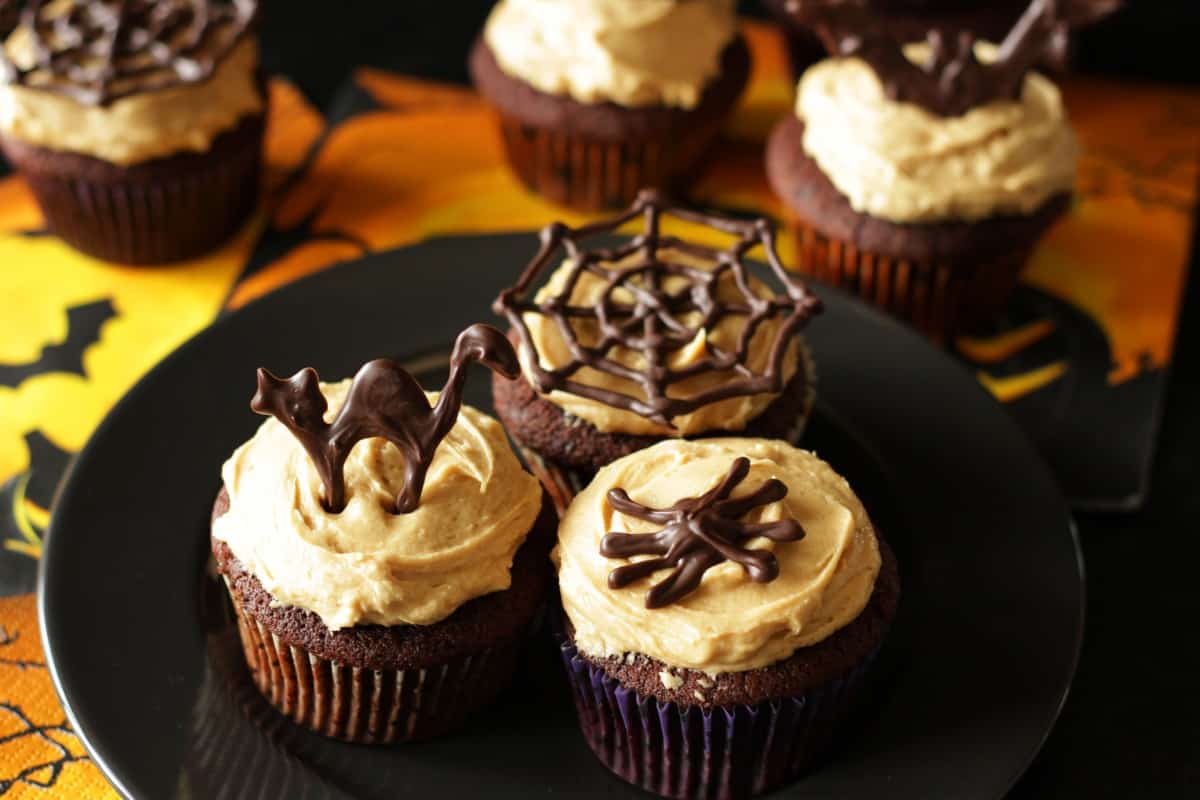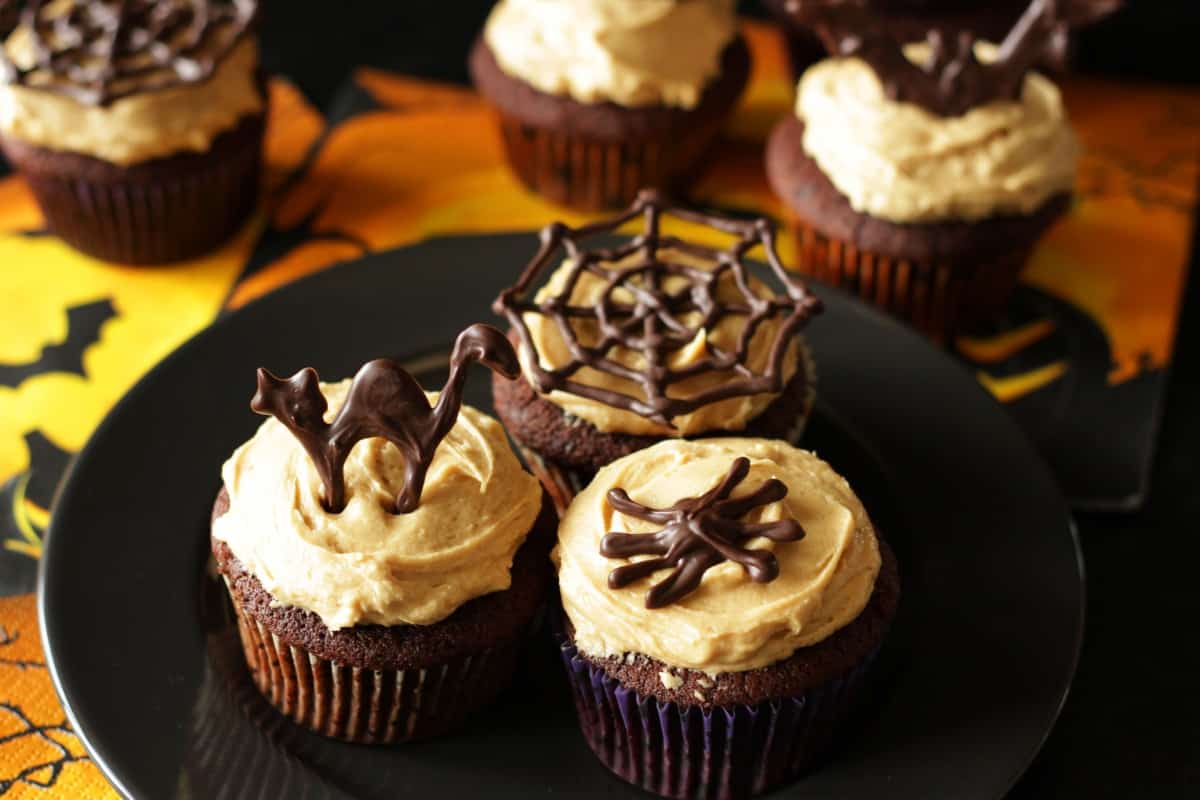 I found the idea for the chocolate cupcake toppers on Pinterest. Melted chocolate is piped into shapes on parchment or wax paper. It's easy! I don't know if you can tell by the pictures that I have shaky hands, not an artistic bone in my body and little experience with chocolate work but I'm quite pleased with how the Halloween-y chocolate shapes turned out. If you want to use the same templates as I have, you can click here and here to find them.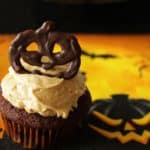 Chocolate Halloween Cupcakes with Peanut Butter Frosting
Ingredients
Chocolate Cupcakes
¾

cup

(150 g) granulated sugar

¾

cup

(105 g) all-purpose flour

½

cup

(40 g) unsweetened cocoa powder

¾

teaspoon

baking powder

½

teaspoon

baking soda

¼

teaspoon

salt

½

cup

(112 g) butter

room temperature

2

eggs

½

cup

(125 g) sour cream

1

teaspoon

vanilla extract
Peanut Butter Frosting
1

cup

(250 g) creamy peanut butter*

5

tablespoons

(70 g) butter

room temperature

1

teaspoon

vanilla extract

1

cup

(110 g) powdered sugar

¼

teaspoon

salt

optional

¼

cup

(60 ml) heavy cream
Chocolate Cupcake Toppers
5

ounces

(150 g) baking chocolate
Instructions
For the Chocolate Cupcakes: Preheat oven to 350°F (170°C). Line muffin pan with cupcake liners.

In a large mixing bowl, stir together the granulated sugar, flour, cocoa powder, baking powder, baking soda and salt. Add the butter and mix on low speed until the flour mixture is moistened. Add the eggs one at a time and mix on low speed to combine. Scrape the bowl with a rubber spatula between additions. Blend in the sour cream and vanilla. Beat the batter on medium speed for about one minute.

Fill the cupcake liners a little over half full with batter and bake for 17-19 minutes, until a toothpick inserted into a cupcake comes out clean. Allow the cupcakes to cool for 10 minutes in the pan on a wire rack, then remove them from the pan and cool completely on a wire rack.

For the Peanut Butter Buttercream: In a large mixing bowl, beat peanut butter, butter, vanilla, powdered sugar and salt on medium-low speed with the paddle attachment until creamy. Scrape the bowl. Add the heavy cream and beat on high speed until frosting is light and fluffy. Thickly spread or pipe frosting onto cooled cupcakes.

For the Chocolate Cupcake Toppers: Finely chop the chocolate. Melt two thirds of the chocolate in the microwave or over a double boiler.** Add the rest of the chocolate and stir until smooth. Place melted chocolate into a freezer bag and cut off a tiny piece of one of the corners of the bag. Slide a template under your piece of parchment paper (or wax paper) and pipe the chocolate designs onto the parchment paper. You can spread the chocolate with a toothpick, if necessary. Should your chocolate get too cool or thick to pipe, heat the bag with the chocolate in the microwave for a few seconds, knead it a little and then you can continue using it. Allow the chocolate shapes to harden before releasing them from the paper. Stick the shapes into or lay them over the frosting.
Recipe Notes
*Preferably industrially produced peanut butter. Natural, drippy peanut butter is not recommended.
**Be sure not to get any water in the chocolate!
Chocolate Cupcake recipe slightly adapted from Baking a Moment.
Peanut Butter Frosting recipe slightly adapted from Barefoot Contessa.
Don't forget to check out the rest of the Halloween blog party recipes:
Bloody 'n Spicy Halloween-Pumpkin-Soup from Salzig Süss Lecker
Halloween Layer Cake with Eyeball Cake Pops from What Bakes Me Smile
Ghoulish Chocolate Cemetery from Küchenmomente
Poisoned Halloween Apples from Küchen Deern
Creepy Cheese Platter from Küchensprint
Ghosty Cake Pops from Baking Barbarine
Stuffed Hokkaido with Pumpkin and Spinach Fig Filling from Lissi's Passion
Pumpkin Spice Halloween Cupcakes from About Verena
Halloween Pumpkin Cheesecake from Maras Wunderland
Save
Save
Save
Save
Save
Save
Save
Save
Save
Save
Save
Save
Save
Save
Save
Save
Save
Save
Save
Save
Save
Save
Save
Save