This is the best plum cake! Ripe Austrian prune plums, or Zwetschken, are layered on a soft and fluffy yeast dough and topped with buttery cinnamon streusel.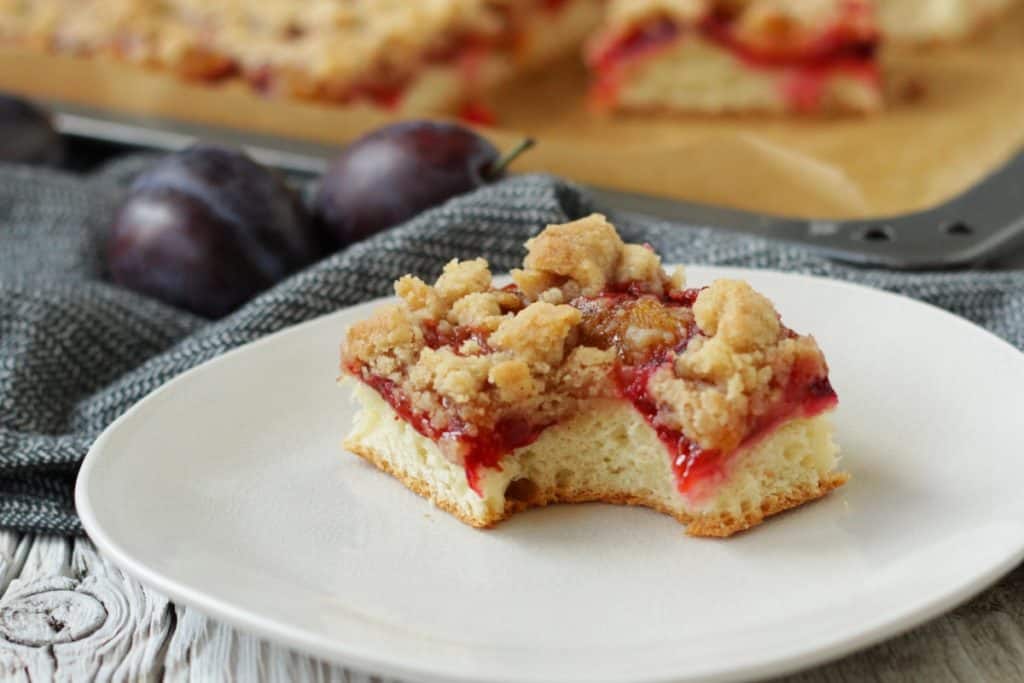 I absolutely love Austrian prune plums! They are oval plums with blue skin and yellow flesh and are smaller, sweeter and less aggressively sour than regular plums. They are also a lot easier to pit. I'll eat as many prune plums as I can as long as they are in season.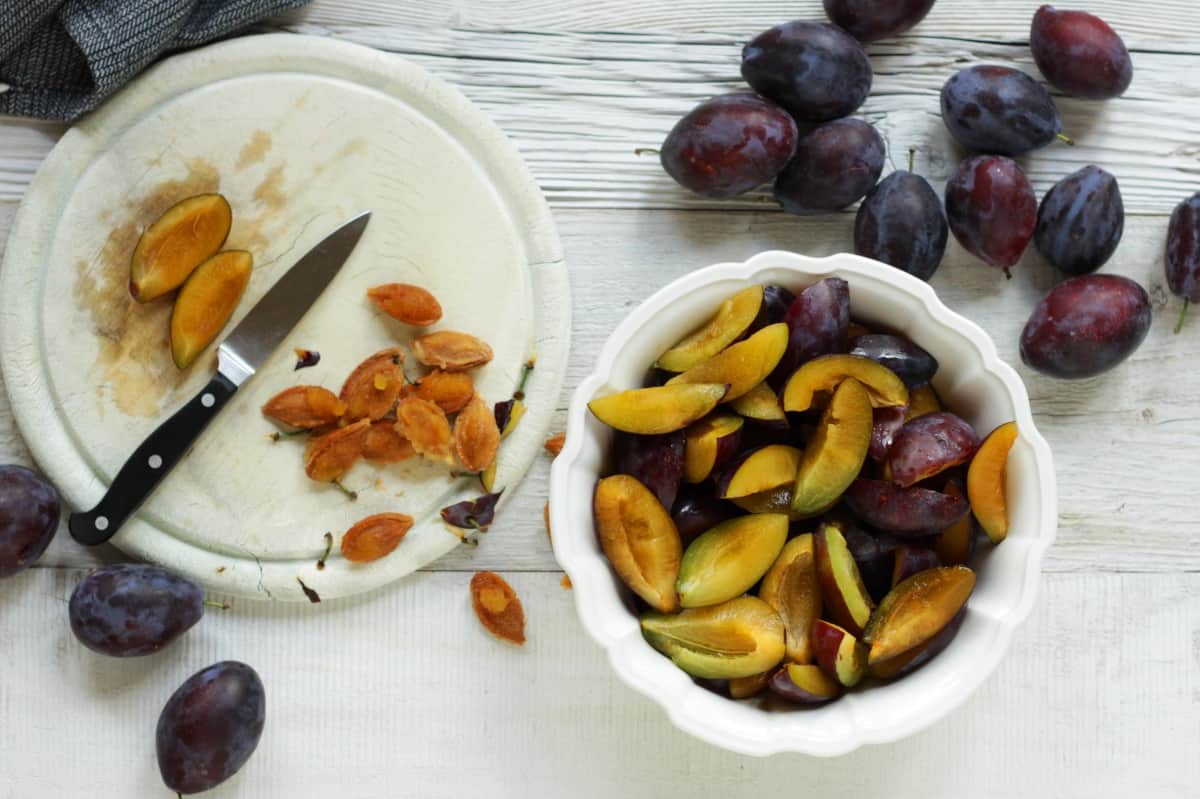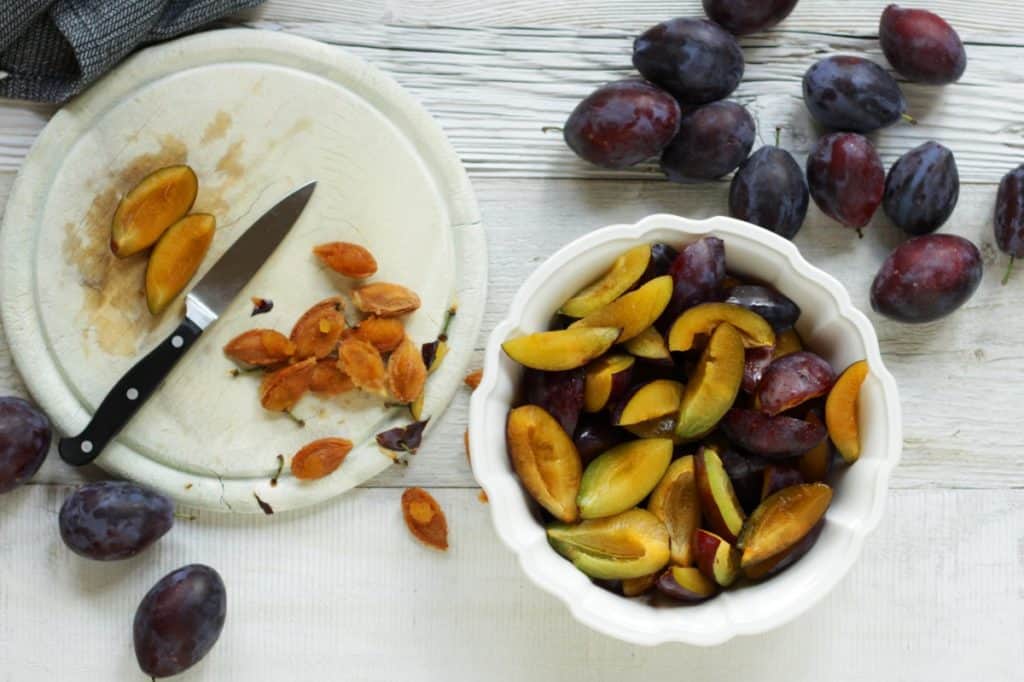 A real Austrian Zwetschkenfleck is made with a yeasted sweet dough crust (think: cinnamon roll dough). Zwetschkenfleck is essentially a large sweet plum pizza. A plum cake made with a regular sponge cake would be called Zwetschkenkuchen, at least theoretically, but the two terms are often used interchangeably.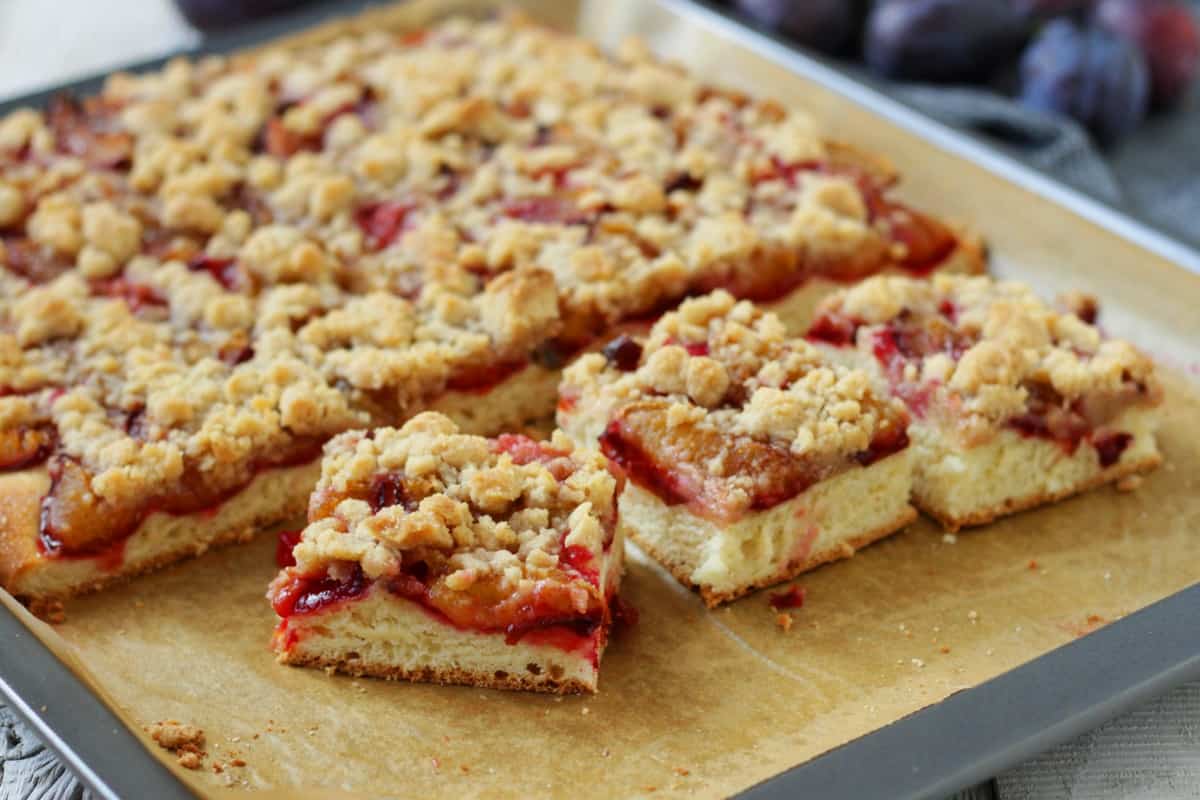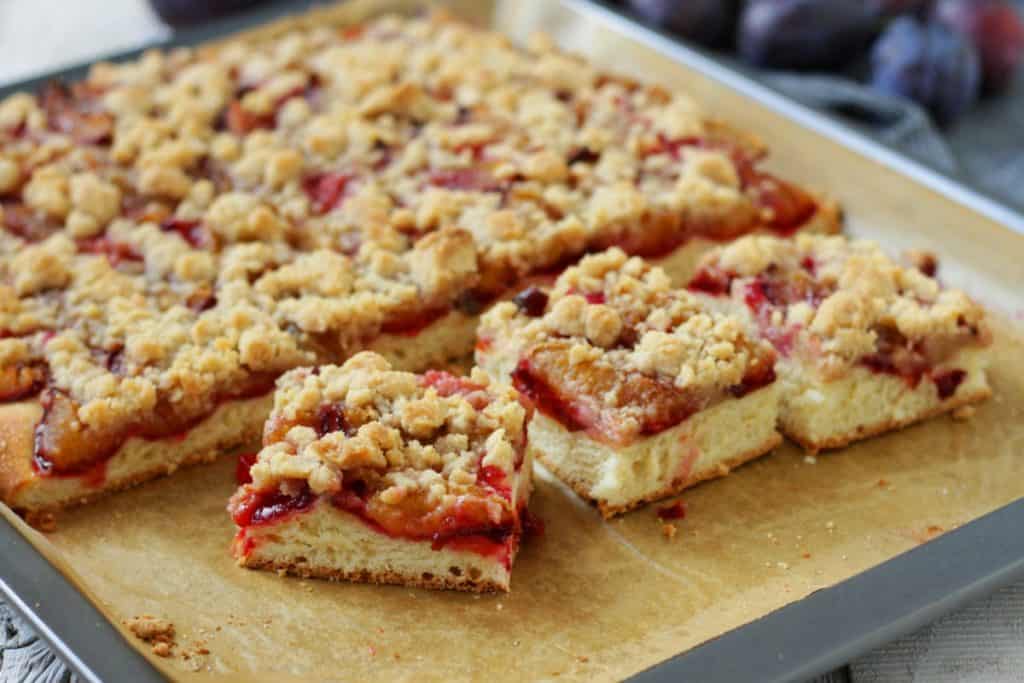 The plums are quartered and are supposed to be laid on the dough like roof shingles but I guess I didn't really understand what that meant. There should have been more plums, laid closer together and overlapping, but the cake tasted delicious anyway!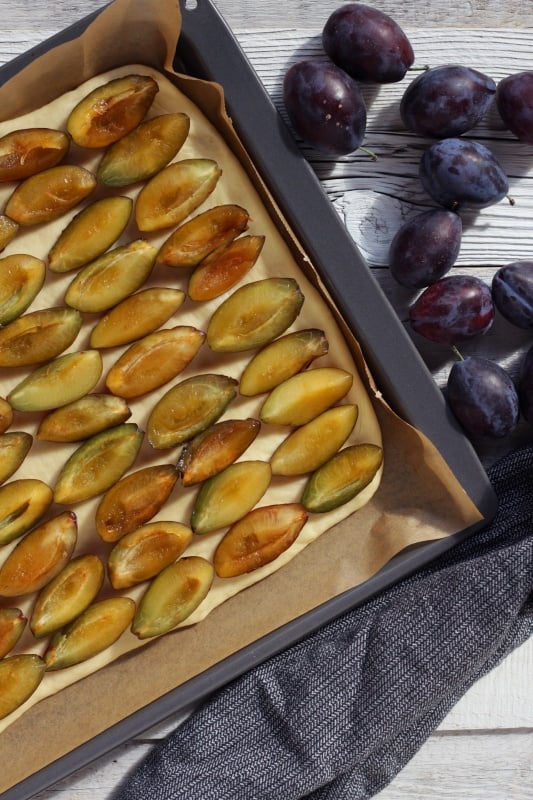 Before baking: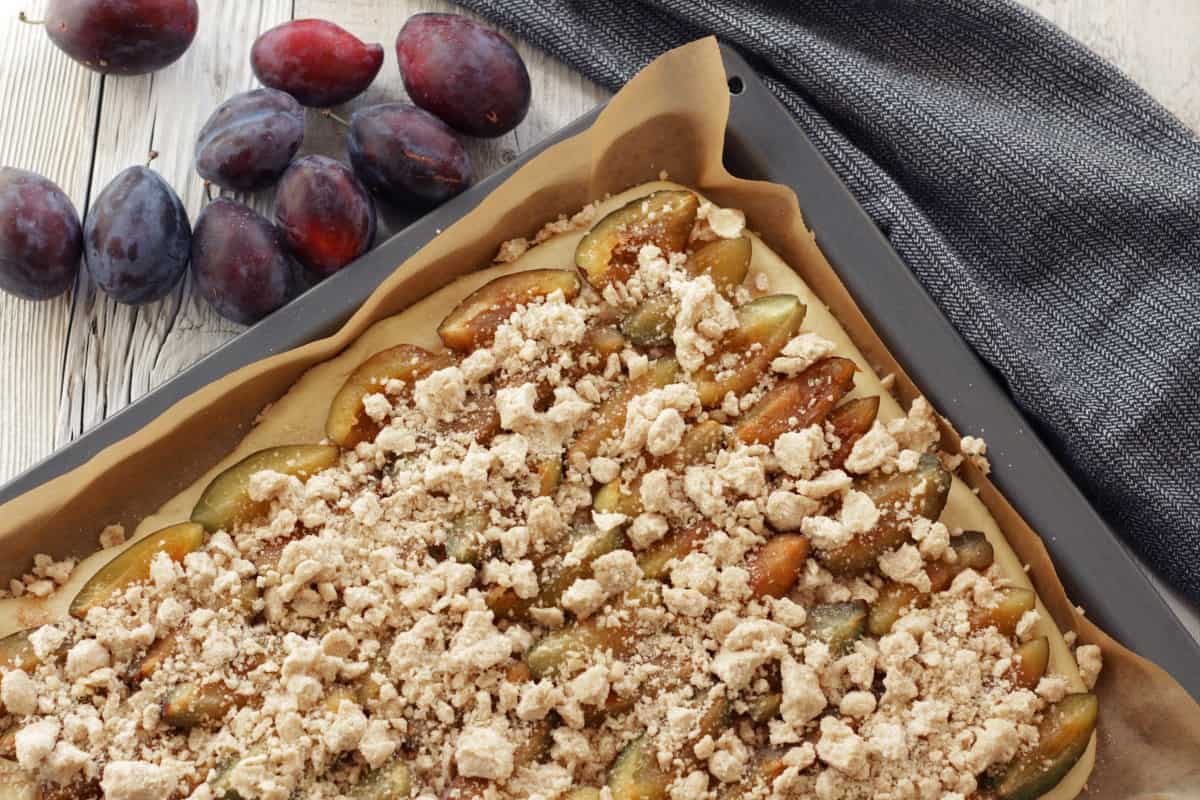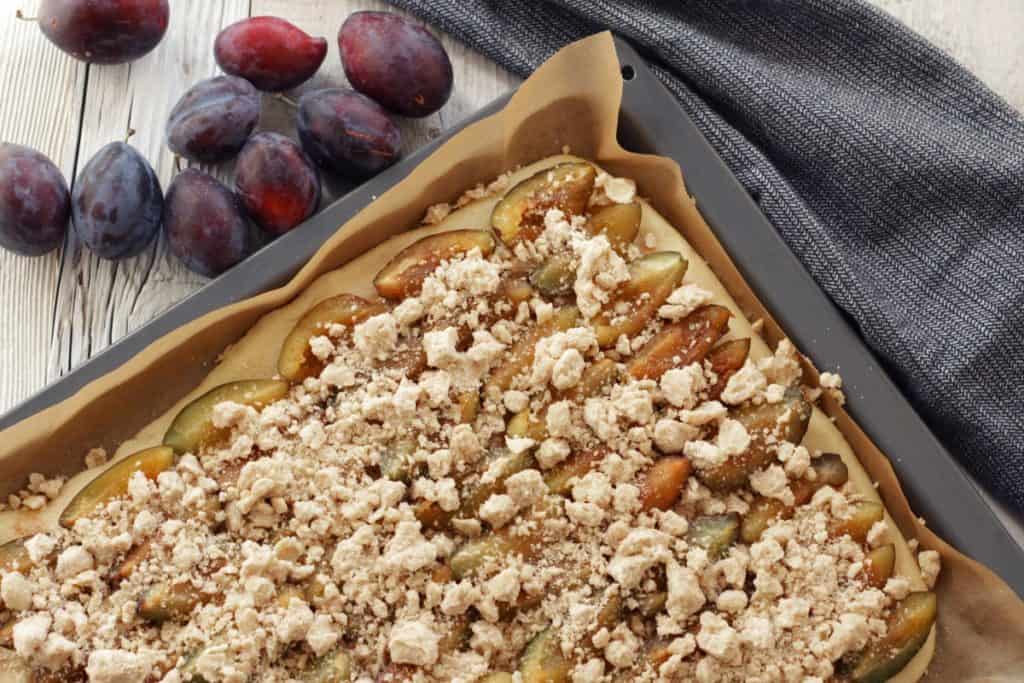 The trick to baking the best Plum Cake is not to overbake it, but just until the dough is done and the streusel are golden brown. That's what makes it so soft and fluffy!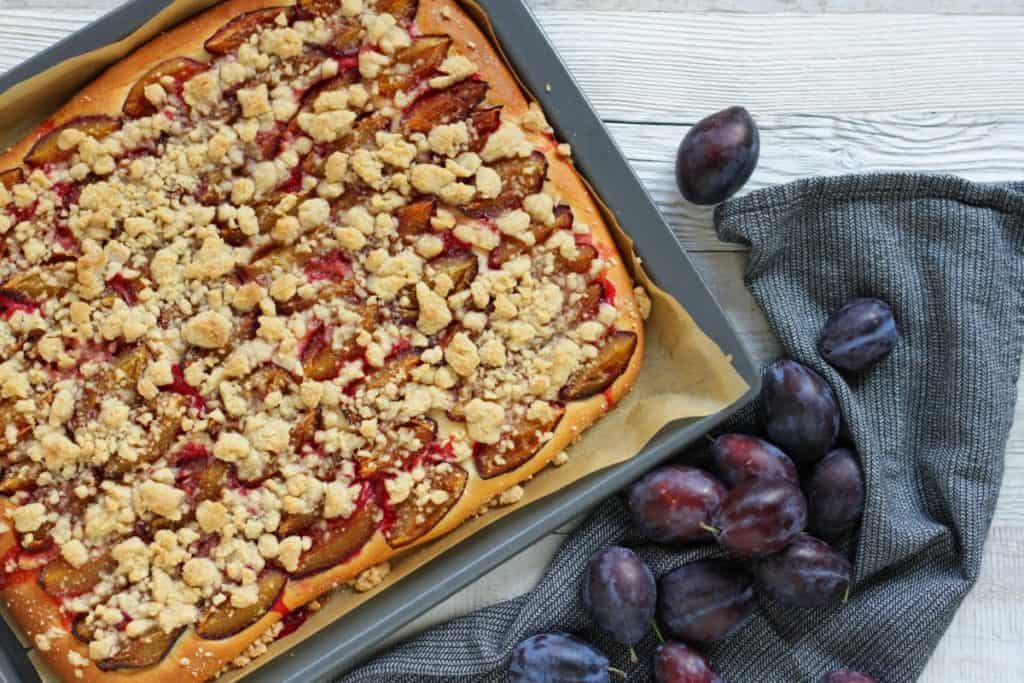 Plum Cake tastes best freshly baked! You can gently reheat leftovers in the microwave and they will taste just like freshly baked again.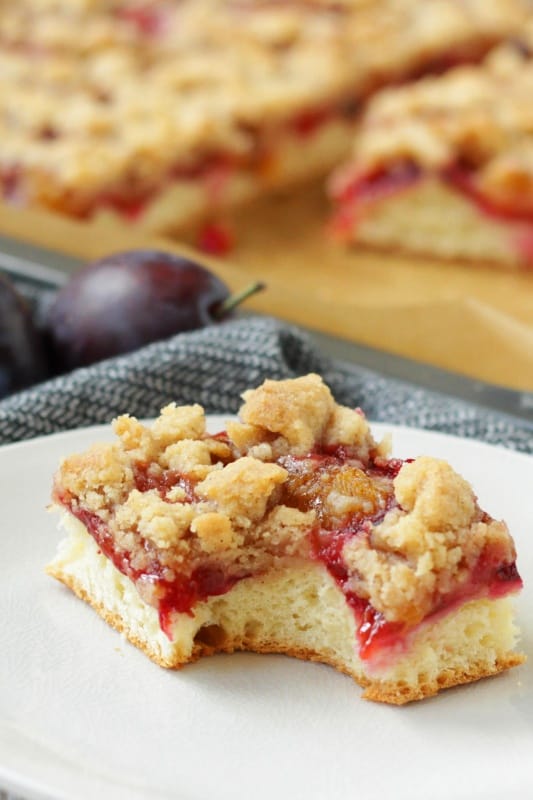 Austrian Plum Cake (Zwetschkenfleck)
This is a recipe for 1 sheet cake or jelly roll pan, about 16×13 inches (40×32 cm).
Ingredients
Yeast Dough
3 ½

cups

(500 g) all-purpose flour

¼

cup

(50 g) granulated sugar

1

teaspoon

salt

¾

cup

(200 ml) lukewarm milk

21

g

(½ cube) fresh yeast

or 1 envelope dry active yeast

1

egg plus 1 egg yolk

6

tablespoons

(80 g) softened butter
Topping
2.2

pounds

(1 kg) prune plums*

or regular plums

¼

cup

(50 g) granulated sugar

1

teaspoon

ground cinnamon
Streusel
1 ¼

cups

(180 g) all-purpose flour

1

teaspoon

ground cinnamon

Pinch

salt

½

cup

(100 g) granulated sugar

½

cup

(125 g) butter
Instructions
Add flour, sugar and salt to the bowl of your stand mixer. Dissolve yeast in lukewarm milk. Add the milk and yeast, egg, yolk and butter to the flour and knead mixture with the dough hook on medium speed (speed 4 on Kitchen Aid) for 5 minutes, or knead by hand for 10 minutes. Cover bowl and allow dough to rise for about 30 minutes.

In the meantime, wash, pit and quarter the plums lengthwise. Combine cinnamon and sugar in a small bowl and set aside.

Knead dough a few times and allow it to rest for 10 minutes while you make the streusel: in a medium-sized bowl, stir together flour, cinnamon, salt and sugar. Cut cold butter into cubes and work it into the flour mixture with a pastry cutter or with your fingers until mixture holds together in clumps when squeezed. Set aside.

Preheat oven to 350°F (180°C) conventional (top and bottom) heat if possible. Line a large (about 16×13 inches or 40×32 cm) rimmed baking sheet with parchment paper. Lightly flour your work surface and roll dough out to the size of your baking sheet and lay it on the parchment paper-lined baking sheet. Arrange the plums on top of the dough, cut side up, in rows, slightly overlapping. Sprinkle plums with the cinnamon-sugar. Then top with the streusel.

Bake Plum Cake for about 30 minutes. Test for doneness by sticking a knife into the center of the cake and if there is no dough sticking to it, it's done. Serve warm!
Notes
*Zwetschken: aka Italian Prune Plums, European or Empress Plums.
Recipe adapted from
Spar.
Nutrition
Pin this recipe for later: