I have the perfect dessert for you for Mother's Day. You will make Mom very happy with this beautiful layered dessert in a glass! People, there are no more excuses!
You can find many more tips on other uses for this Topfen Cream after the recipe below.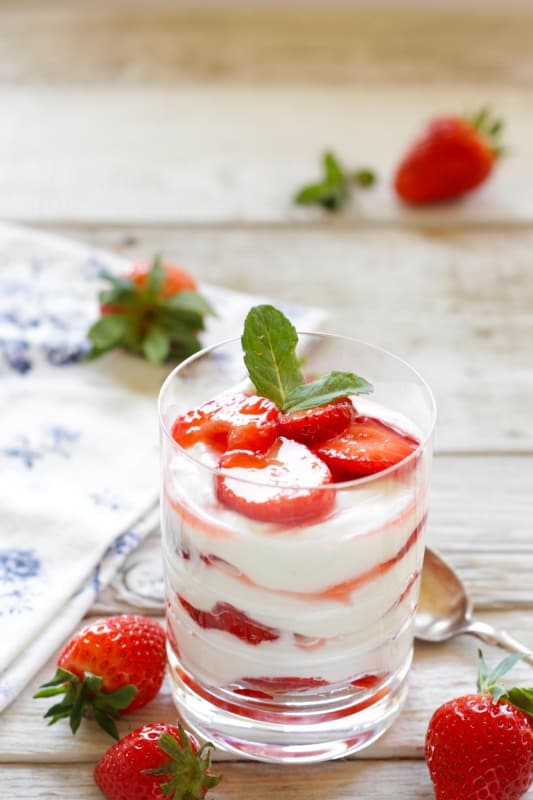 This Topfen Cream with Strawberries is quick and easy to make, delicious and I just think it's so pretty! It is made with Topfen, aka quark, farmer's cheese or curd cheese, a common Austrian baking ingredient which is like a cross between cottage and cream cheese.
I would categorize this dessert as similar to a no-bake cheesecake or a mousse in texture, with a wonderful tang from the Topfen and the yogurt. With fresh fruit and a relatively small amount of sugar, we could almost call it healthy. You can make this dessert with any berries or other fruit that you like.
Are you a fan of the Austrian Topfen Torte? Me too! But let's be honest, the Topfen filling is really the best part of that cake, isn't it?
The cream for our dessert here is practically identical to the cream filling of a Topfen Torte. The only real difference is that you don't need to add any gelling agent like gelatin or agar-agar to this cream because it doesn't need to be slice-able like it would in a Topfen Torte.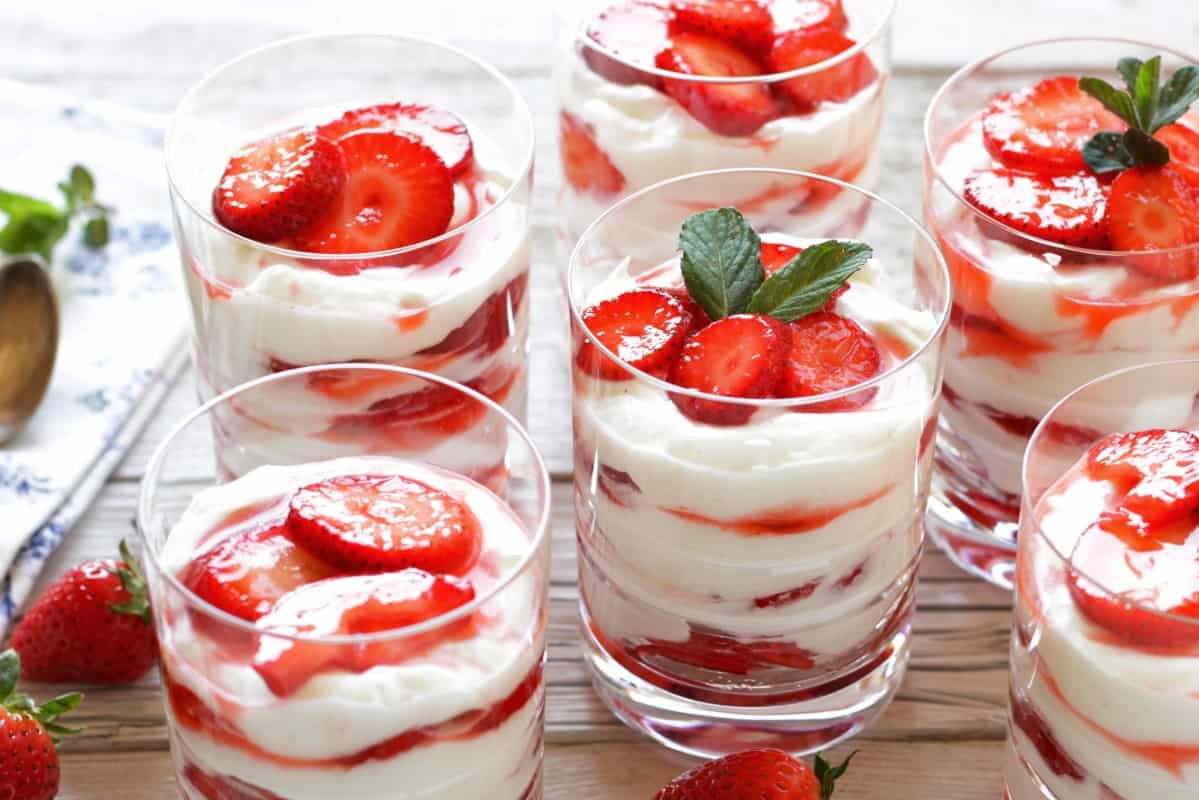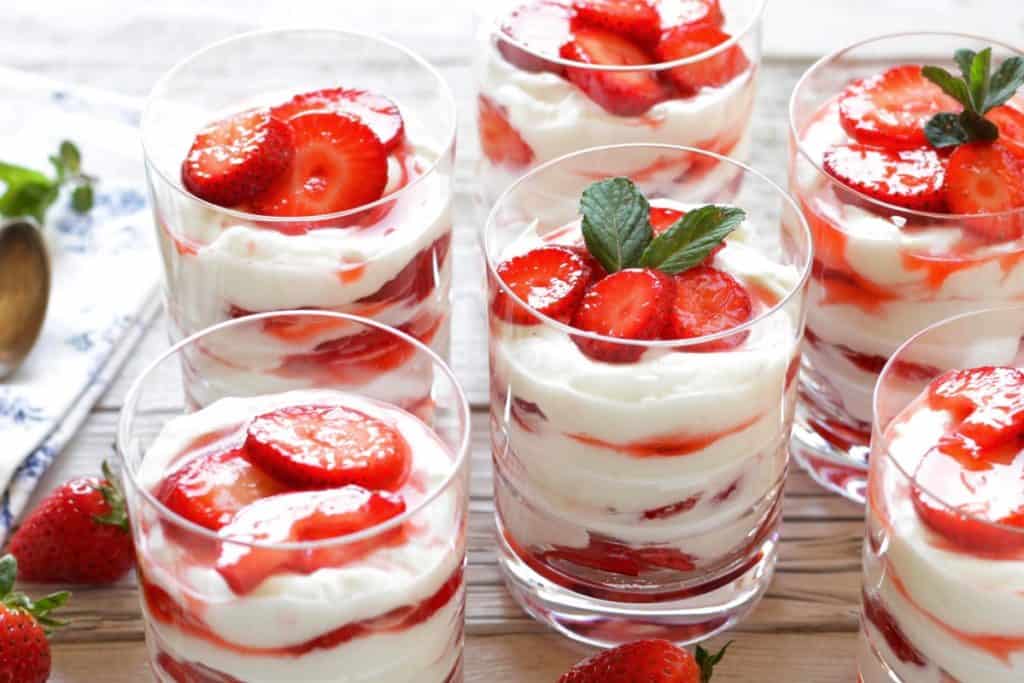 To sum up, this is simply an incredibly delicious and beautiful dessert that is also super easy to make. It will make you look like a professional chef and no one will know that you didn't spend more that 30 minutes throwing it together. To serve, all you have to do is take it out of the refrigerator.
Tip: if this dessert is being served to adults only, you could marinate the strawberries in orange liqueur (Cointreau or Grand Marnier), rum or Marsala if you wish.
Topfen Cream with Strawberries
Ingredients
3

pints

(1 kg) fresh strawberries*

Juice of one lime**

3-4

tablespoons

granulated sugar

1

cup

(8 ounces or 250 ml) whipping cream

18

ounces

(500 g) Topfen, 20% fat

quark, curd cheese or farmer's cheese

⅔

cup

(150 g) plain yogurt

Grated zest and juice of half an organic lemon

¼

cup

(50 g) granulated sugar

1

teaspoon

vanilla extract

or 1 pkg. vanilla sugar

Fresh mint leaves

to garnish
Instructions
Wash and hull the strawberries and cut them into slices. Drizzle with lime juice, if desired, and sweeten to taste with 3-4 tablespoons of granulated sugar. Set aside.

Whip the cream into stiff peaks and set aside.

In a large mixing bowl, beat the remaining ingredients until smooth and combined. Fold in one third of the whipped cream, then fold in the rest of the whipped cream.

Set out your dessert glasses, ramekins or bowls. You will need 10 that are about 5-7 ounces (160-200 ml) each. Layer the strawberries with the cream in the glasses. Garnish the tops with strawberry slices and mint or lemon balm leaves.

Cover glasses with plastic wrap and chill until serving. Topfen cream will keep for up to four days in the refrigerator.
Notes
*Or other berries or fruit if you wish.
**If this dessert is being served to adults only, you could marinate the strawberries in orange liqueur (Cointreau or Grand Marnier), rum or marsala if you wish.
Nutrition
Tips on other uses for this Topfen Cream
How do I make a sheet cake using Topfen Cream?
You can use this recipe to make a sheet cake with Topfen Cream. I would suggest baking a sheet cake like the one in my recipe for Austrian Strawberry Sponge Cake. Or, if you're in the mood for chocolate, you could bake the cake from my recipe for Sacher Cake Bars.
When the cake is completely cooled, you can prepare the cream as in the recipe above and spread it on the cake. Top with fresh, unsweetened strawberries (or other fruit). You could then glaze the fruits with a jelly, if you wish. They sell envelopes of torte jelly specifically for this purpose in every grocery store in Austria. Cake with Topfen Cream must be stored in the refrigerator.
How do I use this cream to fill a Topfen Torte?
You can use this recipe to make a filling for a torte. You will need to gel the cream with gelatin or agar-agar for it to set. Follow the directions on the package when preparing the cream.
Alternatively, you could use my recipe for Topfen Torte, which uses gelatin as a setting agent. The cream filling of this Blueberry Topfen Torte uses agar-agar to gel it and make it slice-able.