Now, at the height of strawberry season, is the perfect time to make this pretty Topfen Torte with Strawberries. This torte looks elegant but isn't difficult to make.
On the day that I made this torte, the sky kept getting darker and darker so that by 5:00 pm, it was so dark that I hardly had enough daylight to take pictures, at the beginning of June! I hope the photos still turned out nice enough because this cake is absolutely worth making.
The cake layers are made of a fluffy and no-fail sponge (no need to separate the eggs!) and the topfen cream filling is divine. This torte has all the right proportions. The sponge isn't too thick and the cream tastes almost like a no-bake cheesecake filling. I reduced the sugar in the recipe so you can really taste the star ingredients topfen and strawberries.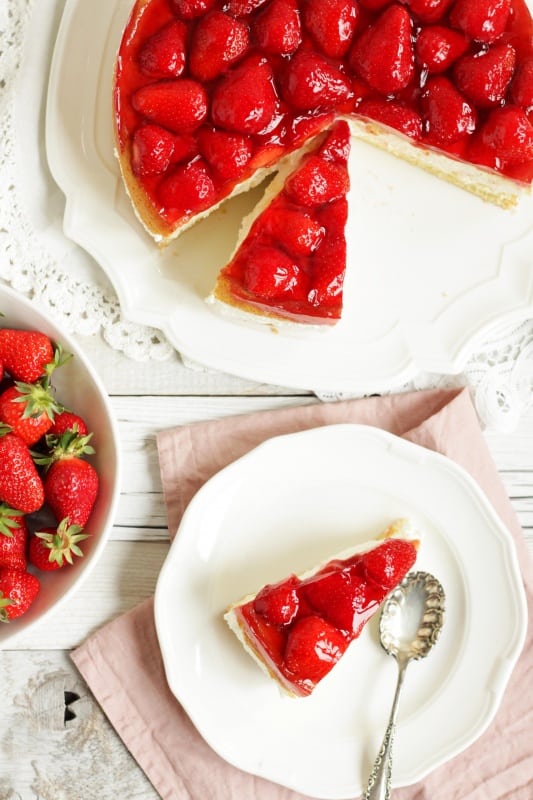 Gelatin is traditionally used to set the cream filling of the topfen torte and make it sliceable but I used the plant-based agar-agar to set the filling of this cake. There are a lot of advantages to using agar-agar, not just that it's vegetarian/vegan. I find it a lot easier to use than gelatin. It also sets at room temperature, whereas gelatin must be chilled in order to set.
Because of agar-agar, the topfen cream filling of the cake in the photos set within a couple of hours and I was able to take photos of the torte and slice it the same afternoon that I had made it. You can see in the pictures that the cream is still a little soft but with a few additional hours chilling time, the cream does get more stable. Another advantage to agar-agar is that the cream, even after it's set, has a creamier consistency than when you use gelatin.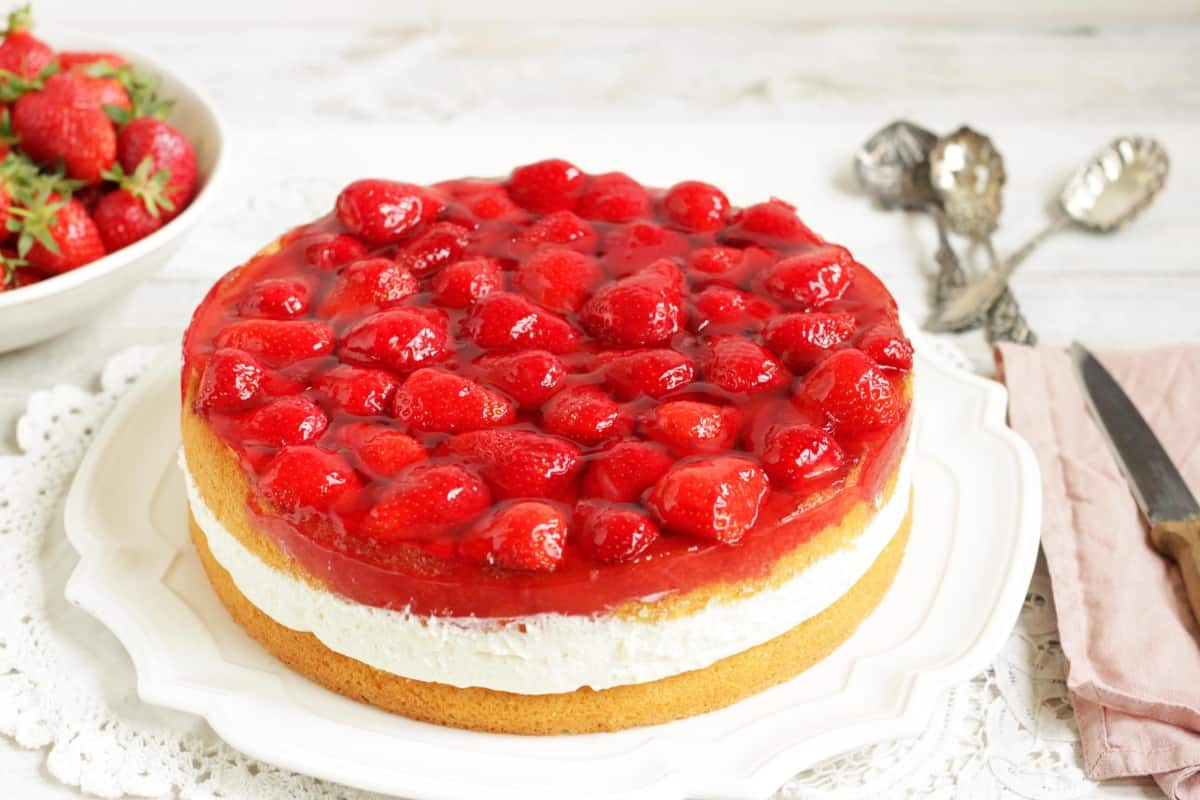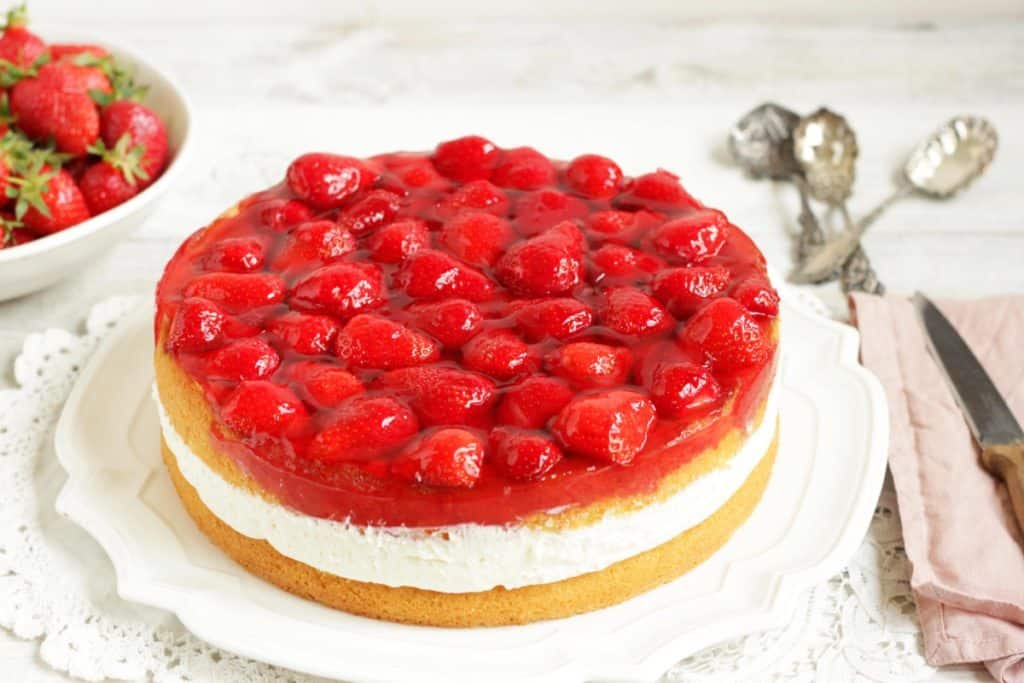 The fresh, fruity strawberries are the highlight of this cake. A thin layer of strawberry jam accentuates the strawberry flavor and the strawberries are glazed with a red jelly. Simple and classic Austrian.
Variations on the recipe:
In place of the strawberries you can use other fruits or berries.
For a plain, classic Austrian Topfen Torte, finish with the sponge as your top layer and chill. Dust with powdered sugar if you wish.
If you're looking for a recipe for Topfen Torte that uses gelatin to set the cream, you will find my recipe for a classic Topfen Torte here.
If you would like to prepare the topfen cream as a no-bake dessert without the cake layers, you will also find my recipe for Topfen Cream with Strawberries here.
Enjoy!
Topfen Torte with Strawberries
Ingredients
Sponge Cake
4

whole eggs

½

cup

(100 g) granulated sugar

½

envelope vanilla sugar

or ½ teaspoon vanilla extract

A pinch of salt

¾

cup

plus 2 tablespoons (120 g) all-purpose flour
Topfen Filling
8

ounces

(250 ml) whipping cream

½

envelope vanilla sugar

or ½ teaspoon vanilla extract

18

ounces

(500 g) topfen 20% fat

quark, cheese or farmer's cheese

Zest and juice of ½ an organic lemon

¼

cup

(50 g) granulated sugar

1 ⅓

pkg. agar-agar gelling powder

i.e. Spar Bio Vegan

½

cup

(120 ml) cold water
Strawberry Layer
2

tablespoons

strawberry jam

preferably seedless

1 ½

pints

(500 g) fresh strawberries

1

envelope red jelly*

4

tablespoons

granulated sugar
Instructions
For the Sponge:
Preheat oven to 350°F (175°C). Line bottom of 10-inch (26 cm) springform pan with parchment paper and grease the sides of the pan with butter. Beat eggs with granulated sugar, vanilla and salt until very thick and light (8 minutes on high speed). Sift flour over the egg mixture in two batches and carefully fold it in until there are no streaks of flour visible. Spread the batter in the prepared pan and bake for about 20 minutes, until cake is golden brown and firm to the touch. Cool in the pan on a wire rack.
For the Topfen Filling:
Beat whipping cream into stiff peaks and set aside. In a large mixing bowl, beat topfen, lemon zest and juice, sugar and vanilla sugar until smooth. In a small saucepan, stir together agar-agar gelling powder and cold water and bring to a boil. Add 4-5 tablespoons of the topfen mixture and bring to a boil again. Remove from heat and allow the mixture to cool for 5 minutes. (In the meantime, get everything ready to assemble your cake because the filling will set quickly.) Whisk the agar-agar mixture into the remaining Topfen mixture. Fold in the whipped cream.
Assembly:
Remove the cake from the pan and peel off parchment paper. Split the cake it half horizontally. Place the bottom cake layer on a cake platter and tighten the cake ring around it snugly. Spread the Topfen filling on the cake. Lay the top half of the cake over the topfen filling and press it down gently. Cover torte with plastic wrap and chill for at least four hours or overnight.
For the Strawberry Layer:
Wash strawberries and pat dry. Spread cake thinly with jam. Trim the strawberries and halve or quarter them, depending on their size, and arrange on top of the cake, cut side down. Prepare glaze according to package directions and spoon over the strawberries. Allow to set before cutting cake into slices.

Torte may be stored chilled for up to three days.
Notes
*Red jelly (red Tortengelee or Tortenguss in German) is a plant-based powder that is made into a Jello-like glaze which is poured over the fruit and cake. Plant-based strawberry Jello may be substituted or a glaze made of starch, sugar and water (similar to a strawberry pie filling). More info here.
Nutrition