This post was originally published on November 17, 2014 and was updated on August 30, 2019.
This classic Austrian cake consists of fluffy sponge layers filled with a cool, mousse-like cream that resembles a no-bake cheesecake. Delicious!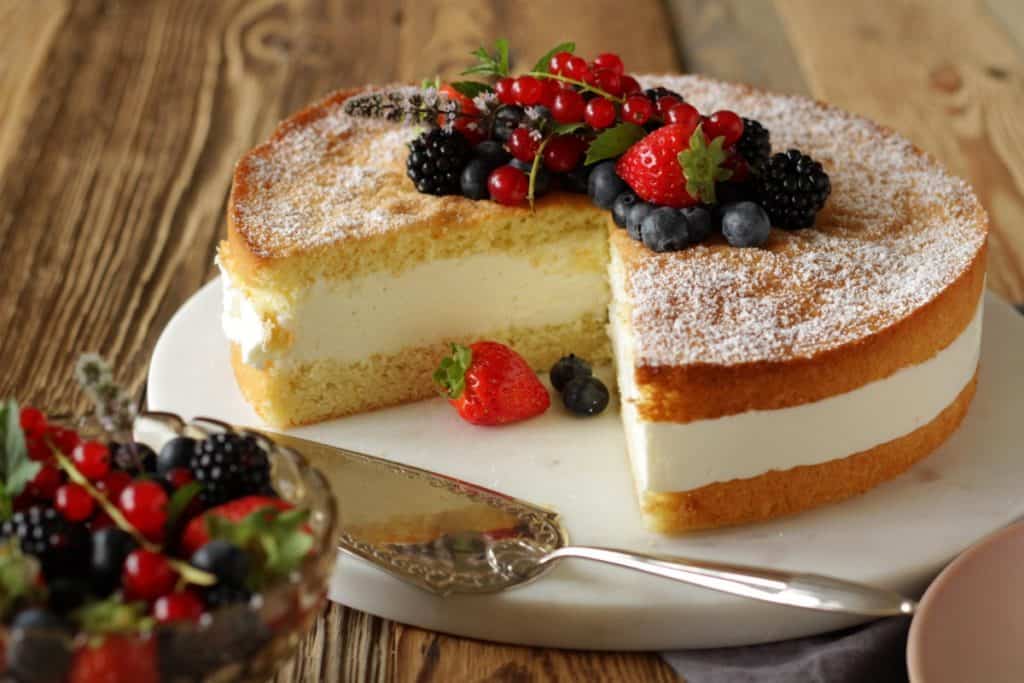 In November 2014 I started my blog Living on Cookies and this recipe for Topfentorte was the very first post I published.
Back then I had no idea how to blog and was even worse in food photography, but the basic idea behind my blog was good – writing clear recipes with step-by-step instructions so that my readers could try new things, enjoy their successes and have fun baking. That was almost five years ago and at the moment there are exactly 130 posts in English and German on Living on Cookies.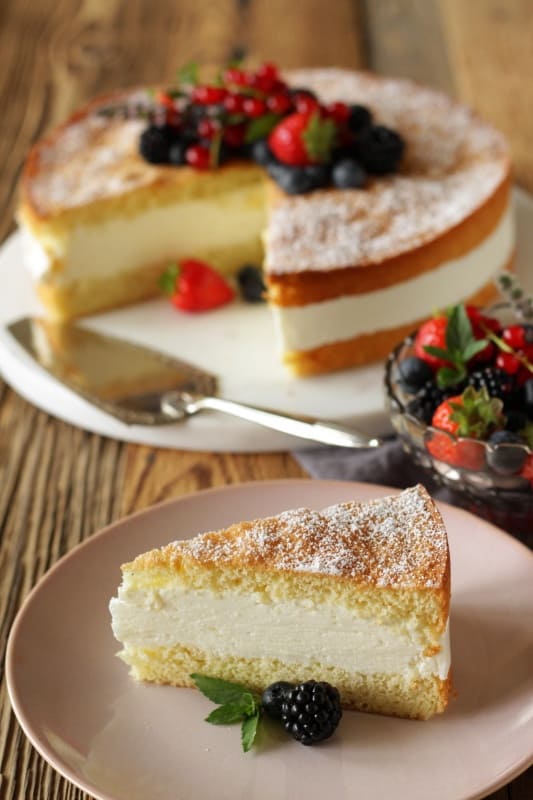 I was blown away by the success of this recipe for Topfentorte. It was my top post for years and continues to be one of the most popular, currently in 8th place.
Topfen, aka quark, farmers cheese or curd cheese, is my absolute favorite baking ingredient in Austrian baking. It's similar in flavor to cream cheese and has the consistency of ricotta. It is unbelievably versatile and can be used to make mousses, cakes, cheesecake, dumplings, all kinds of doughs, or as a filling. Baked goods made with topfen have an amazing consistency and a delicate tang. I don't know of any dairy product quite like it.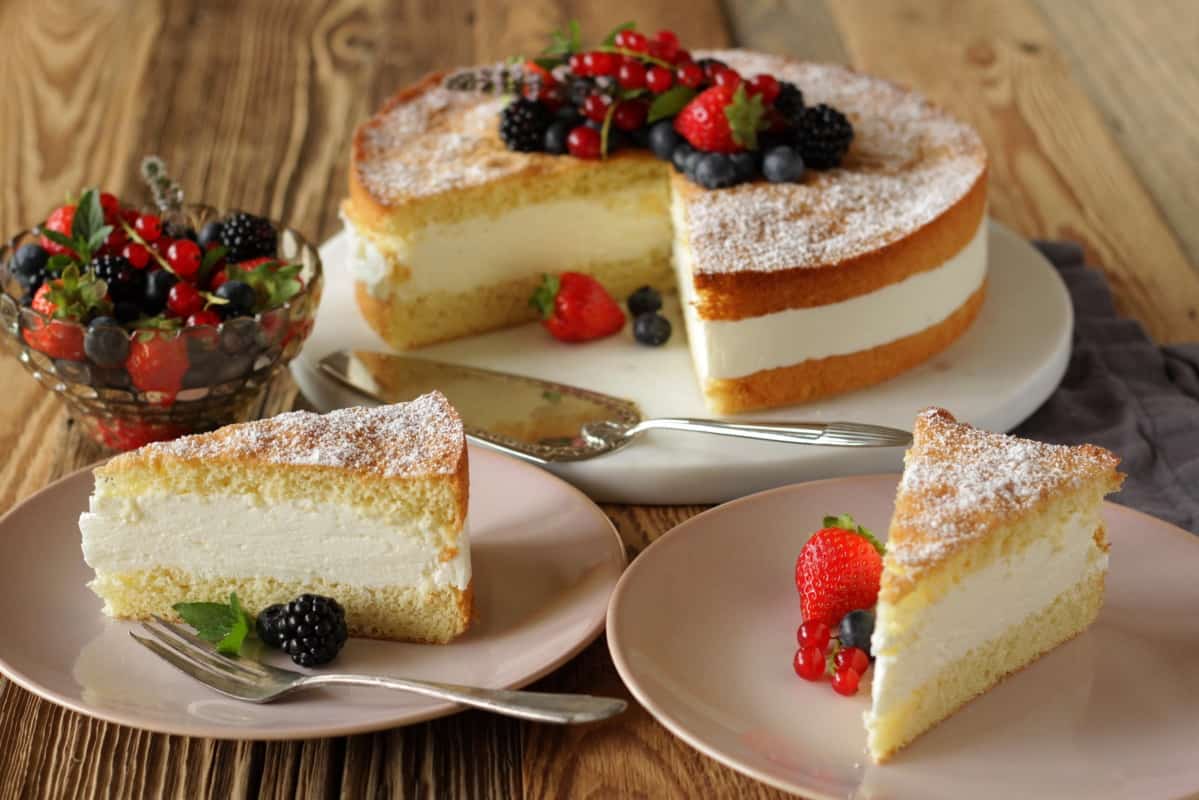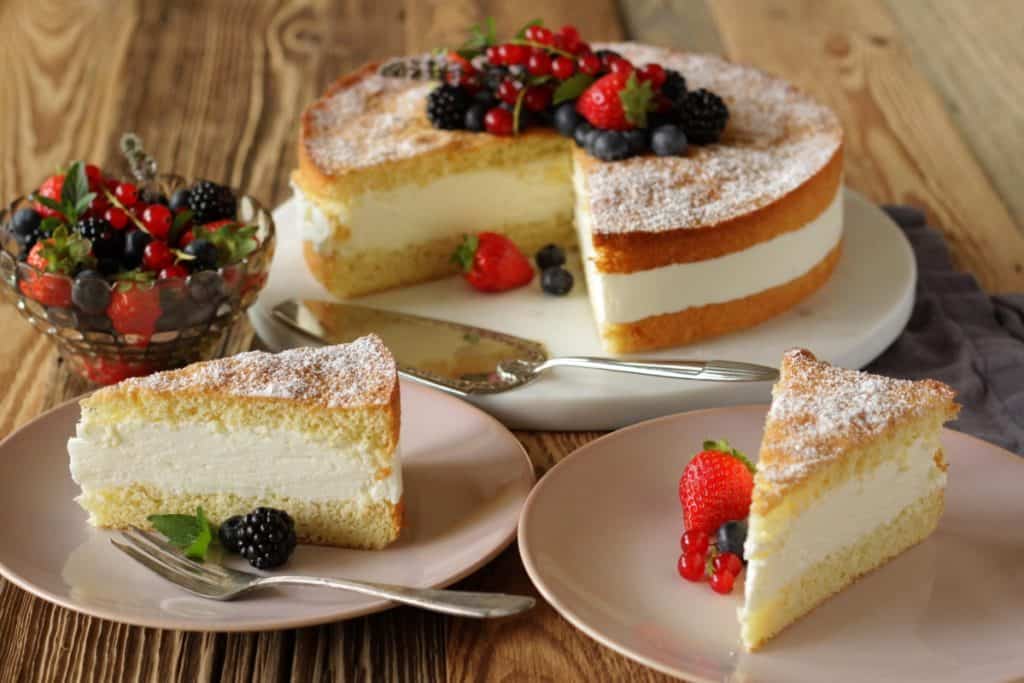 Topfentorte has always been a favorite cake of mine. I didn't have a decent recipe I could use to make it myself until my friend Ingrid gave me hers. Ingrid is from Eastern Styria, a part of Austria known for its amazing pastries, and she makes the world's best Topfentorte.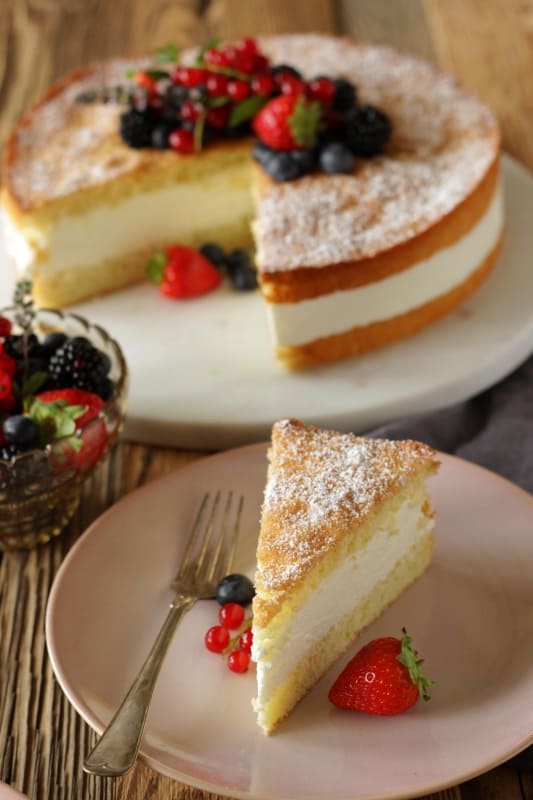 This is a simple, traditional recipe. You don't even have to separate the eggs and your sponge will be nice and fluffy. The cream filling is light and low in sugar. Lemon and vanilla round out the topfen flavor.
Decorating Topfentorte is as easy as garnishing it with fresh berries and mint leaves, as in the photos. You can also serve it "naked" or simply dust the top with powdered sugar.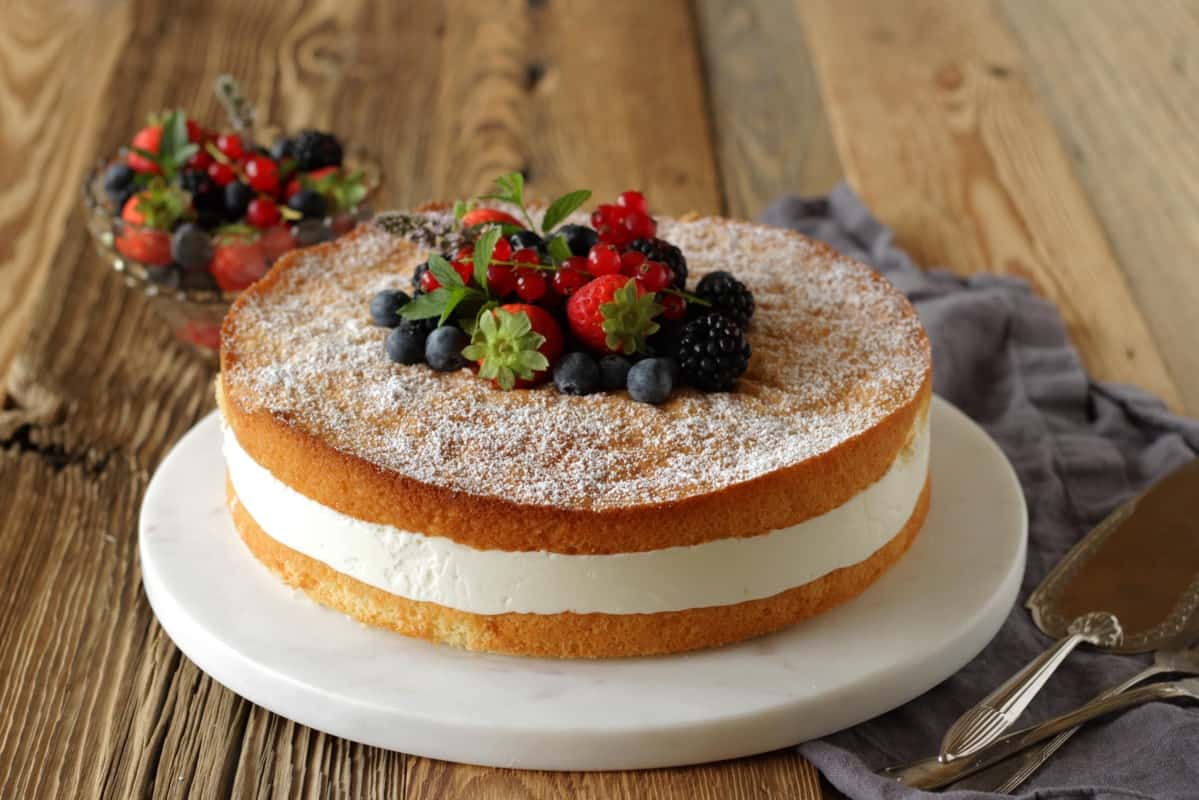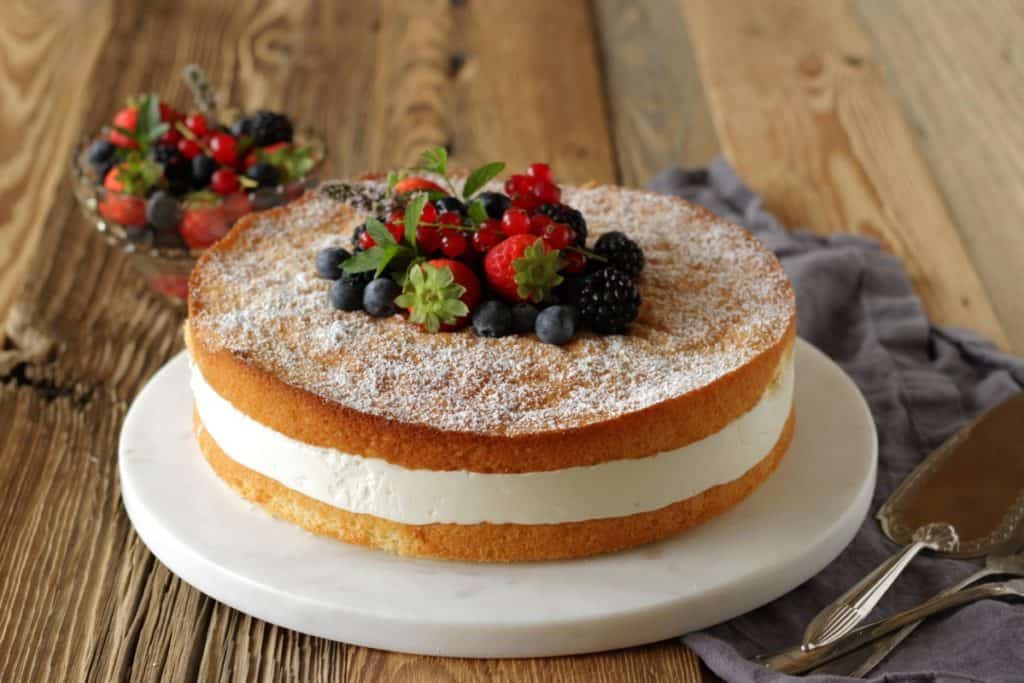 Gelatin is used to set the topfen cream filling of this cake. If you are looking for a vegetarian topfen cream recipe that doesn't call for gelatin, you can make the cream filling using this recipe for Topfentorte with Strawberries. This cream in this recipe for Blueberry Topfentorte is also made without gelatin.
Here is the classic Austrian Topfentorte. Simply delicious. Happy Baking!
Topfentorte
Ingredients
Sponge Cake
4

eggs

100

g

granulated sugar

1

envelope vanilla sugar or 1 teaspoon vanilla extract

Pinch

of salt

120

g

all-purpose flour
Topfen Cream Filling
500

g

topfen, 20% fat,

quark or farmers cheese

100

g

granulated sugar

1

envelope vanilla sugar or 1 teaspoon vanilla extract

Zest and juice of half an organic lemon

6

leaves

gelatin

250

ml

whipping cream
Garnish
Powdered sugar

Fresh berries

Fresh mint leaves
Instructions
For the Sponge Cake:
Preheat oven to 170°C. Line the bottom of a 26 cm springform pan with parchment paper and lightly grease the sides of the pan.

Beat eggs, sugar, pinch of salt and vanilla on the highest speed of an electric mixer for 8 minutes, until very light and airy. Sift the flour over the egg mixture in two batches and gently fold it in until there are no visible streaks of flour. Spread the batter in the prepared pan and bake for about 20 minutes, until golden brown and the top springs back when gently pressed with a finger. Cool in the pan on a wire rack.
For the Topfen Cream Filling:
Beat the whipping cream until stiff and set aside. In a large mixing bowl, beat the topfen, sugar, vanilla, lemon zest and juice until smooth.

Place the gelatin leaves in a bowl of cold water to soften for 5 minutes. Remove the gelatin from the water and gently dissolve it in a small saucepan over low heat. Remove from heat and add 6 tablespoons of the topfen cream to the gelatin and stir until completely smooth. Whisk the gelatin mixture into the remaining topfen cream. Fold in the whipped cream.
Assembly:
Split the cake horizontally in the middle. TIP: The easiest way to do this is to use a serrated knife to cut into the edges all the way around the cake and then use a cake leveler to cut all the way through. Or slide a length of dental floss into the slits and pull the ends together to slice through the cake.

Place the bottom cake layer on a platter with the cut side up and tighten a cake ring or the springform ring around it. TIP: To help release the cake from the ring, line the inside of the cake ring with parchment paper or plastic wrap. (I forgot to do this when I made the cake in the photos and there were areas where the cake and filling stuck to the ring.)

Spread the topfen filling over the cake, place the top cake layer on top and press it down gently. Cover tightly with plastic wrap and chill for at least 4 hours, preferably overnight.

Release the cake from the ring, dust with powdered sugar and garnish with fresh berries and mint leaves if desired.

Stored tightly covered, preferably in a cake keeper, Topfentorte will stay fresh for up to three days in the refrigerator.
Nutrition