Pumpkin Spice Cake with Brown Sugar Caramel Glaze is probably, out of all the goodies I bake, THE most popular recipe among my friends and I just made it even better.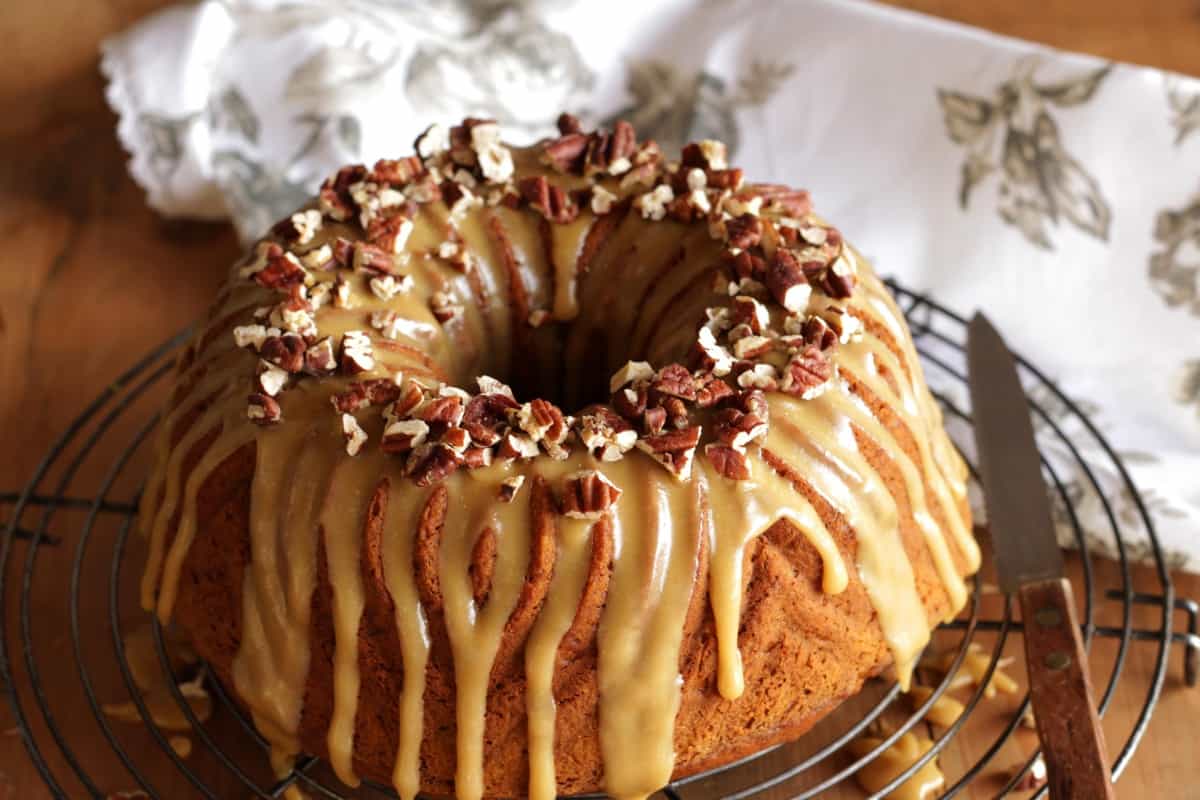 To make Pumpkin Spice Cake, you're going to need pumpkin puree. In the US, you can get canned pumpkin puree in every supermarket. But it's simply not available in cans in Austria. It doesn't matter though because Austrians love pumpkin and squash. They grow a lot of it and they eat a lot of it. Austrian bakers are used to dealing with fresh pumpkin and have no problem making pumpkin puree themselves. You can find detailed instructions on how to make your own pumpkin puree here.
However, before you click over, let me tell you that it's really simple. You roast the squash, then puree it. That's it.
Here's how you do it: Preheat your oven to 350°F (175°C). Cut your orange-fleshed squash or pumpkin in half. Remove the seeds. Roast pumpkin in the oven for 40-60 minutes, until a fork easily slides into the thickest part of the squash. Remove from the oven and let it cool. Scoop the flesh out of the skin and puree in a blender or using an immersion blender. Measure out the amount you need for your recipe and freeze the rest.
But what if it's late winter to early summer and you can't get fresh pumpkin or squash? I tend to hoard canned and frozen pumpkin puree for these seasons but, in a pinch, you can easily order canned pumpkin puree on amazon.de in Austria and Germany. Search for Libby's pumpkin puree and choose 100% pure pumpkin – do not order pumpkin pie filling. (NOTE: I have no affiliation with Amazon and do not earn any money from them.)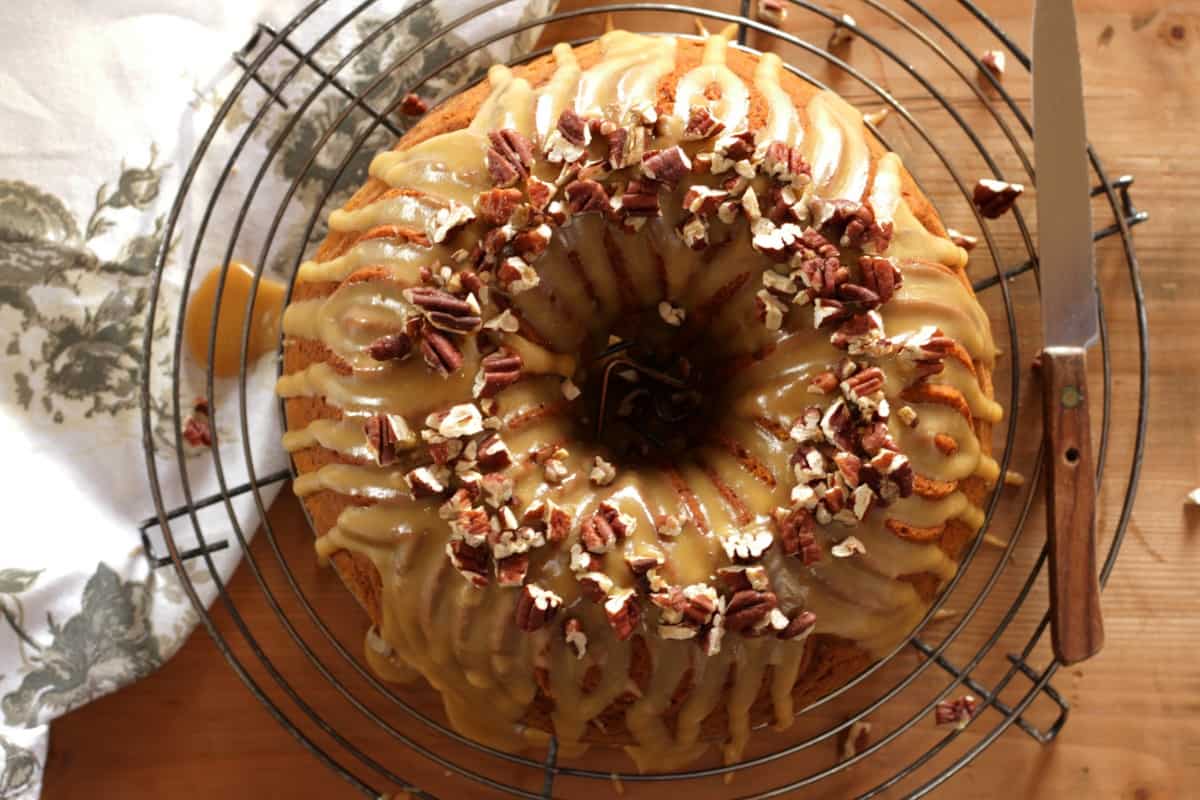 I usually make this Pumpkin Spice Cake in a bundt cake pan but the recipe works in a 10×15 inch (25x38cm) rectangular pan or as cupcakes, just be sure to reduce the baking time accordingly. A rectangular cake will need 30-35 minutes baking time and cupcakes will bake in about 20 minutes. Always check for doneness with a toothpick.
The Pumpkin Spice Cake is amazing but let's be honest, we're all here for the Brown Sugar Caramel Glaze. It is flat-out insane. I altered my old Caramel Glaze recipe and this one is waaaayy less sugary and so much better. Brown Sugar Caramel is a special caramel and it is a fool-proof, super easy caramel to make.
To say the Brown Sugar Caramel Glaze is addicting is an understatement. I couldn't stop myself from licking every kitchen utensil it came into contact with. If some had hit the floor, I would have eaten that too.
Pumpkin Spice Cake with Brown Sugar Caramel Glaze can be your go-to cake for any occasion. It's beautiful, sophisticated and delicious. I made the cake in the photos for my friend's 50th birthday party and while she was hoping for leftovers to take home, it was gone in no time. Everyone absolutely flips for this cake, it's that good!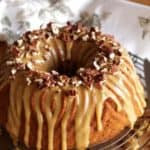 Pumpkin Spice Cake with Brown Sugar Caramel Glaze
Total Time
1
hour
15
minutes
Ingredients
Pumpkin Spice Cake:
2

cups

(280 g) flour

2 ¼

teaspoons

baking powder

1

teaspoon

baking soda

1

teaspoon

ground cinnamon

½

teaspoon

ground cardamom

¼

teaspoon

ground cloves

¼

teaspoon

grated nutmeg

½

teaspoon

salt

1 ¼

cups

(250 g) granulated sugar

⅓

cup

(80 ml) oil

2

eggs

1

teaspoon

vanilla extract

2

cups

(15 oz. or 450 g) pumpkin puree (how to make your own)

1

cup

(250 g) sour cream
Caramel Glaze:
3

tablespoons

(42 g) butter

¼

cup

(60 ml) whipping cream

½

cup

(100 g) brown sugar

⅛

teaspoon

salt

½

cup

(50 g) sifted powdered sugar

1

teaspoon

vanilla extract

Toasted chopped pecans

if desired*
Instructions
For the Pumpkin Cake: Preheat oven to 350°F (170°C). Grease and flour bundt cake pan well.

In a medium sized bowl, whisk together flour, baking powder, baking soda, spices and salt. Set aside. In a large mixing bowl, whisk together sugar, oil, eggs, vanilla, pumpkin and sour cream until well combined. Add flour mixture and stir to combine. Pour into prepared pan.

Bake for 45-50 minutes, until a toothpick inserted in the center comes out clean. Cool in pan on a wire rack for 10 minutes. Loosen cake from sides of pan, invert onto a wire rack, remove pan and cool completely.

For the Caramel Glaze, combine butter, cream, brown sugar and salt in a medium saucepan. Stir over medium-high heat until mixture begins to boil. Boil and stir for 2-3 minutes. Remove from heat and allow to cool for 5 minutes.

Add sifted powdered sugar and vanilla and whisk to combine. Immediately pour over cooled cake. Sprinkle with toasted chopped pecans if desired.
Recipe Notes
*To toast the pecans: Preheat oven to 350° (175°C) and chop pecans. You will need about ¼ cup (30g) of chopped pecans. Spread the chopped pecans on a baking sheet and bake for about 8 minutes, until fragrant and darker in color.
Cake recipe adapted from: Chef in Training.