These creamy Mini Blueberry-Swirled Cheesecakes are easy to make and are perfect for taking along because they're already portioned, stable enough for transporting and everyone loves them.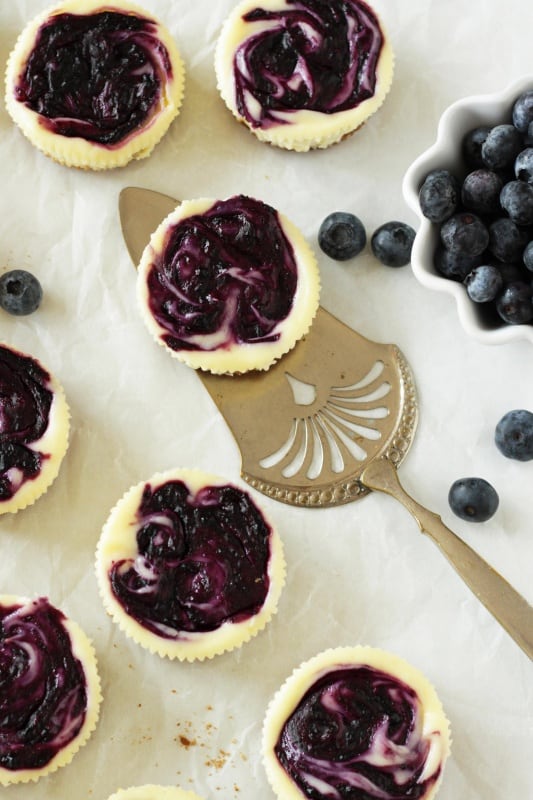 A little while ago, I was invited to my friend Iris' baby shower and I brought these Blueberry Cheesecakes. Iris is the blogger behind Ribiselchen and she bakes the most beautiful cakes. She knew she was having a boy and everything was beautifully decorated in blue and rose gold for the shower.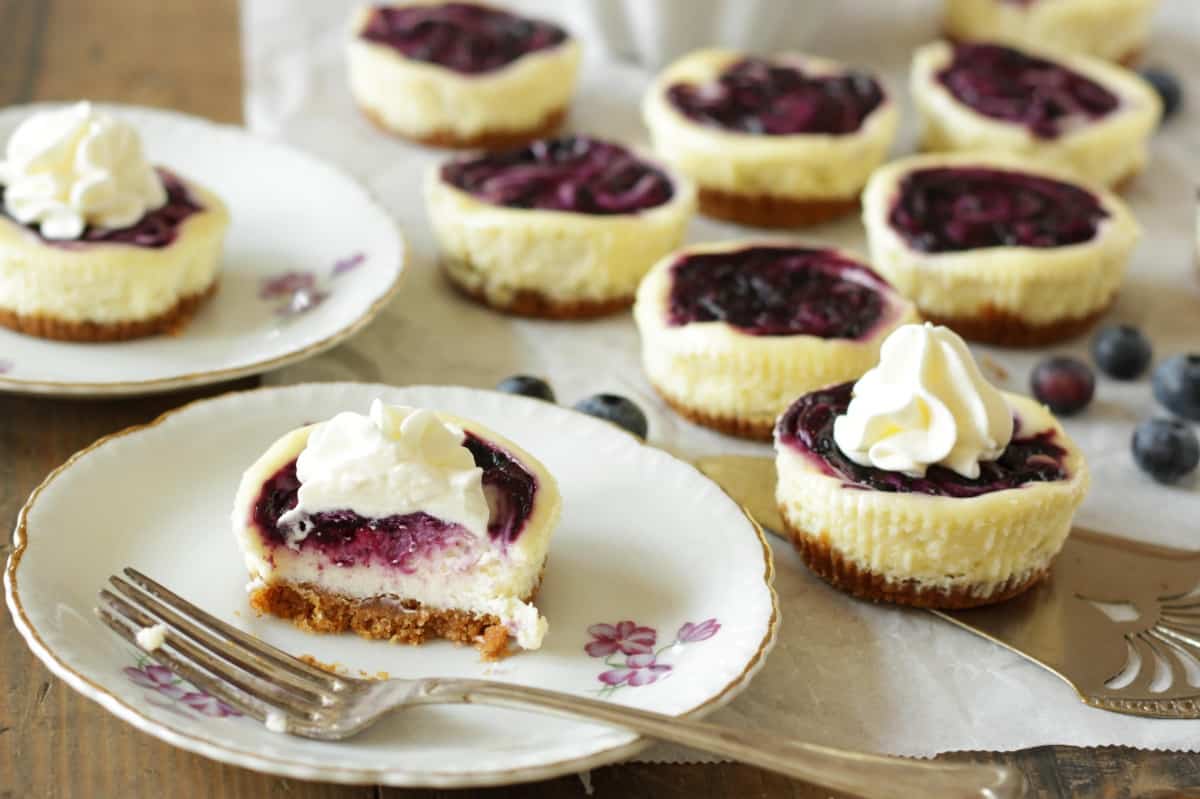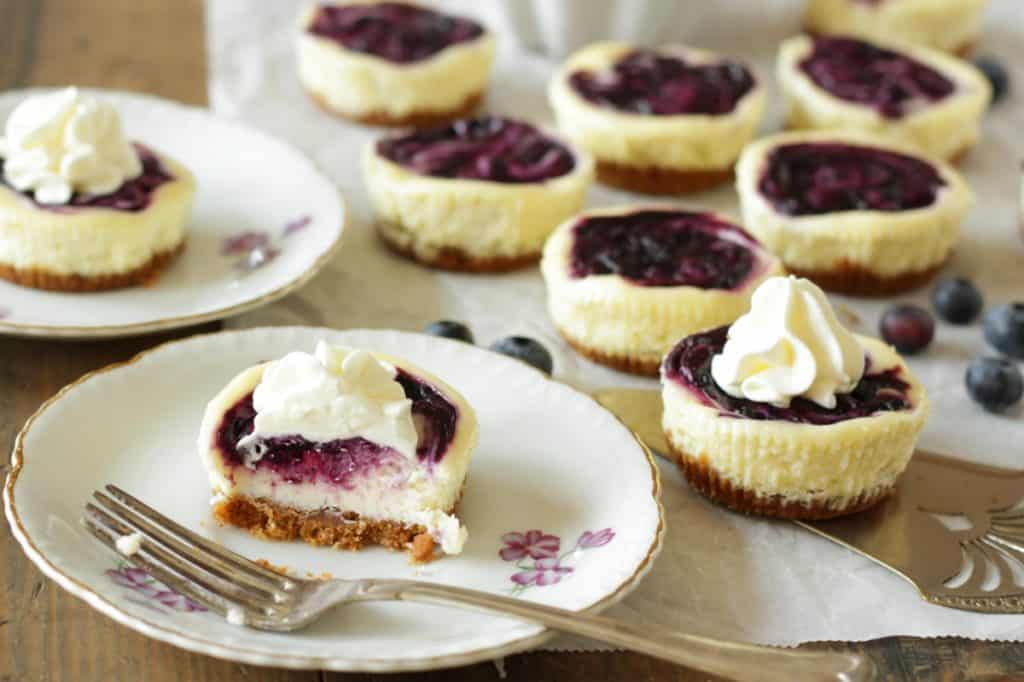 You can click over to Iris' post on her baby shower to see photos of these cheesecakes in blue cupcake liners at the baby shower. Iris also write a post on how to make the incredible fault line cake she presented at the shower, including lots of photos and a video! You should check it out - she is so inspiring!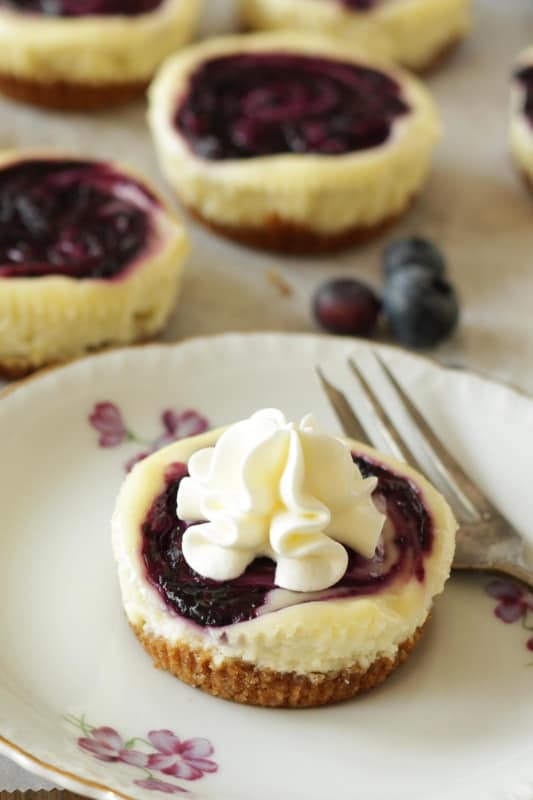 Cheesecake Cupcakes are always a good idea and are my go-to dessert when I am contributing to a party. Blueberry Cheesecakes for a baby shower? Yes! If you want pink swirls, I'm sure you can substitute strawberries or raspberries for the blueberries.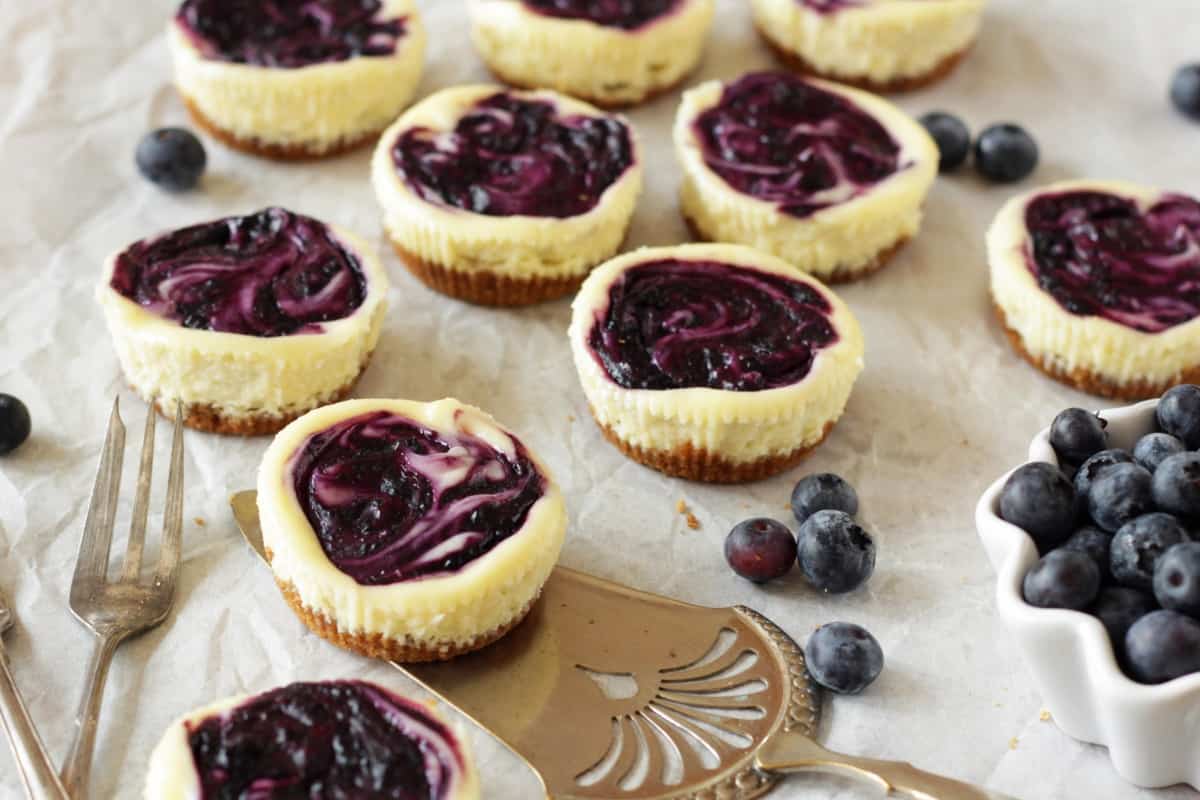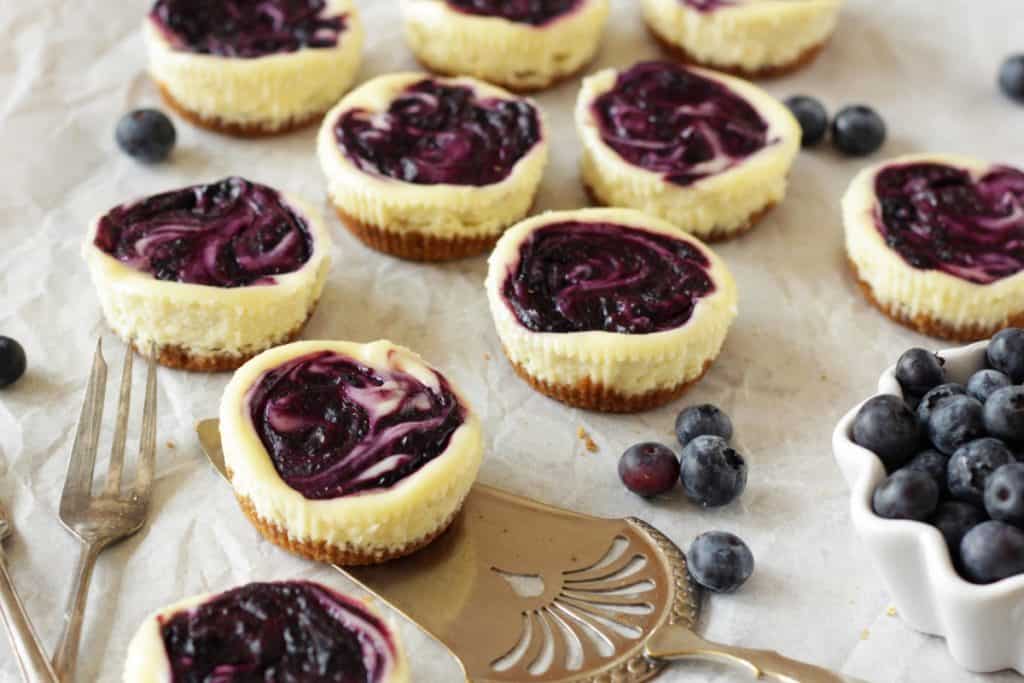 These fruity Mini Blueberry-Swirled Cheesecakes were a hit at the party. In addition to the blueberry swirls, I added a tablespoon of lemon juice to the cheesecake filling. Even I was surprised at how creamy and delicious the mini cheesecakes turned out. Try this recipe yourself!
Mini Blueberry-Swirled Cheesecakes
Ingredients
Blueberry Swirl
1 ½

cups

(200 g) frozen blueberries

2

tablespoons

granulated sugar

2

teaspoons

cornstarch

2

teaspoons

lemon juice
Crust
4

ounces

(100 g) graham crackers*

3 ½

tablespoons

(50 g) butter

melted

2

tablespoons

granulated sugar
Cheesecake Filling
14

ounces

(400 g) cream cheese**

½

cup

(100 g) granulated sugar

2

tablespoons

flour

1

tablespoon

lemon juice

1

teaspoon

vanilla extract

1

egg
Fresh Whipped Cream (optional)
1

cup

(250 ml) whipping cream

1

tablespoon

granulated sugar

1

teaspoon

vanilla extract
Instructions
For the blueberry swirl:
In a small saucepan over medium-high heat, bring the blueberries, sugar, cornstarch and lemon juice to a boil, stirring constantly. Reduce heat and continue boiling and stirring for 1-2 minutes until thickened. Pour mixture through a fine-meshed wire strainer into a heat-proof bowl, pressing it through with the back of a spoon. Cover and set aside. Discard solids from strainer.
For the crust:
Preheat oven to 325°F (160°C). Line 12 standard muffin tins with paper liners. Crush the graham crackers or cookies in a food processor to make crumbs. In a medium-sized bowl, Stir together the crumbs, melted butter and sugar. Place about a tablespoon of the mixture into each of the 12 cupcake liners and press it down firmly (a smooth-bottomed shot glass works well for this). There may be some crust mixture left over. Bake crusts for 5 minutes and remove from oven.
For the cheesecake filling:
In the bowl of an electric mixer fitted with the whisk attachment, beat the cream cheese until smooth. In a medium-sized bowl, whisk together the sugar and flour. With the mixer on low speed, gradually add the sugar-flour mixture to the cream cheese and mix until smooth. Mix in the lemon juice and vanilla. Add the egg and beat just until combined, do not overmix.

Spoon the cheesecake mixture over the crusts. Spread evenly to the edges of the cupcake liners with the back of a teaspoon if necessary.

Stir blueberry swirl mixture. If it has thickened too much to swirl, stir in one teaspoon of water at a time until it is about the same consistency as the cheesecake filling. Spoon one small teaspoon of the blueberry swirl mixture on top of each cheesecake and swirl with a toothpick. There will be blueberry sauce left over (perfect for use as pancake topping).

Bake for 20 minutes. Cool completely in the tins on a wire rack, then chill in an airtight container in the refrigerator for at least two hours or overnight.
For the fresh whipped cream:
Beat whipped cream ingredients to medium stiffness. Top cheesecakes with fresh whipped cream if desired.

Store tightly covered in the refrigerator for up to four days.
Nutrition