This post was originally published on July 8, 2015 and was updated on March 11, 2019.
Cheesecake Cupcakes with Berries & Cream have been here on Living on Cookies for almost 4 years and are still one of my favorites. By special request, I made these for a recent event and the thought of the party guests looking up the recipe and seeing those dull and blurry photos struck a little bit of fear into my heart so I decided to give the recipe a purely cosmetic makeover with some bright and fresh photos. If you're curious about how bad the old ones were, they are at the bottom of this post. They're actually from the same photo, with one of them being the cropped version. So bad. 😀
Anyway, on to the recipe!
Cheesecake Cupcakes are very easy to make yet really impress with perfect cheesecake flavor and texture. They taste great without topping but I think the berries and cream make them extra special.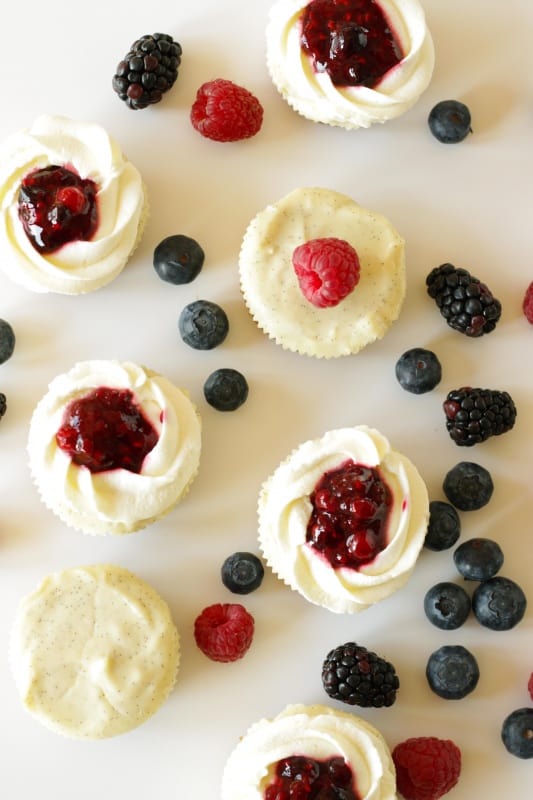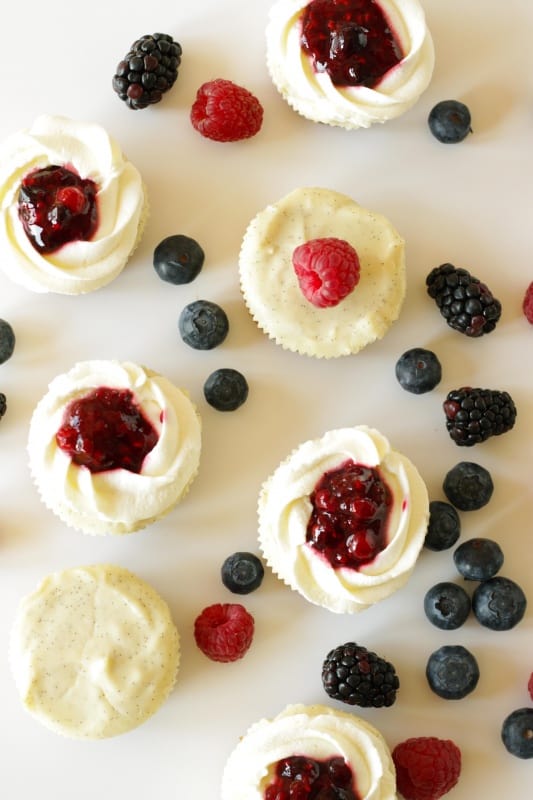 Those tiny black seeds in the cheesecake are from vanilla beans taken from my homemade Vanilla Extract. Just remove a few soaked vanilla beans from the extract, cut off one end and squeeze out the seeds and vanilla paste. You can then replace those vanilla beans with new ones in the extract, thereby refreshing your vanilla extract. Don't worry though if you don't have vanilla beans, you can use vanilla extract or vanilla sugar in this recipe instead.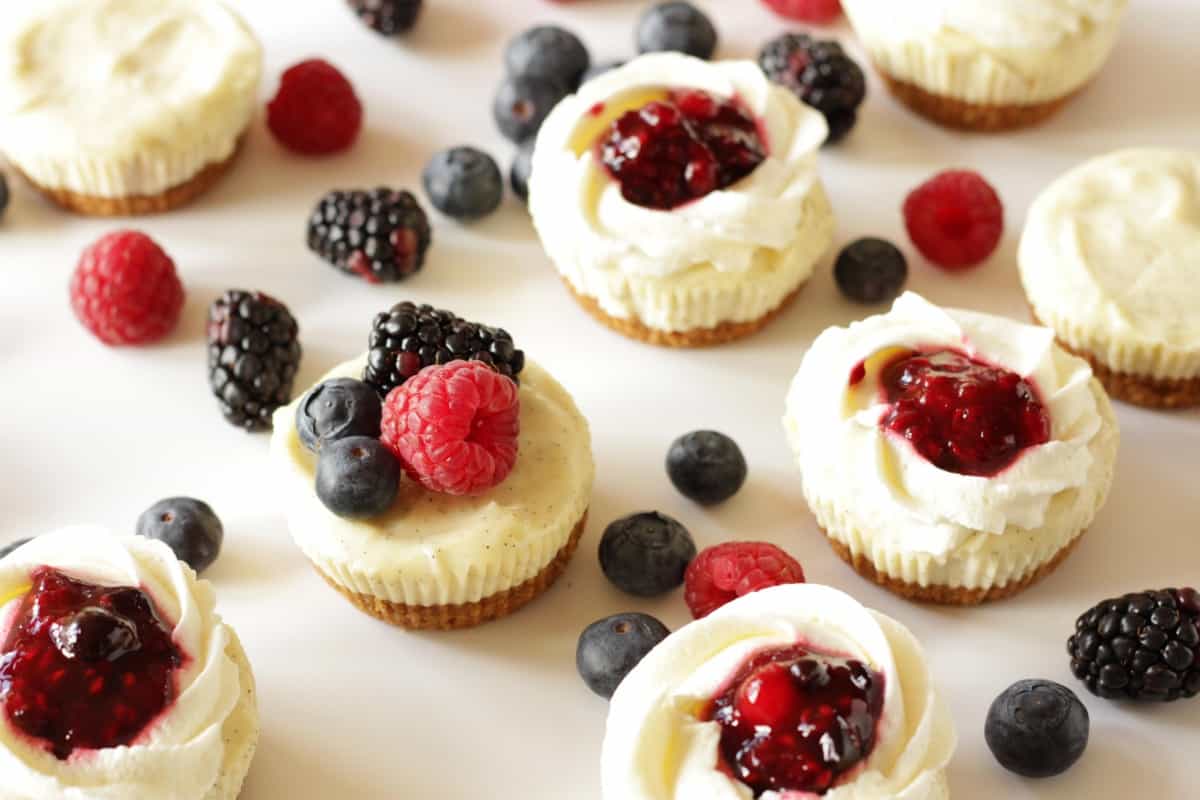 For the berry topping, you can use whatever berries you like, depending on the season (frozen berries work just as well): strawberries, raspberries, blueberries, blackberries, currants… or a mix of berries. You will have leftover berry sauce and whipped cream, which I love to use as pancake topping.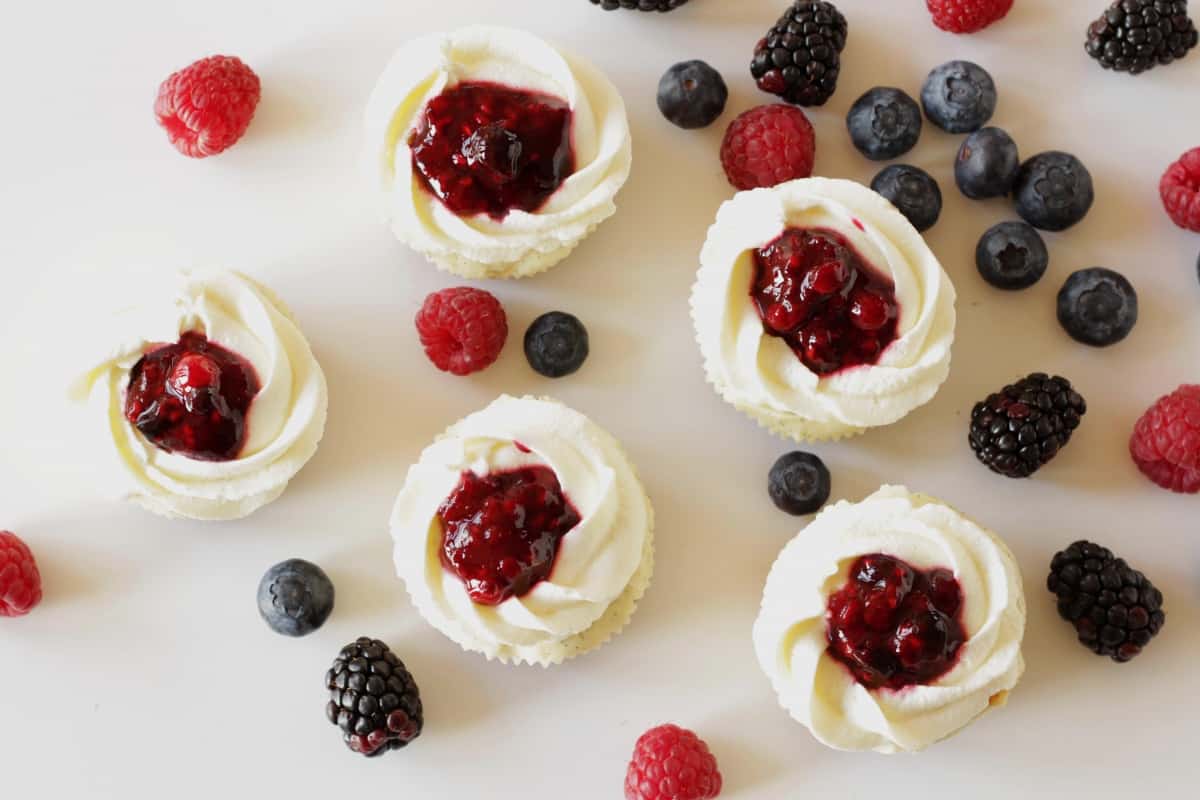 This is a great little recipe that makes exactly twelve Cheesecake Cupcakes and they bake really quickly but be sure to give them plenty of time to chill. Chilling for at least two hours allows the cheesecake to set and the crust to soften a little so you can hold these in your hand and take bites.
Cheesecake Cupcakes with Berries & Cream
Make these Cheesecake Cupcakes at least several hours ahead of time so they can be thoroughly chilled.
Ingredients
Crust
4

ounces

(100 g) graham crackers*

3 ½

tablespoons

(50 g) butter
Cheesecake
14

ounces

(400 g) cream cheese**

½

cup

(100 g) granulated sugar

2

tablespoons

flour

Seeds squeezed out of 3 vanilla beans***

1

egg
Berry Topping
1 ½

cups

(200 g) fresh or frozen berries

any kind

2

tablespoons

granulated sugar

1

teaspoon

cornstarch
Fresh Whipped Cream
1

cup

(250 ml) whipping cream

1

tablespoon

granulated sugar

1

teaspoon

vanilla extract
Instructions
For the Cheesecake Cupcakes:
Preheat oven to 350°F (170°C). Line 12 standard muffin tins with paper liners. For the crust, crush the graham crackers or cookies in a food processor to make crumbs. Melt the butter in a microwave-safe medium-sized bowl. Add the crumbs to the butter and stir to combine. Place about a tablespoon of the mixture into each of the 12 cupcake liners and press it down firmly (a smooth-bottomed shot glass works well for this). Bake crusts for 5 minutes and remove from oven.

In the bowl of an electric mixer fitted with the whisk attachment, beat the cream cheese until smooth. In a medium-sized bowl, whisk together the sugar and flour. With the mixer on low speed, gradually add the sugar-flour mixture to the cream cheese and mix until smooth. Mix in the vanilla. Add the egg and beat just until combined, do not overmix. Spoon the cheesecake mixture over the crusts. Bake for 19 minutes. Cheesecakes will appear just barely set. Cool completely in the tins on a wire rack, then chill in an airtight container in the refrigerator overnight.
To make the Berry Topping:
In a medium saucepan over medium-high heat, bring the berries, sugar and cornstarch to a boil, stirring constantly. Continue boiling and stirring for 1-2 minutes until thickened. Chill until cold.
To make the Fresh Whipped Cream:
Beat the whipping cream, sugar and vanilla until stiff.
To assemble:
Put the whipped cream into a pastry bag fitted with a large star tip (I used a Wilton 1M). Pipe a ring of whipped cream around the rim of the cupcake, leaving an empty space in the middle. Spoon 1 teaspoon berry topping into the middle of the whipped cream ring. Store tightly covered in the refrigerator for up to four days.
Notes
* I use Vollkornbutterkekse.
** We only have cream cheese spread available here so that's what I use.
*** Or 1 teaspoon vanilla extract or 1 packet vanilla sugar.
Recipe adapted from
foodnetwork.com.
Nutrition