If you're looking for a creamy, silky and tall cheesecake, THIS is the one!
While nearly all cheesecake recipes insist that you need to use a water bath in order to achieve that fluffy and velvety texture and also to prevent cracks, the process is SUCH a pain! I did some research online and found this method for baking a New York Cheesecake without a water bath. To ensure the cheesecake bakes gently and evenly, you start off baking it at a high temperature for just 10 minutes and then reduce the temperature in increments so that the cheesecake is baked at a very low temperature for majority of the baking time.
The next important step is that in order to prevent the cheesecake from forming a crack, you do not open the oven once the cheesecake is baked, and don't touch or jiggle the cheesecake, but let it cool very gently and slowly as the oven cools.
The strawberry sauce is divine and simple to make but the cheesecake is so amazing that it can also stand completely on its own.
New York Cheesecake is absolutely gorgeous for any occasion. I have been making this exact recipe following these exact instructions for many years and it always works! The cheesecake itself is actually fairly easy to make, but the baking and cooling do take several hours and you need to be patient and allow the cheesecake to chill overnight as well in order to have the most beautifully, perfectly textured cheesecake. It's essential that you make the cheesecake at least a day before serving (cheesecake keeps for 3-4 days in refrigerator).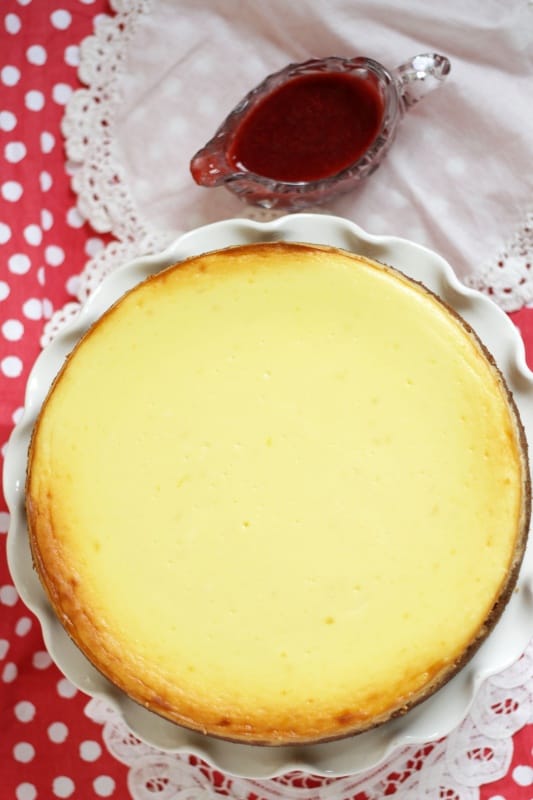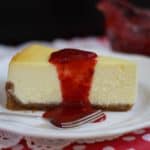 New York Cheesecake with Strawberry Sauce
It's essential that you make the cheesecake at least a day before serving (cheesecake keeps for 3-4 days in refrigerator).
Ingredients
Cheesecake Crust:
7

oz.

(200 g) graham crackers or whole grain cookies

2

tablespoons

granulated sugar

6

tablespoons

(3 oz. or 90 g) butter
Cheesecake Filling:
42

oz.

(1200 g) cream cheese*

1 ½

cups

(300 g) granulated sugar

1/8

teaspoon

salt

1

tablespoon

freshly squeezed lemon juice

2

teaspoons

vanilla extract

2

egg yolks

6

whole eggs
Strawberry Sauce:
21

oz.

(600 g) frozen strawberries

2

tablespoons

granulated sugar

2

teaspoons

corn starch
Instructions
For the crust: preheat oven to 300°F (150°C). Finely crush graham crackers. Mix the graham cracker crumbs with the sugar in a medium sized bowl. Melt the butter and stir it into the crumb mixture. Press the crumb mixture into a 9 inch (23 cm)** springform pan, building up the sides as well (about halfway up). With the oven rack in the lower third of the oven, bake the crust for about 14 minutes, or until it starts to brown and smells toasted. Remove from oven and place on a wire rack to cool while filling is prepared.

For the filling: Increase oven temperature to 400°F (200°C). Using the paddle attachment of your stand mixer, beat the cream cheese until smooth. Add the sugar and beat on low for one minute. Scrape the sides and bottom of the bowl and beat again on low speed.

Blend in lemon juice and vanilla. Add egg yolks and mix on low speed. Add two of the eggs and beat on low speed. Scrape bowl often. Add another two eggs, blend on low speed and repeat with the remaining eggs. It's important to mix gently to prevent causing air bubbles.

Rub a little piece of butter along the sides of the pan above the crust to prevent cheesecake from sticking. Pour the cheesecake filling into the pan and bake for 10 minutes at 400°F (200°C). Then, without opening the oven, reduce temperature to 320°F (160°C) and bake for 20 minutes. Then reduce the temperature to 210°F (100°C) and bake for 1 hour 5 minutes. Without opening the oven, turn it off completely and leave the cheesecake in the oven to cool for 1 hour. Remove from the oven and release the cheesecake from the sides of the pan with a thin knife.

Allow the cheesecake to cool completely, cover tightly with plastic wrap and chill overnight. The cheesecake slices best when cut using a hot knife (hold knife under hot running water and wipe on paper towel). Cheesecake stays fresh for up to four days tightly covered in refrigerator.

For the strawberry sauce: in a medium sized saucepan stir together frozen strawberries, sugar and corn starch. Stirring constantly, bring to a boil. Remove from heat and puree strawberries a bit using an immersion blender. Stirring constantly, bring sauce to a boil again and boil and stir until sauce thickens (1-2 minutes). Cool and chill.
Recipe Notes
*I use the cream cheese which is available in Europe. If you are using blocks of cream cheese (as in the USA), add 1/3 cup (75 g) sour cream with the lemon juice and vanilla in step 3.
**Tip: my spring form pan doesn't leak when the name imprinted on the bottom is up.
Recipe adapted from Brown Eyed Baker.
Save
Save
Save
Save