Pumpkin puree is the secret to making these vegan brownies moist and fudgy but they don't taste like pumpkin, just chocolately and delicious. Pumpkin Brownies are also healthier and lower in fat than regular brownies.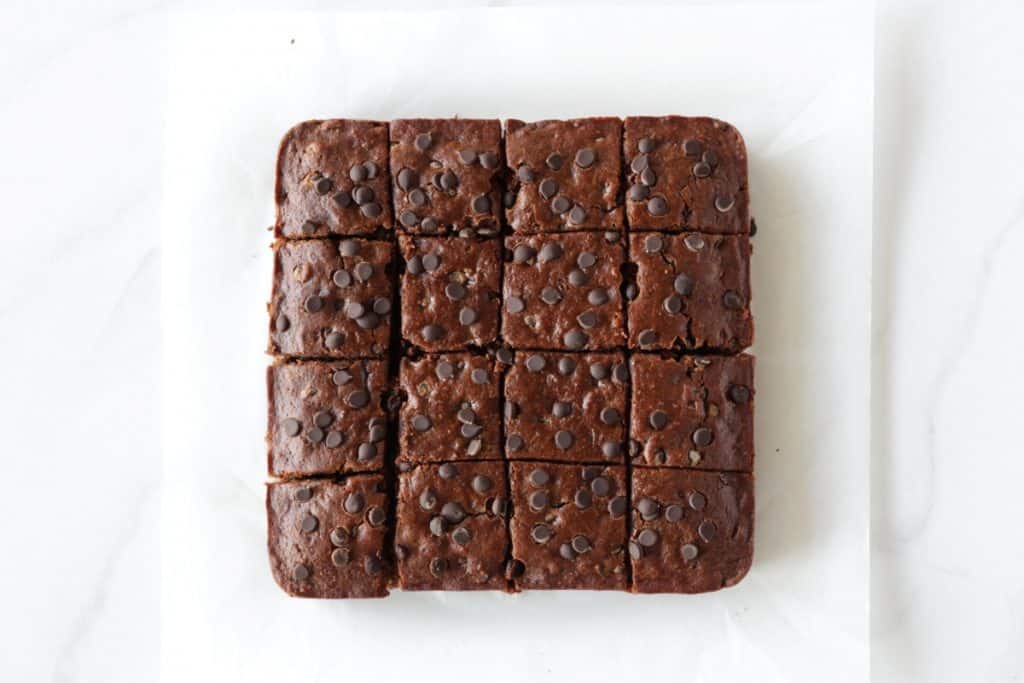 Vegan chocolate chips are easier to find than you might think. Our grocery store brand mini-chocolate chips just happen to contain vegan-friendly ingredients, just read the label. Dr. Oetker mini-chocolate chips are also vegan. The chocolate chips give the brownies more chocolate flavor but chopped nuts would be an excellent addition as well.
If you don't have canned pumpkin puree, you can make it yourself and it's so easy! I recommend using Butternut squash or Hokkaido, "Red Kuri" squash. I have a detailed post here on how to make homemade pumpkin puree but it really comes down to these four easy steps:
Cut a medium-sized Butternut or Red Kuri squash in half lengthwise and scrape out the seeds.
Roast the squash halves in a 350°F (170°C) oven for 40 minutes or until the squash is soft. Then allow the squash to cool.
Scoop the squash out of the shell and puree using a food processor or blender.
Measure out the 1 cup (250 g) of pumpkin puree you need for this recipe and use the rest in a soup or freeze for later.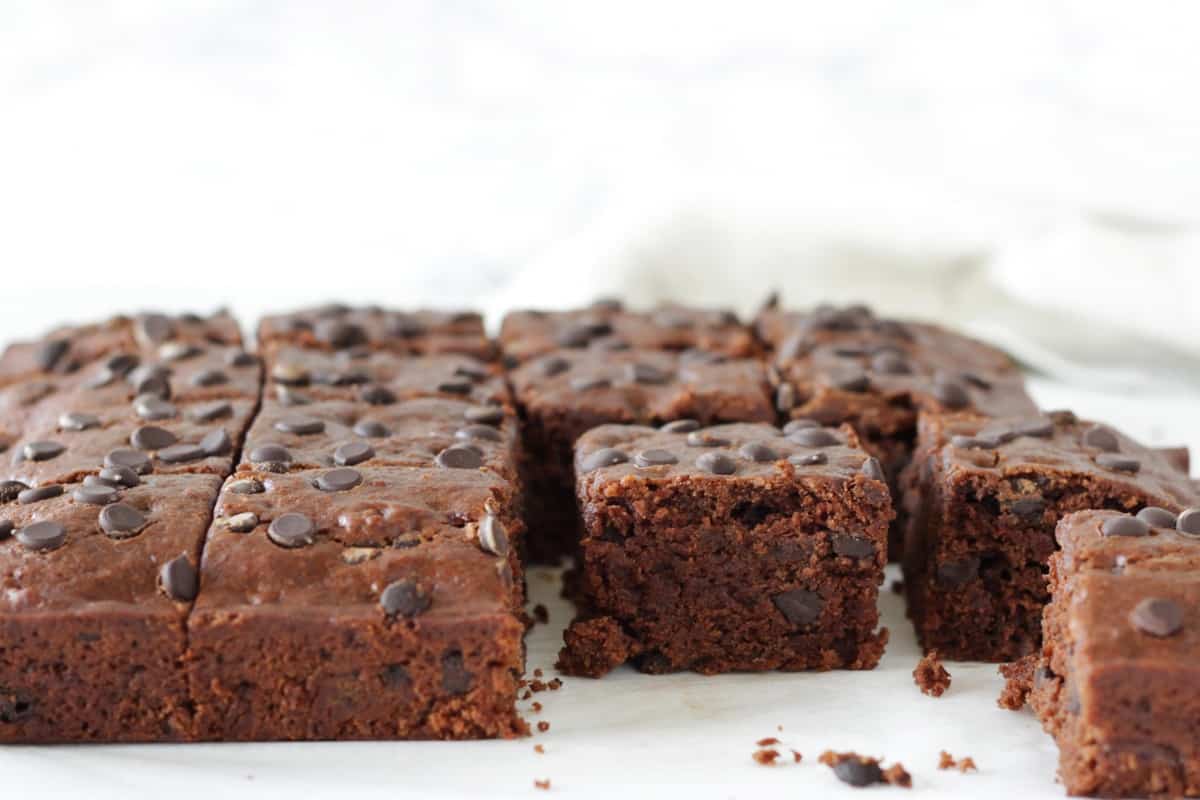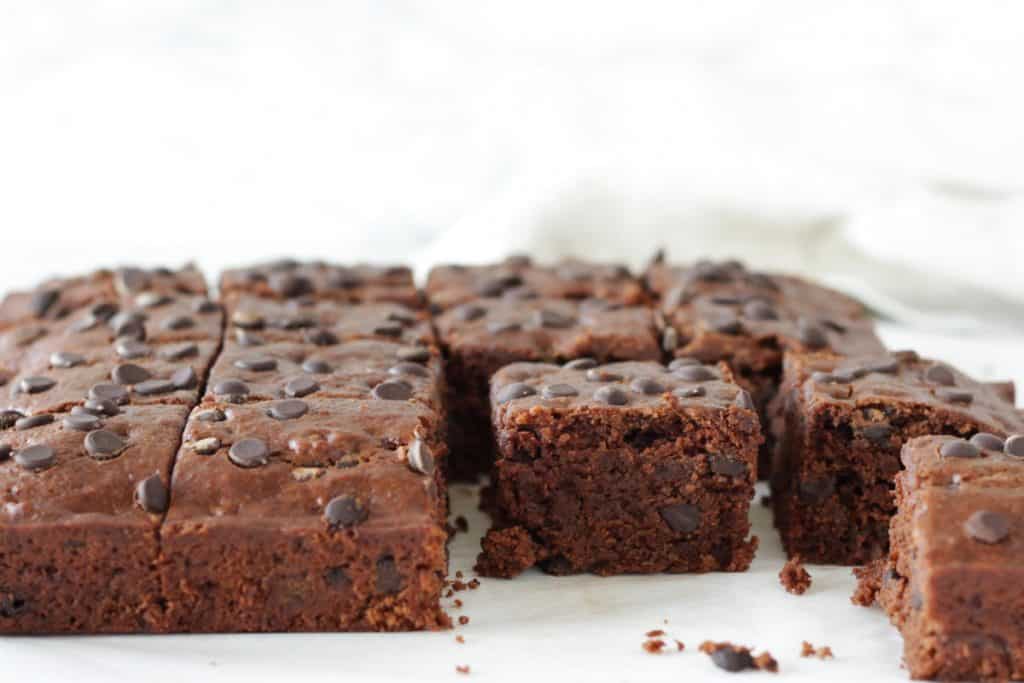 Another option for making moist vegan brownies like these is to try my Zucchini Brownies. These Pumpkin Brownies are actually a variation on my recipe for Zucchini Brownies. The difference between the two is that this is a half recipe and I would say that these Pumpkin Brownies are a little denser.
Fudgy Vegan Pumpkin Brownies
This is a small batch recipe that is quick and easy to make – you don't even need an electric mixer.
Ingredients
1

cup

(140 g) all-purpose flour

¼

cup

(20 g) unsweetened cocoa powder

¾

teaspoon

baking soda

¼

teaspoon

salt

¾

cup

(160 g) brown sugar

¼

cup

(4 tablespoons) vegetable oil

1

teaspoon

vanilla extract

1

cup

(250 g) pumpkin puree (see directions above)

1

cup

(170 g) vegan mini-chocolate chips
Instructions
Preheat oven to 350°F (175°C) and grease a small brownie pan (8x8 inch or 20x20 cm) with vegan margarine or oil.

In a medium bowl, sift together flour, cocoa powder, baking soda and salt and set aside. In a large mixing bowl, stir together brown sugar, oil and vanilla. Stir in flour mixture. Add pumpkin and stir just until combined. Fold in chocolate chips, reserving some for the top.

Spread batter in prepared pan and sprinkle with remaining chocolate chips. Bake for about 20 minutes until fine cracks are visible across the top of the brownies. Remove brownies from oven and cool completely in the pan on a wire rack.

Chill brownies before cutting for best results. Pumpkin Brownies stay fresh and moist for several days tightly covered in refrigerator.
Nutrition