These Chocolate Cheesecake Cupcakes definitely live up to their name, with intense chocolate flavor and rich cheesecake in a tidy cupcake format.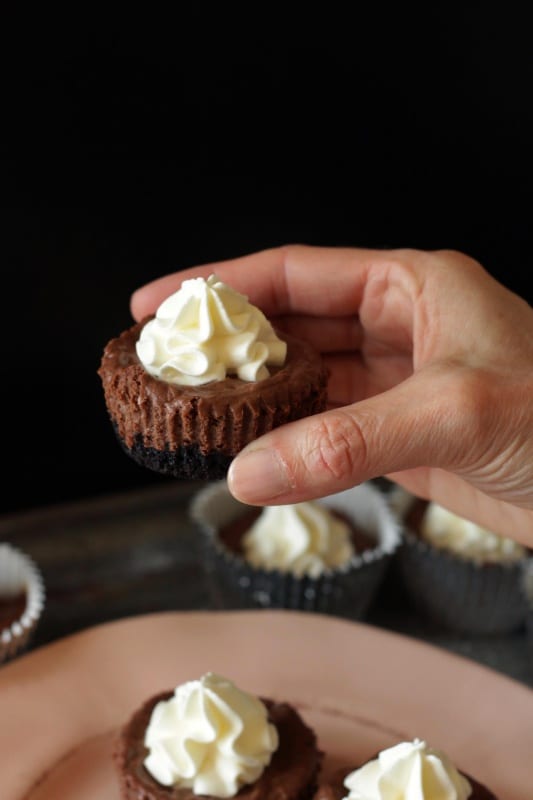 To make Chocolate Cheesecake Cupcakes, I adapted my Cheesecake Cupcake recipe by replacing the plain crust with a crust made out of Oreo cookies and by adding cocoa powder to the cheesecake filling. Dedicated chocolate lovers rejoice! Just like my original Cheesecake Cupcakes, these Chocolate Cheesecake Cupcakes are incredibly quick and easy to make.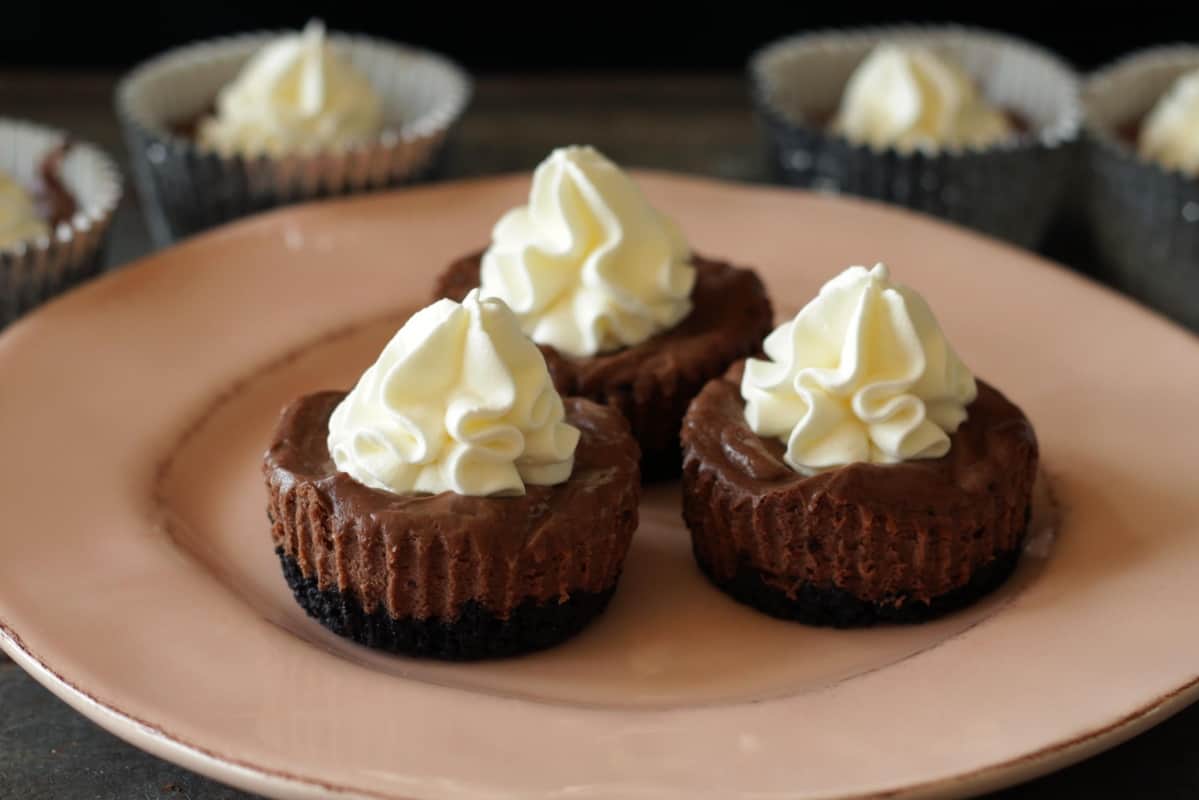 Of all the goodies I've made in the past year or so, these Chocolate Cheesecake Cupcakes have gotten the most enthusiastic thumbs-up from friends, co-workers and family. Those who asked for the recipe and baked these themselves reported and/or presented perfectly pretty and delicious Chocolate Cheesecake Cupcakes. One of my colleagues even made mini, bite-sized Chocolate Cheesecakes which were adorable and yummy!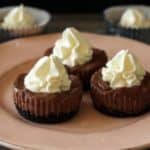 Chocolate Cheesecake Cupcakes
Servings
12
Cheesecake Cupcakes
Ingredients
Crust
1

box Oreos

crushed (16 Oreos, including filling)

3

tablespoons

(40 g) melted butter

OR 4 ounces (115 g) crushed plain chocolate cookies and 4 tablespoons (55 g) melted butter
Chocolate Cheesecake Filling
14

ounces

(400 g) cream cheese*

½

cup

(100 g) granulated sugar

6

tablespoons

(30 g) unsweetened cocoa powder

1

teaspoon

vanilla extract

1

egg

Whipped cream for topping
Instructions
Preheat oven to 350°F (170°C). Line muffin tin with 12 cupcake liners. Add the crushed cookies to the melted butter and stir to combine. Place about a tablespoon of the mixture into each of the 12 cupcake liners and press it down firmly (a smooth-bottomed shot glass works well for this). You may not need all of the crust mixture. Bake crusts for 4-5 minutes or until fragrant and remove from oven.

In a large mixing bowl, beat the cream cheese until smooth. In a medium-sized bowl, whisk together the sugar and the cocoa powder. With the mixer on low speed, gradually add the sugar-cocoa mixture to the cream cheese and mix until smooth. Add the vanilla and the egg and beat just until combined, do not overmix. Spoon the cheesecake mixture over the crusts and smooth the tops with the back of the spoon. Bake for 16-20 minutes. You can tell they're done when cheesecakes start to crack but they will still appear gooey. They should be just barely set. Cool completely in the pans on a wire rack, then chill in an airtight container in the refrigerator at least two hours.

Top with whipped cream. Store tightly covered in the refrigerator for up to four days.
Recipe Notes
*This recipe was made using European-style cream cheese (i.e. cream cheese spread). If using American cream cheese blocks, sour cream may be added to thin the filling mixture, if necessary.
Cheesecake Cupcakes with Berries & Cream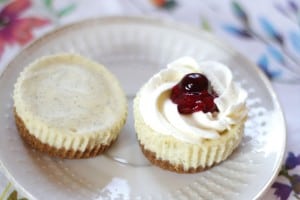 Salted Caramel Cheesecake Cupcakes