Gugelhupf is a traditional Austrian cake baked in a bundt cake pan. It can be a similar to a pound cake and is most often a chocolate and vanilla marble cake. A gugelhupf can also be a yeasted cake that is like a sweet bread. In my experience, gugelhupf tend to be dry and somewhat lacking in flavor, so once I got my hands on a recipe for a moist topfen (quark or curd cheese) gugelhupf, there was no looking back. I had to make it, because topfen is my absolute favorite baking ingredient in Austria. Topfen gugelhupf is the only kind of gugelhupf I have ever baked.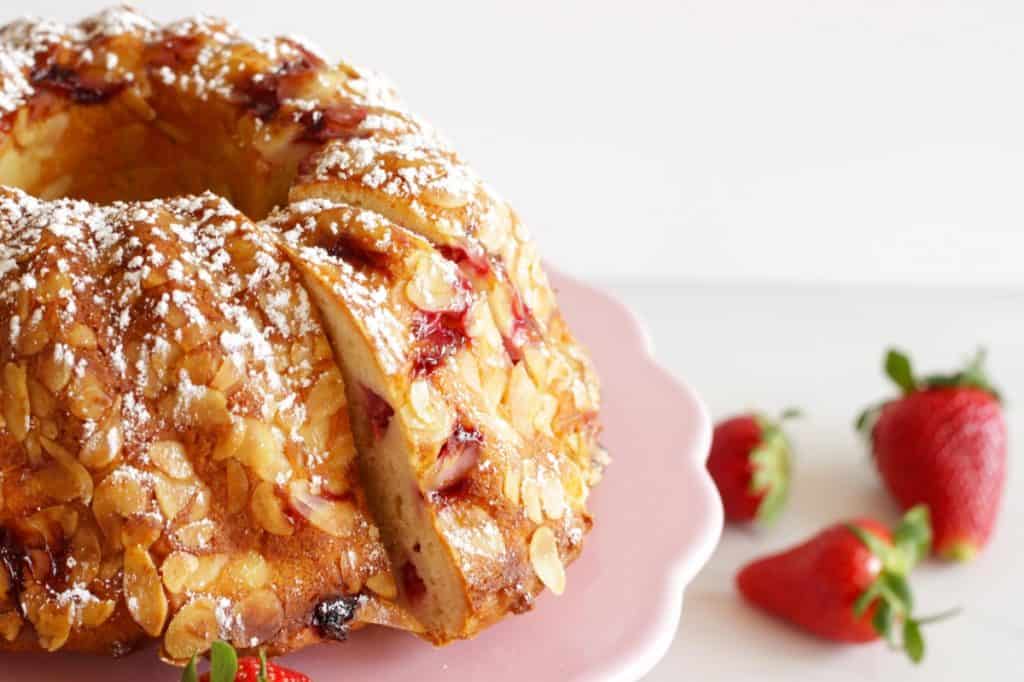 I got the recipe for topfen gugelhupf from a co-worker ages ago. What I loved about the recipe, besides the topfen itself, was that the gugelhupf pan was lined with sliced almonds so the cake slid right out of the pan after baking. I think it's the most brilliant idea ever. I also find the sliced almonds coating the outside of the cake give it a nice, elegant look.
A few years ago, I had the idea of putting fresh strawberries into the cake batter. Everyone was amazed by my gugelhupf. Topfen! Strawberries! No one had ever seen a gugelhupf like this one. It was so moist while also being light and fresh.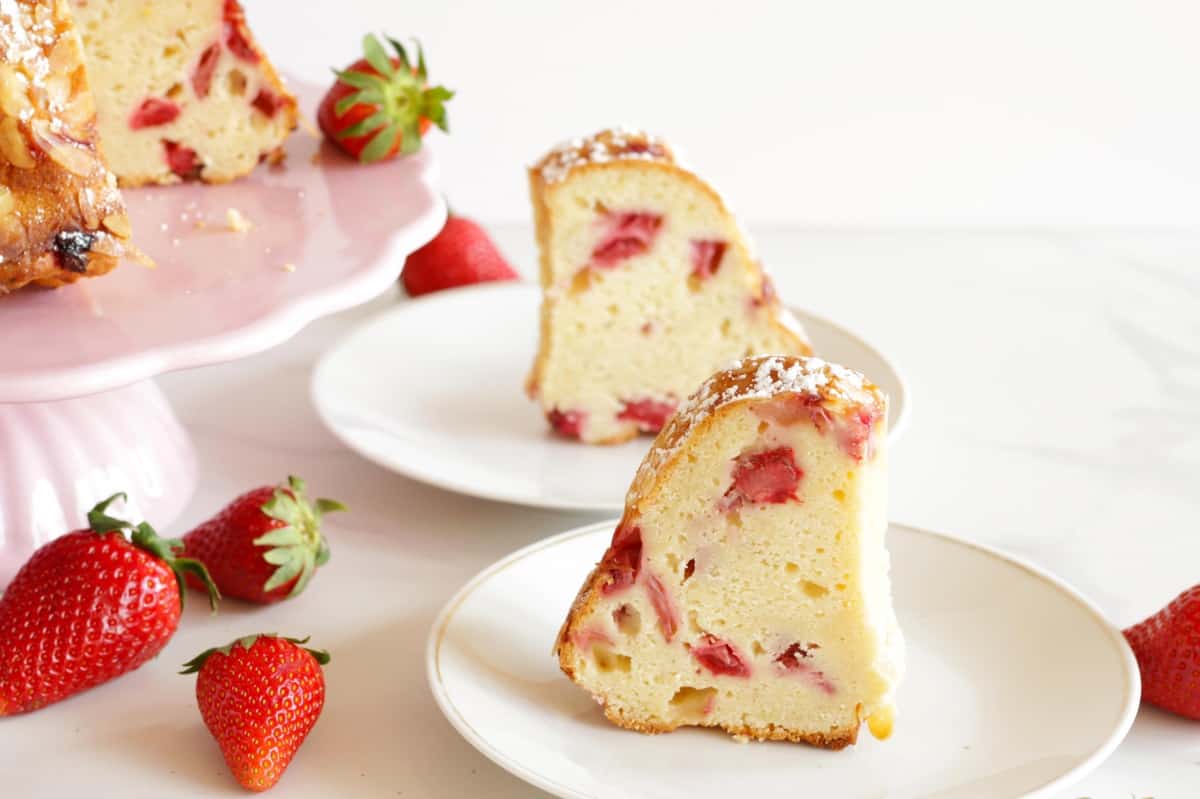 I was recently thinking about what kind of Easter recipes to put on the blog. Some kind of cake... something with strawberries... and topfen... and I suddenly remembered the Topfen Strawberry Cake I made a while back.
It is even better than I remembered it. While I was mixing the batter, the aroma of topfen with vanilla and lemon was almost like a cheesecake. With the fresh strawberries, the smell was intoxicating.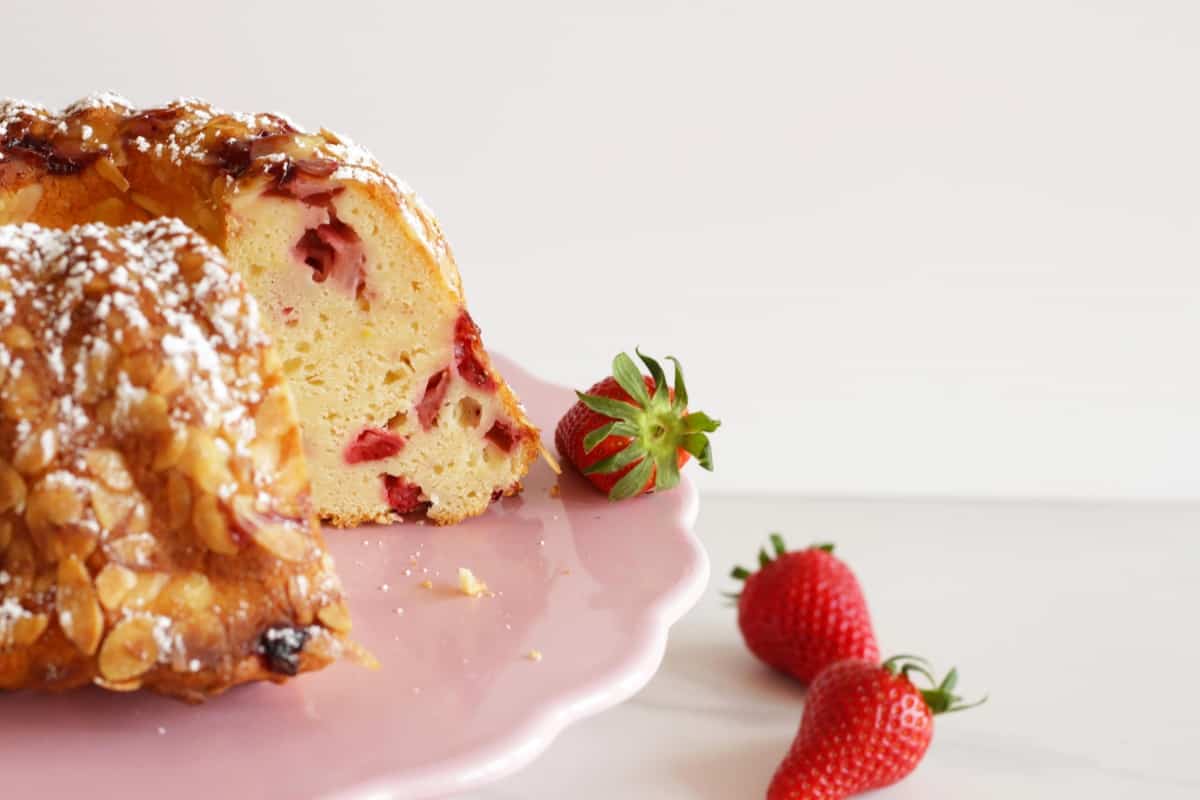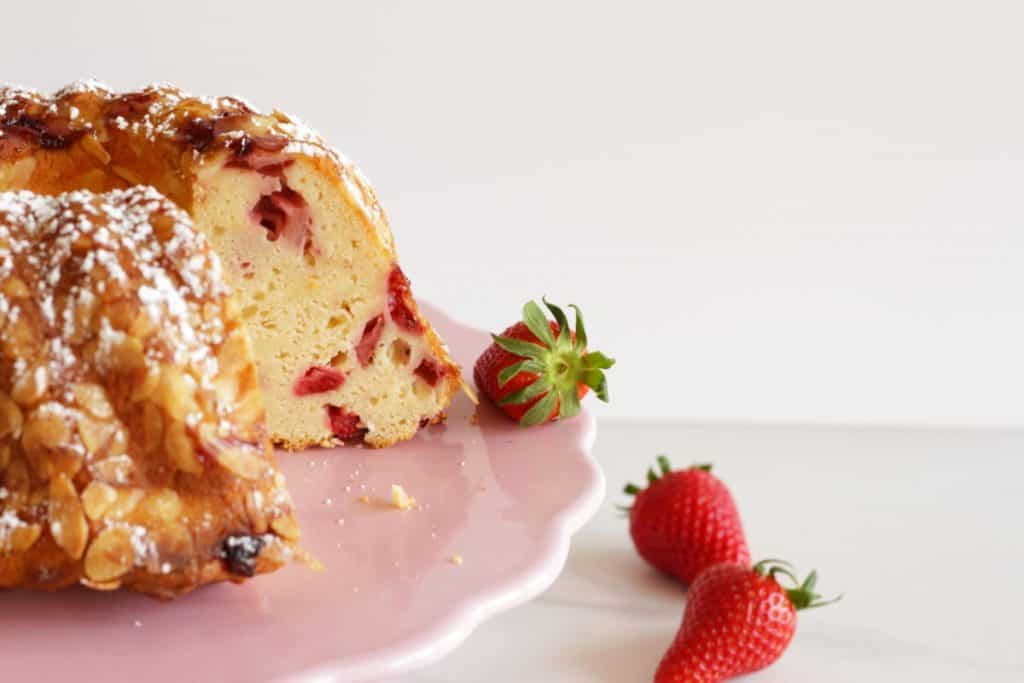 You could use any berries you like in place of the strawberries. The cake would be delicious with blueberries, raspberries or currants. You could use frozen berries if you like, just fold the still frozen berries into the batter. The original, plain topfen gugelhupf (without any berries) is also amazing. If you're baking the cake without berries, reduce the baking time by 5-10 minutes.
If you love moist cakes full of aroma, you have to try this recipe!
Enjoy!
More delicious topfen recipes: