Austrian Apricot Dumplings are a traditional and well-loved summer dish dating back centuries. Apricot Dumplings are coated in buttery toasted crumbs and can be served as a main dish or as a dessert.
Have you ever wanted to make Austrian Apricot Dumplings – Marillenknödel – at home? It's actually way easier than you think. Here you will find detailed instructions with step-by-step photos.
I always used to order Apricot Dumplings at a Gasthaus the evening before we flew out of Austria on our summer vacation. If they didn't have any, look out, because Mama will be grouchy. Seriously, who could blame me? One time the cook had to make Apricot Dumplings especially for me. 🙂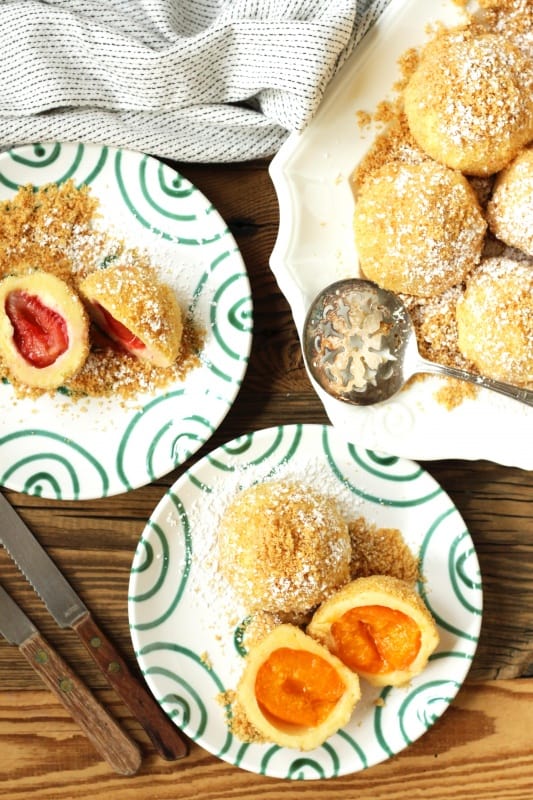 I was really motivated to learn how to make Apricot Dumplings myself and I tried all kinds of recipes. I even tried making them out of potato dough. I found that the dumplings made with Topfen (quark) dough were the tastiest and easiest to make.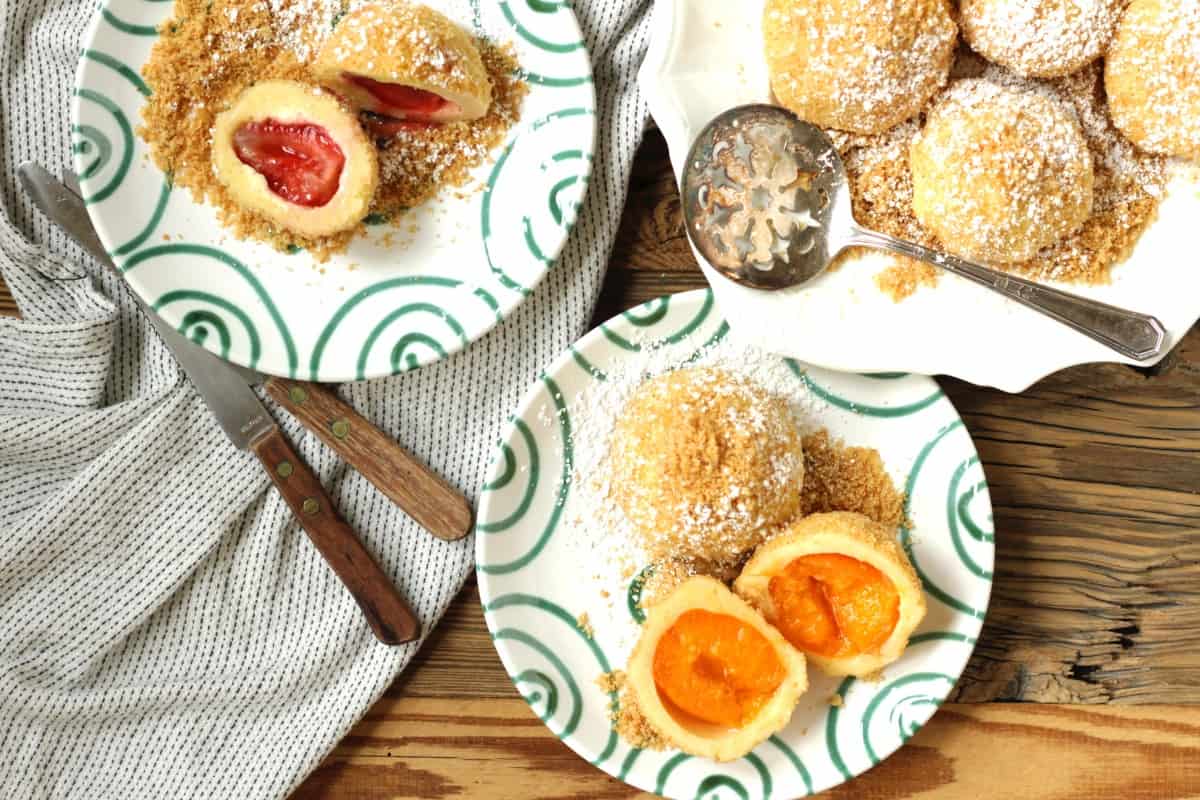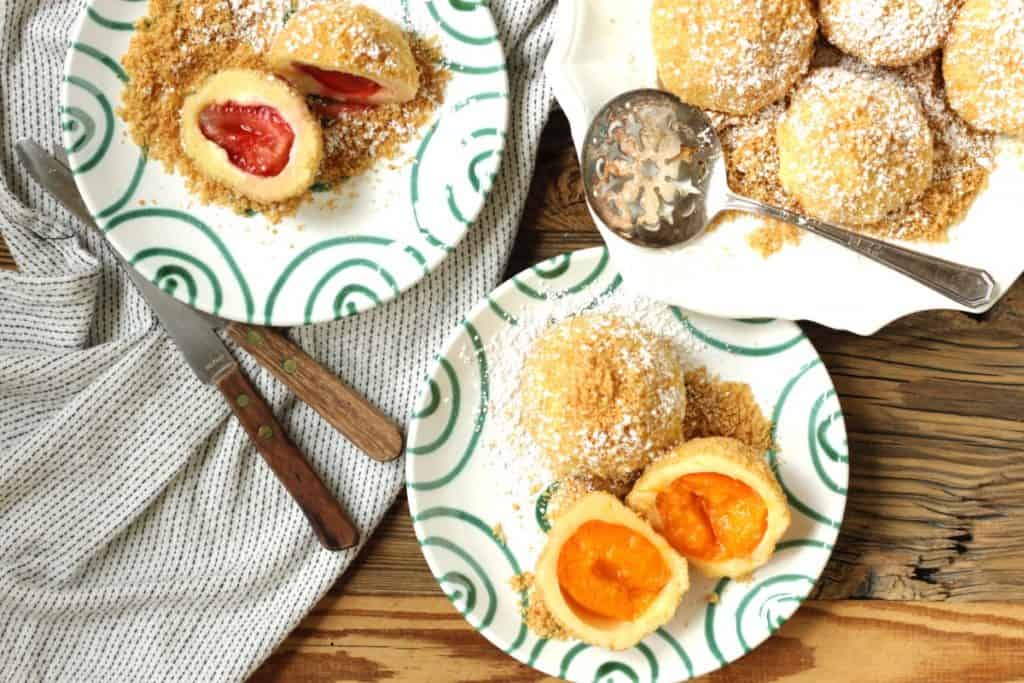 This recipe works great. The dumplings are made with a few simple ingredients you can mix up with your electric hand mixer. When the dough is nice and cold, it's easy to work with. Topfen (quark or farmer's cheese) is the key ingredient and it lends a barely detectable tang to the dough while also making it pliable yet stable enough to shape your dumplings and boil them without them falling apart.
Replace the apricot pit with a sugar cube.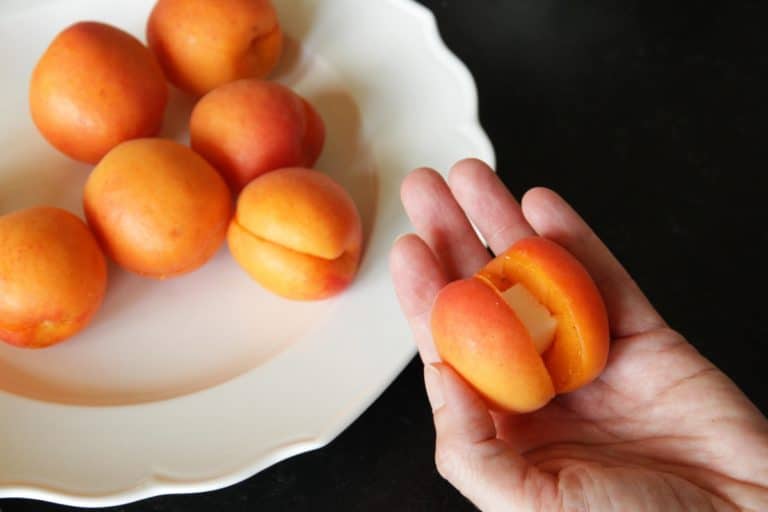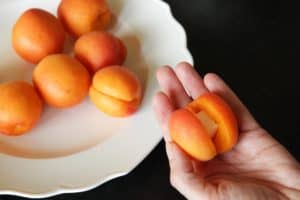 Flatten a portion of dough with well-floured hands.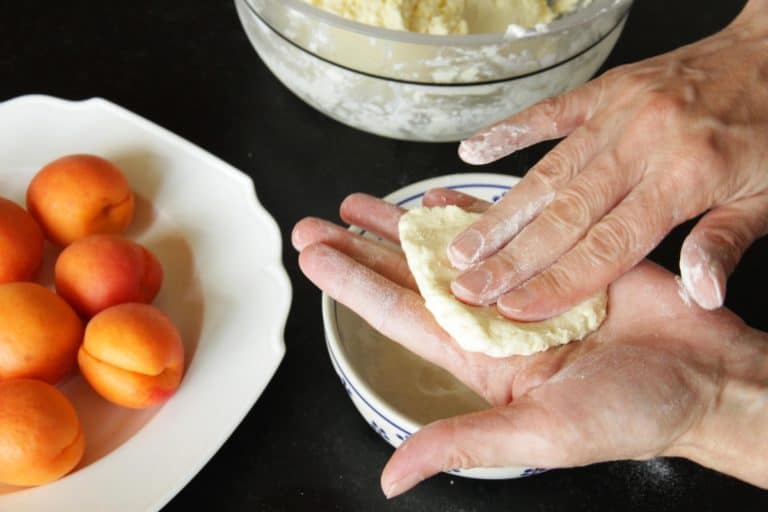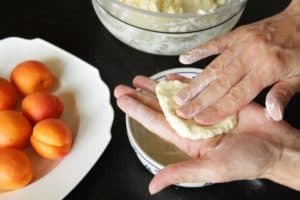 Place an apricot, slit side down, on the dough.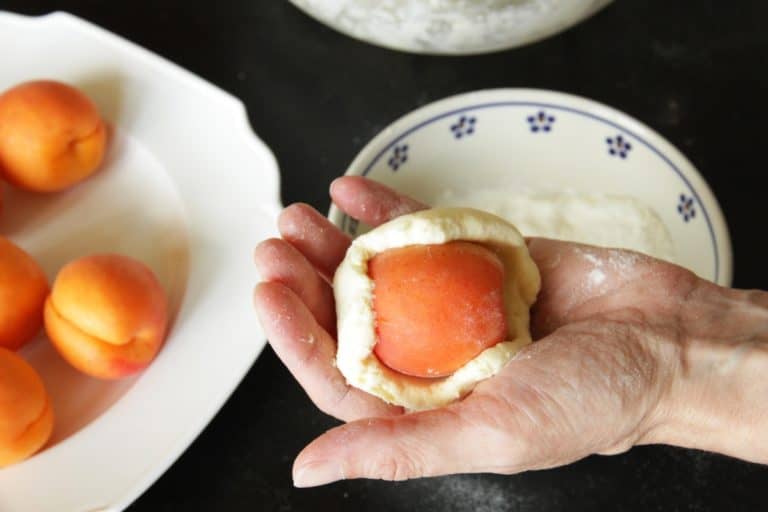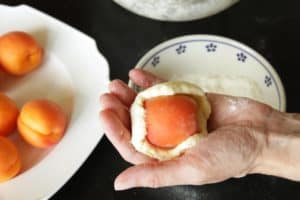 Wrap the dough around the apricot, sealing the edges.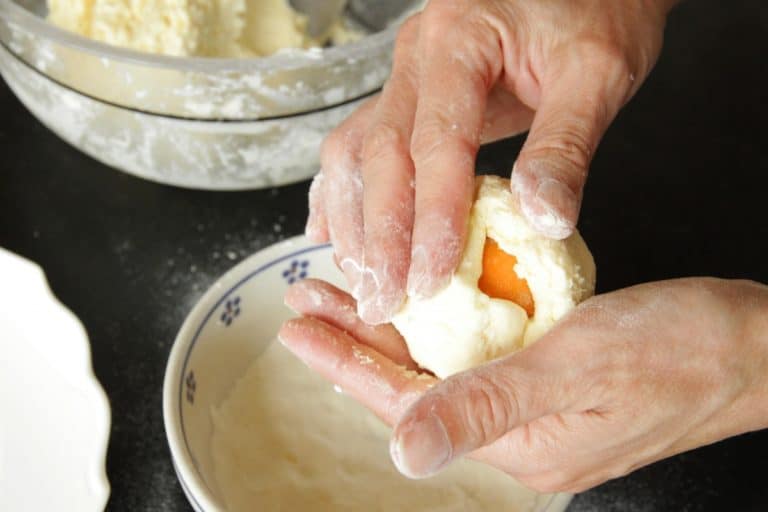 Shape into a round ball.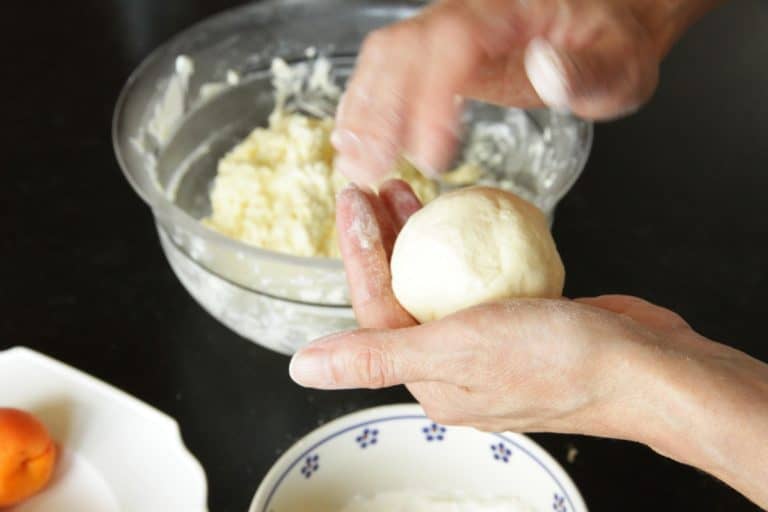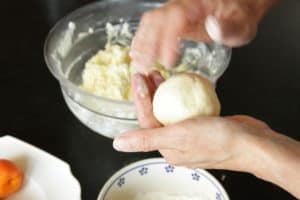 Roll boiled dumplings in toasted bread crumbs.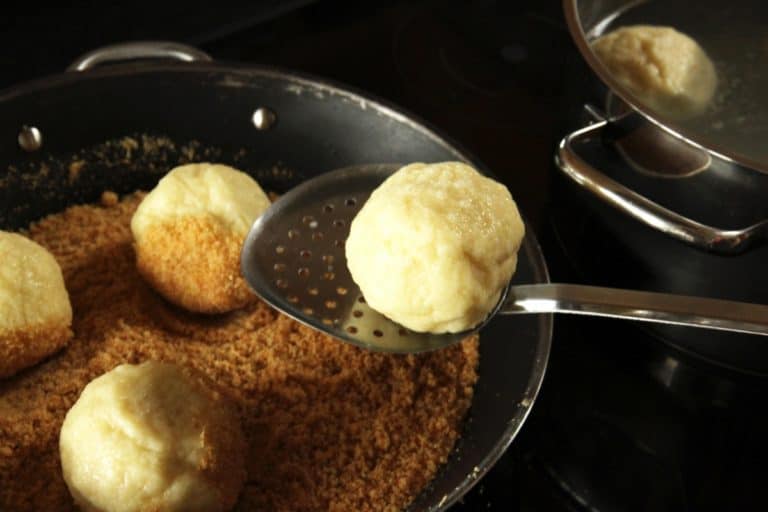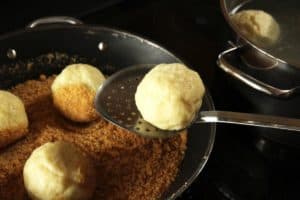 More tips for making Apricot Dumplings:
Chill the dough thoroughly before shaping the dumplings.
Keep flouring your hands while shaping the dumplings to prevent sticking.
Use plenty of dough. Add more dough while shaping the dumpling if you need to. You want a thick layer of dough encasing the apricot, especially if the apricots are large.
Pinch the dough to seal it and make sure no seams are visible.
Chill the dumplings while heating the cooking water.
Work in batches. Depending on the size of the pot, don't cook more than half the dumplings at a time, roll in crumbs and set aside on a platter while you cook the rest.
Stay cool. Literally and figuratively. It's always the hottest day of the year when I make these. 😉 But really, don't worry if a dumpling breaks open a little while cooking. It will be just as delicious as the other ones.
The cooked apricots often taste sour despite the sugar cube - serve with extra powdered sugar.
Give this recipe a try! You will be rewarded with delicious homemade Apricot Topfen Dumplings in a crispy, buttery crumb coating. Or use this recipe to make simple Strawberry Dumplings or plain, unfilled Topfen Dumplings.
Austrian Apricot Topfen Dumplings
You can also use this recipe to make strawberry dumplings. The easiest and quickest way to make strawberry dumplings is to use frozen strawberries in place of the apricots.
Ingredients
Topfen Dumpling Dough
2

eggs

3 ½

ounces

(100 g) butter, room temperature

18

ounces

(500 g) quark or farmer's cheese (Topfen 20% fat)

1

teaspoon

vanilla extract

1

tablespoon

granulated sugar

Scant 2 cups (270 g) flour

(use griffiges if in Austria)

1

pinch

salt
Filling
16-20

small, ripe apricots

16-20

cubes of sugar
Crumb Coating
5

tablespoons

(75 g) Butter

10 ½

ounces

(300 g) dry bread crumbs

2

tablespoons

granulated sugar
Instructions
To make the dumpling dough mix the butter and eggs in a large bowl with a hand mixer. (It's perfectly fine for the mixture to look curdled at this point!) Add the quark, vanilla, sugar, flour and salt and mix everything together. Cover the dough with plastic wrap and chill for at least 3 hours (very important!).

Wash and dry the apricots. Slit one side open, remove the pit, replace it with a sugar cube and press the apricot closed again.

To shape the dumplings, keep your hands well-floured. Using a soup spoon scoop out a generous portion of dough, flatten it with your hands, place an apricot, slit side down, on the dough and wrap the dough around the apricot, sealing the edges. You shouldn't be able to see the seam at all. Lightly shape the dumpling into a round ball. Place dumplings on a plate and keep chilled.*

For the crumb coating melt the butter in a large frying pan and slowly toast the breadcrumbs, stirring often and watching carefully to prevent them from burning. Remove from heat and stir in the granulated sugar.

In a large, wide pot, bring salted water to a boil. Reduce heat and lay the dumplings into the simmering water. To prevent splashing hot water on your hands, place dumplings on a slotted spoon and lower them into the water. Lightly nudge the dumplings with the spoon to unstick them from the bottom of the pot. Once the dumplings have come to the surface of the water, cook them for an additional 10 minutes so that the apricot inside cooks through. Remove dumplings with a slotted spoon and roll them in the toasted crumbs to coat. Place finished dumplings on a platter while cooking the rest. Serve dumplings with additional crumbs and powdered sugar.
Notes
*The raw dumplings can also be frozen. To prepare: place frozen dumplings into simmering salted water. Once the dumplings have come to the surface of the water, cook them for an additional 10 minutes. Remove dumplings with a slotted spoon and roll them in toasted crumbs.
Recipe adapted from Sarah Wiener.
Nutrition