The BEST cinnamon rolls…
Are soft, fluffy and moist, never dry
Are satisfyingly chewy, as in bready and not cakey
Are big
Are gooey and somewhat sticky and caramelized on the bottom
Have plenty of swirls so you can slowly work your way to the center of the roll, which is the softest, sweetest and gooiest part of all
Have sweet and creamy frosting on top
Should not be so sweet and rich that you can't enjoy them, much less finish one
Are homemade, not from the mall
Are as easy as possible to make
Homemade cinnamon rolls are the BEST! Believe me, the ones from the mall have been my gold standard and I would still eat them, not that I can get any here, but the BEST cinnamon rolls are homemade. When you taste these cinnamon rolls, you will forget the ones from Starbuck's and Cinnabon's.
I'm not gonna lie: making homemade cinnamon rolls is a lot of work and most people aren't used to baking with yeast.
I can assure you that each step of the process is simple to follow and is clearly explained in the recipe below. You can make the dough using your standing mixer and there is no hand kneading required. If you want to make these for brunch or for Christmas morning, you can make the cinnamon rolls the night before, chill them overnight and bake them off in the morning.
This recipe is from the blog Tastes of Lizzy T and is one of the most popular cinnamon roll recipes on the internet. These cinnamon rolls are truly amazing and are the perfect from-scratch recipe. The dough is soft and rolls out nice and thin so you get lots of beautiful swirls.
I've tried these rolls with a variety of frostings. My favorite is Cream Cheese Frosting. Cream Cheese Frosting is my favorite on everything.
While the frosting is absolutely essential in me and my kids' opinions, you can't really taste the difference between a cream cheese frosting and a simple vanilla glaze here. The frosting is a minor player and is only there to accentuate the yummiest of the roll itself.
I've also found that it's best to keep the frosting on the side or at least save it for after the rolls have cooled so it doesn't get absorbed by the warm rolls and disappear, creating the need for yet more frosting on the side. Too much frosting is not a good thing here, as we don't want to enter the territory of too-sweet. By the way, these cinnamon rolls are also moist and gooey without the frosting.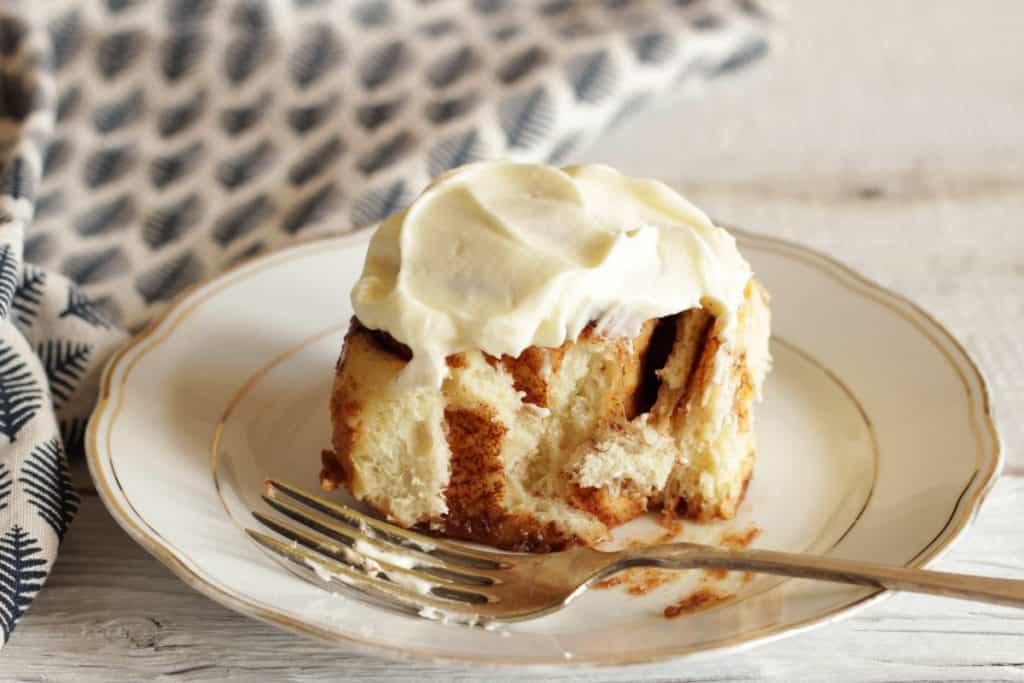 There is a "secret ingredient" that makes these cinnamon rolls extra-special. The trick to making cinnamon rolls gooey is to pour cream over the rolls just before baking. I'm sure that's what makes these cinnamon rolls soft and gooey inside and caramelized on the bottom and essentially the best cinnamon rolls ever.
Enjoy!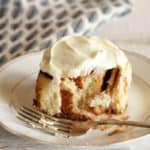 The Best American Style Cinnamon Rolls
Resting time
1
hour
30
minutes
Total Time
1
hour
10
minutes
Ingredients
Dough
1

cup

(240 ml) milk

lukewarm (NOT hot!)

1

packet (2 ½ teaspoons) dry yeast

2

eggs

room temperature

½

cup

(100 g) granulated sugar

1

teaspoon

salt

1/3

cup

(75 g) butter

melted

4 ½

cups

(630 g) all-purpose flour
Filling
1

cup

(210 g) brown sugar

2

tablespoons

ground cinnamon

½

cup

(112 g) butter

soft

½

cup

(120 ml) heavy (whipping) cream

for pouring over risen rolls
Easy Cream Cheese Frosting*
2

cups

(220 g) sifted powdered sugar

3.5

ounces

(100 g) cream cheese

softened

1

teaspoon

vanilla extract
Instructions
Pour the warm milk into the mixing bowl of your mixer and sprinkle the yeast over it. In a medium bowl, whisk together the eggs, sugar, salt and melted butter and add everything to the milk and yeast. Mixing with the paddle attachment (or beaters of hand mixer) on low speed, gradually add the flour until all of the flour is just incorporated then turn off the mixer and allow the dough to rest for five minutes so the flour can absorb the liquids.

Attach the dough hook and knead with stand mixer on medium speed (speed 4 on a KitchenAid) for 5 minutes, with dough hooks of hand mixer 7 minutes. If kneading by hand, knead dough for 10 minutes.

Butter a large bowl with butter, scrape the dough into the bowl, cover with kitchen towel and allow the dough to rise in a warm area for 30-60 minutes just until doubled. Do not allow the dough to rise too much or the cinnamon rolls will be airy/fluffy (more cake-like).

While dough is rising, in a small bowl, stir together brown sugar and cinnamon and set aside. Grease a 9×13 inch (23×33 cm) baking pan with butter and set aside.

Turn the dough onto your work surface and knead a few times to knock the air out of the dough. Roll the dough out on a floured surface into a large rectangle of about 12×15 inches (30×38 cm). Spread softened butter over the entire surface of the dough. Sprinkle cinnamon sugar mixture evenly over the butter. Starting on a long side, tightly roll dough into a large cylinder. Cut 12 equal pieces from the dough with a sharp knife and place in the buttered baking pan, cut side up and equally spaced apart.**

Allow the rolls to rise in a warm place for 20 minutes. Preheat oven to 375°F (190°C). Warm the cream (it should be neither refrigerator cold nor hot) and slowly spoon the cream over the risen rolls, allowing it to absorb into the swirls. It's ok if there's a layer of cream in the bottom of the pan.

Bake the rolls for 20 minutes. If after about 12 minutes of baking, the rolls are browning nicely on top, reduce baking temperature to 350°F (175°C) for the last 8 minutes. Remove rolls from the oven and allow them to cool in the pan on a wire rack.

While the rolls are cooling, prepare frosting. Whisk frosting ingredients in a bowl until creamy.

Serve rolls warm, with frosting on top. Cooled rolls may be warmed in the microwave on high for 30 seconds and they will taste just like freshly baked. Store cooled rolls tightly covered at room temperature for up to two days. Store leftover frosting in the refrigerator.
Recipe Notes
*Or Easy Vanilla Glaze: 2 cups (220g) sifted powdered sugar, 1 teaspoon vanilla extract and 6 tablespoons heavy cream. Whisk ingredients together, adding more cream if necessary to reach desired consistency.
**If making ahead, at this point, you could place the rolls in the refrigerator overnight and allow them to come to room temperature and rise the next day, then spoon cream over the tops before baking as above.
Recipe adapted from Tastes of Lizzy T.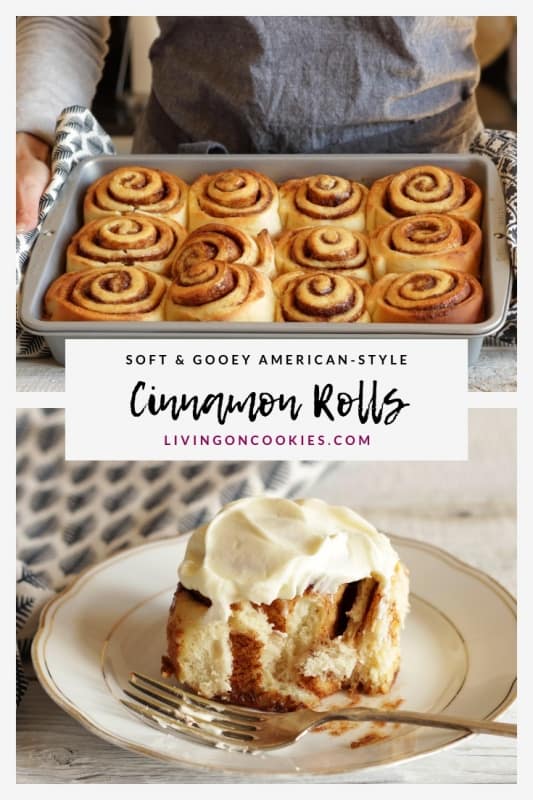 If you're looking to have that delicious cinnamon roll flavor without the work, try my super quick & easy Cinnamon Roll Cake or Cinnamon Pancakes with Cream Cheese Glaze.