Fall is pumpkin spice time and with these Pumpkin Spice Cinnamon Rolls, we are truly in heaven!
In April I published my recipe for the Best American-Style Cinnamon Rolls and now it's October and I think these Pumpkin Spice Cinnamon Rolls might be even better! These are softer and gooier than the originals plus they have those amazing, warming fall/winter flavors!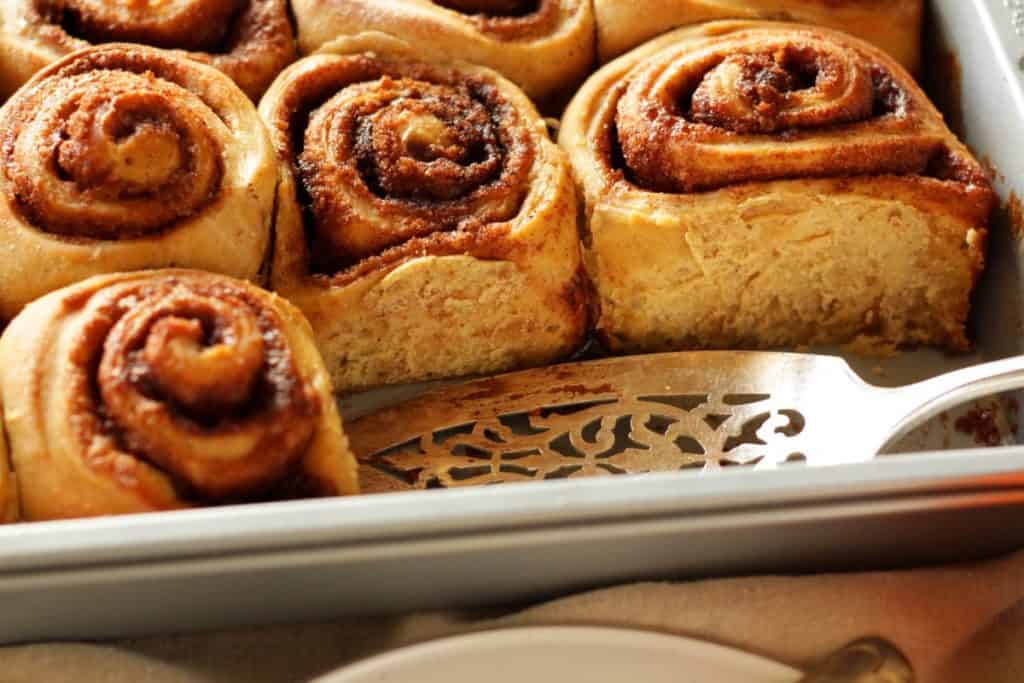 For making the pumpkin spice dough, you're going to need pumpkin puree. If you don't have any canned, you can easily make your own! I recommend using Butternut squash or Hokkaido, "Red Kuri" squash. I have a detailed post here on how to make homemade pumpkin puree but it really comes down to these four easy steps:
Cut a medium-sized Butternut or Red Kuri squash in half lengthwise and scrape out the seeds.
Roast the squash halves in a 350°F (170°C) oven for 40 minutes or until the squash is soft. Then allow the squash to cool.
Scoop the squash out of the shell and puree using a food processor or blender.
Measure out the ⅔ cup (170 g) of pumpkin puree you need for this dough and use the rest in a soup or freeze for later.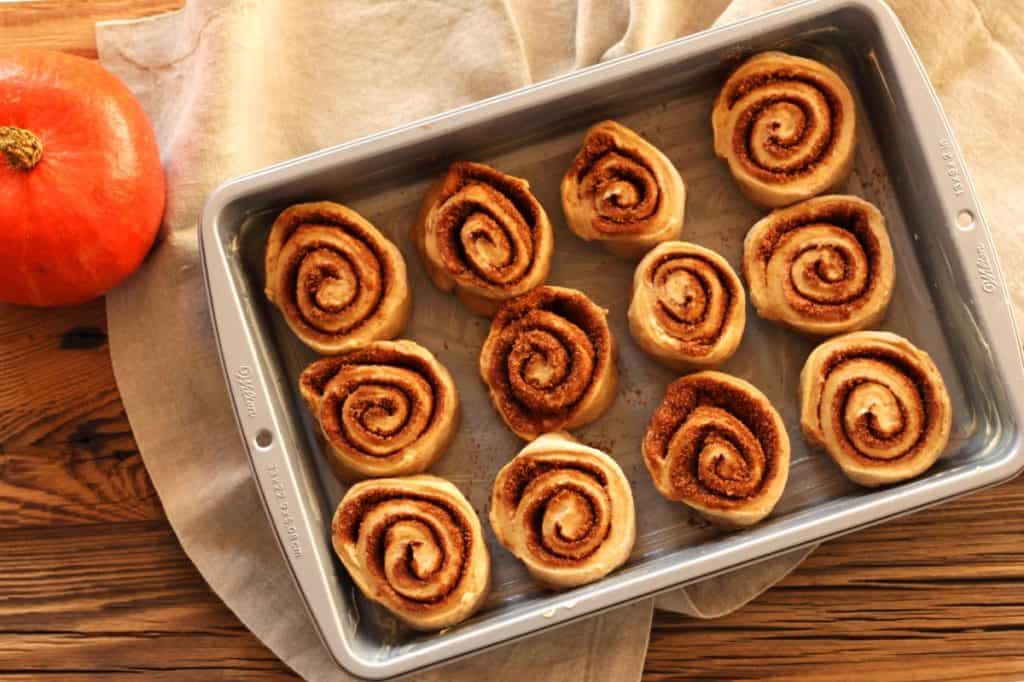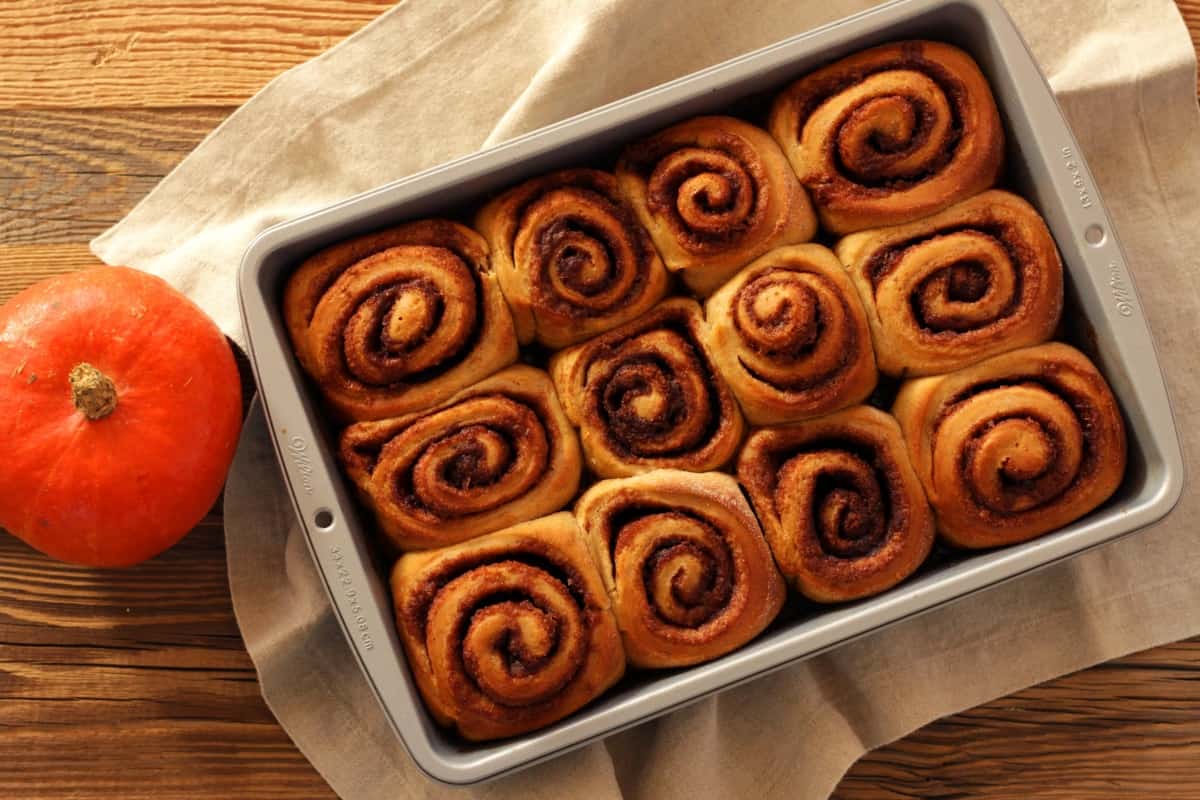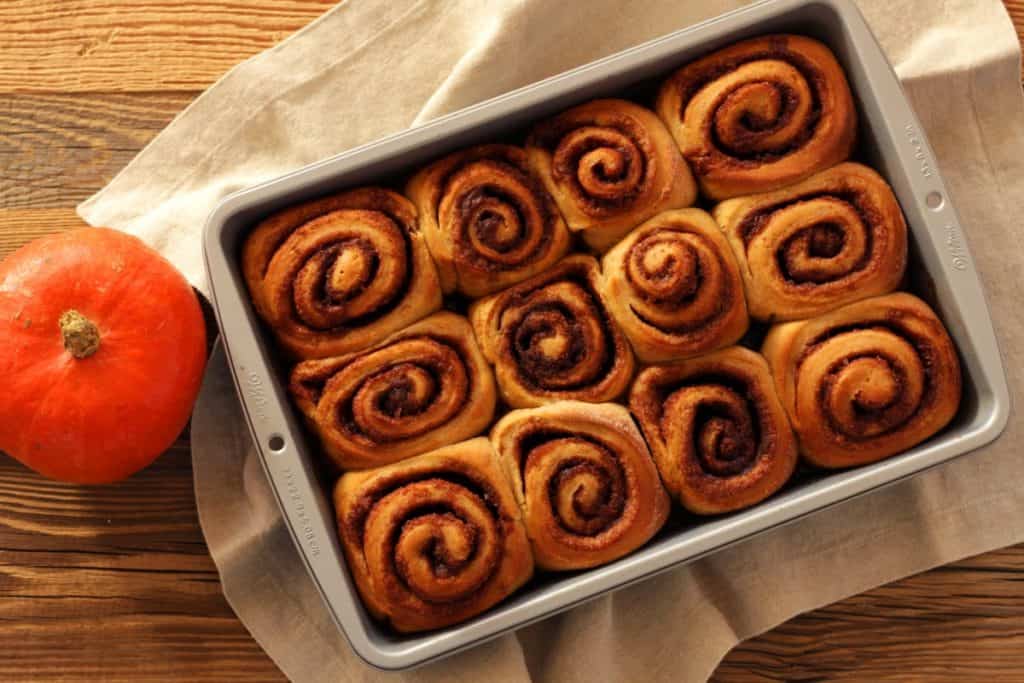 This recipe for Pumpkin Spice Cinnamon Rolls is very similar to my Cinnamon Roll recipe. Both are phenomenal but these Pumpkin Spice Cinnamon Rolls turned out even softer and fluffier!
I first used pumpkin spice in the dough AND in the filling, but I found the spices to be a bit much. With pumpkin spice in the dough only and just cinnamon in the filling they are absolutely perfect.
The Pumpkin Spice Cinnamon Rolls are topped with a super easy cream cheese frosting. Pumpkin spice and cream cheese frosting are the classic combination and I think they make the perfect pair here too, with the creamy tanginess of the cream cheese frosting balancing out the pumpkin spices. If you want, you can use a simple vanilla icing instead or whisk together a glaze made of powdered sugar and orange juice.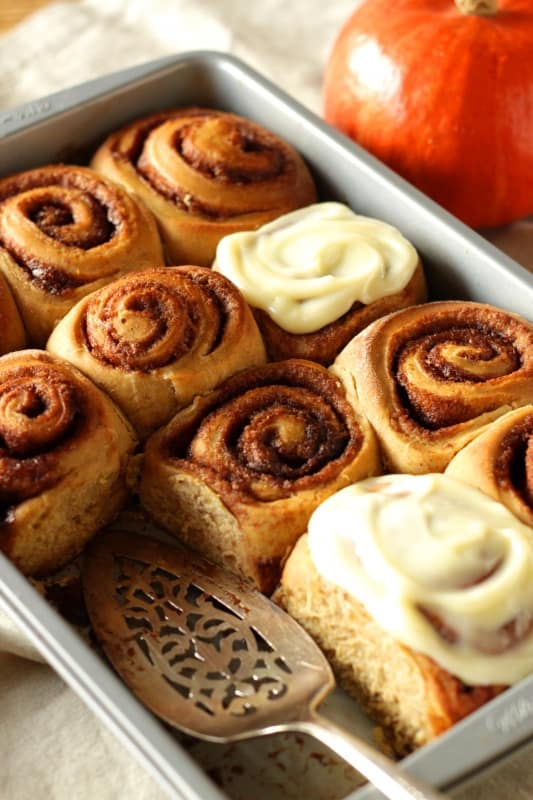 Not everyone loves frosting as much as I do so I don't pour the frosting over all the cinnamon rolls, but save it for on the side so people can take as much or as little as they want. This has the added advantage that you can store the unglazed cinnamon rolls covered at room temperature. Cinnamon rolls topped with cream cheese frosting have to be stored in the fridge.
Cinnamon rolls are best when served warm! Even after two days, you can reheat them and they will taste like freshly baked.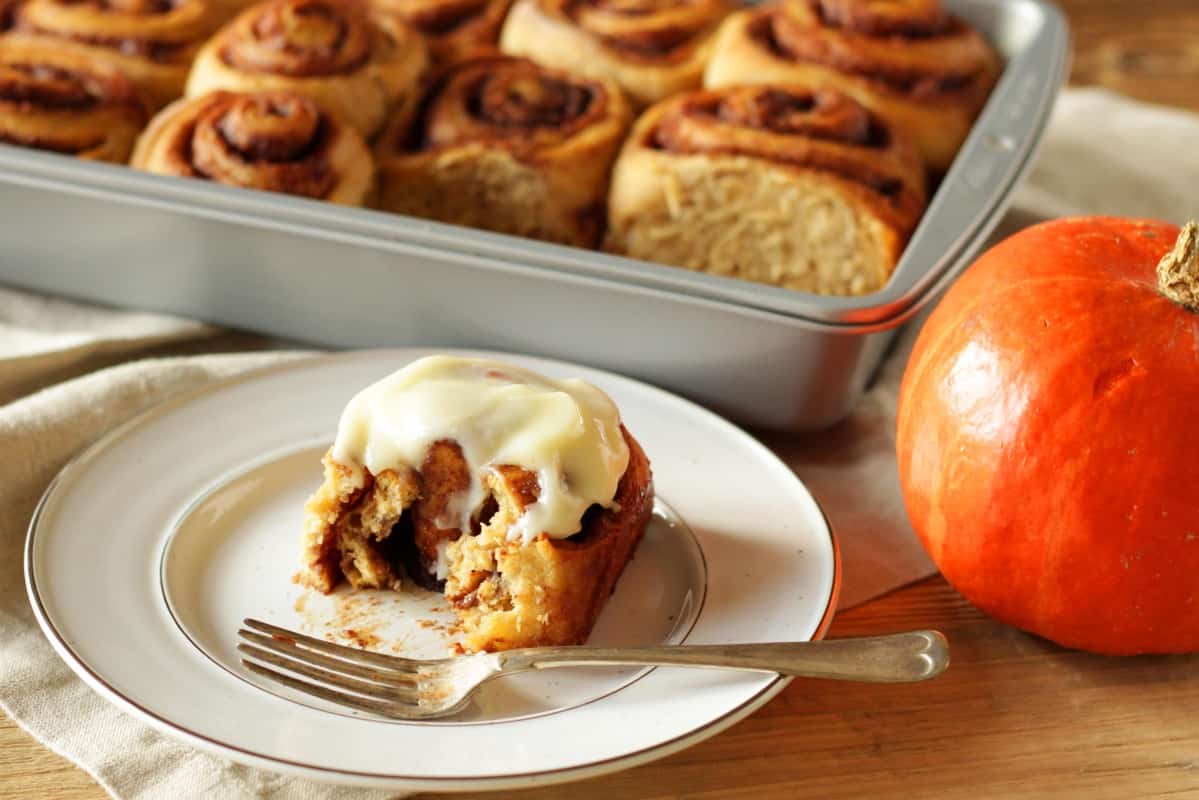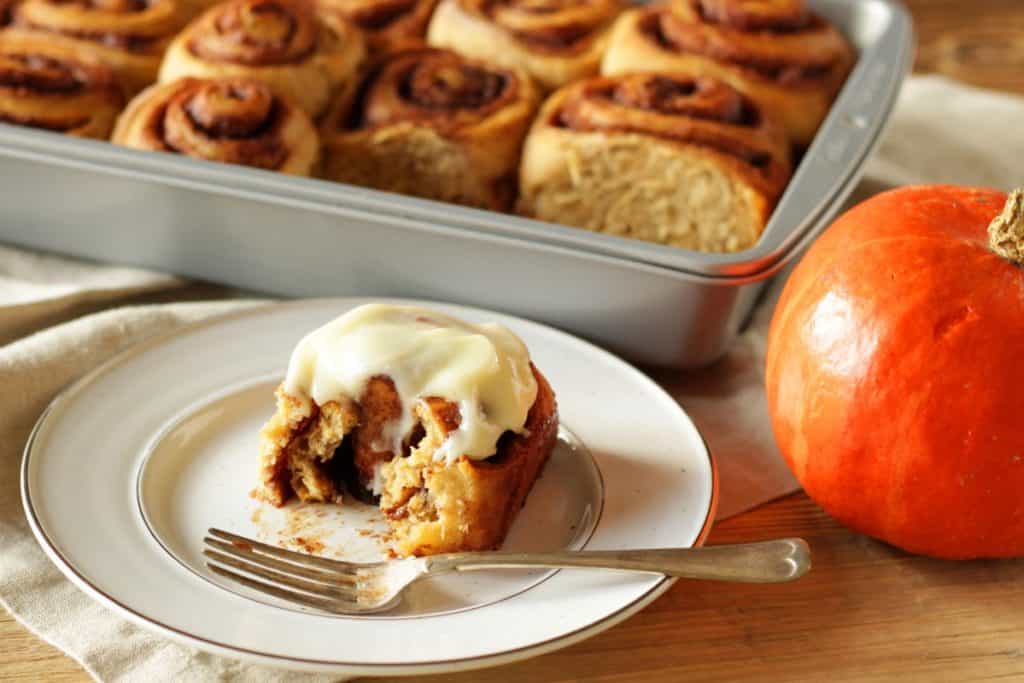 If you want to use this recipe to make overnight Pumpkin Cinnamon Rolls and bake them fresh in the morning for breakfast or a Christmas brunch, you can! I've included the instructions on how to do this in the recipe below.
Have fun baking these Pumpkin Spice Cinnamon Rolls!
Pumpkin Spice Cinnamon Rolls
Ingredients
Dough
¾

cup

(180 ml) milk

lukewarm (NOT hot!)

1

packet (2 ½ teaspoons) dry yeast

1

egg

room temperature

⅓

cup

(70 g) brown sugar

½

teaspoon

salt

⅔

cup

(170 g) pumpkin puree

see directions above

1 ½

teaspoons

ground cinnamon

½

teaspoon

grated nutmeg

½

teaspoon

ground ginger

¼

teaspoon

ground cloves

¼

cup

(60 g) butter

melted

4

cups

(560 g) all-purpose flour
Filling
1

cup

(210 g) brown sugar

2

tablespoons

ground cinnamon

½

cup

(112 g) butter

softened
Easy Cream Cheese Frosting
2

cups

(200 g) sifted powdered sugar

7

ounces

(200 g) plain cream cheese spread

softened

1

teaspoon

vanilla extract
Instructions
For the dough:
Pour the warm milk into the mixing bowl of your mixer and sprinkle the yeast over it. In a medium bowl, whisk together the egg, brown sugar, salt, pumpkin puree, spices and melted butter and add everything to the milk and yeast. Mixing with the dough hook of your stand mixer (or dough hooks of a hand mixer) on low speed, gradually add the flour and mix just until all of the flour is incorporated. Then turn off the mixer and allow the dough to rest for five minutes so the flour can absorb the liquids.

Knead the dough with the dough hook of your stand mixer on medium speed (speed 4 on a KitchenAid) for 5 minutes, with dough hooks of hand mixer 7 minutes. If kneading by hand, knead the dough for 10 minutes.

Cover the mixing bowl with a kitchen towel and allow the dough to rise in a warm area for about 60 minutes until doubled in size.
For the filling:
While the dough is rising, in a small bowl, stir together brown sugar and cinnamon and set aside. Grease a 9x13 inch (23x33 cm) baking pan with butter and set aside.

Turn the dough onto your floured work surface and roll into a large rectangle of about 12x15 inches (30x38 cm). Note: the dough is quite soft and sticky so be sure to generously flour your work surface and rolling pin. Spread softened butter over the entire surface of the dough. Sprinkle cinnamon sugar mixture evenly over the butter.

Starting on a long side, tightly roll dough into a large cylinder. Since this dough is rather soft, I prefer to use a length of dental floss rather than a knife to cut the dough into rolls. Cut 12 equal pieces from the dough and place in the buttered baking pan, cut side up and equally spaced apart.*

Allow the rolls to rise in a warm place for 20 minutes. Preheat oven to 375°F (190°C).

Bake the rolls for 20 minutes. If after about 12 minutes of baking, the rolls are browning nicely on top, reduce baking temperature to 350°F (175°C) for the last 8 minutes. Remove rolls from the oven and allow them to cool in the pan on a wire rack. I like to cut the rolls apart and in doing so, I can check if they're done. If there's raw dough sticking to the knife, the rolls go back in the oven for another 3-5 minutes.
For the frosting:
While the rolls are cooling, prepare frosting. Whisk frosting ingredients in a bowl until creamy.

Serve rolls warm, with frosting on top. Cooled rolls may be warmed in the microwave on high for 30 seconds and they will taste just like freshly baked. Store cooled rolls tightly covered at room temperature for up to two days. Store leftover frosting in the refrigerator.
Notes
*If making ahead, at this point, you could place the rolls in the refrigerator overnight. Allow them to come to room temperature and rise the next day while the oven is preheating before baking as above.
Recipe adapted from With Peanut Butter on Top.
Nutrition