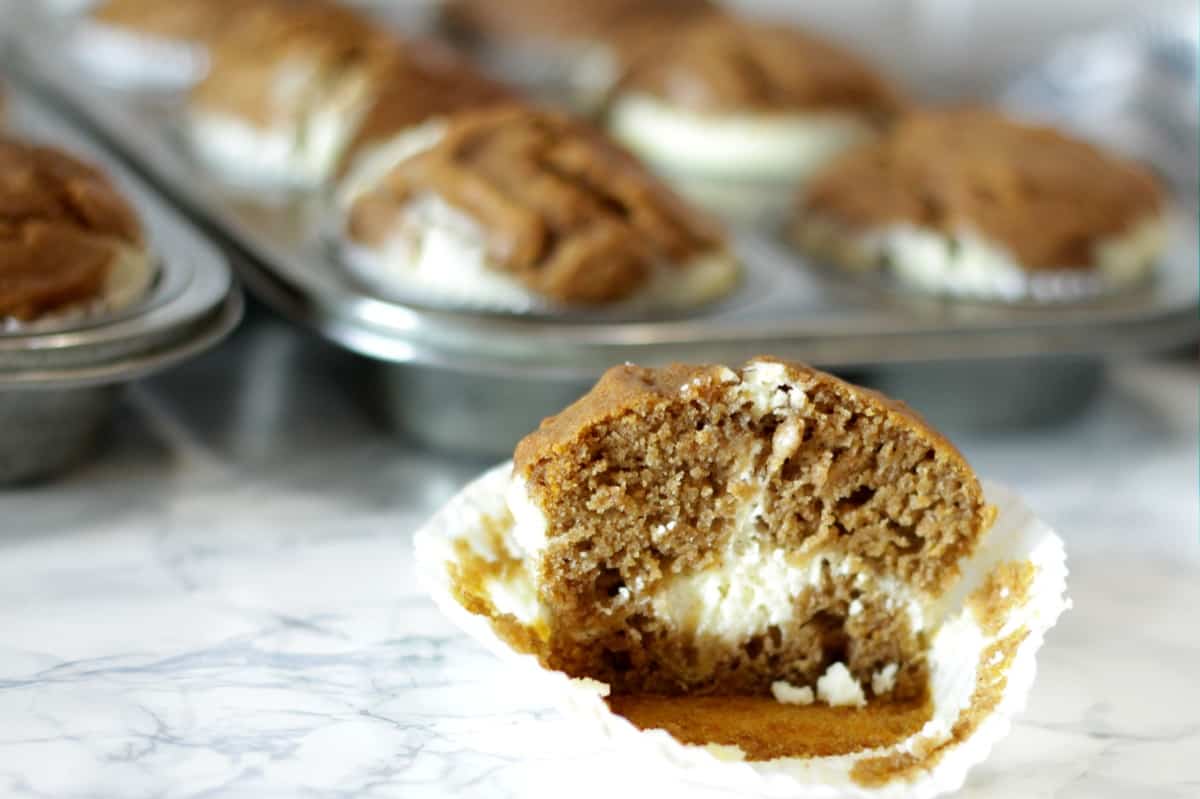 Pumpkin Muffins are delicious without the cheesecake filling; I've made them for years that way too. The Pumpkin Muffins are moist and perfectly spiced. But around this house, we REALLY like the cheesecake filling. It's just the best part!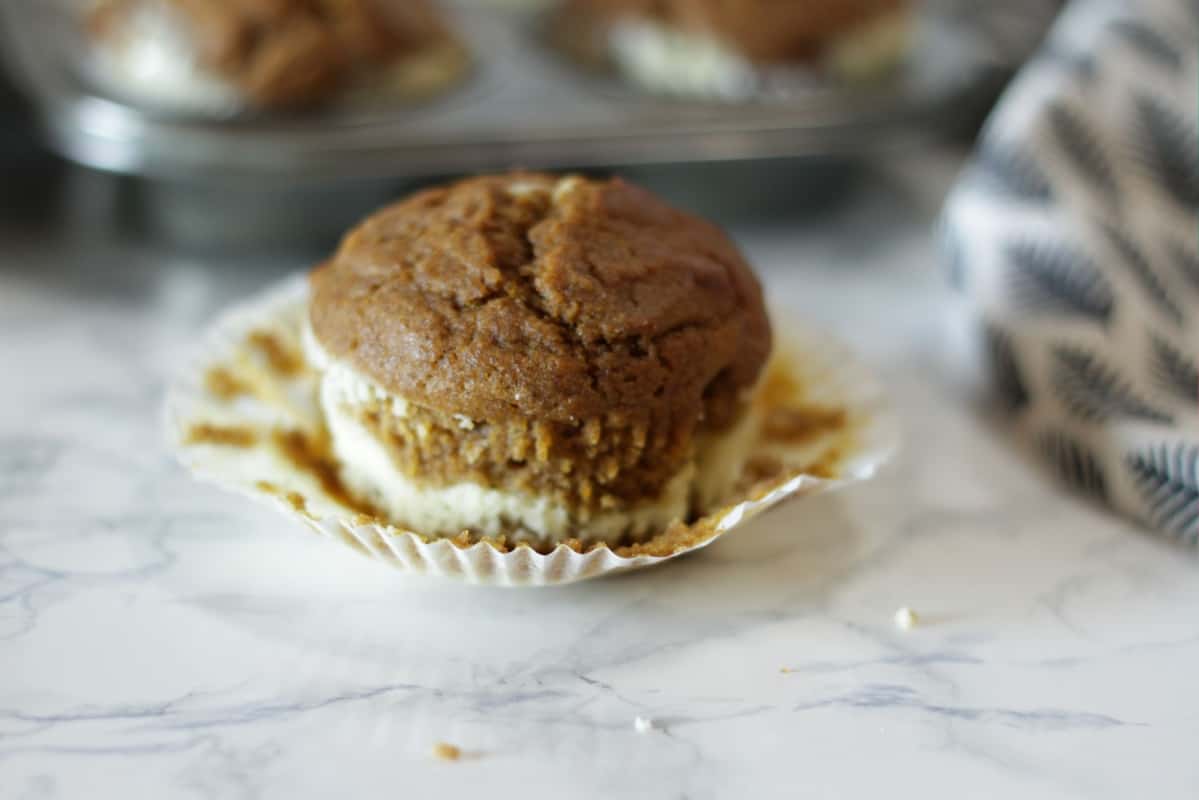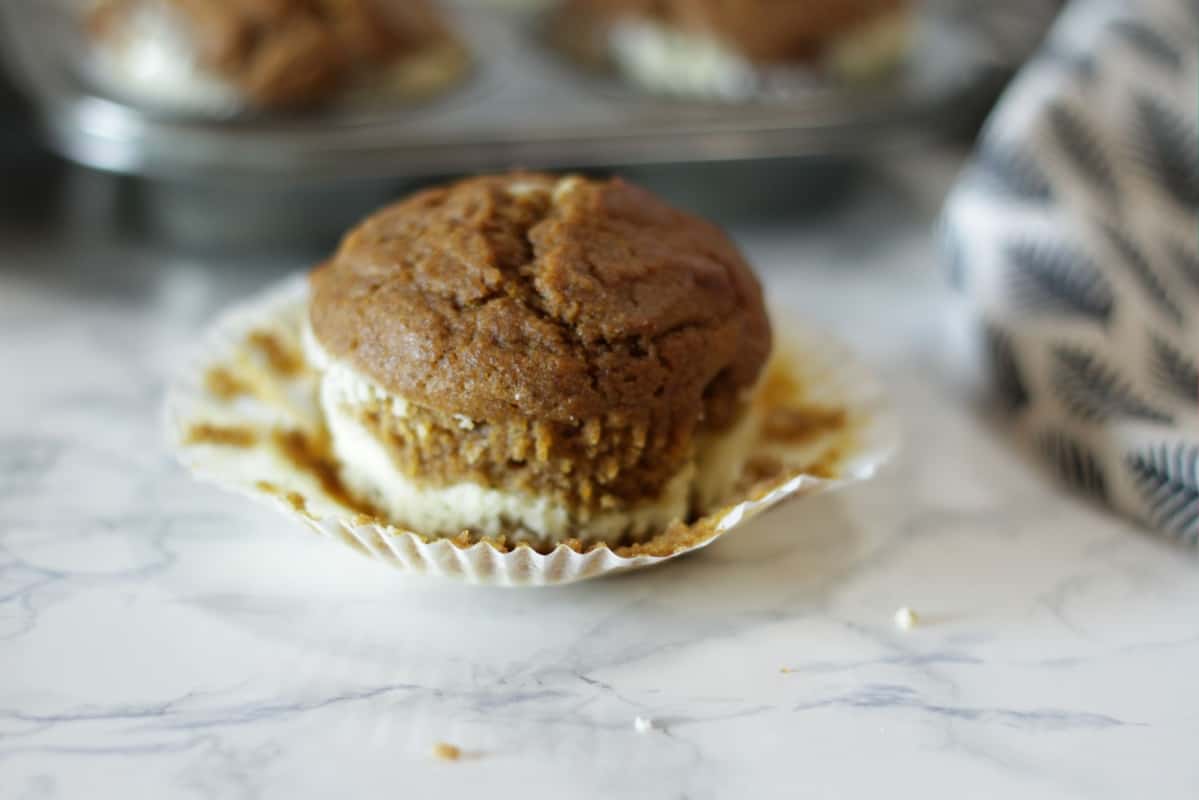 The cheesecake filling is a little bit of a pain to get into the muffins. This is due to the problem with the cream cheese in Europe: it is a spread and therefore contains more liquid than the bricks of cream cheese you buy in the U.S. When you add sugar to it, it turns runny. But here's what you can do. Make the cheesecake filling ahead of time and freeze it into log. When it's solid, you can cut it into pieces and stuff your muffins with them. I've done it that way and it works.
Or, if you're in a hurry, do the best you can, like I did, just trying to make sure there's a layer of cream cheese between two layers of pumpkin batter. It's a mess but it's so worth it. The muffins always come out moist and delicious.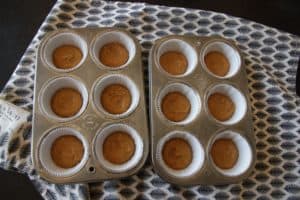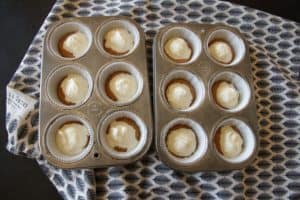 ***UPDATE 3/2018: I discovered while making these Lemon Blueberry Cheesecake Muffins that adding flour to the cream cheese mixture thickens it up enough to make it easy to layer with the muffin batter. For the recipe below, 2 teaspoons of flour are mixed into the Cheesecake Filling.
Pumpkin Cheesecake Muffins
Ingredients
For the Cheesecake Filling:
5

ounces

(150 g) cream cheese

2

tablespoons

granulated sugar

2

teaspoons

flour

1

egg yolk

1

teaspoon

vanilla extract
For the Pumpkin Muffins:
1

cup

(140 g) all-purpose flour

½

cup

(70 g) wheat or spelt whole grain flour

1

teaspoon

baking powder

½

teaspoon

baking soda

1 ½

teaspoons

ground cinnamon

¼-½

teaspoon

of any or all of the following: cloves, nutmeg, allspice, cardamom, ground ginger

½

teaspoon

salt

2

eggs

½

cup

(105 g) brown sugar

¼

cup

(50 g) granulated sugar

1

cup

(240 ml or 250 g) pumpkin puree (if you want to make your own, see here)

2

tablespoons

milk

½

cup

(120 ml) oil

1

teaspoon

vanilla extract
Instructions
Make the Cheesecake Filling: beat the filling ingredients together until smooth. Set aside.

Make the Pumpkin Muffins: In a large bowl, whisk together both flours, baking powder, baking soda, cinnamon, spices and salt. In a medium bowl, whisk the eggs and sugars together. Add the pumpkin, milk, oil and vanilla and whisk until blended. Pour the pumpkin mixture into the flour mixture and stir just until blended.

To assemble: preheat oven to 400°F (200°C). Line muffin pan with paper liners. Fill each muffin cup with one tablespoon of pumpkin batter and spread it to cover the bottom. Divide cheesecake filling among muffin cups (about 1 tablespoon per muffin). Top with the remaining pumpkin batter and spread to cover the cheesecake filling.

Bake at 400°F (200°C) for 5 minutes then reduce heat without opening the oven to 350°F (170°C) and bake for an additional 12-15 minutes, until a toothpick comes out clean. Cool in pans for 10 minutes then remove from the pans and cool on wire rack. Store muffins tightly covered in the refrigerator for up to 3 days, in the freezer for up to 3 months.