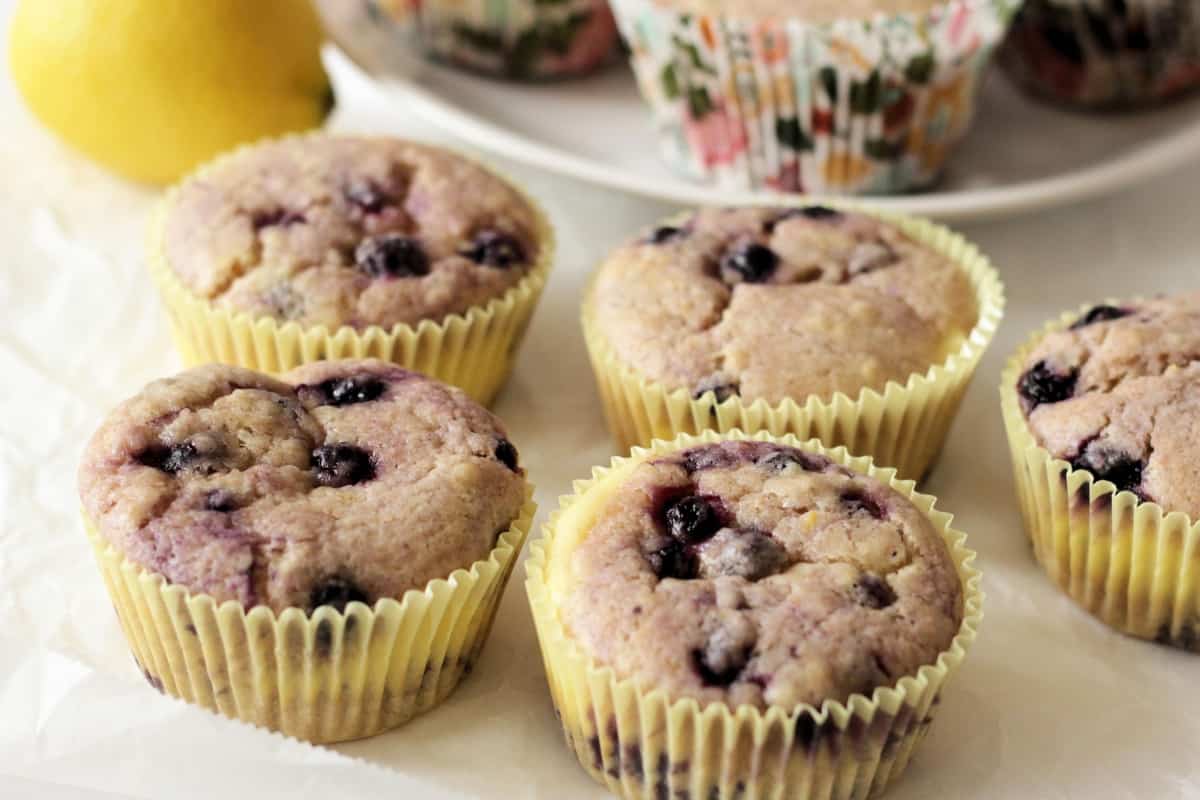 Lemon Blueberry Cheesecake Muffins are perfectly sweet and tangy from the lemon and blueberries and the cheesecake filling is absolutely irresistible. They're the ultimate muffin for a leisurely weekend brunch.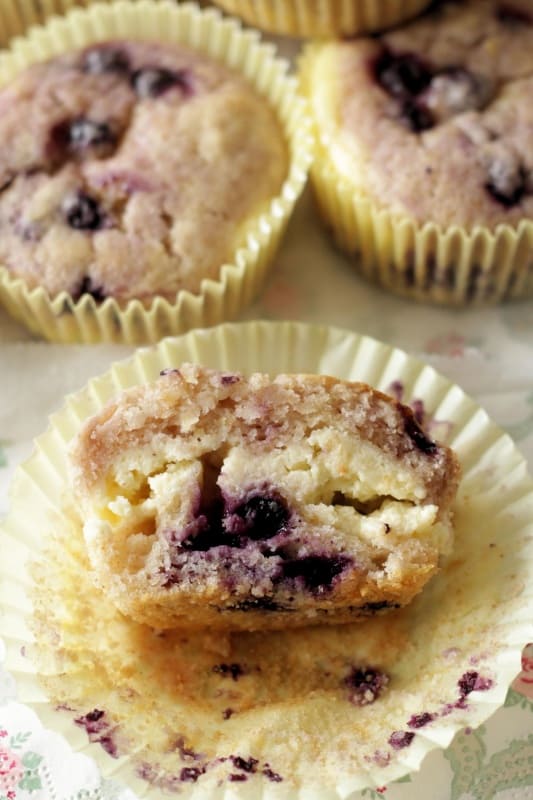 What I love about this recipe:
Lemon & blueberry is always a winning combo
These muffins are delicately sweet and tangy
The cheesecake filling is irresistible
They're quick and easy to make
Whole grain flour – I sneak in some whole grain flour wherever I can
Yogurt in the batter – something I always have on hand that adds tanginess and makes the muffins moist and fluffy
The lavender swirl of the batter from the frozen blueberries contrasts so prettily with the cheesecake filling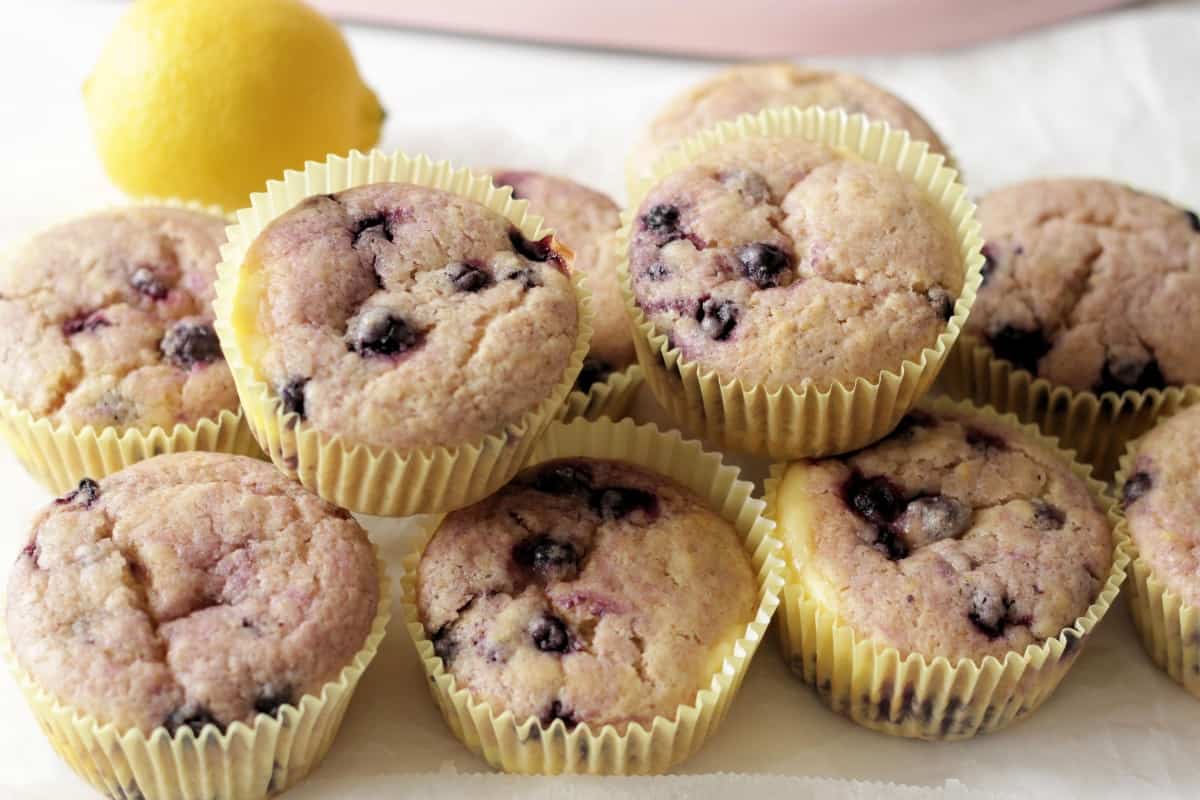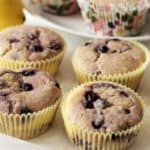 Zitronen-Heidelbeer Cheesecake Muffins
Ingredients
Cheesecakefüllung
200

g

Frischkäse

z.B. Philadelphia Vollfettstufe

25

g

Feinkristallzucker

1

Eidotter

1

Esslöffel Mehl

½

Teelöffel Vanilleextrakt
Muffinteig
140

g

Weizenmehl glatt

105

g

Weizen- oder Dinkelvollkornmehl

3

Teelöffel Backpulver

½

Teelöffel Salz

Abrieb und Saft von zwei unbehandelten Zitronen

120

ml

Pflanzenöl

150

g

Feinkristallzucker

2

Eier

120

g

Naturjogurt

1

Teelöffel Vanilleextrakt

200

g

frische oder TK Heidelbeeren
Instructions
Backofen auf 200°C vorheizen. Muffinbackblech mit 18 Papierförmchen auslegen.

Für die Cheesecakefüllung: Frischkäse, Zucker, Dotter, Mehl und Vanille cremig schlagen. Zur Seite stellen.

Für den Muffinteig: In einer großen Rührschüssel, beide Mehlsorten, Backpulver, Salz und Zitronenabrieb vermischen. Zur Seite stellen.

In einer mittelgroßen Rührschüssel, Zitronensaft, Öl, Zucker, Eier, Jogurt und Vanille mit einem Schneebesen gut vermischen. Mischung in die Mehlmischung gießen und mit einem Kochlöffel vorsichtig rühren nur bis alles vermischt ist. Heidelbeeren vorsichtig unterheben.

Einen Esslöffel Muffinteig in jedes Förmchen geben und verstreichen um Boden des Muffins zu bedecken. Cheesecakefüllung auf die Muffins verteilen (einen knappen Esslöffel pro Muffin). Restlichen Muffinteig (etwa einen Esslöffel pro Muffin) in die Förmchen verteilen und verstreichen damit die Füllung bedeckt ist (muss aber nicht perfekt sein!)

Bei 200°C für 5 Minuten backen, dann die Temperatur auf 170°C reduzieren ohne die Ofentür zu öffnen und für weitere 12-15 Minuten backen, bis ein Zahnstocher der in die Mitte eines Muffins gestochen wird ohne Muffinteig herauskommt. Muffins im Blech 10 Minuten auf einem Gitter abkühlen lassen, dann aus dem Blech nehmen und auf einem Gitter ganz auskühlen lassen. (Die warmen Muffins sind sehr weich und nachgiebig; sie werden nach dem Auskühlen fester.)

Fest verschlossen sind die Muffins im Kühlschrank 4 Tage oder im Gefrierfach 2 Monate haltbar.