Flaky puff pastry loaded with plenty of juicy pears and dark chocolate –this Chocolate Pear Strudel is a super-easy and indulgent dessert.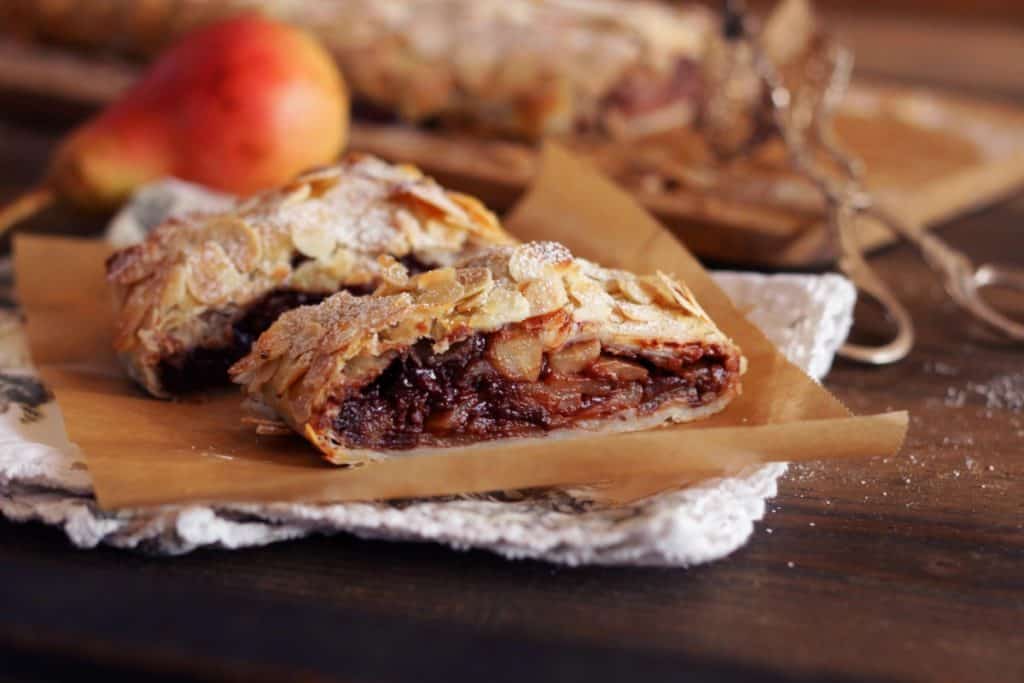 Strudels are a big part of Austrian cuisine, and not just the famous Viennese apple strudel, but all kinds of strudels, both sweet and savory. Here on the blog you can find my recipes for Spinach and Feta Strudel, Blueberry Topfen Strudel and Potato Strudel with Vegetables and Herbs. It looks like it's time for another sweet strudel recipe!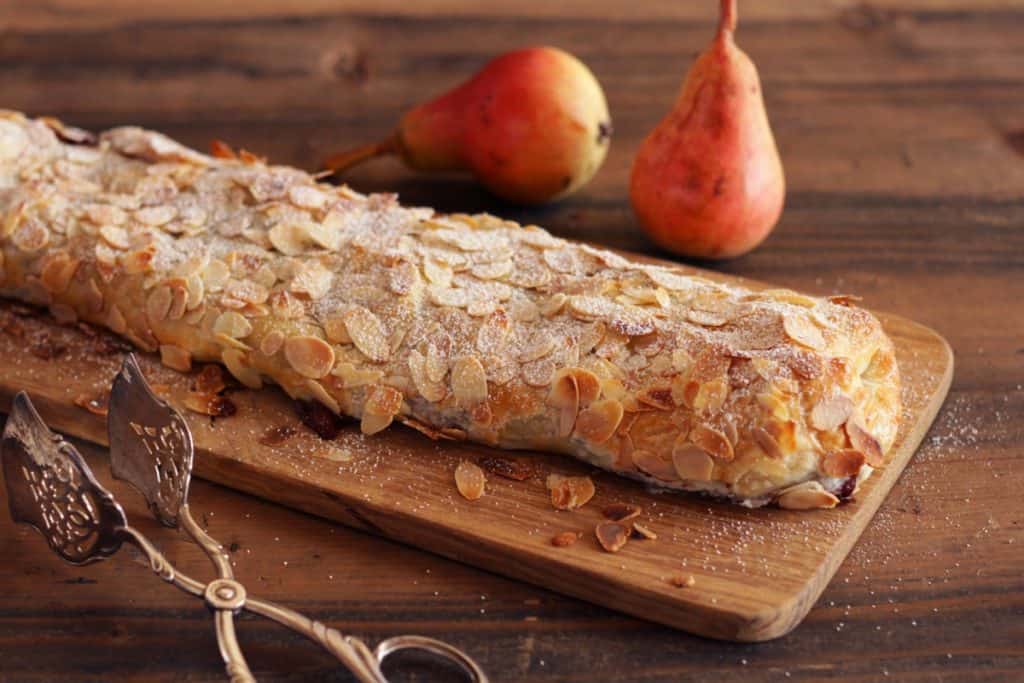 Even though I'm obsessed with baking and desserts, I had never given any thought to pear strudel until staying at a hotel earlier this fall where I had a Chocolate Pear Strudel. Chocolate and pear are a classic, heavenly combo and, when wrapped beautifully in a flaky, buttery crust, what could be better?
You can serve this strudel warm or at room temperature, either way you will absolutely love it. It's just occurred to me that this would be amazing with a scoop of ice cream.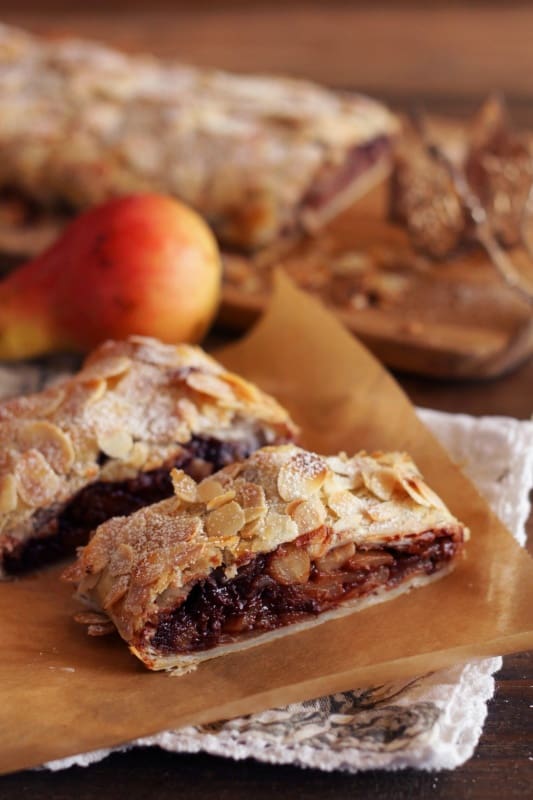 I normally try not to use an industrially-made, processed foods but puff pastry is a big exception for me. Strudels made with ready-made, store-bought puff pastry are so quick and easy to put together and throw into the oven and they taste fabulous.
So grab your puff pastry and let's get baking!
Chocolate Pear Strudel
Ingredients
4-5

pears (about 1 ½ pounds or 700 g)

peeled, deseeded and thinly sliced

2 ½

tablespoons

cornstarch

2

tablespoons

unsweetened cocoa powder

⅓

cup

(70 g) brown sugar

3 ½

ounces

(100 g) dark chocolate (50-70% cocoa)

roughly chopped

1

puff pastry sheet (about 9 ½ ounces or 270 g)

thawed but chilled

1

egg

beaten, for egg wash

⅓

cup

(50 g) almond flakes

Powdered sugar

for dusting
Instructions
Preheat oven to 375°F (190°C). Line a baking sheet with parchment paper.

Stir together the cornstarch, cocoa powder and brown sugar. Toss the pears and chocolate with the cocoa mixture.

Unroll the puff pastry on your baking sheet, leaving it on the paper it is rolled up with. Distribute the pear and chocolate filling over the pastry, leaving ½ inch free all around the edges. Use your hands to distribute the mixture evenly.

Fold in the edges of the dough on the short sides. Roll the strudel lengthwise away from you into a log while keeping the ends folded in and using the pastry paper to help lift and roll the strudel with its filling. Peel away the paper as you roll and finish with the seam down. With a scissors, trim away the excess paper.

Brush the top and sides of strudel with the beaten egg. Using a sharp knife, make holes or diagonal slits in the top of the strudel for steam to escape. Sprinkle with flaked almonds.

Bake for 30-35 minutes, or until the pastry is a deep, golden brown. Remove from the oven and allow the strudel to stand for about 15 minutes before cutting. Store leftovers for up to two days in the refrigerator.
Nutrition