This is our favorite family recipe for super moist banana bread made special with mini-chocolate chips stirred into the batter. Kids go crazy for Chocolate Chip Banana Bread!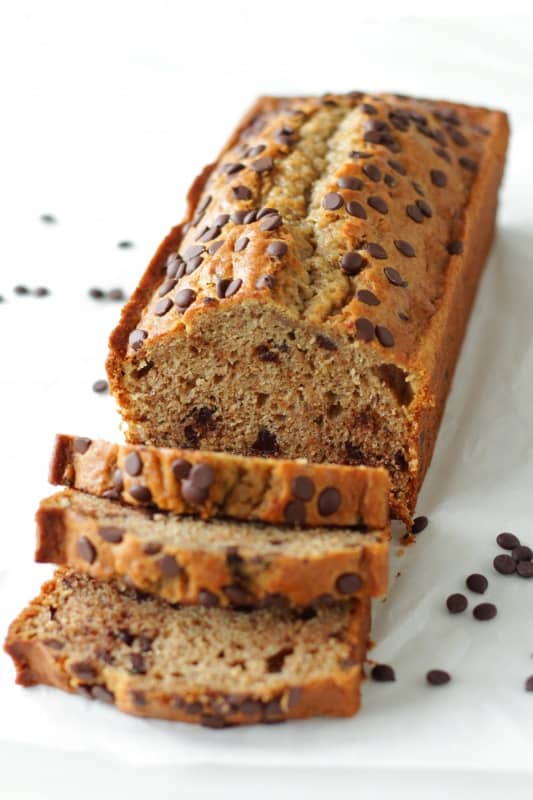 You could add some chopped walnuts too if you wish – they truly make banana bread great in my opinion. I didn't put nuts in the Banana Bread in the pictures because then my daughter wouldn't eat it. She's the reason I put chocolate chips in Banana Bread, after all.
Along with Chocolate Chip Cookies, Banana Bread is about the most American thing you can bake. American kids grow up eating Banana Bread and it makes me really nostalgic just thinking about it.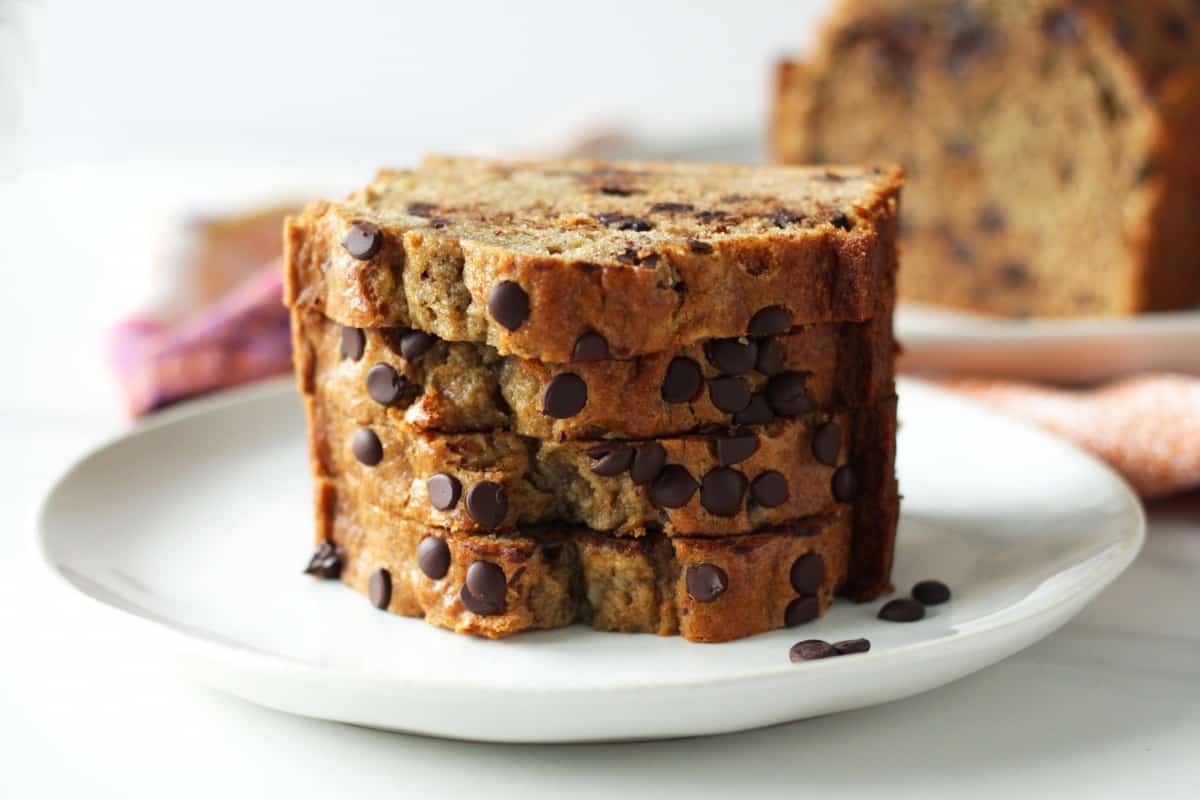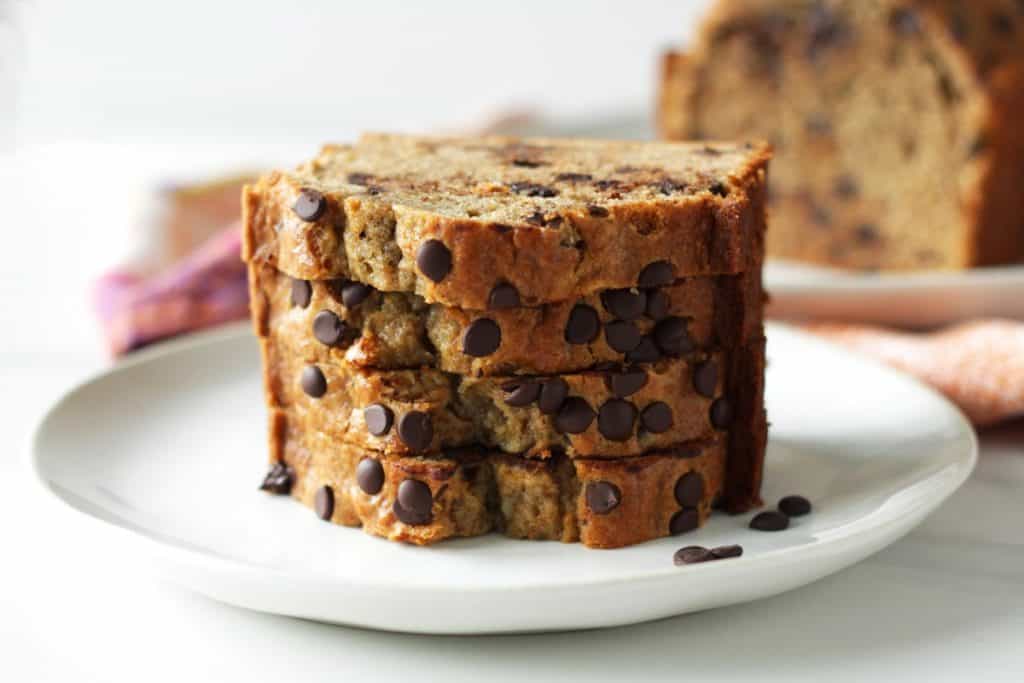 Making Banana Bread is a great way to use up those bananas that have turned brown and gotten too soft to eat. You really need those super-ripe bananas to get the best Banana Bread.
Overripe bananas have an intense aroma and are sweeter because in the ripening process their starches are converted into sugar.
If you want to bake Banana Bread but only have yellow bananas on hand, there is a simple trick to quickly turning yellow bananas into overripe bananas by baking them in the oven. I tried it out and you can read my post on ripening bananas in the oven.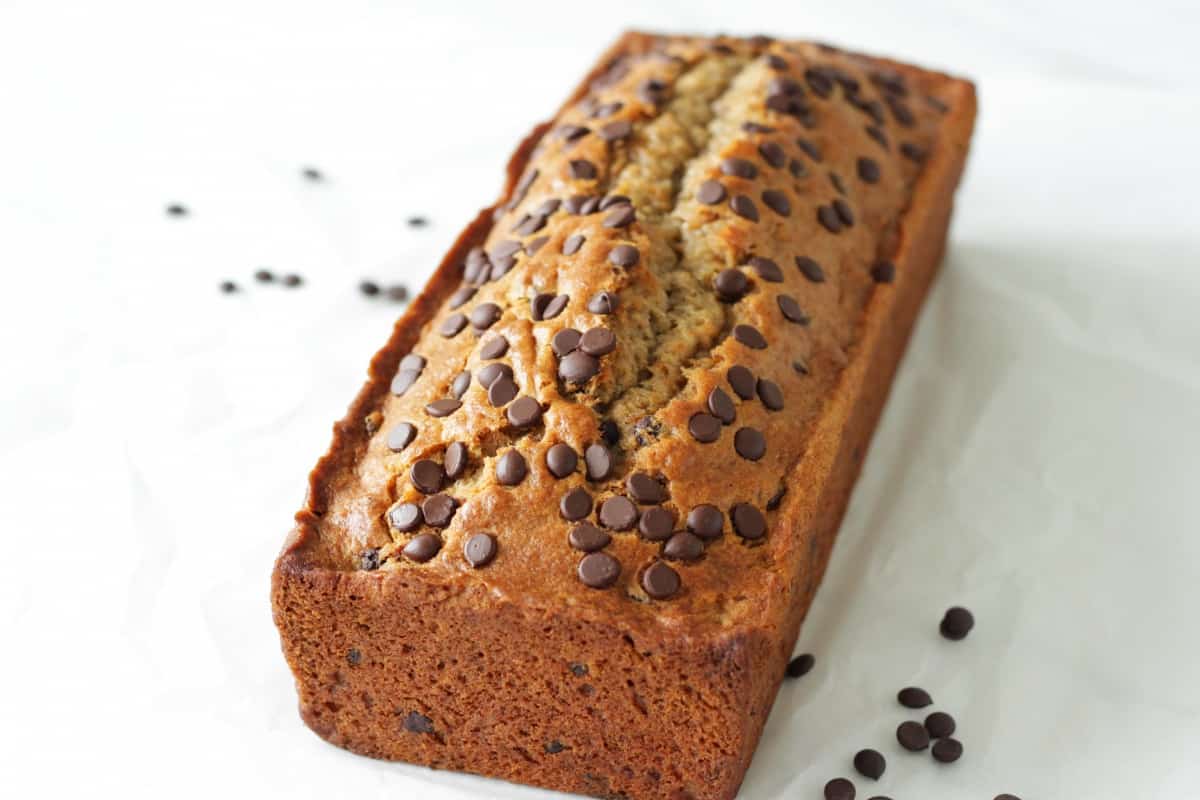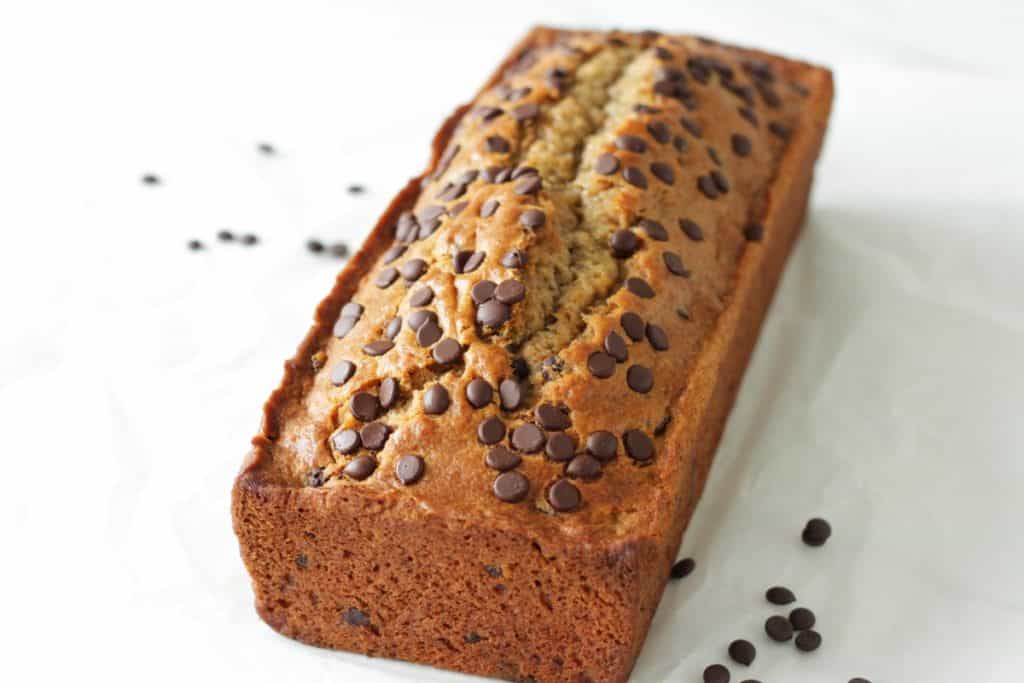 The bananas give Banana Bread its soft, moist texture and distinct taste. I make my Banana Bread with oil and buttermilk to make it extra-soft and moist.
Banana Bread should be a little bit healthy, in my opinion, and I always make my Banana Bread with whole grain flour. You can use whole-grain spelt or whole wheat flour and your Banana Bread won't be dry thanks to the bananas, buttermilk and oil in the recipe. I have found that using half white flour and half whole-grain flour makes for the best texture.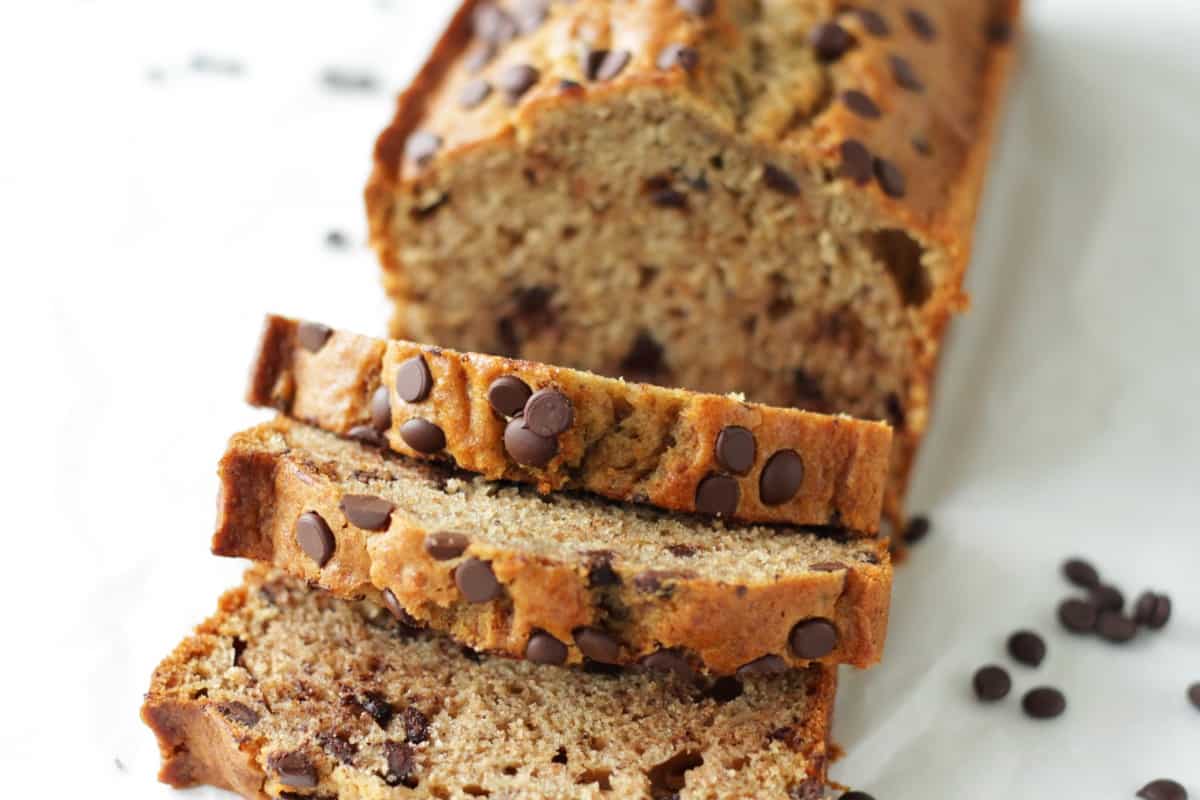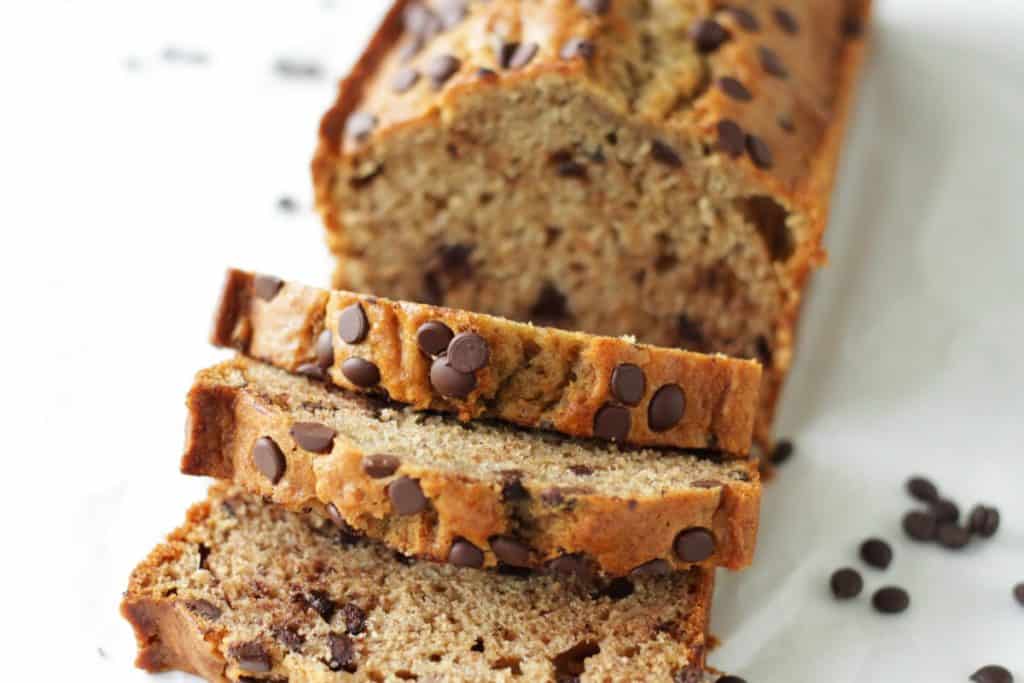 The very best thing about Banana Bread is the shiny upper crust that goes soft and gooey the next day.
Have fun baking this all-American Chocolate Chip Banana Bread!
Chocolate Chip Banana Bread
Ingredients
4

medium-large overripe bananas

mashed or pureed to make 1 ½ cups (360 ml or 340 g) mashed banana

1

cup

(140 g) all-purpose flour

1

cup

(140 g) whole-grain wheat or spelt flour

1

teaspoon

baking soda

1

teaspoon

baking powder

½

teaspoon

salt

½

cup

(120 ml) vegetable oil

1

cup

(200 g) granulated sugar

2

eggs

3

tablespoons

buttermilk, milk, plain yogurt or sour cream

1

teaspoon

vanilla extract

¾

cup

(100 g) mini-chocolate chips

Optional: ½ cup (55 g) chopped walnuts
Instructions
Butter one large (9x5 and 3 inches high or 30x13 and 9 cm high) loaf pan. Preheat oven to 350°F (175°C).

In a medium-sized bowl, whisk or sift together the flours, baking soda, baking powder and salt. In a large mixing bowl, beat oil and sugar. Beat in the eggs. Beat in the banana. Add the flour mixture, buttermilk and vanilla and mix just until combined. Stir in ¾ of the chocolate chips, and nuts if desired.

Spread batter in prepared pan and sprinkle with remaining chocolate chips. Bake for about 50 minutes, until a toothpick inserted in the center of the bread comes out clean.

Cool in pan on wire rack for 10 minutes. Remove from pan and cool completely. Tip: to avoid smearing the chocolate chips on the top, lay the pan on its side and use a spatula pull the banana bread out of the pan. Place Banana Bread right side up on cooling rack.

Store tightly wrapped or in an airtight container for up to three days. Banana Bread can also be frozen for up to two months. Freezing in individually-wrapped slices is very practical.
Nutrition