Soft & Chewy Ginger Molasses Cookies are something I've been wanting to make for years. I got inspired again when we were visiting family in Minnesota this summer and we got some ginger molasses cookies from the bakery of a local grocery store. They were seriously good. I mean I'm picky about baked goods and I don't like crunchy cookies or ones that are just sweet. But these were so soft, chewy and deeply caramelized and perfectly spiced that we kept going back and buying more and never got tired of eating them. I brought some molasses back to Austria with me and started baking.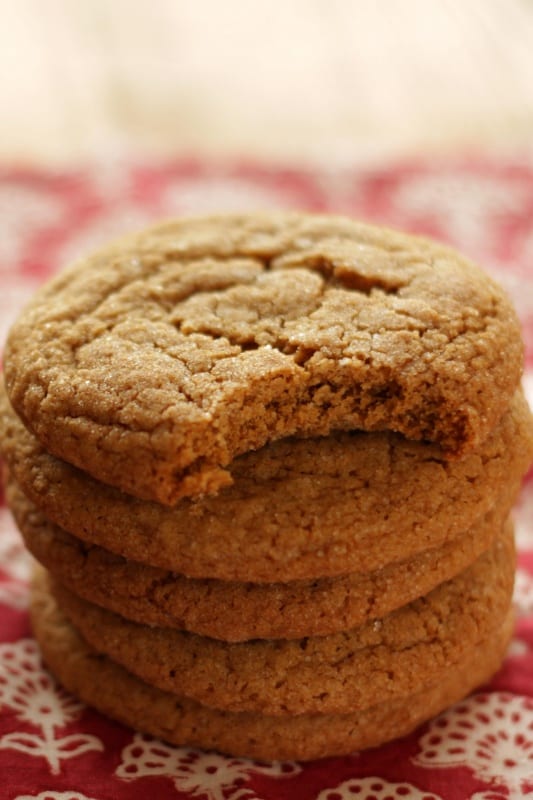 Molasses is the key ingredient in these cookies. Molasses is a byproduct of sugar refining and  is a sweet, dark brown, very thick syrup. Molasses is what makes brown sugar brown and gives it those delicious caramel notes. It gives these cookies a rich, earthy flavor and makes them wonderfully chewy. Molasses is available at health food stores in Austria as well as online. I saw that you can even order the American brand Grandma's Molasses online for delivery in Austria. (Please note: this is NOT an affiliated link and I do not earn any money through Amazon.)
I think my variation of Soft & Chewy Ginger Molasses Cookies is even better than the ones we enjoyed in the US because these are homemade. The combination of molasses, brown sugar and spices is spot on. I've made these several times and the family is still loving them. With their warm spices, they are a holiday favorite but are absolutely delicious any time of the year.
Soft & Chewy Ginger Molasses Cookies are very quick and easy to make and they also stay soft and chewy for weeks!
Soft & Chewy Ginger Molasses Cookies
Ingredients
2 ½

cups

(350 g) all-purpose flour

2

teaspoons

baking soda

1

teaspoon

ground cinnamon

1

teaspoon

ground ginger

¼

teaspoon

ground cloves

¼

teaspoon

grated nutmeg

½

teaspoon

salt

1

cup

(225 g) butter, room temperature

1

cup

(200 g) brown sugar

1

egg

room temperature

¼

cup

(60 ml) dark molasses

1

teaspoon

vanilla extract
For rolling:
¼

cup

granulated white sugar
Instructions
Preheat oven to 350°F (170°C). Line baking trays with parchment paper.

In a medium bowl, stir together the flour, baking soda, spices and salt and set aside. In a large mixing bowl, beat butter, brown sugar, egg, molasses and vanilla with an electric mixer on medium speed until combined. Gradually add the flour mixture and beat on low speed until combined.*

Shape tablespoons of cookie dough into golf ball sized balls, roll dough balls in the granulated sugar and place two inches apart on prepared baking trays. Bake cookies for 10-12 minutes or until puffed and the outside edges are browned and firm to the touch. Allow cookies to set on the baking tray for five minutes then cool completely on wire racks.