Homemade, fudgy dark chocolate brownies get taken to the next level with swirls of tangy cheesecake, fruity raspberry jam and pops of baked in raspberries.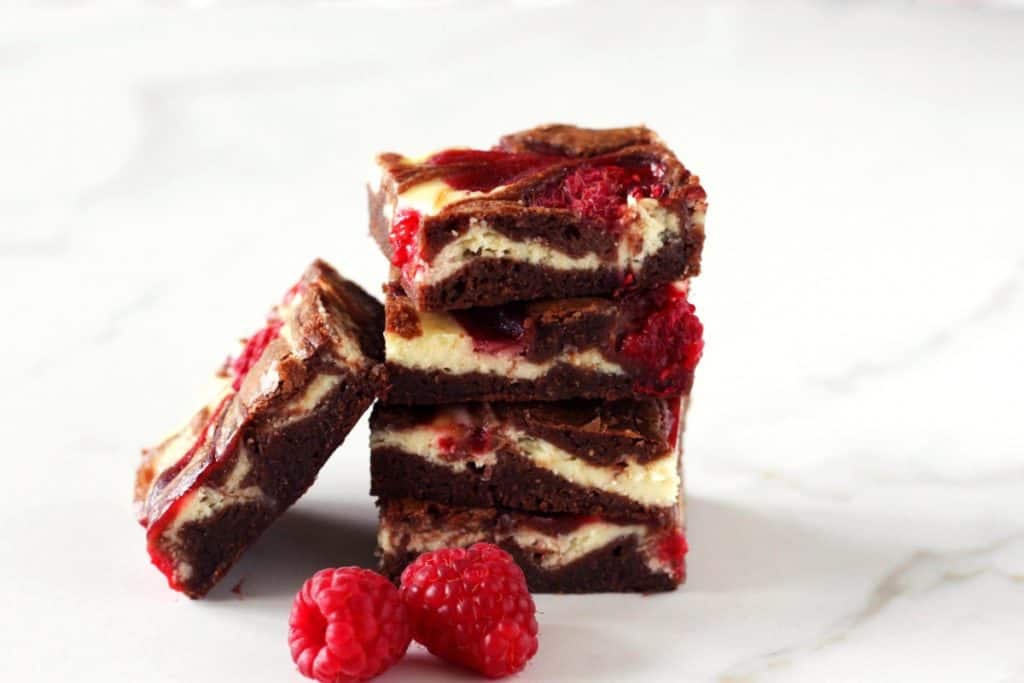 I've been tweaking my favorite fudgy brownie recipe with every brownie variation I make and by now my brownies are pretty serious stuff. I always make them with real dark chocolate. The dark chocolate adds depth and richness to the chocolate flavor that you can't get from cocoa powder.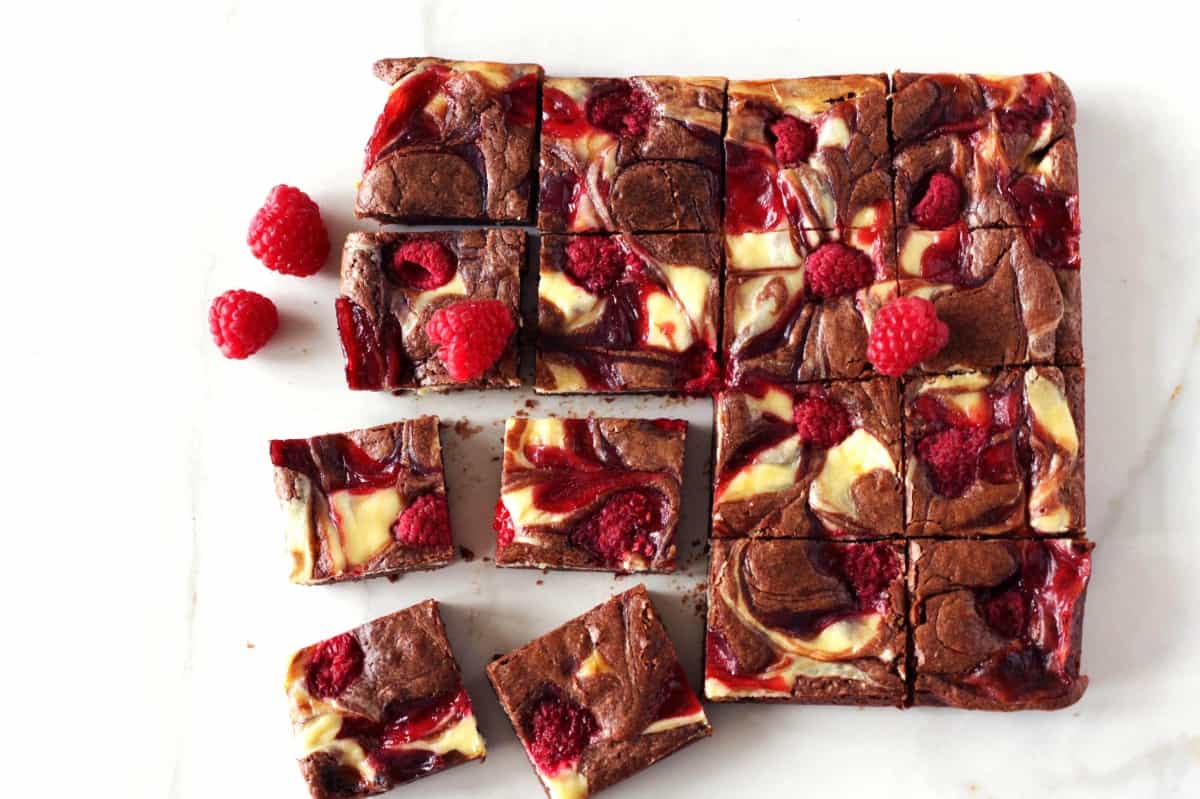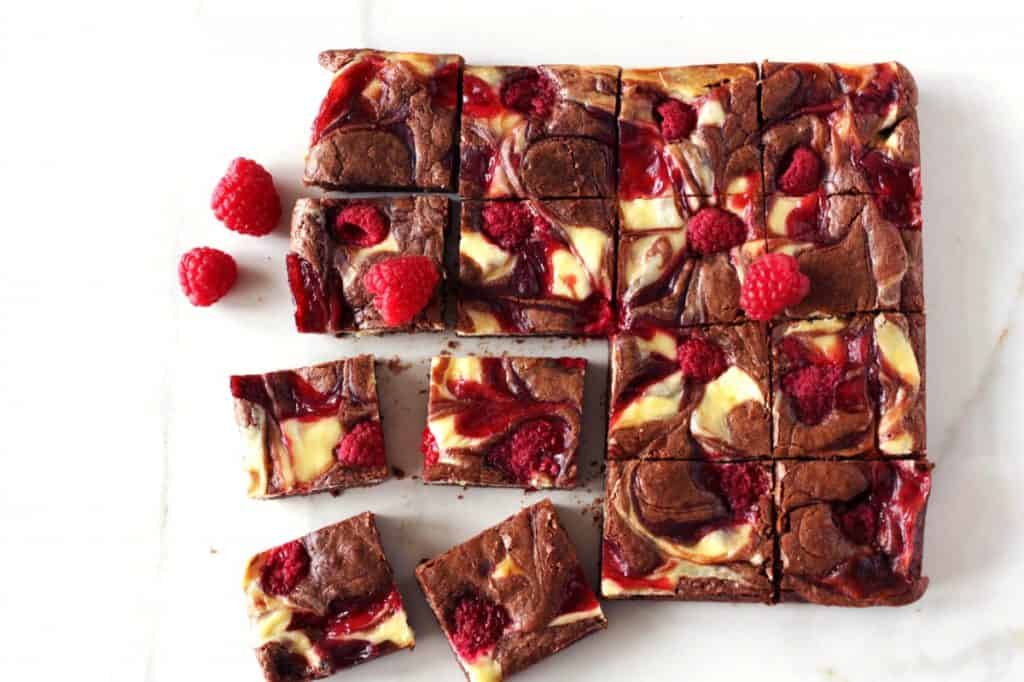 For the raspberry swirl, I like to use seedless raspberry jam just because I feel it looks prettier and some people don't like the seeds but you can use either seedless or regular raspberry jam.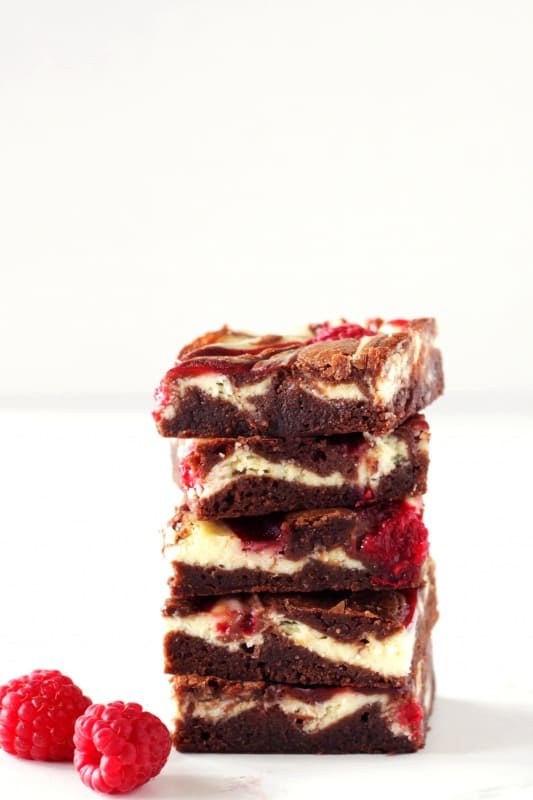 I like to add fresh raspberries to the brownies too, just poking them into the swirled brownie batter right before baking. I've tried this with frozen raspberries but I didn't love the flavor and texture of them in the finished brownies, kind of blah and wet. If you can't get fresh raspberries, you can leave them off altogether because the raspberry jam itself has plenty of flavor.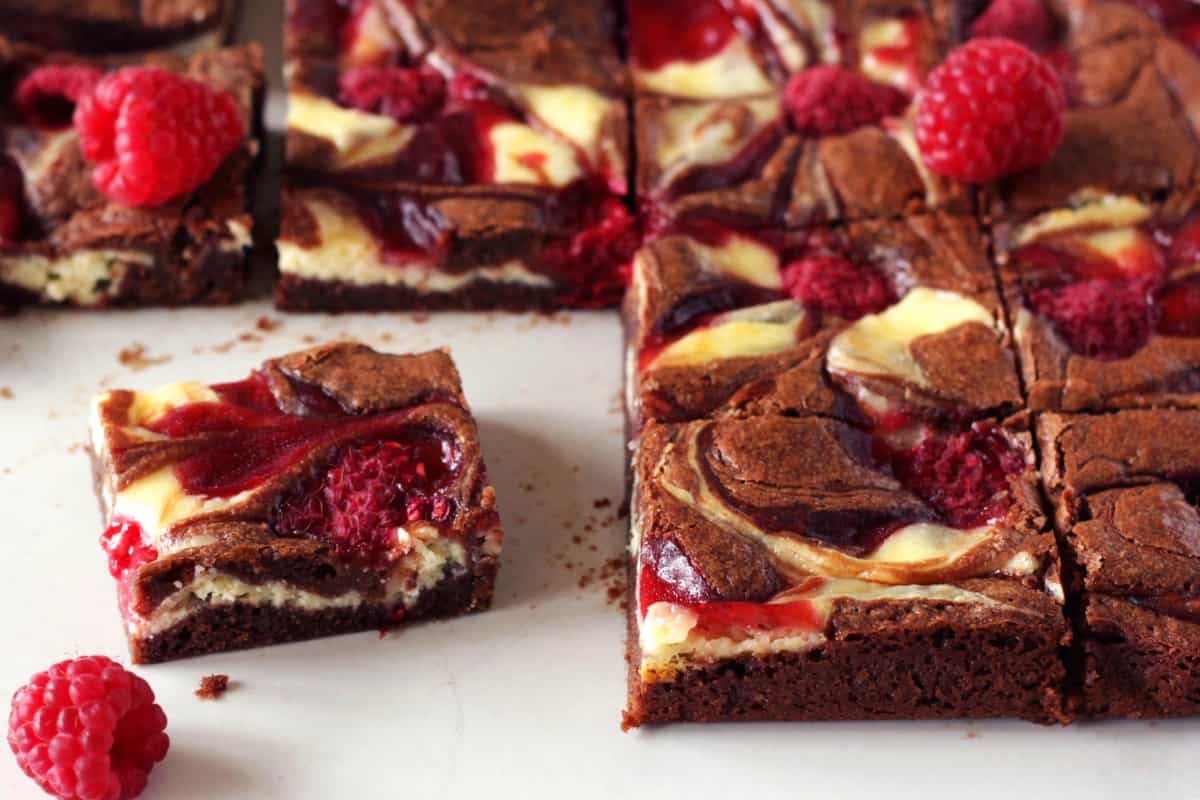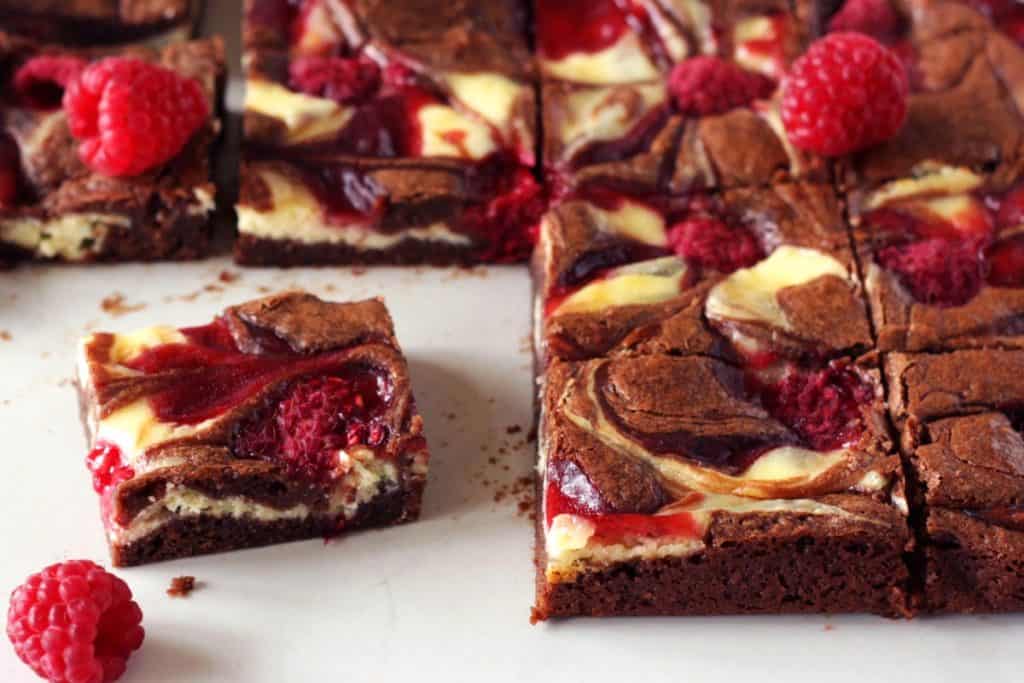 These Raspberry Cheesecake Brownies will wow your taste buds. They are decadent and delightful. They're perfect for summer barbeques – just make sure to grab one before they are all gone!
Raspberry Cheesecake Brownies
Ingredients
Brownies
3

ounces

(85 g) dark chocolate (80-90% cocoa)

½

cup

(112 g) butter

1

cup

(200 g) granulated sugar

2

eggs

beaten

1

teaspoon

vanilla extract

½

cup

(70 g) all-purpose flour
Cheesecake
7

ounces

(200 g) cream cheese*

¼

cup

(50 g) granulated sugar

1

teaspoon

vanilla extract

1

egg yolk
Raspberry Swirl
6

tablespoons

seedless raspberry jam

2

ounces

(60 g) fresh raspberries
Instructions
For the brownie batter:
Melt chocolate and butter in a double boiler over hot, but not boiling, water, stirring often. Alternatively, melt chocolate and butter in a microwave-safe bowl in the microwave at 600 watts in 30 second intervals, stirring in between, until chocolate and butter are melted and smooth. Cool until barely warm.

While the chocolate mixture is cooling, preheat oven to 350°F (175°C) and butter a 9-inch square (23 cm) baking pan.

Prepare cheesecake mixture: beat cheesecake ingredients until smooth and set aside.

Add sugar, eggs and vanilla to chocolate mixture and beat lightly with a rubber spatula until combined. Fold in flour.
To assemble:
Spread ¾ of brownie batter in prepared pan. Top with the cheesecake mixture and spread it to cover the entire surface of the brownie batter. Drop spoonfuls of remaining brownie batter and raspberry jam over the cheesecake layer and swirl the batters together with a butter knife, going back and forth across the pan. Don't swirl too much or you'll lose the marbled effect. Press fresh raspberries into the batter.

Bake brownies for 30 minutes. Remove from oven and cool completely in the pan on a wire rack. For best results, chill brownies for at least 2 hours before cutting into squares.

Store brownies tightly covered in the refrigerator for up to 4 days.
Notes
*In Europe, cream cheese is only available as a spread so this is what I use. If you are using American cream cheese in blocks, your cheesecake mixture will be slightly thicker.
Nutrition