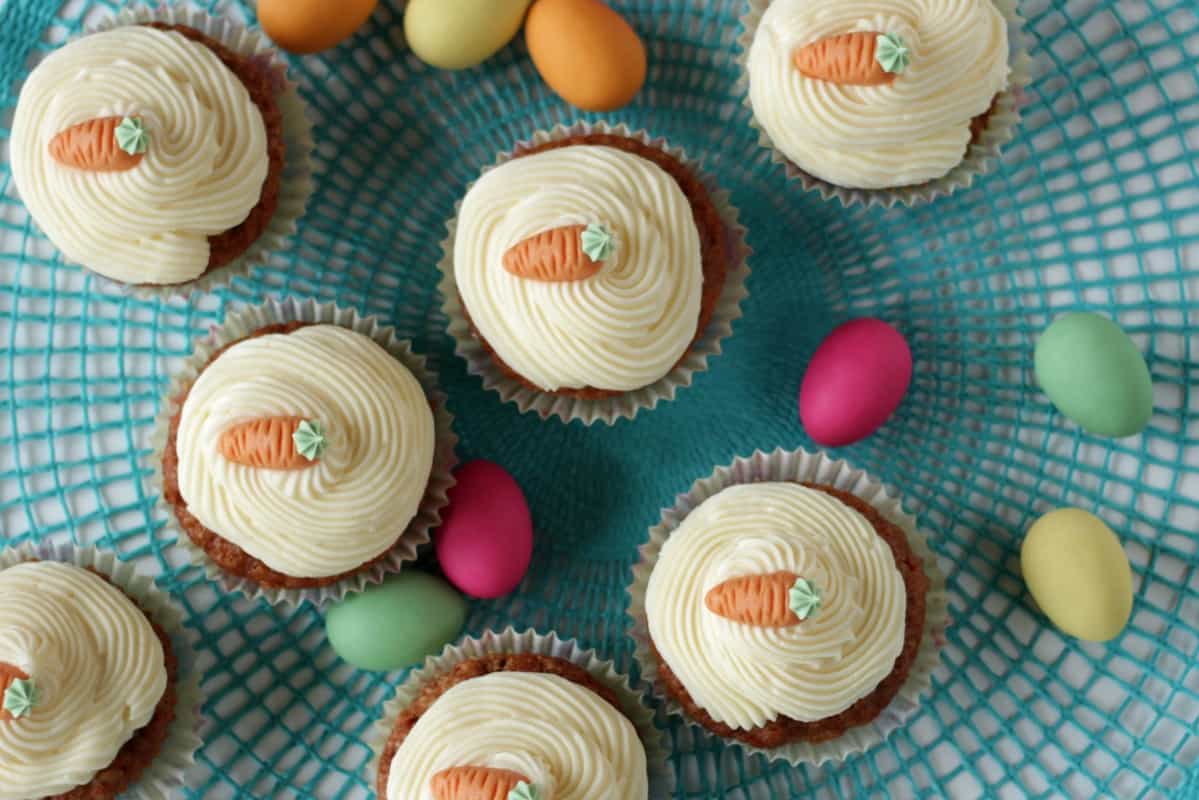 I'm proud to present new versions of two recipes that are already on my blog.
FIRST, Carrot Cake. I've always been very happy with the Carrot Cake recipe that is here. The cake is moist, dense and perfectly spiced. Just what a Carrot Cake should be, in my opinion.
BUT I wasn't as happy with the cupcakes I made with the same batter. Because cupcakes should be light and fluffy and the cake should almost dissolve in your mouth. Dense cupcakes are a no-go.
SO I altered the recipe a bit. I replaced the butter with oil, used only white flour and I added fewer carrots. What's more, I added raisins and chopped walnuts – the raisins and nuts are optional. I know a lot of people don't like them but I love the contrast of the spiced carrot cake with the crunchy nuts and plump-sweet raisins.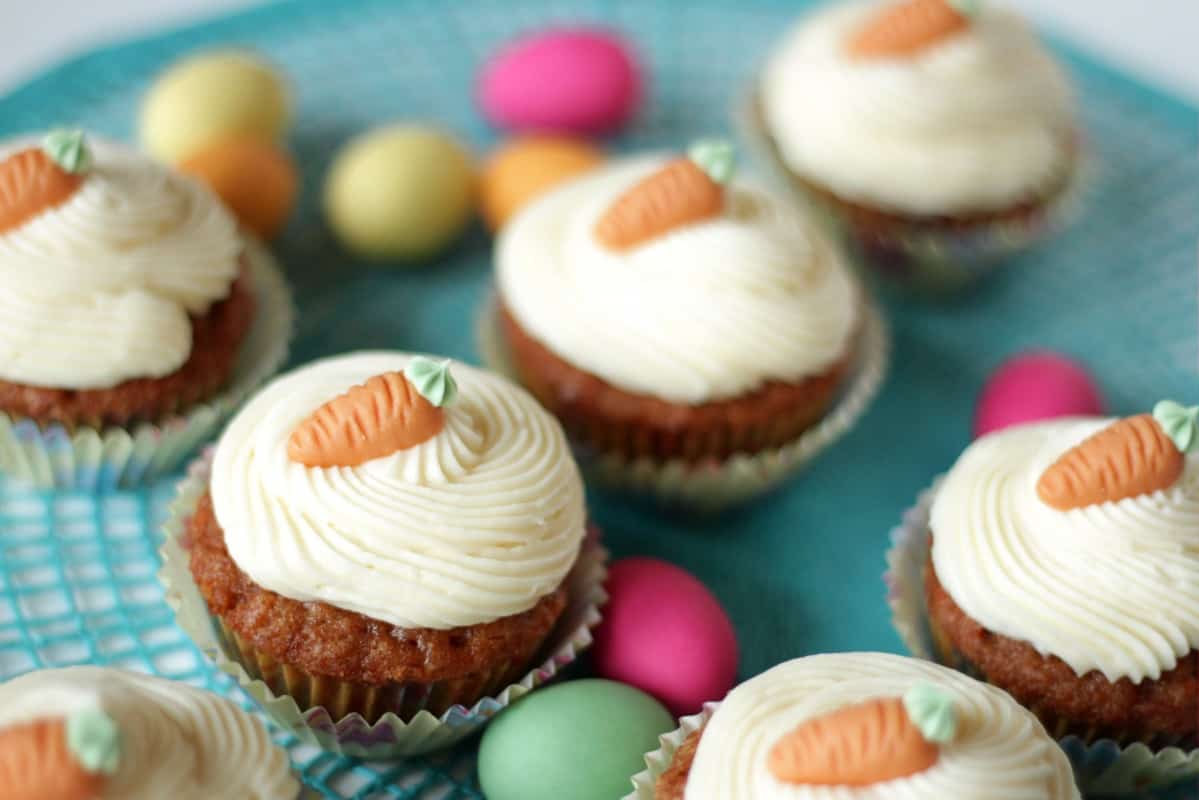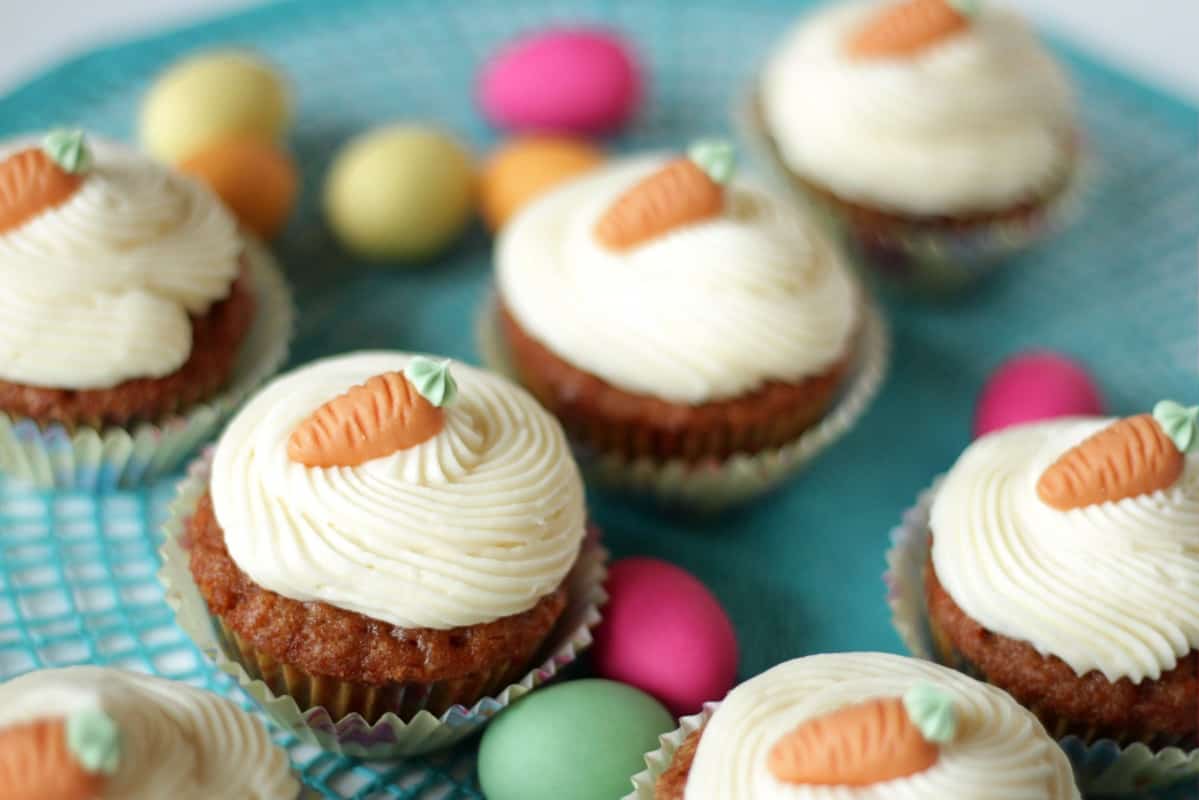 The result: the perfect Carrot Cake Cupcakes!!!!! Fluffy and not too sweet. With or without nuts and raisins, absolutely delicious!
And SECOND, after many, many years and countless batches of runny, drippy frosting that was only suitable for the garbage can, I have FINALLY found a recipe for Cream Cheese Frosting that turns out EVERY TIME.
It's actually not so much the recipe itself as the METHOD for making the frosting using European cream cheese, which contains more liquid than the American cream cheese that is available in blocks in the U.S.
The key is that the powdered sugar must bind with the butter first and THEN the cream cheese can be safely mixed in without the sugar drawing the liquid out of the cream cheese. Applied physics!
I am so excited about this Cream Cheese Frosting!!! The taste and texture are just right and if you use a stand mixer it's really easy to make. Try it! Cream Cheese Frosting is ideal for Carrot Cake as well as banana cake, Red Velvet Cupcakes and chocolate cupcakes.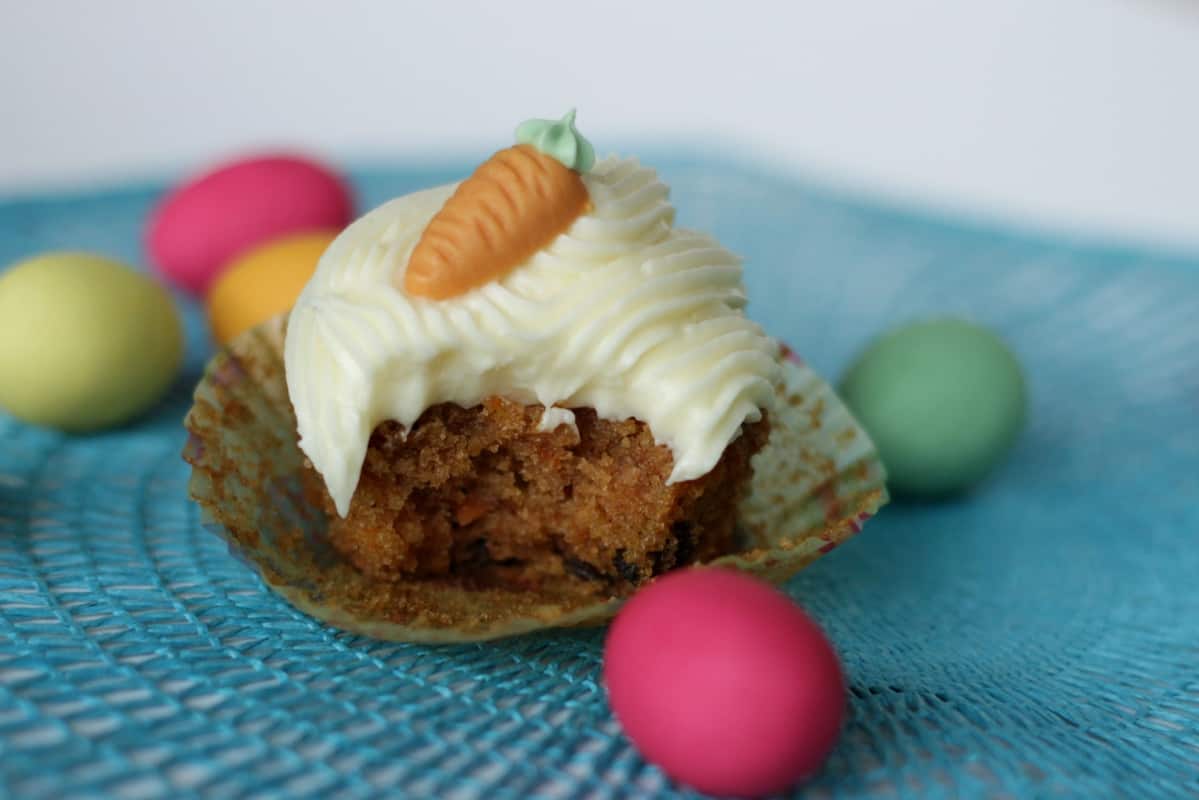 I made these Carrot Cake Cupcakes with Cream Cheese Frosting for Easter but they are great any time of the year!
***UPDATE 4/2018: I've been trying to reduce the amount of sugar and oil in this recipe. For a friend's birthday recently, I made a 3-layer cake using this recipe with less oil and sugar and everyone raved about it. I've noted the changes in the recipe below. To make the layer cake, I divided the batter evenly into three greased 9-inch round cake pans (lined with parchment paper on the bottom) and baked them for about 35 minutes.
Carrot Cake Cupcakes with Cream Cheese Frosting
Ingredients
Carrot Cake Cupcakes
2

cups

(280 g) all-purpose flour

1

teaspoon

baking soda

1

teaspoon

baking powder

¾

teaspoon

salt

1 ½

teaspoons

ground cinnamon

¼

teaspoon

ground cloves

¼

teaspoon

grated nutmeg

1 ¼

cups

(300 ml) oil*

1

cup

(210 g) brown sugar*

¾

cup

(150 g) granulated sugar*

4

eggs

14

ounces

(400 g) carrots, pared and finely grated

¾

cup

(80 g) chopped walnuts

optional

¾

cup

(110 g) raisins

optional
Cream Cheese Frosting
1

cup

plus 2 tablespoons (250 g) butter

room temperature

5 ½

cups

(600 g) powdered sugar

1

teaspoon

vanilla extract

10 ½

ounces

(300 g) cream cheese spread

full fat

Marzipan carrots

for decorating
Instructions
Peel, trim and finely grate fresh carrots. I use my food processor to finely chop the carrots. You should have about 3 cups of finely chopped or shredded carrots.

Preheat oven to 350°F (170°C). Line a regular muffin pan with paper cupcake liners.

In a medium-size bowl, stir together flours, baking soda, baking powder, salt, cinnamon, cloves and nutmeg and set aside.

Beat together oil, brown sugar and granulated sugar. Add eggs and beat until well-incorporated. With the mixer on low speed, beat in flour mixture just until blended. Stir in carrots (and nuts and raisins if you wish).

Fill cupcake liners ¾ with batter. Bake at 350°F (170°C) for 20-25 minutes, until cupcakes are lightly browned and a wooden toothpick inserted in center of a cupcake comes out clean. Cool in pans on wire rack for 10 minutes. Remove from cupcakes from the pans and allow to cool completely on a wire rack.

For the Cream Cheese Frosting, beat the butter in the bowl of a stand mixer on high speed until light and fluffy. Add the powdered sugar, one third at a time, and beat on high speed for several minutes until mixture is light and creamy. Scrape the bowl and repeat the process until all of the powdered sugar is well incorporated. Beat in vanilla. You should now have a very stiff buttercream. Add the cream cheese and beat on high for a couple of seconds to incorporate. Scrape bowl and beat on high again for a couple of seconds.

The frosting can now be spread on the cupcakes or chilled until it is firm enough to pipe. This amount is enough to generously frost 24-30 cupcakes.

Chill frosted cupcakes.
Notes
*Oil may be reduced to 1 cup plus one tablespoon (260 ml), brown sugar to one cup minus one tablespoon (200 g) and granulated sugar to ⅔ cup (130 g) with no detectable change in taste or texture.
Cupcake recipe adapted from The Family Circle Cookbook.
Cream Cheese Frosting recipe adapted from Eat and Feast, Sugar-Sweet and Herznah.