Sour cream makes these muffins perfectly moist and fluffy. Substituting Greek yogurt for the sour cream works great and makes the muffins slightly healthier.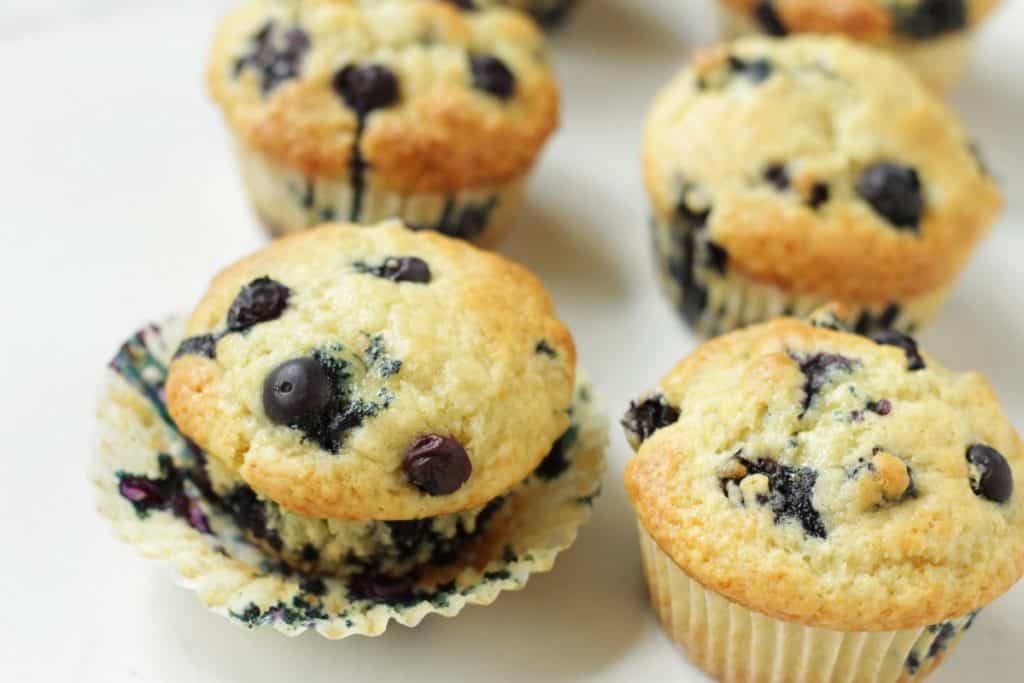 Using fresh blueberries in the summer is best but you can make these using frozen blueberries and they are still delicious. Feel free to add some lemon zest to the batter to brighten the flavor if you wish. The freshly grated zest of one lemon would be perfect.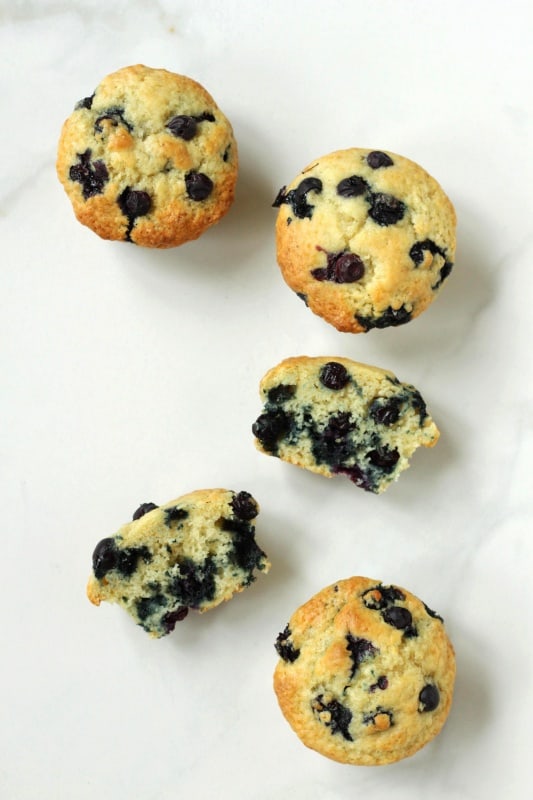 Whenever I make these, I imagine freezing half of them and pulling Blueberry-Sour Cream Muffins out of the freezer one morning to add to my kiddos' school snacks (wouldn't that be a treat!) but they never last long enough to make it to the freezer. You can learn from my mistakes and make a double recipe for your family. 🙂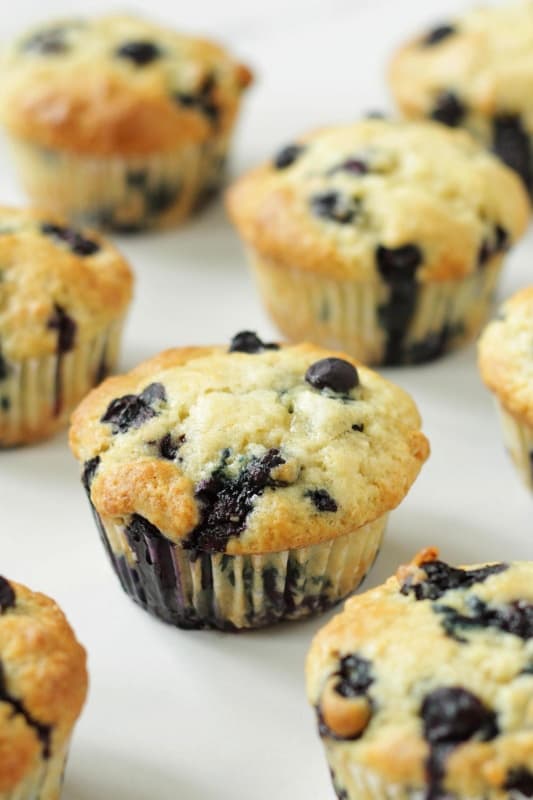 **Recipe updated 7/2016. We make these blueberry muffins often and we've found that they tend to stick to the pans. I highly recommend using paper cupcake liners when you make these to save yourself the disappointment of stuck muffins.
I've also learned that when baking muffins, if you preheat the oven to a high temperature, 400°F (200°C) before putting the muffins in and then reducing the heat after 5 minutes of baking, the muffins rise higher and the edges also don't stick to the muffin pan. If you prefer to bake them the traditional way, preheat oven to 375°F (180°C) and bake the muffins for 18-20 minutes until a toothpick comes out clean.
Blueberry Sour Cream Muffins
Ingredients
1 ⅔

cups

(240 g) all-purpose flour

¾

cup

(150 g) granulated sugar

1

teaspoon

baking powder

1

teaspoon

baking soda

½

teaspoon

salt

1

large egg

at room temperature, lightly beaten

8

oz.

(250 g) sour cream

at room temperature

¼

cup

(60 g) butter

melted

1 ½

teaspoons

vanilla extract

2

cups

(250 g) blueberries

plus some for the top if you wish
Instructions
Preheat oven to 400°F (200°C). Line muffin pan with 12 cupcake liners.

In a large bowl, stir together flour, sugar, baking powder, baking soda and salt. In a medium bowl combine egg, sour cream, butter and vanilla extract. Pour the sour cream mixture into the flour mixture and gently stir together just until blended. Batter will be thick. Fold in blueberries.

Divide batter evenly among the 12 muffin cups. Muffin wells will be nearly full. Press some additional blueberries into the tops of the muffins if you wish.

Bake for 5 minutes at 400°F (200°C) then reduce heat without opening the oven to 350°F (165°C) and bake for an additional 12-14 minutes, until a toothpick comes out clean. Cool in the pan on a wire rack for 5 minutes then remove muffins from pan and serve warm or cool completely on wire rack. Store in an airtight container at room temperature for one day or freeze for up to two months.
Notes
Recipe adapted from More Muffins by Barbara Albright and Leslie Weiner.
Nutrition