Homemade soft and moist Banana Nut Muffins are quick and easy to make. These muffins are really forgiving and you can adapt the recipe to make them healthier with less fat, less sugar or with whole-grain flour.
To give the muffins some caramel undertones, I make my Banana Nut Muffins with butter and brown sugar. The flavors go really well with the bananas and nuts!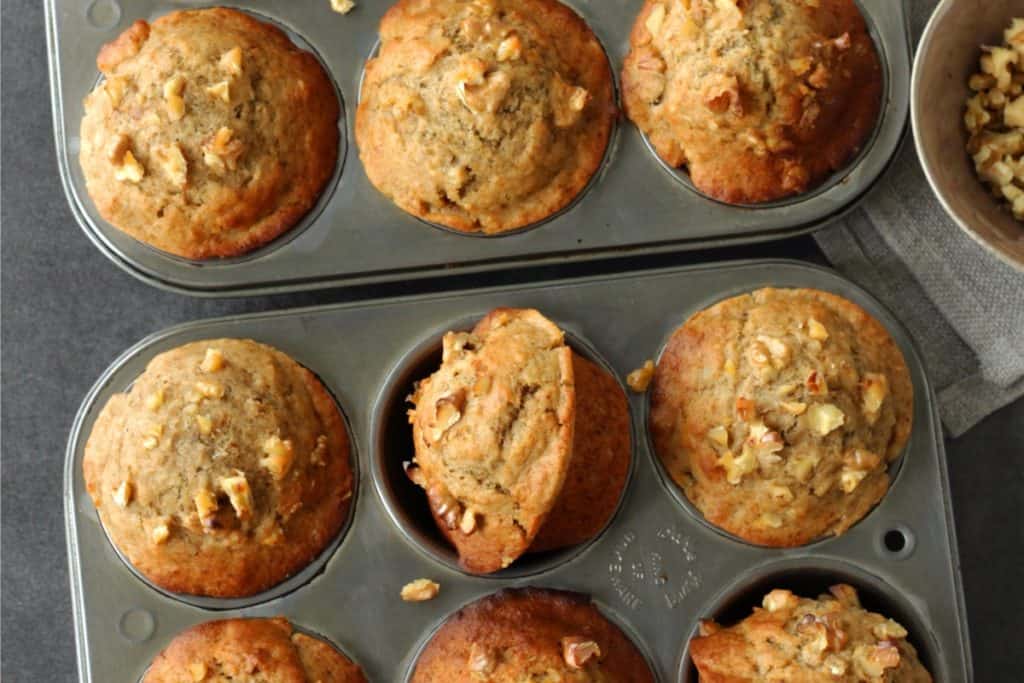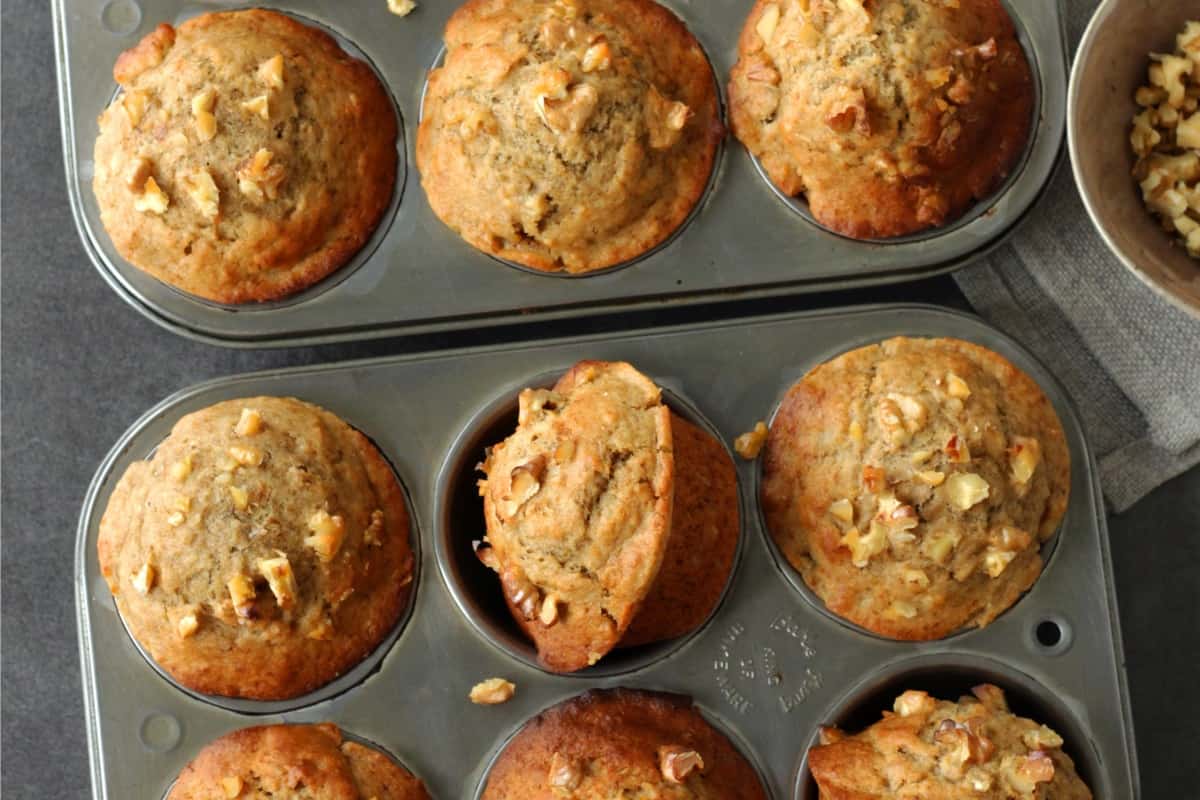 Which kind of bananas are used for baking banana muffins?
You need soft, overripe bananas with peels that have gone almost entirely brown. Making Banana Muffins is a great way to use up those bananas that have gotten too soft to eat.
Overripe bananas have an intense aroma and are sweeter because in the ripening process their starches are converted into sugar.
Whenever we have overripe bananas, I put them in the freezer (with the peel on) so I always have a stash of bananas perfect for baking.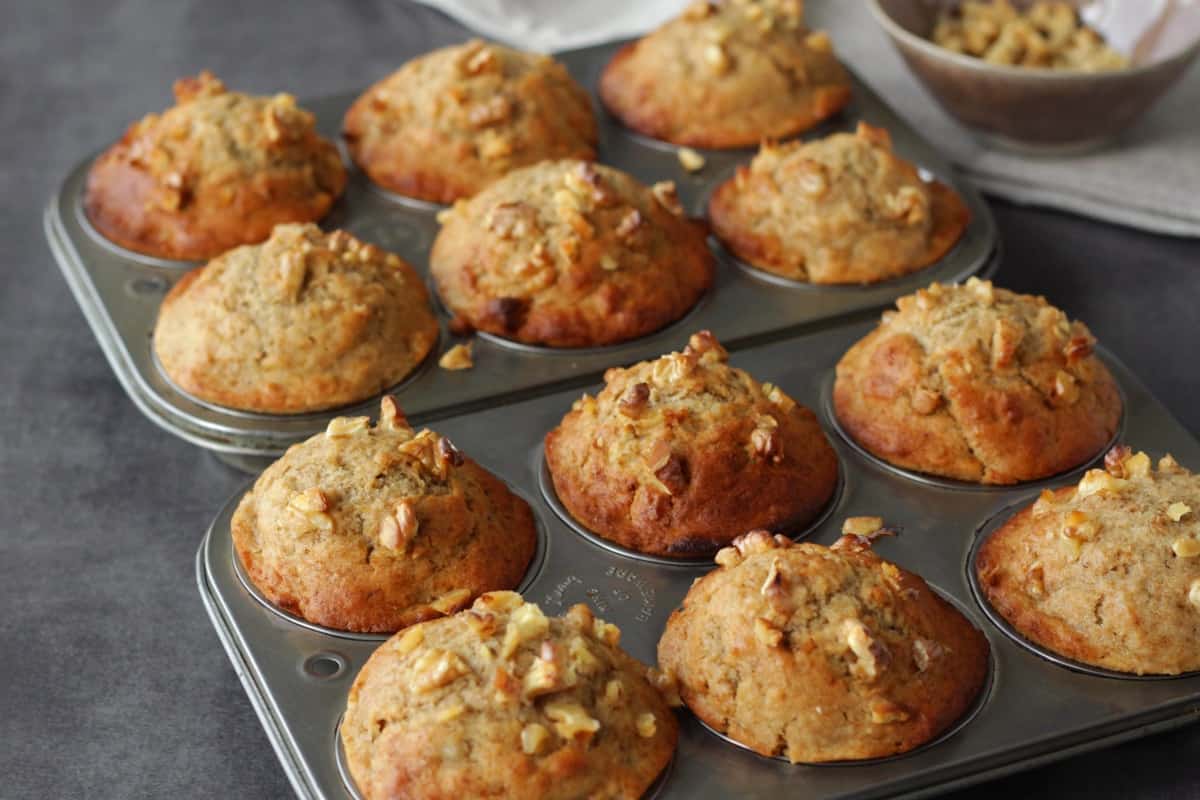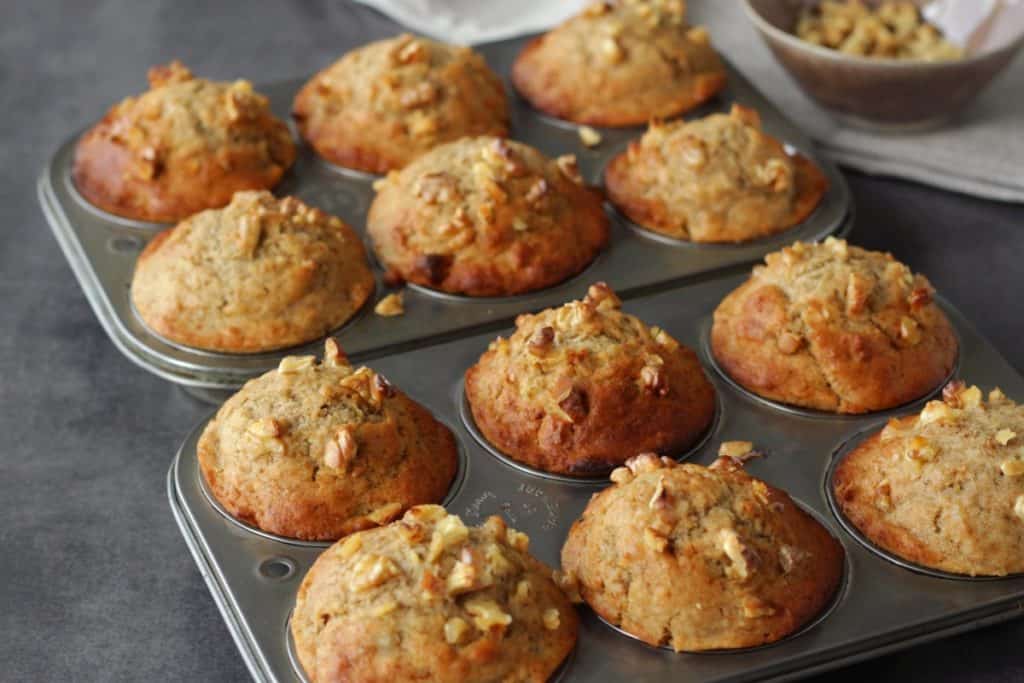 If you want to bake Banana Bread but only have yellow bananas on hand, there is a simple trick to quickly turning yellow bananas into overripe bananas by baking them in the oven. I tried it out and you can read my post on ripening bananas in the oven.
How can I adapt this recipe?
You can add a little bit more or less mashed banana than the recipe calls for without any problems. If you add more banana, you'll probably need to bake the muffins a tad longer.
I like to use buttermilk in the batter because the buttermilk reacts with the baking soda and results in soft & fluffy muffins. It's fine to use whatever milk you have on hand, or even yogurt or sour cream instead.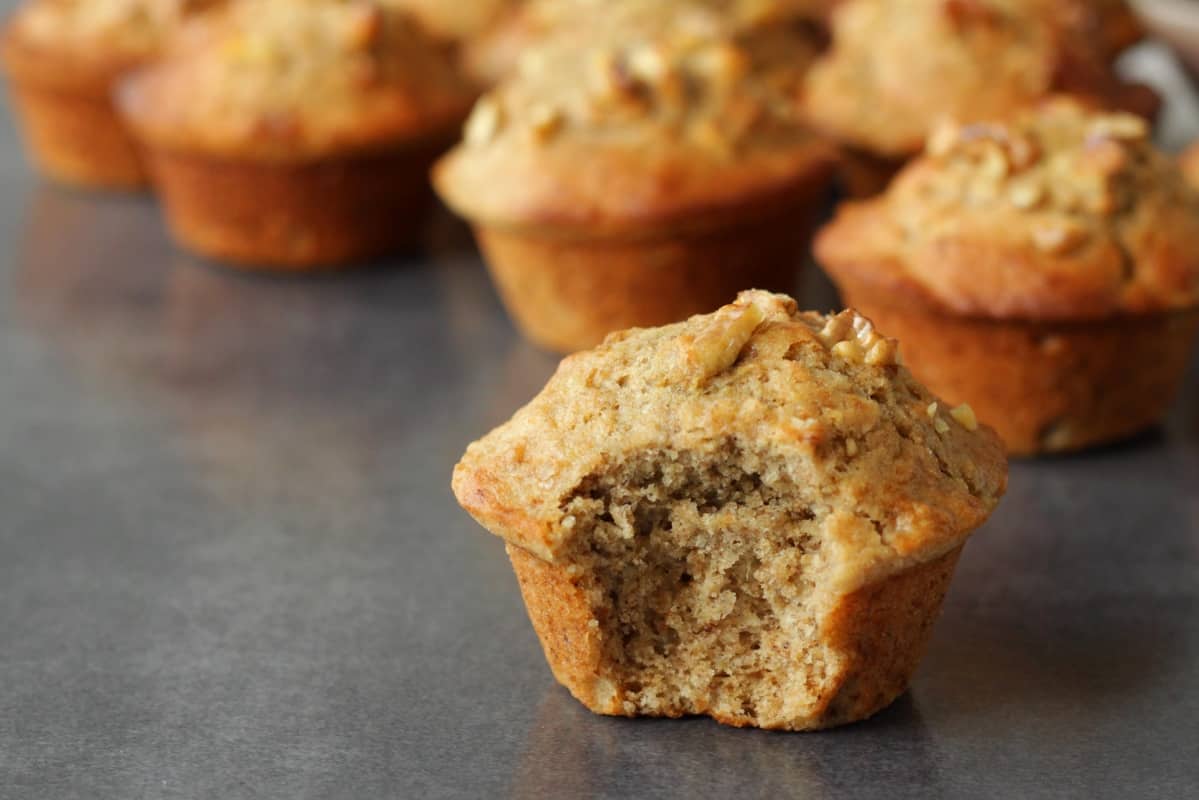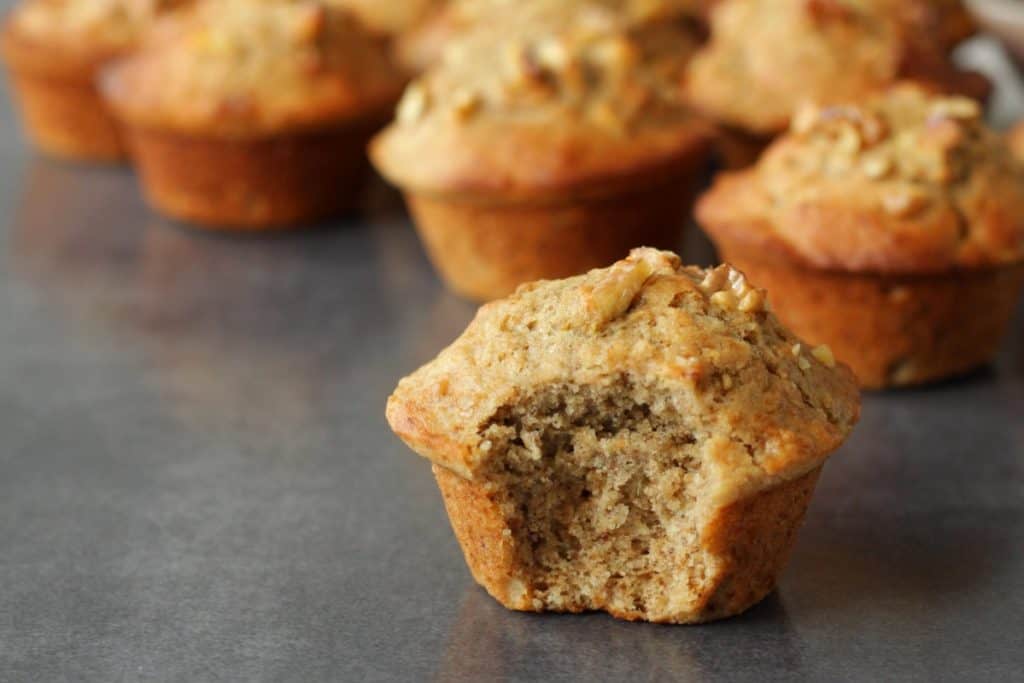 When baking muffins, I always use half white all-purpose flour and half whole-grain flour (whole-wheat or spelt). Your muffins will also taste great if you only use white flour. If you want to go with all whole-grain flour, you will need to add an additional 2-3 tablespoons of mashed banana or buttermilk to the batter as well.
While these muffins aren't too sweet, some people want to bake with less sugar. You can reduce the total sugar in the recipe by half if you wish.
I use butter as the fat in these muffins, as I said before, for more flavor. If you'd rather use oil, that totally works too, you just replace the butter with the same amount of oil. If you wish to make your Banana Muffins with less fat, you can halve the amount of butter and substitute it with the same amount of buttermilk.
This recipe calls for walnuts and I love the combination! You can easily leave the nuts out or make your muffins with mini-chocolate chips instead.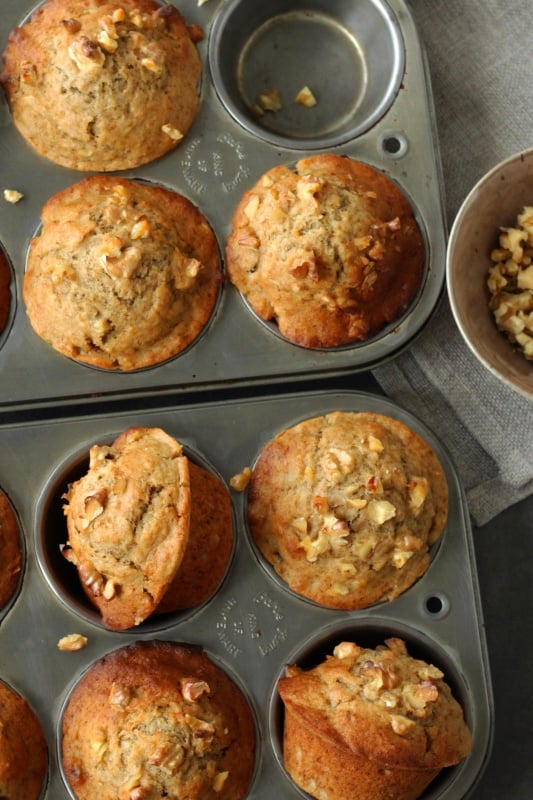 These muffins are baked at a high temperature. The hot oven causes the muffins to rise quickly and get nice and tall. When baking 12 muffins with this recipe, the tins will be full of batter but you don't need to worry about overflow during baking because they rise so nicely.
To make smaller muffins, fill the muffin cups ¾ full and the recipe will yield 15-18 muffins.The baking time will need to be reduced.
How long do muffins stay fresh? How should I store them?
Always store leftover muffins in an airtight container. They will stay fresh at room temperature for up to three days. Muffins will be softest and fluffiest on the day they're baked. To freshen up leftover muffins, you can gently reheat them for 5-10 seconds in the microwave and they'll be soft and fluffy again.
Banana Muffins freeze beautifully. Keep them in an airtight container in the freezer for up to two months. Muffins thaw quickly at room temperature. If you're in a rush, you can warm frozen muffins in the microwave for 10-20 seconds.
Enjoy baking your Banana Nut Muffins!
Banana Nut Muffins
Ingredients
½

cup

(120 g) butter

melted

½

cup

(100 g) brown sugar

½

cup

(100 g) granulated sugar

2

eggs

room temperature

3-4

medium-large overripe bananas,

mashed or pureed to make 1-1 ¼ cups (240-300 ml or 225-280 g) mashed banana

1

cup

(140 g) all-purpose flour

1

cup

(140 g) whole-wheat or spelt flour

2

teaspoons

baking powder

½

teaspoon

baking soda

½

teaspoon

salt

¼

cup

(60 ml) buttermilk,

milk, plain yogurt or sour cream

1

teaspoon

vanilla extract

1

cup

(100 g) chopped walnuts
Instructions
Preheat oven to 400°F (200°C). Grease a regular-sized muffin pan with butter or line with 12-15 cupcake liners.

In a large mixing bowl, beat butter and both sugars. Beat in the eggs, then beat in the banana. In a medium-sized bowl, whisk together the flours, baking powder, baking soda and salt and add it to the banana mixture, along with the buttermilk and vanilla and mix until combined. Stir in ¾ of the nuts.

Divide batter among the muffin cups and sprinkle with remaining nuts. Bake for about 15 minutes, until a toothpick inserted in the center of a muffin comes out clean.

Cool in the pan on a wire rack for 5 minutes. Remove from the pan and cool completely.

Store in an airtight container for up to three days. Banana Muffins can also be frozen for up to two months.
Nutrition