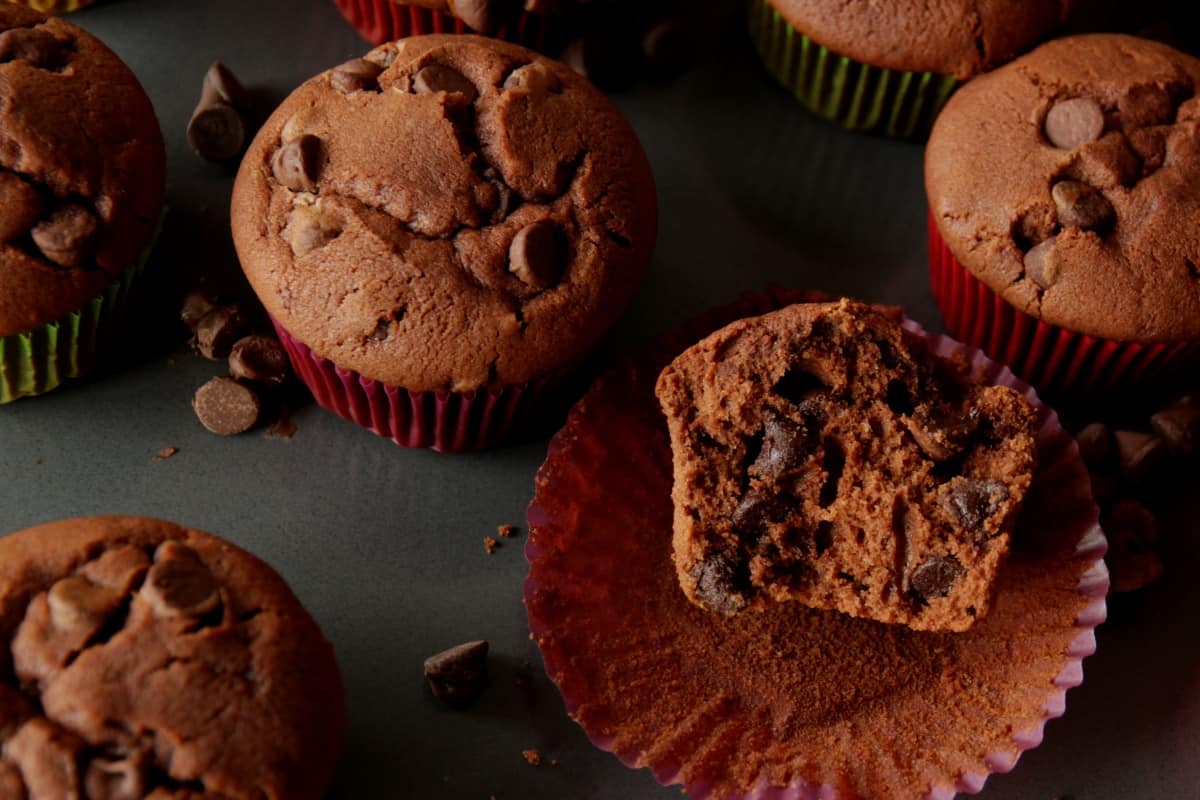 We're all familiar with the chocolate muffins they have at McD's, the bakery and in the glass cases at the supermarket. Especially if you have kids you've had to polish off what remained of the chocolate muffins you bought to save your child from instantaneous starvation. They're pretty good, right? My Double Chocolate Muffins are 10 times better and cost a fraction of what you pay at the bakery.
These Double Chocolate Muffins are the first item to sell out at school functions. And it's no wonder why: they're fluffy, moist and chocolatey (psst! We adults like them too!).
The Best Double Chocolate Muffins
Ingredients
1 ⅔

cup

(230 g) flour

2

teaspoons

baking powder

½

teaspoon

salt

½

cup

(112 g) soft butter

⅔

cup

(55 g) unsweetened cocoa powder

1

cup

(200 g) granulated sugar

2

eggs

at room temperature

⅓

cup

(75 g) sour cream

2

teaspoons

vanilla extract

¾

cup

(180 ml) milk

warmed for 30 sec. in the microwave

1 ½

cups

(9 oz. or 250 g) chocolate chips or chunks
Instructions
Preheat oven to 400°F (200°C). Line muffin pan with paper liners.

In a medium sized bowl, stir together flour, baking powder and salt and set aside. In a large mixing bowl, cream butter, cocoa powder and sugar until fluffy. Add the eggs one at a time and mix well between each addition. Mix in sour cream and vanilla. Mix in half of the milk. Then mix in half of the flour mixture. Mix in the rest of the milk then the rest of the flour mixture. Stir in chocolate chips (saving a small handful for the tops of the muffins).

Fill the muffin papers to the top with batter and sprinkle with the remaining chocolate chips. This recipe makes 14 muffins; fill the empty muffin recesses half full with water in order for the muffins to bake evenly.

Bake for 5 minutes at 400°F (200°C) then reduce oven temperature to 350°F (165°C) and bake for an additional 13-15 minutes until a toothpick inserted into the middle of one muffin comes out clean (if you hit a melted chocolate chip, test again). Cool in pan on a wire rack for 10 minutes then remove from pan and cool completely on wire racks. Tightly covered, muffins will stay fresh for two days. Muffins can be frozen for up to one month.
Save
Save
Save
Save
Save
Save
Save