If you read my post on Chocolate Chip Cookies, you know I'm kind of into cookies that bake up soft and this recipe for Soft & Chewy Oatmeal Cookies is no exception! Instead of using all butter in the recipe, I also use oil, which helps keep these cookies soft, moist and even just a tiny bit gooey. That's how I like 'em! Thanks to the oats – I use half old-fashioned and half quick-cooking – the cookies are also nice and chewy.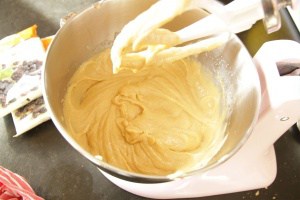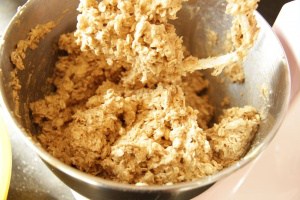 Using a small cookie scoop like the one pictured here is the fastest and easiest way to get the cookie dough balls onto the baking trays.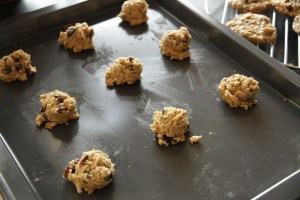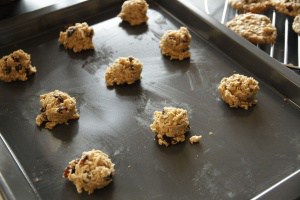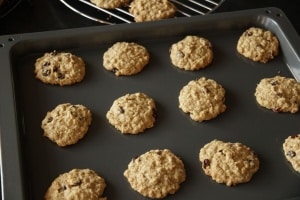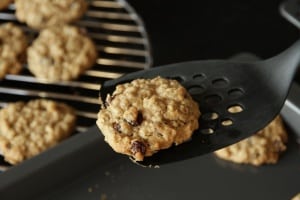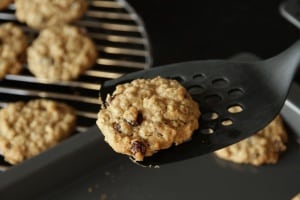 I like raisins. I'm a bit of a purist sometimes so I went with just raisins as an add-in. Depending on what you and your family and friends prefer, though, you could leave out the raisins and add chocolate chips instead. Really, any combination of nuts, chocolate chips or chocolate chunks and dried fruit would do. If you want something fancier, you could do a Cranberry and White Chocolate Chunk Oatmeal Cookie or a Cherry and Dark Chocolate Oatmeal Cookie. Both are delicious! You just want to be sure that your add-ins amount to about 3 cups (400 g) in total.
This recipe makes a large batch (80-90 cookies) but these cookies are perfect for keeping in the freezer! In fact, that's my favorite way to eat them: right out of the freezer, when they've just started to thaw, about 2-5 minutes after taking them out. Chewy gooey yummy! They thaw completely after just 10 minutes at room temperature. I also like to put a couple of Oatmeal Cookies in with my kids' school snacks. Whole wheat, oats and dried fruit make these healthy, right? 😉
Soft & Chewy Oatmeal Cookies
Ingredients
2

cups

(280 g) white flour

1 ½

cups

(210 g) whole wheat or whole spelt flour

2

teaspoons

ground cinnamon

1

teaspoon

salt

2

teaspoons

baking soda

1

cup

(225 g) butter

room temperature

1

cup

(240 ml) vegetable oil

1

cup

(200 g) granulated sugar

2

cups

(420 g) brown sugar

4

eggs

1

tablespoon

vanilla extract or 2 packets vanilla sugar

3

cups

(330 g) old-fashioned (rolled) oats

3

cups

(330 g) quick-cooking oats

3

cups

(400 g) raisins or other dried fruit, chocolate chips or chunks or chopped nuts in any combination*
Instructions
Heat oven to 350°F (175°C). In a medium bowl, whisk together white flour, whole wheat flour, cinnamon, salt and baking soda and set aside.

With an electric mixer, cream together butter, oil and granulated sugar. Mix in brown sugar. Add eggs and vanilla and mix well. Add flour mixture and beat until combined. Using a sturdy spoon, stir in both kinds of oats. Stir in raisins (and/or chocolate chips and nuts).

Drop tablespoons of cookie dough (about 1 inch or 2.5 cm in diameter) onto baking tray lined with parchment paper.

Bake for about 9-10 minutes, just until the edges are lightly golden. Cool on the tray for one minute then carefully transfer to a wire rack to cool completely. Store in a tightly-sealed container at room temperature for up to four days or in the freezer for up to two months.
Notes
* For example, 2 cups raisins and 1 cup chocolate chips or 1 ½ cups dried cranberries and 1 ½ cups white chocolate chunks or 1 ½ cups dried cherries and 1 ½ cups dark chocolate chunks.