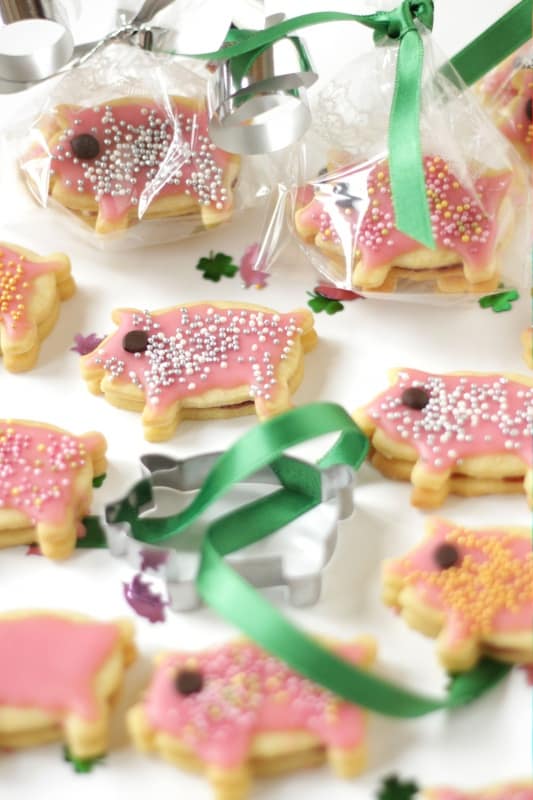 In Austria it is customary to give one another good luck charms on New Year's. Usually these are trinkets in the shape of pigs, chimney sweeps, ladybugs, four-leaf clovers, coins or red & white toadstools. I think it's so nice to wish one another luck and prosperity for the New Year.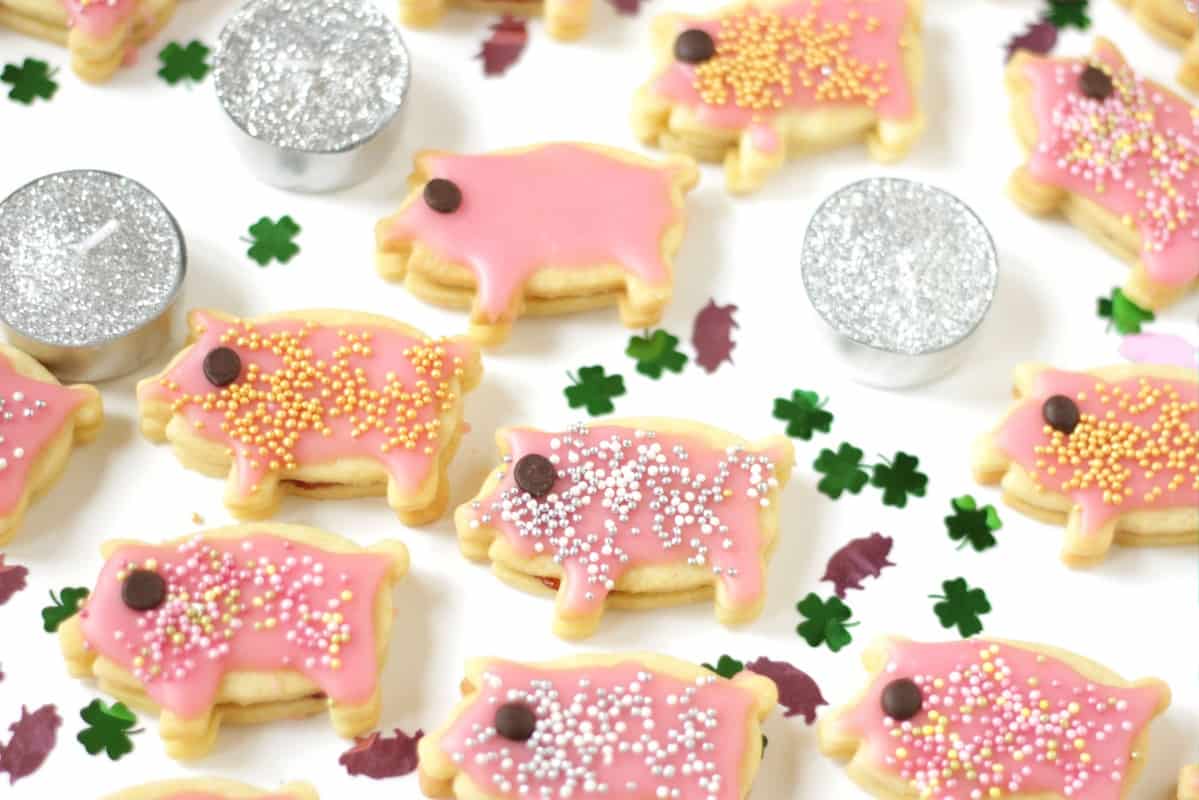 My favorites are the edible kind: pastries or sweet breads in the shape of pig's heads or marzipan figurines. So cute! So when I saw this pig cookie cutter, I was inspired to make homemade good luck charms this year.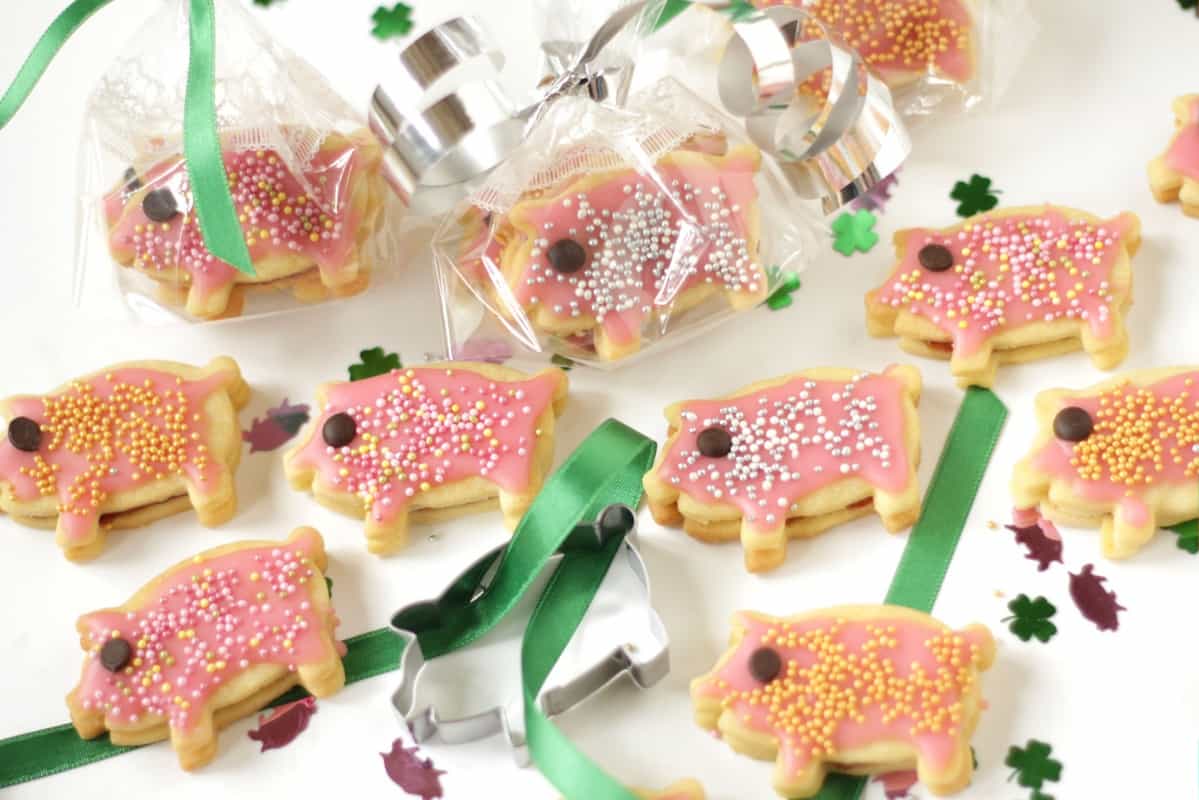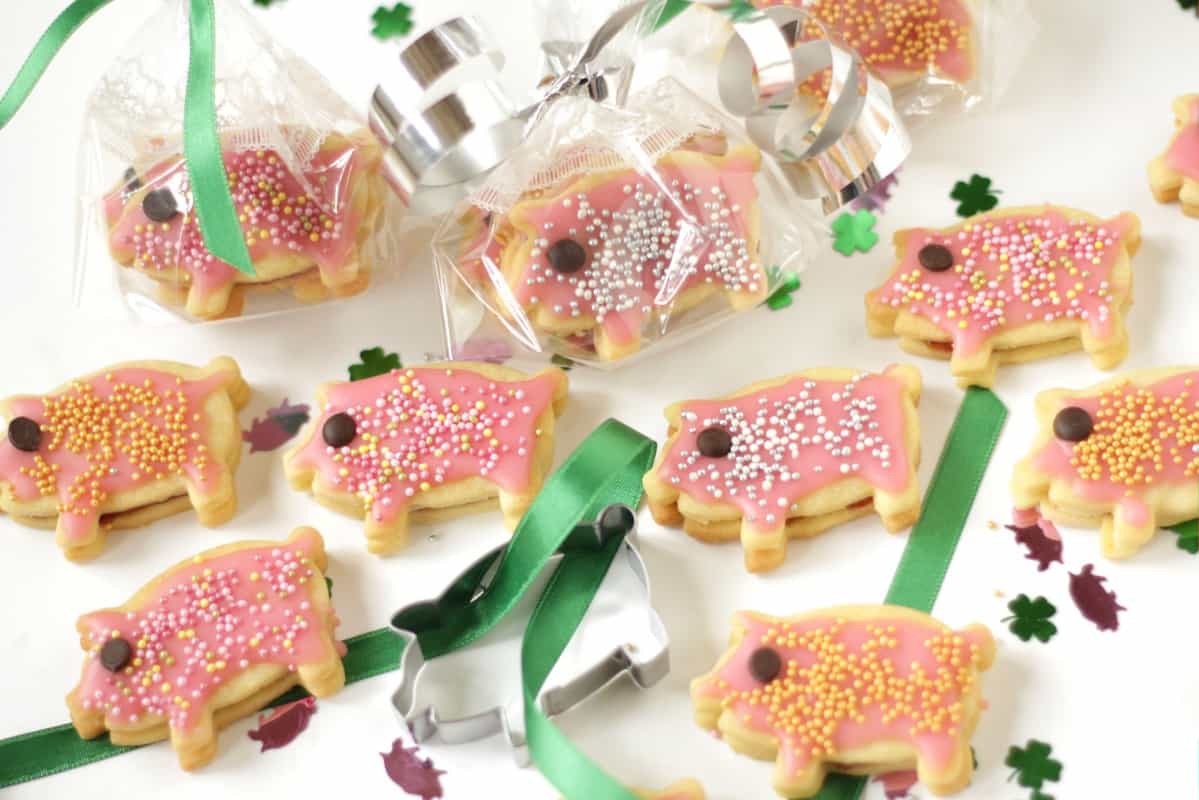 These ended up being some of the best-tasting cookies we've had – and that's saying a lot, considering we just finished eating the last of the Christmas cookies. The cookies are made from my favorite shortbread, the same one as for Linzer Cookies. I filled them with homemade red currant jam but you could use any jam you like. I highly recommend stirring a little rum into the jam for flavor. The glaze is Austrian Punschglasur. It's a rum-flavored glaze that also coats Punschkrapferl, my favorite Austrian pastry. These cookies taste like Punschkrapferl too – awesome! – and the pink color is perfect for my pig cookies. A powdered sugar glaze with a drop or two of red food coloring would work just as well.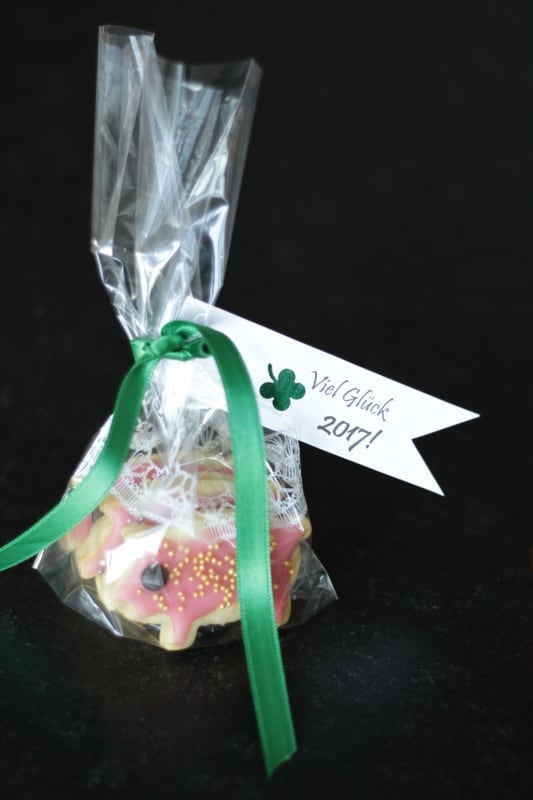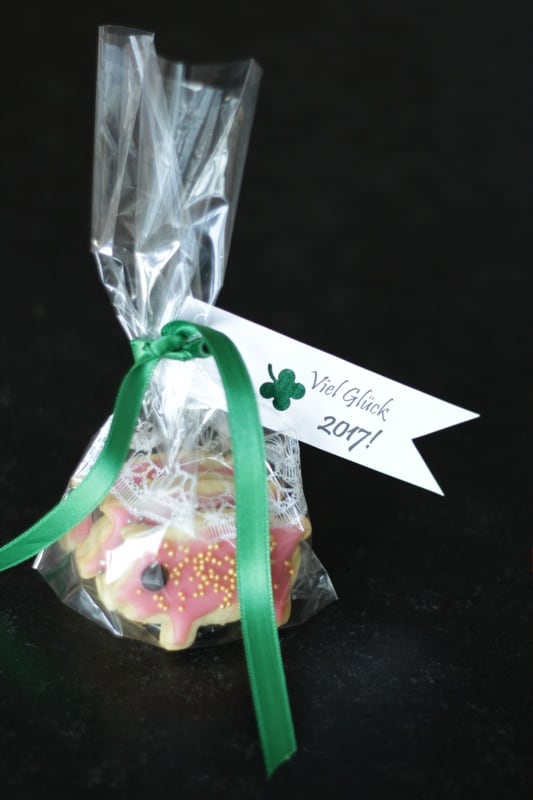 New Year's Pig Cookies
Ingredients
2

cups

+ 2 tablespoons (300 g) flour

A pinch of salt

¾

cup

+ 2 tablespoons (200 g butter)

cold and cubed

1

cup

(110 g) powdered sugar

1

envelope vanilla sugar

or 1 teaspoon vanilla extract

2

egg yolks

7

oz.

(200 g) seedless red currant or raspberry jam

Rum

if desired

1

container Punschglasur or pink powdered sugar glaze

Mini chocolate chips for the eyes

Sprinkles as desired
Instructions
Toss the flour and salt together on your work surface. Rub the butter into the flour with your fingertips (or use a pastry cutter). When there are only little shreds of butter remaining, make an indentation in the center of the flour and put the powdered sugar, vanilla or vanilla sugar and egg yolks into the center. Using a fork, mix the egg yolks with the powdered sugar, making a thick paste in the center of the flour. Bring all the ingredients together with your hands and knead until smooth dough is formed.* Do not over-knead! Cut the dough in half, shape into disks, wrap in plastic wrap and chill in the refrigerator for 30 minutes to 1 hour.

Preheat oven to 350°F (170°C). Roll out the dough to 1/16 inch (2-3 mm) thickness on a well-floured work surface. Using a pig cookie cutter (1 ½ inches or 4 cm), cut out cookies and place them on a baking tray lined with parchment paper. Knead the scraps together and repeat rolling out and cutting out the cookies.** Bake for 8 minutes, or until cookies are just starting to brown. Remove from oven and carefully pull the parchment paper with the cookies off the tray and onto a countertop to cool.

Gently warm the jam until it is a little runny and stir well. A little rum (2-3 teaspoons) can be stirred into the jam for flavor! Using a spoon, spread a cookie generously with jam and top with another pig cookie.

Warm Punschglasur according to directions on container. Spoon a tiny amount of glaze onto a cookie top and use a toothpick to spread the glaze to the nose, legs and tail. Immediately add the chocolate chip eye and top with sprinkles. Repeat with remaining cookies, rewarming glaze as needed. Allow glaze to harden for several hours before stacking cookies. Store cookies tightly sealed for at least two days to allow them to become tender.
Notes
*Be patient, the dough will crumble in your hands at first but keep kneading.
**The dough often sticks to the work surface. Carefully slide a thin, flexible knife under the dough to release it.
Save
Save
Save
Save
Save
Save