I first tasted olive oil cake at an olive oil press in the south of Italy and I was amazed. Although you can't taste the olive oil in the cake, Lemon Olive Oil Cake has very a complex and fruity aroma. And, as is the case with most oil-based cakes, olive oil cake is very moist, fluffy and easy to make.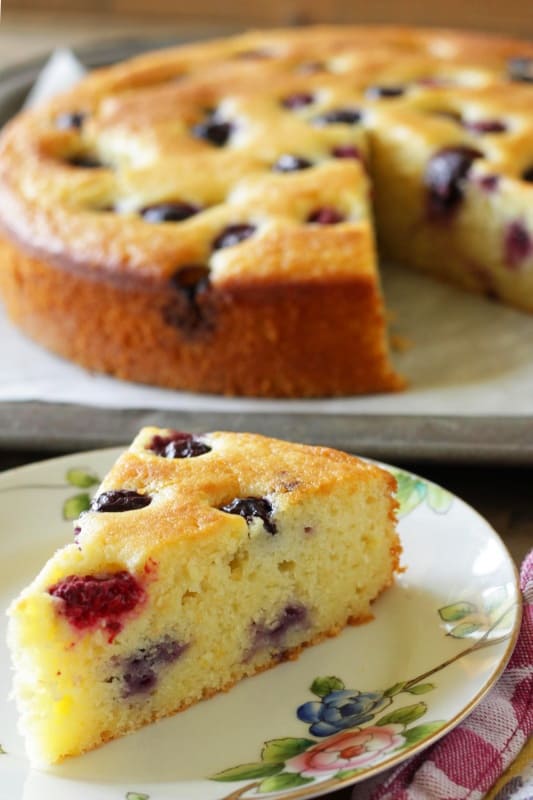 This particular cake tastes especially fruity and light, thanks to the lemons and fresh berries in the batter. I made this Lemon Olive Oil Cake with Berries for an early summer brunch but it makes a wonderful and elegant dessert for any occasion.
For the best results, it's important that you use good-quality, fresh olive oil for this simple cake. Lemon Olive Oil Cake tastes absolutely amazing even without any powdered sugar, icing or whipped cream.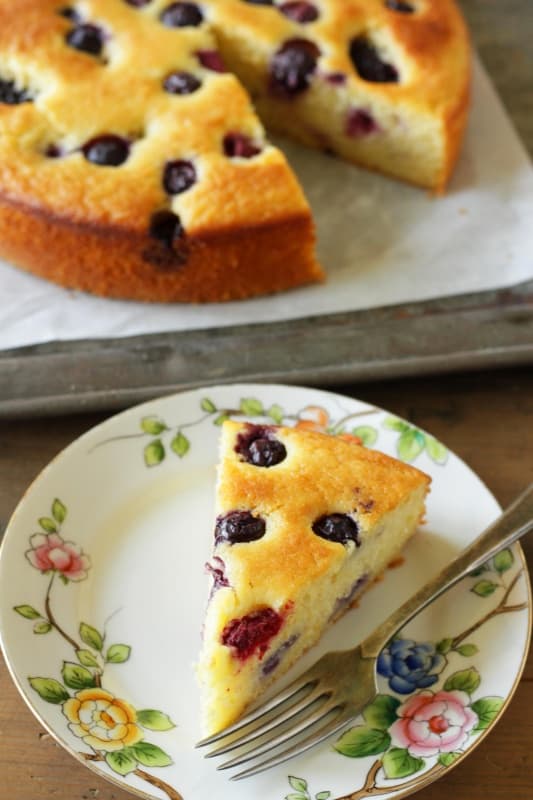 Lemon Olive Oil Cake with Berries
Ingredients
Scant 1 ⅔ cup (225 g) all-purpose flour

2

teaspoons

baking powder

⅛

teaspoon

salt

1

cup

(200 g) granulated sugar

Grated zest and juice of 2 organic lemons

3

eggs

8

ounces

(250 g) plain yogurt

⅔

cup

(160 ml) extra virgin olive oil

8

ounces

(250 g) fresh berries

e.g. raspberries, blueberries and blackberries
Instructions
Preheat oven to 350°F (175°C). Grease a 9-10 inch (23-26 cm) diameter round cake pan with olive oil. Lightly flour pan and line the bottom with parchment paper. Sides of cake pan should be 2 inches (5 cm) high.

In a medium-sized bowl, stir together flour, baking powder and salt and set aside.

In a large mixing bowl, rub lemon zest into sugar with your fingertips until the sugar resembles damp sand and smells like lemons. Add eggs and beat on medium speed until mixture has doubled in volume. Add yogurt and lemon juice and mix in on low speed.

While mixing on low speed, slowly drizzle in olive oil and mix until combined.

Add flour mixture and mix on low speed until combined. Pour cake batter into prepared pan. Scatter two-thirds of the berries over the top of the batter and press the berries into the batter with a spoon. Scatter the remaining berries over the top of the cake.

Bake cake at 350°F (175°C) for 40-45 minutes, depending on cake pan size (test with a wooden toothpick). Remove cake to a wire rack and cool in pan for 20 minutes. Run a sharp knife around the inside of the cake pan to release edges of cake from the pan. Turn cake out of pan onto a dinner plate and remove parchment paper. Lay wire rack on cake, flip cake, plate and rack together, remove plate and cool cake completely on wire rack.

Store cake tightly covered. Cake will stay fresh at room temperature for up to three days. Cake will keep for up to 6 days in refrigerator. You can freeze the cake for up to two months.
Nutrition