When it's rhubarb season I'm always excited to make Rhubarb Crisp. I guess some people call it Rhubarb Crumble, but where I'm from, it's Rhubarb Crisp all the way.
It's such an old-fashioned, classic recipe that we tend to forget how delicious it really is. The rhubarb "filling" at the bottom boils up into a sticky, custard consistency that is just the right amount of tart. The top is buttery and crunchy like a tender cookie.
When served warm with a scoop of ice cream, Rhubarb Crisp is a study in contrasts: hot and cold, crunchy and creamy, and tart and sweet. It's one of the easiest and best desserts imaginable.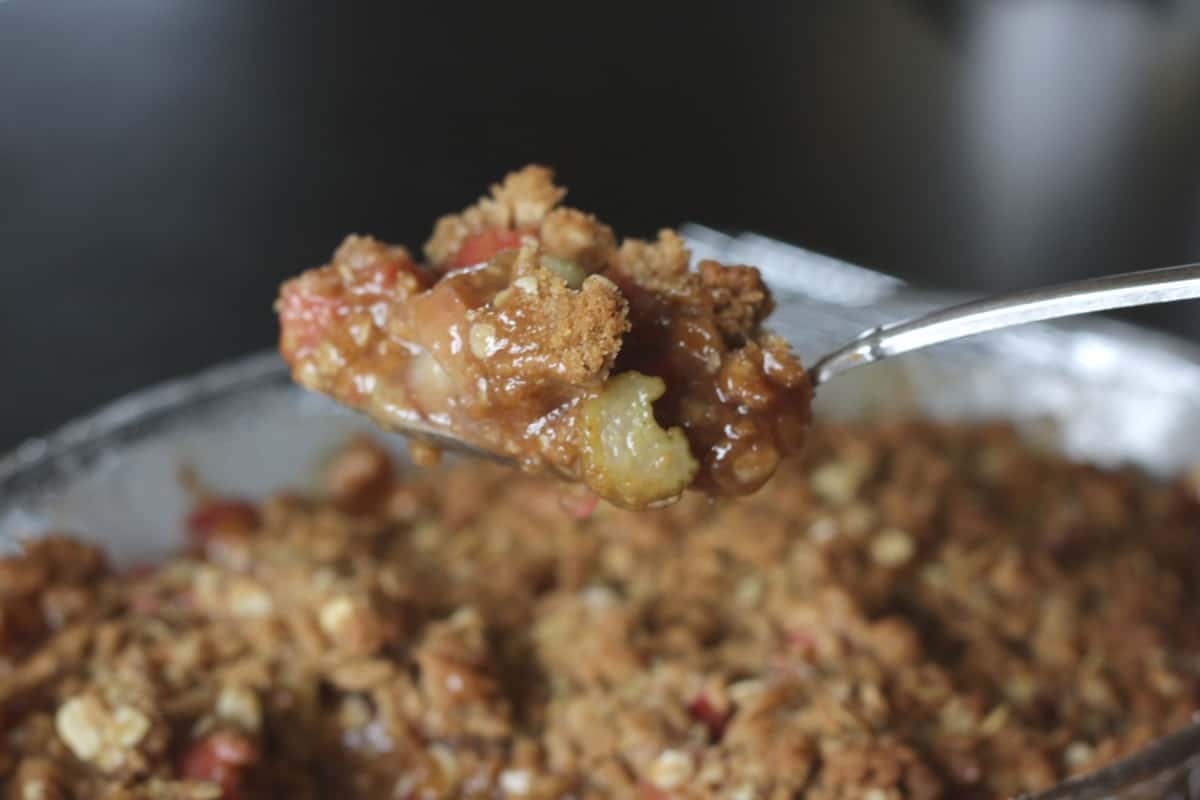 Do you know what else tastes amazing with Rhubarb Crisp? Greek yogurt. Warm up some leftover Rhubarb Crisp, add a dollop of plain Greek yogurt and you have an incredible, delicious breakfast.
**UPDATE 5/2019** I have found that Rhubarb Crisp doesn't need as much sugar as originally stated. I have updated the recipe below to show ½ cup granulated sugar and 2 tablespoons flour being stirred in with the rhubarb pieces.
ENJOY!
Rhubarb Crisp
Ingredients
5

cups

(500 g) fresh, sliced rhubarb

½

cup

(100 g) granulated sugar

2

tablespoons

all-purpose flour

¾

cup

(160 g) brown sugar

½

cup

(70 g) all-purpose or whole wheat flour

½

cup

(50 g) quick-cooking or old-fashioned oats

⅓

cup

(75 g) butter

softened

¾

teaspoon

ground cinnamon

½

teaspoon

grated nutmeg
Instructions
Preheat oven to 375°F (190°C). Butter a small (8 x 8 inches or 30 cm long rectangular or oval) baking pan.

Stir together the white sugar and 3 tablespoons all-purpose flour in a medium-sized bowl. Stir in the sliced rhubarb and distribute the rhubarb-sugar mixture evenly over the bottom of the prepared baking dish.

With your fingers, combine the remaining ingredients in a medium bowl to make the topping until mixture resembles coarse crumbs. Sprinkle topping over the rhubarb. Bake for about 30 minutes until topping is browned and filling is bubbly around edges of pan. Serve warm or at room temperature.
Notes
Adapted from Betty Crocker and Better Homes & Gardens cookbooks.
Nutrition