Austrians make delicious crêpes, often without a recipe, just by mixing the ingredients until the batter is right. I don't cook like that, as you might have guessed by the countless exact recipes here on my blog, so over the years, I kept writing down my ratios of eggs to milk to flour until I had a recipe for Austrian crêpes that worked every time. This recipe is a tried and true family favorite, one that can easily be doubled or tripled if you're cooking for a crowd, and especially kids will gobble them up.
Outside of Austria, it may not be well-known, but crêpes (called Palatschinken in Austria) are a traditional part of Austrian cuisine, having originated in Bohemia and coming to Austria via Rumania, Hungary and the Czech Republic. Crêpes are often served as a sweet main dish after a starter of vegetable soup. I'm totally on board with eating crêpes for dinner!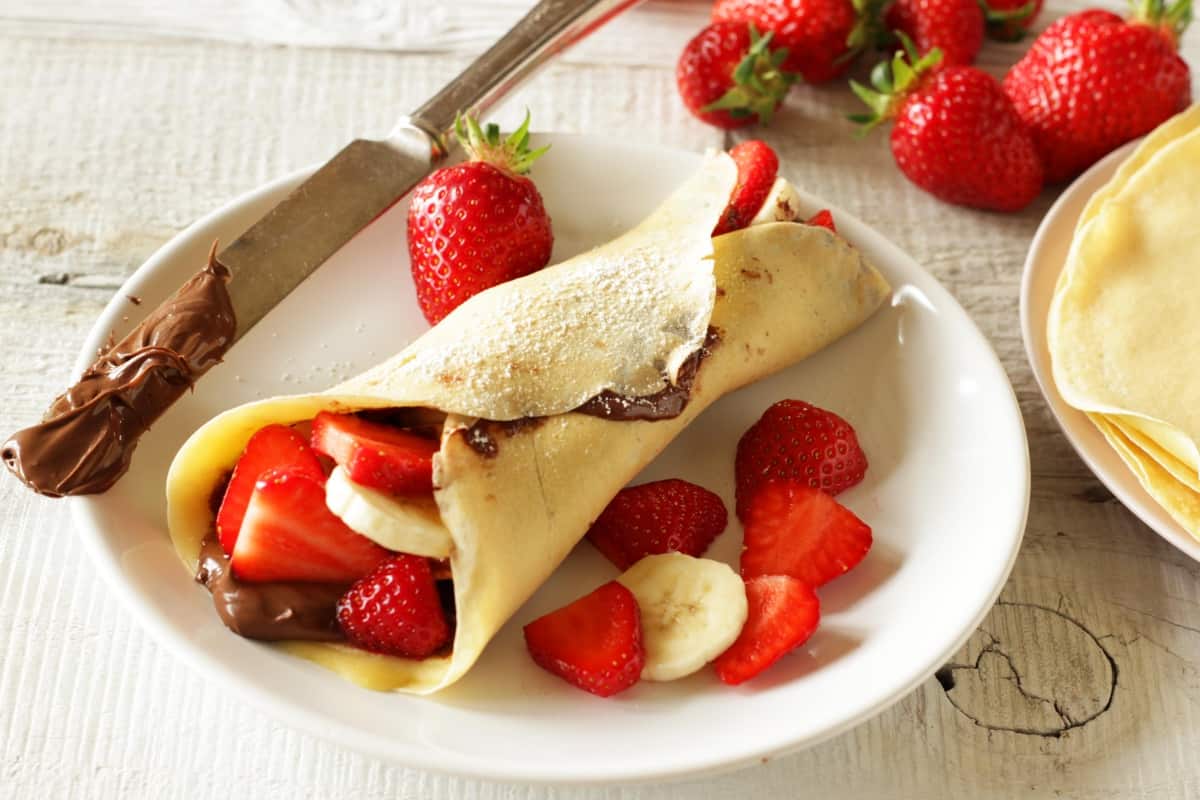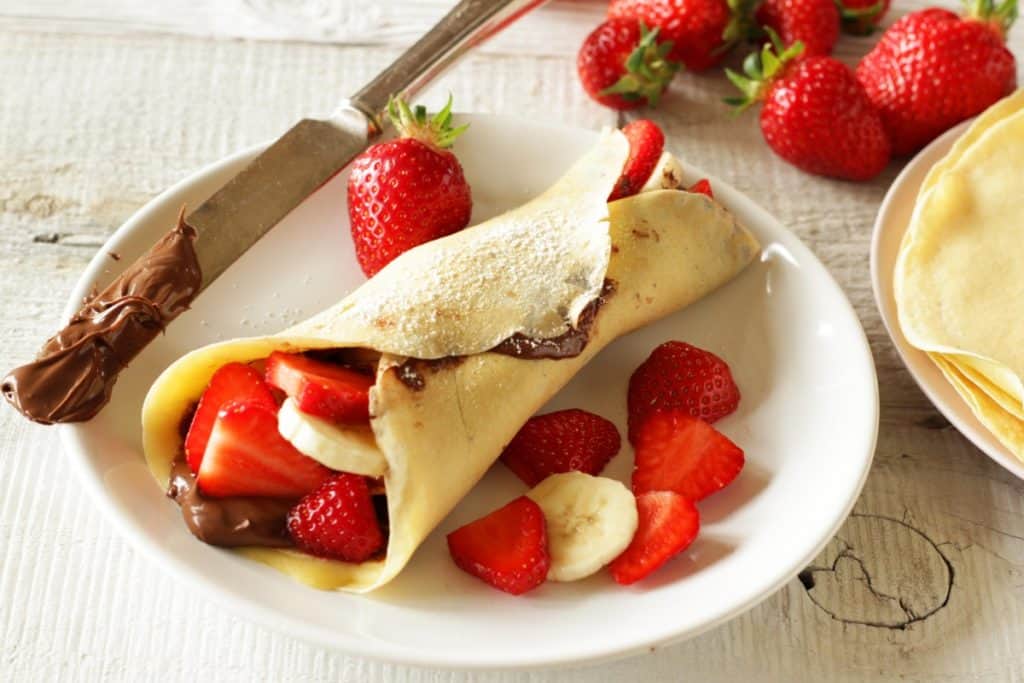 I was inspired to make these crêpes by a French restaurant in Vienna. After our excellent meal, I ordered chocolate mousse for dessert and my friend ordered crêpes filled with chocolate nougat spread, bananas and berries. I tasted her dessert and the combination of Nutella and fruit in crêpes is amazing.
When I think about Austrian crêpes, I think of the typical Austrian Oma (Grandma) making them as a treat for her grandkids. Oma usually serves crêpes the traditional way: spread with jam, usually homemade apricot jam, rolled up and dusted with powdered sugar.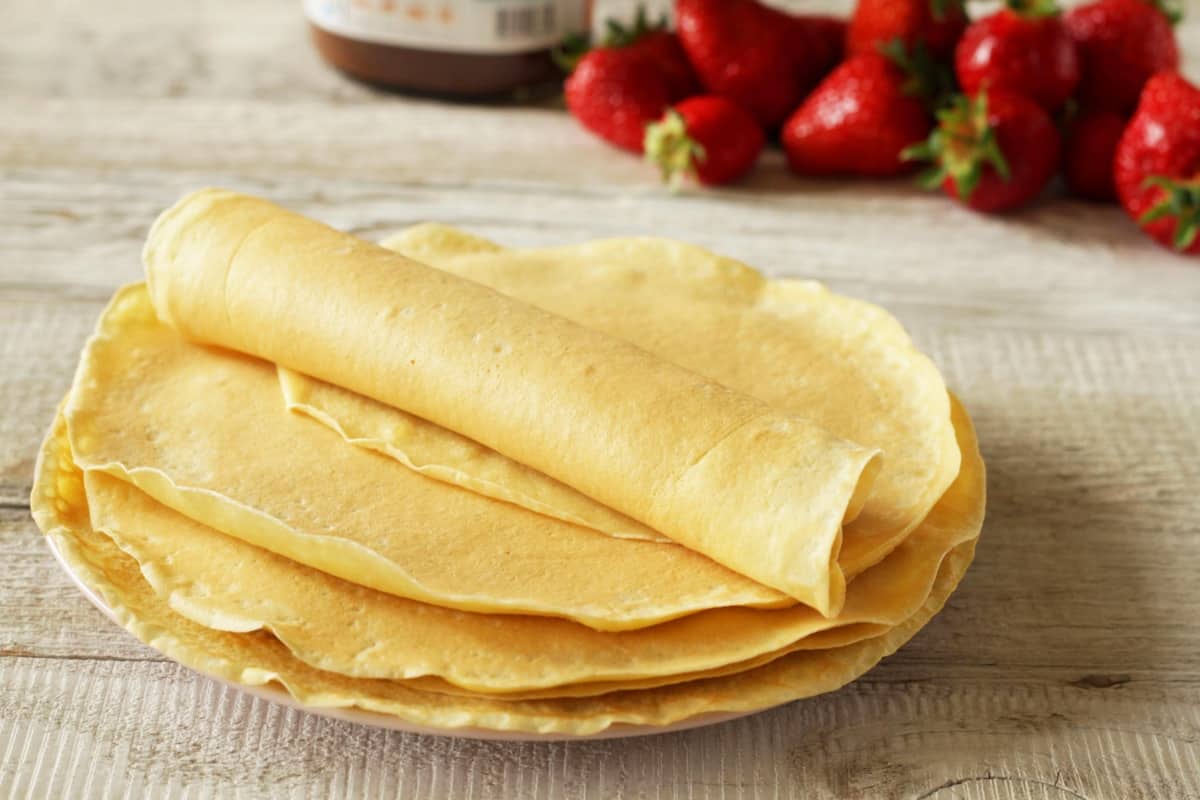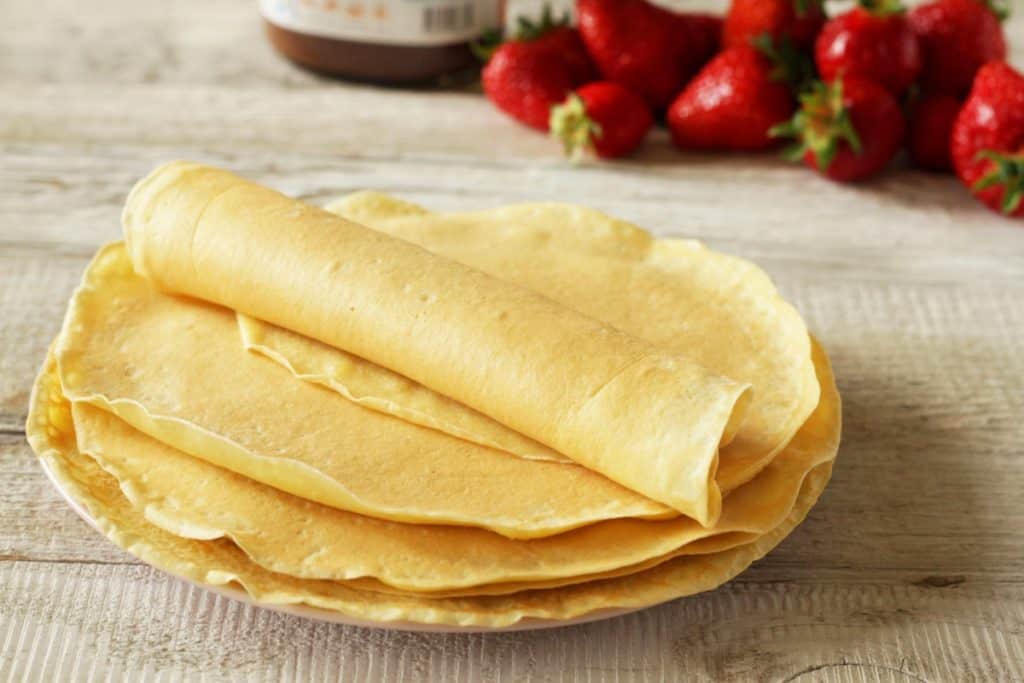 Crêpes are also often filled with scoops of ice cream, generously drizzled with chocolate sauce and served with whipped cream. Some of our other favorite fillings are butter and sugar, lemon juice and sugar (like the Parisians), jam, just powdered sugar or Nutella.
The perfect use of leftover crêpes is to make pancake noodles (Frittaten) for soup! Just roll up the crêpes and cut them into thin strips (noodles) and put them into your next clear broth soup (Frittatensuppe). Delicious and authentic Austrian!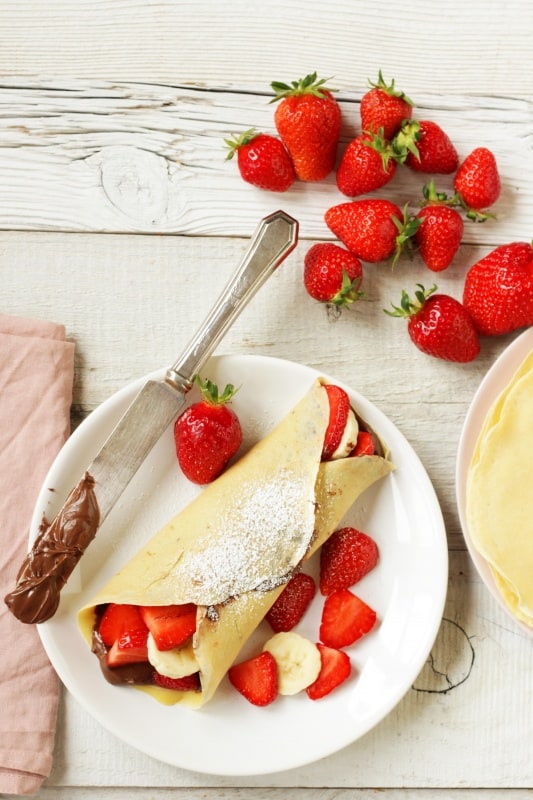 You know how a favorite family dish is something that should not be messed with? Well, I did it. I served my kids their beloved crêpes but filled with Nutella, strawberries and bananas and we now have a new favorite! You should try them too.
Enjoy!
Crêpes with Nutella, Strawberries and Bananas
Servings
9
crêpes, 8 inches (20 cm)
Ingredients
Batter
1 ¾

cup

(250 g) all-purpose flour

1 ¼

cup

(300 ml) milk

4

eggs

A pinch of salt

2

tablespoons

vegetable oil, plus more for frying
To serve
Nutella

Fresh strawberries

washed and sliced, or other berries

Bananas

sliced

Powdered sugar

for dusting
Instructions
For the batter
Whisk all ingredients until a smooth batter forms. The batter should fall off the whisk in a thin stream (see photo). If your batter is too thin, whisk in a tablespoon or two of flour. If your batter is too thick, you can whisk in a couple tablespoons of milk.
Frying the crêpes
Heat a large, non-stick frying pan and grease it lightly with an oiled paper towel. When the pan is nice and hot, pour in half a ladle of batter, pick up the pan and tilt it in circular motion to distribute the batter. Fry the crêpe until it looks dry around the edges, turn it with a large spatula and fry it on the other side until the crêpe releases from the pan. Lay the finished crêpe flat on a plate. Fry the remaining crêpes and stack them on top of one another on the plate until all of the batter is used up. If necessary, re-oil the frying pan with the oiled paper towel.
To serve
Lay crêpe on a plate, spread with Nutella, top with sliced strawberries and bananas, roll it up and dust with powdered sugar.

Store leftover crêpes tightly covered in the refrigerator. Leftover crêpes can also be rolled up and thinly sliced into pancake noodles (Frittaten) for use in a clear soup. Pancake noodles may also be frozen.
Nutrition